Looking for a YouTube video downloader? In this article we reviewed five popular products on the market today.
YouTube is the world's biggest video sharing website. Every minute people are uploading about 100 hours of videos on YouTube. The website offers free online video streaming, sharing and much more. However, YouTube doesn't allow users to download videos right away. There is no 'Download' button so you can't download your favourite YouTube video straight from the website. But there are plenty of tools that make it easy. Yes, you can download YouTube videos using some third-party apps and websites (see 25+ Best Free Movie Download Sites Without Registration/Signup 2018) or you can even download videos by smallseotools.com. Today I will write on some free video downloaders for YouTube. Let's start.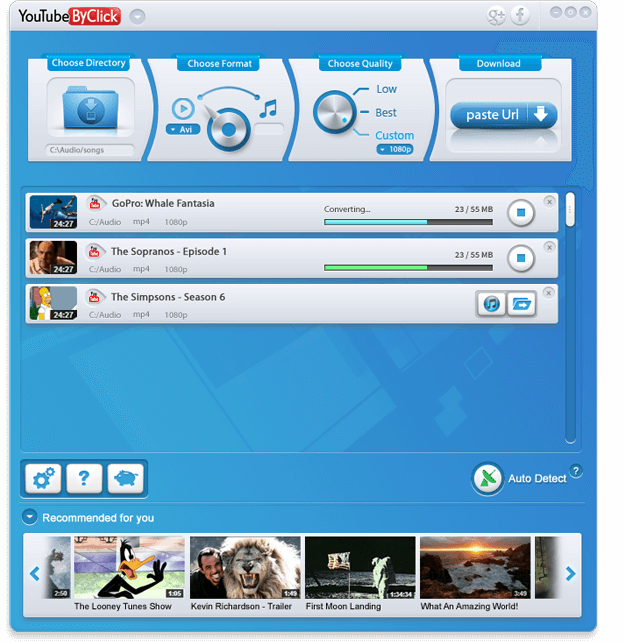 YouTube By Click is a masterpiece. The most versatile and most powerful video downloader I found. Why do I say that? Because YouTube By Click has some great features. They manage to combine versatility and simplicity together!
With YouTube By Click you can download entire playlists all at once. In addition to YouTube, you can download videos from Facebook, Instagram, Twitter, Vimeo, Dailymotion and many many more. YouTube By Click supports the following video formats: MP3, MP4, AVI, FLV, WMV, 3GP, WEBM, MKV, WAV, AAC and M4A and supports any quality, including HD and 4K. Moreover you can download subtitles, cut your downloaded MP3.
Another great feature – YouTube By Click automatically detects the song artist name and title and save it inside the downloaded MP3. It has a really elegant auto detection capabilities – YouTube By Click integrates with your browser. It offers you to download every video in simple one click!
The software works for me 100% well and does exactly what I expected.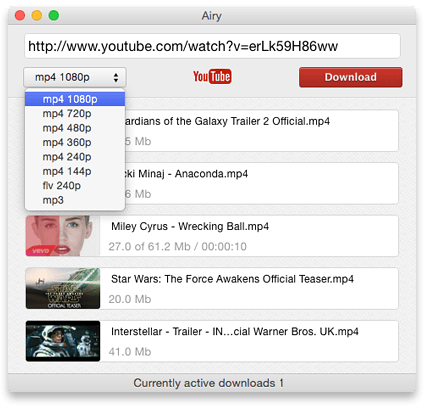 Airy is also my favorite app among the reviewed youtube downloaders in this article. Why? Because it was developed based on the principle 'True genius lies in simplicity'. All I need is to paste the link in, choose the format and press 'Download' and in a few moments I get the video on my computer! I really like such simple apps with a pleasant design (and this one has the most pleasant design from all the apps that are reviewed below).
It can save video in the following formats: MP4, FLV, 3GP and MP3 (in case of the latter you only get an audio track, which is often convenient too). In addition, you can select the desired resolution and all that in one click! All downloaded videos remain the list at the bottom so that later you can easily find them.
The price of this app is $19.95 (the cheapest among paid apps from this list) and it is available for Windows and MAC.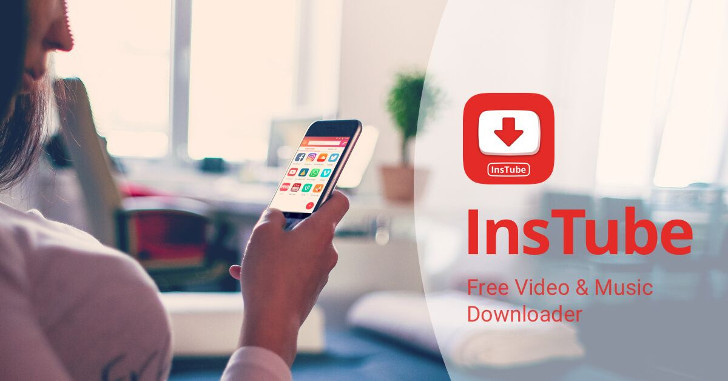 InsTube is a free youtube video downloader and mp3 music downloader. You can download youtube videos, free music and save Instagram videos, pictures, stories by using InsTube app.
InsTube Features:
Free Video & Music downloader for Android
Video Locker – create a secure location to store personal/important video & music.
Small & fastest speed to download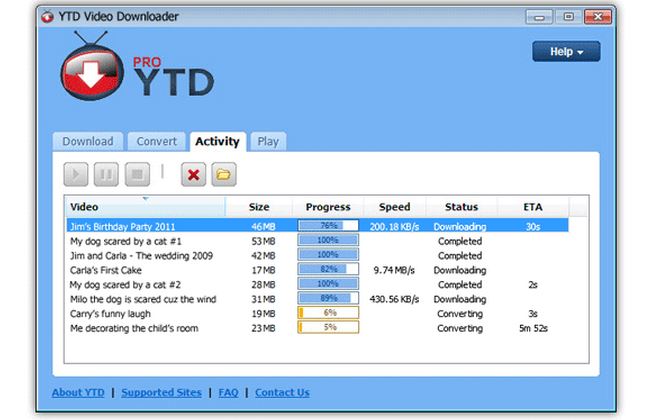 YTD Video Downloader was formerly known as 'YouTube Downloader'. Now the software is renamed and promises double speed video conversion and double speed download. YTD Video Downloader offers resume capability. So if you face an internet connection error while downloading a video, the software will capture it later. YTD Video Downloader comes with a few extensions and browser search engine modification tricks. If you don't like such customizations, just opt-out them in primary installation phase.
This tool can download videos from other sites (e.g. Facebook, Vimeo, Yahoo Videos etc.) as well. Just paste the video link into the box and click 'Download'. YTD Video Downloader allows convert video clips for iPhone, iPad, feature phones and many other devices in various formats such as MP3, MP4, WMV, WMA, MPG etc. It has both free and premium upgrade available.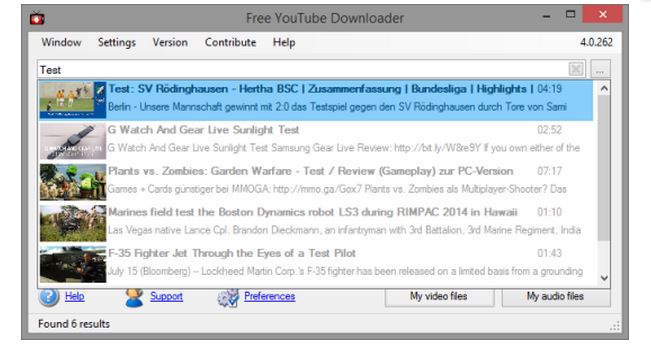 As the name suggests, this zero cost video downloader program can fulfil your YouTube collection list. The Free YouTube Downloader is an easy and quick method to get YouTube video clips into your local drive. This software does exactly what it is called. It deals with YouTube only. If you need other video or media website downloads, then you need to see other options. But one thing is very clear- Free YouTube Downloader performs perfectly on the single website it focused. With several video and audio format downloads, the tool offers detailed guidelines and an active forum for your convenience.
Related Post: 7 Best Sites to Buy YouTube Views, Subscribers & Likes (2020)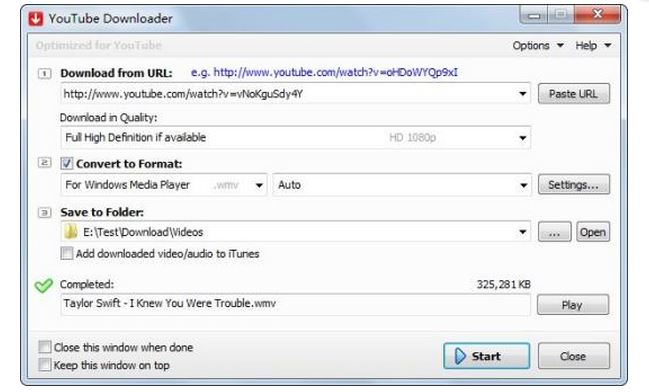 'YouTube Downloader', as named, is a Windows application that can download videos from YouTube, Vimeo, Facebook and many other sites. You can download 1080p (full HD), 720p (HD), HQ and even more video types/formats. It has a converter to transform the videos to 3GP, WMV, MPG, MP4, AVI, MP3 and more. YouTube Downloader integrates with Chrome, Firefox and MS Internet explorer. While playing a video, the program shows a command on browser's context menu to enable one click download.
The software has paid and free versions. You can use YouTube Downloader free for 10 days. After the trial period, if you think it is worth purchasing, you can pay $29.99 for it.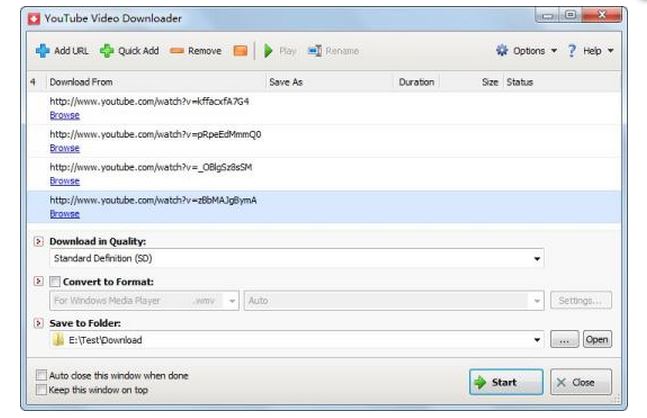 YouTube Video Downloader can download videos from YouTube, Vimeo, Facebook and many other hosts. According to its developer, the program can increase download speed as much as 500 percent or more. Like many other apps of its kind, YouTube Video Downloader can download Full HD (1080p), HD (720p), and HQ including other various qualities. It also converts the downloaded videos as you like. Available media conversion formats are MP3, MP4, AVI, MPG, WMV, 3GP etc. YouTube Video Downloader integrates with Internet Explorer, Google Chrome and Mozilla Firefox browser so that it shows a 'Download' button on the video window. While watching your favorite video on these sites, just click on that button to download the clip.
YouTube Video Downloader is a paid app. You can use the software for 10 days as trial, but after that, you will need to buy it. The app costs $29.99.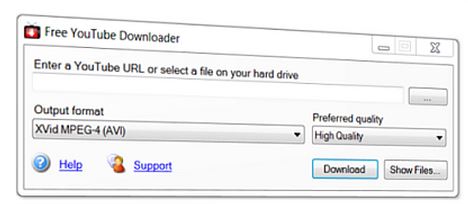 Not to confuse with the app I mentioned in this article before, this is a different app published by another developer. YTD Downloader is similar to other free YouTube video downloading tools that can download clips from a variety of platforms like YouTube, Yahoo, Facebook and so on. The program allows to convert videos to a variety of media formats like MP3, MP4, WMV, WMA etc. YTD Downloader is a free software.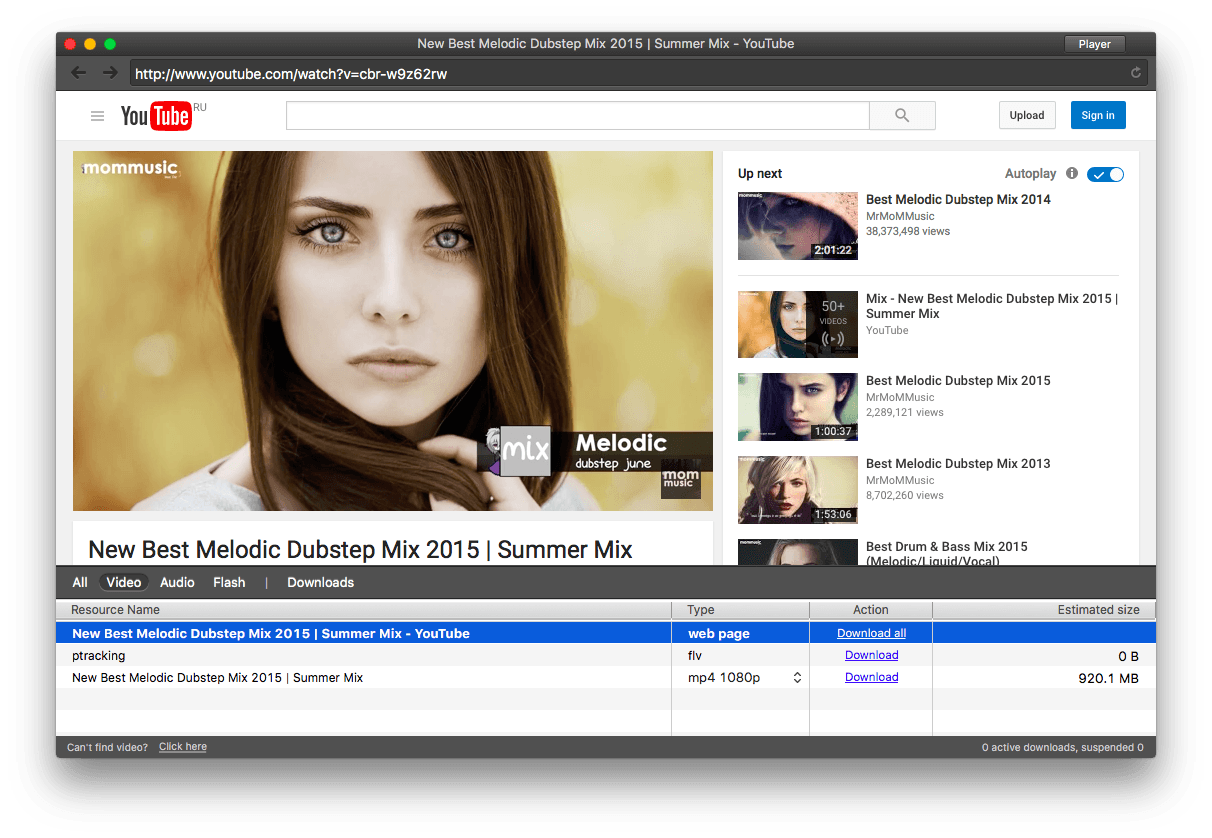 Media player for Mac that can download videos from YouTube, Vimeo and other video hosting websites, including RTMP streaming video. Download window opens from the player, where you need to enter the address of the video you want to download, then press Enter and video will be available for downloading. Apart from video, you can also separately download an audio track. You can also select video quality 1080p and 720p. Available video formats include MP4, FLV, 3GP and WEBM. Available audio formats include MP3, M4A and WEBM.
Please note: downloading is available only in Pro version for $19.95.
Tip: If you're looking for a non-software way to download YouTube videos make sure to check out the YouTube video saver. This website was specifically designed to save YouTube videos for offline viewing.
You can download YouTube videos with lots of tools. There are dedicated third party websites that provides this service. Also you can download YouTube videos from mobile phones. Hopefully I will discuss on them in future. Thank you!
[Total: 7 Average: 3.6/5]