If you were looking for some backlink management tool then you had probably realized that mostly they are not cheap and cumbersome. In this article we will introduce you Linkody, a simple and affordable service focused for backlink monitoring.
People and companies alike employ some really extraordinary methods for monitoring their backlinks. It is primarily due to the fact that they are aware that if you want your Search Engine Optimization to be successful this is something you have to do and cannot avoid. Otherwise, failure to keep the status of your backlinks up-to-date will only make your optimization life harder. In fact, a lot of methods used by people are very inconvenient. As a matter of fact, some people spend days monitoring the status of their backlinks. This is clearly not the perfect way to do things when it comes to backlinks monitoring, as there are so much more important things one should be doing. But don't worry, there are simpler methods for doing it, one of which is Linkody, an automatic backlink management tool, which we are going to describe in this article and try to make your life a bit easier.
To take full advantage of this program you need to upload a list of your backlinks from your Excel or CSV file. After you have done that Linkody will take over your monitoring efforts and monitor your links 24/7 for you.

You will get an email notifying you of the new backlinks. To make things even better we recommend contacting admins of website and asking them whether they can give you more links back to your website. If, for some reason, one of your backlinks is removed, you will get an automatic notification of such removal, which is great. After contacting admins from other website you can instruct Linkody to notify you when such links have been put up. Great thing about this backlink management tool is that it will do automatically all the stuff you once did manually which, in the long run, is going to save you a lot of time and effort which you can spend focusing elsewhere.
A great and timeless wisdom is that before jumping into anything you need to study what somebody before you has accomplished and then try to improve on it. And the world of SEO is teeming with bright and worthy examples. First of, you need to get a clear understanding of what your competitors are doing and how they distribute their efforts to climb the search engines. And here Linkody is going to make it a piece of cake for you. For that you need to log into your Linkody account, provide the details of the source page you want to be analyzed and then you will be given a whole lot of information about that website. In addition, you'll be able to spy on the link building strategies that are currently being used by some of the largest companies in your industry. As far as we know, there is just no other way to do this except for analyzing the information manually. We believe that this great tiny feature totally makes it worth buying this software.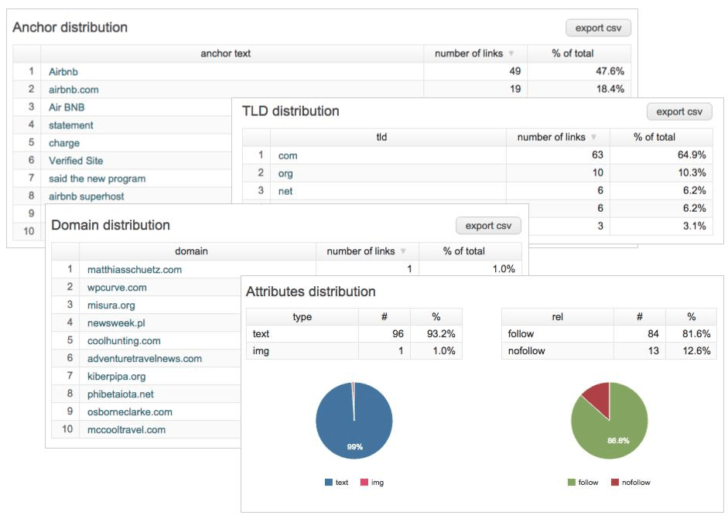 You can do your own research by using the link analytics system. For instance, you will get a sneak peek at the nature of your links around the Internet – text links or image links – also, you will be able to see the location of links on a domain, see most popular keywords and anchor phrases used, and even follow or no follow status of your links. This information is a good indicator for you to tailor your link building strategy properly. For instance, you can ask those who share your links to use different anchor text, perhaps, provided by you. If your images do better, then you may want to get more images out there, etc.
We are sure of the fact that many of those who will use this backlink management tool will be running their own Search Engine Optimization Company. If you feel that you might be one of those people, then we have a great feature which will give you a competitive advantage. This incredible feature is the ability to generate 'white label' PDF reports on backlink activity. Moreover, when you generate the report you will be able to attach your own logo and company details to it. This feature will make your life a whole lot easier while your customers won't even know that you are using this program to generate reports.
If you are reading this article and especially this line, then most probably you are running your own Search Engine Optimization campaign and you are a smart internet marketer. Having said that, we suggest that you give Linkody a try as this backlink management tool is already being used by so many professionals and makes their lives a whole lot easier. And, yes, you can take advantage of the free 30 day trial to see for yourself whether this program represents something that you will gladly use to streamline your campaign, which, we are sure, it does.