The retail industry, more specifically eCommerce, has gone through a massive transformation since the COVID-19 pandemic struck.
In the initial days of the pandemic, when supermarkets ran out of products and people went into quarantine, online stores stepped up to deliver goods to the consumer's doorstep.
Online sales had been on a steady rise even before this global crisis. Now, as Statista shows, worldwide eCommerce sales are expected to reach more than $6.1 billion by 2023.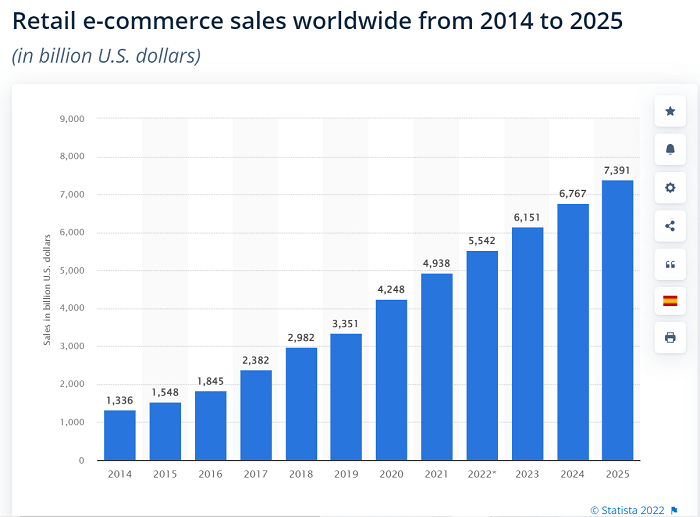 As you may have already guessed, now is a good time to get into eCommerce! If you are planning to do the same, you would first need to build a visually appealing online store with all the right features and functionalities to attract and retain customers.
Shopify is one such eCommerce platform that allows you to do just that. All you need to do is hire Shopify developer who is good at his/her job to reap all the benefits that the platform has to offer.
Technological Benefits of Hiring a Shopify Developer for Your eCommerce Store
Since its launch in 2006, Shopify has become one of the leading eCommerce platforms in the world. As of July 2022, it has nearly 11% of the total eCommerce market share. Over one million businesses currently use this platform to power their online stores.
So, you have got to wonder, what makes this platform so popular and sought-after? The answer lies in the wide range of technological benefits that Shopify offers. Here are some of these top technological benefits that make it the go-to eCommerce store builder:
Hosting:
Shopify is a fully hosted eCommerce solution. That means the platform deals with everything related to web hosting including hosting prerequisites, maintenance, and updates.
It ensures that the web host is always up and running, and is capable of handling fluctuations. That keeps the site stable even when there is a sudden surge in website traffic.
Hiring an expert Shopify developer means you don't have to worry about things like maintaining the web host. You can relax and focus your attention on running your business.
Omnichannel:
In the retail industry, omnichannel refers to a sales approach that involves using multiple channels to offer the customers a unified experience across all the channels, be it in the form of in-store kiosks or other digital channels.
If you are aiming to sell across different channels, Shopify offers excellent built-in capabilities that make it easy and hassle-free. It has its own POS (point-of-sale) system and a card reader that allows merchants to sell in a brick-and-mortar store or on the go.
Shopify has partnerships with Pinterest and Facebook. That means your Shopify developer can easily integrate your online store with these social networking platforms. Doing so will allow buyers to make purchases directly from their social media.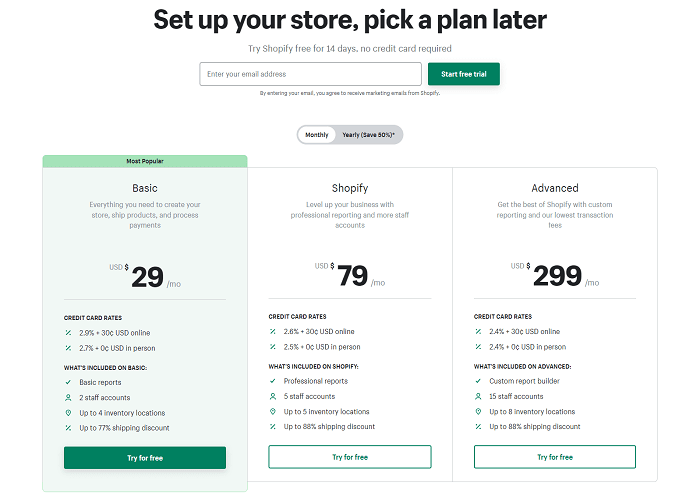 Scalability:
A capable Shopify developer can help you scale your business. The platform offers several plans. You can upgrade or downgrade your Shopify plan based on how you plan to scale your business.
All the different plans offer unlimited bandwidth. However, the higher-end plans offer lower credit card rates and more features. This way, the higher your sales number, the less you will need to pay per transaction.
Highly Secure:
Website security is one of the most important fundamental features of an eCommerce store.  Without it, an online store cannot seem credible, no matter how great it looks, what amazing features it has, or the variety of products it sells.
The best part about hiring a competent Shopify developer is that they can use the platform's features to build you a highly secure online storefront. To secure customer data, Shopify offers features such as alternate payment gateways, Level 1 PCI compliance, and SSL certification.
Responsive Checkout:
All Shopify clients can have free access to its Responsive Checkout, which is one of the best checkouts out there.
A well-designed and functional checkout page is just as important as website security. It helps your online store gain trust and credibility. So, you must pay attention to it!
Using the platform's features, your Shopify developer can build you a clean, professional, minimalistic, and highly reliable checkout system.
There are tons of other technological benefits of hiring a Shopify developer. You will discover those soon after beginning your Shopify store development. Let's find out what other benefits you can expect.
Hiring a Shopify Developer Elevates eCommerce Development in Various Ways
Still not convinced about the value of hiring a Shopify developer for building your online store? You should find out about all the ways they can elevate eCommerce development. Let's discuss a few of these points:
They Can Give Your Online Store a Unique Identity:
Most people would recognize Amazon and eBay even if the logo or company name were removed from the design. That is because each website has a unique layout and color combination that is symbolic of the brand.
Shopify offers countless themes that you can use to build your online store. But an expert Shopify developer can elevate these themes by customizing them. They will take your branding strategies and the latest trends in web design and usability into account when customizing.
They Can Make Changes and Update the Code As/When Needed:
Making extensive changes to an existing eCommerce store can be stressful. But an expert Shopify developer can edit the theme code and make it a hassle-free process.
Shopify's explicit template language is called Liquid. It builds themes using CSS, HTML, and JavaScript. The template language makes it easy and hassle-free for the developers to make changes.
Developers can also add custom code and features if needed.
They Can Integrate Third-Party APIs to Increase Sales:
Has your online store successfully achieved the required growth in visitor volumes and product sales? If yes, you will now get access to enhancements. You would need these external components to improve your performance level and see substantial growth in the future.
A skilled Shopify developer can empower your online store by enabling and integrating various third-party APIs such as CRM, ERP, shipping, accounting, payments, social media, marketing tools, and marketplaces.
They Can Help with the SEO of Your Online Store:
Without proper optimization, your online store can simply get lost in the crowd!
Thankfully, the platform offers a wide range of SEO-friendly features that a seasoned Shopify developer can use to optimize a site. The goal here is to improve search rankings, grow visitors, and increase conversion.
They can further optimize your site by avoiding large slides to improve site load speed. They would also use optimized images and mobile-friendly themes.
They Can Provide You with Ongoing Support and Maintenance:
Simply building a Shopify website won't fetch your success. You would need to keep your online store in good shape by keeping up with its maintenance and updates.
Unless you have a full-time, in-house team to handle this responsibility, you should consider hiring a Shopify developer for the long term. This way, you can relieve yourself of the technical burden.
Your Shopify developer will ensure that the site runs fast and all the features work smoothly while you focus on the core business.
Wrapping Up
When it comes to building a successful online store, Shopify is the way to go. There are several excellent benefits that come with the platform. You can elevate your eCommerce game by hiring a competent and experienced Shopify developer who is perfect for your specific needs.