For whatever reason, you may need to record what is there on your screen. Are you looking for an easy and convenient way to record your screen? If so, then you've come to the right place.
In this article, we'll introduce the online screen recorder available today. These screen recording tools, from free to paid ones, will help you capture whatever happens on your computer or laptop in a few simple steps.
We'll also discuss their features so that you can make an informed decision when choosing one. So keep reading to learn more about the top 8 best online screen recorders!
1. ScreenCapture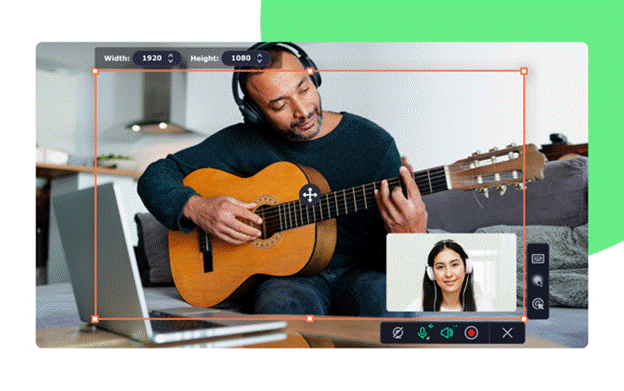 This free screen recorder enables users to record their computer screen, audio, and camera footage. You can pick one of them or enable all 3 options at once. ScreenCapture keeps track of all desktop activity and you can record a specific tab, a window, or an entire screen.
It's a good screen recorder for creating tutorials, presentations, instructional films, and more. All the files are saved in the MP4 format.
Key Features
ScreenCapture has a straightforward user interface that allows users to instantly record audio and video with a few clicks
It provides high-quality recordings, allowing users to effectively capture and share crucial information
The tool is incredibly versatile and offers a variety of capture settings
Saves recordings in the most popular and compatible format
2. Clipchamp
A strong and user-friendly screen recorder online is Clipchamp. It enables users to record computer screen activity and share it with others. Users can record the video and then edit it with transitions and annotations, music, graphics, etc.
You can also customize your recordings for social media platforms like YouTube, LinkedIn, or Instagram by choosing aspect ratio, fonts, colors, etc. The videos are saved in 1080p HD quality.
Key Features
Recording options include HD quality screen capture, audio capture from your microphone and system audio, webcam or other device recording, and automatic background noise reduction
You can edit recordings with text, images, graphics, etc.
Quick export to YouTube or other well-known video-sharing websites
Simple private link sharing of recordings; assistance with well-liked video formats, including MP4, WMV, MOV, and more.
3. Screencast-O-Matic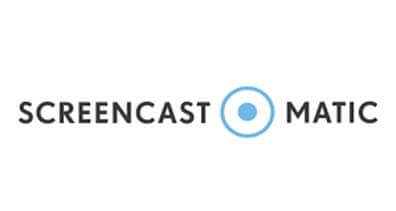 You can simply record, edit, and share your screen recordings with the free online screen recorder like Screencast-O-Matic. This tool is widely known as ScreenPal and can be used to make lessons, presentations, instructional films, and more. You can record and upload videos as per the standard resolution rule. This online screen recording tool helps you to share your recording on social media platforms easily. You can even draw and zoom your videos for better engagement.
Key Features
Record from your computer, webcam, or a combination of both
Add text, arrows, and other annotations to your recording
Trim and edit your recordings
Export videos as MP4, AVI, or GIF
Share recordings to various devices and platforms
Set a timer to record for a specified duration
Create custom video sizes
Add a watermark to your recordings
4. Vidyard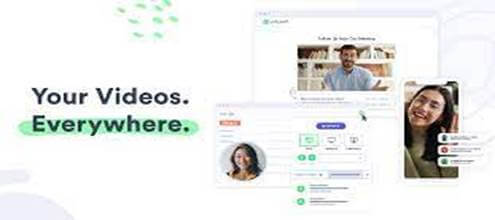 The free screen and webcam recorder, Vidyard makes it quick and straightforward for users to produce high-quality video content. Thanks to the straightforward user interface, users only need a few clicks to record their screens.
Furthermore, it provides analytics capabilities, so users may monitor the progress of their recordings over time. Overall, it's an excellent tool for organizations of all kinds to produce exciting video content.
Key Features
Recording: Capture webcam, audio, and video all at once.
Editing: Cut and reorder captured video, and include text, transitions, and notes.
Sharing: Distribute your recordings to coworkers or the general public via email, social networking, or website embedding.
Security: Password protection and other security features help you keep your recordings safe.
Analytics: Track analytics with in-depth information while monitoring audience interaction.
Integration: Connect Vidyard to other programmes like Google Drive and Salesforce.
5. Veed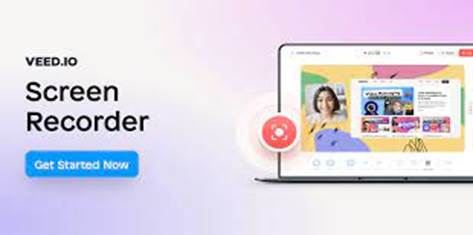 Another online screen recording tool to capture videos for free, Veed helps you capture and simply edit videos directly from your browser.  You may record your screen, webcam, or both simultaneously.
The tool allows you to add backgrounds and themes, change their color scheme, as well as resize your recordings to suit a specific platform. After you're finished, you can do basic editing to polish your video or add text, subtitles, audio, filters, and transitions.
Key Features
User-friendly interface
Multiple customization options
Quickly share your recordings
Variety of editing options
6. Bewisse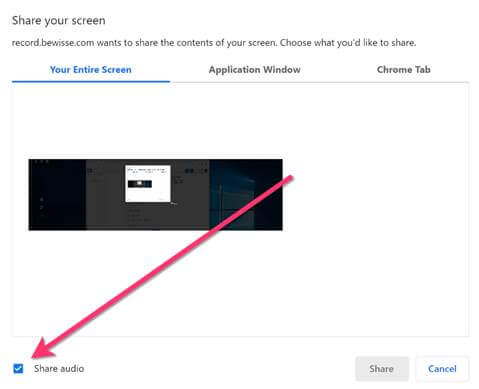 Users can record, modify, and share their screens using this screen recorder. Bewisse helps you take screenshots, capture webcam and microphone simultaneously, and record in full-screen or adjust the resolution; the recording starts after a 3-second countdown. The tool also has built-in annotations to highlight the necessary information you show on the screen.
All files are saved in various formats including WEBM, MP4, GIF, PNG, JPEG, and WEBP.
Key Features
No sign-in required.
Free and web-based
Easy to use and share videos
7. Hubcap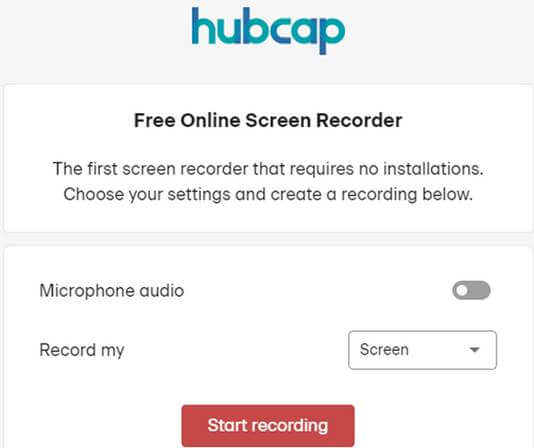 A free screen recording program is Hubcap. It lets users perform basic recording of their screen, system sound, and microphone inputs. When you're done, you can easily copy the link to your video and share it on different platforms. It's a decent tool for making demonstrations and other types of videos.
Key Features
Share your recording with a secure link
Free recording hosting
Simple to use
8. ScreenToaster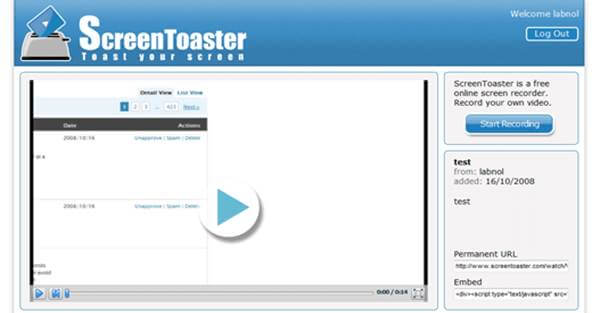 A free online screencasting tool, ScreenToaster enables users to quickly and easily record their computer screen. It's compatible with both macOS and Windows. You can select the recording area, choose the video quality, add a webcam, zoom in or out, and use drawing tools to make your videos more interesting to watch.
Key Features
Easy to use
No size and length limit
Export in HD quality to YouTube
How To Record Your Screen With an Online Screen Recorder?
Finally, let's discuss how to record your screen by using any best online screen recorder easily. Follow these steps to record your screen:
Step-1: Visit a website that provides a screen recording tool online, such as Screencast-O-Matic, Bewisse or ScreenCapture.
Step-2: Choose the recording style you want to use. A full-screen recording, a portion of the screen, or a particular window are your options.
Step-3: Select 'Record' from the menu.
Step-4: If prompted, provide the tool access to your webcam and microphone.
Step-5: Start the recording process. If necessary, you can draw, add shapes, or annotate right on the screen.
Step-6: Click 'Stop' once you have finished recording.
Step-7: Watch the video, and if necessary, save it to your computer or upload to an online storage service.
Conclusion
Online screen recorders are becoming increasingly common in today's digital environment. They give you an easy way to record and distribute your screen to others.
We have taken a look at the top 8 online screen recorders on the market right now, so you can choose the best one for your requirements. You can make tutorials, educational films, promotional videos, and more using these tools.