Bluesmart is a smart carry-on suitcase that can be controlled and tracked by your smartphone. It sports GPS along with some other modern technologies to gift you a smoother travelling experience.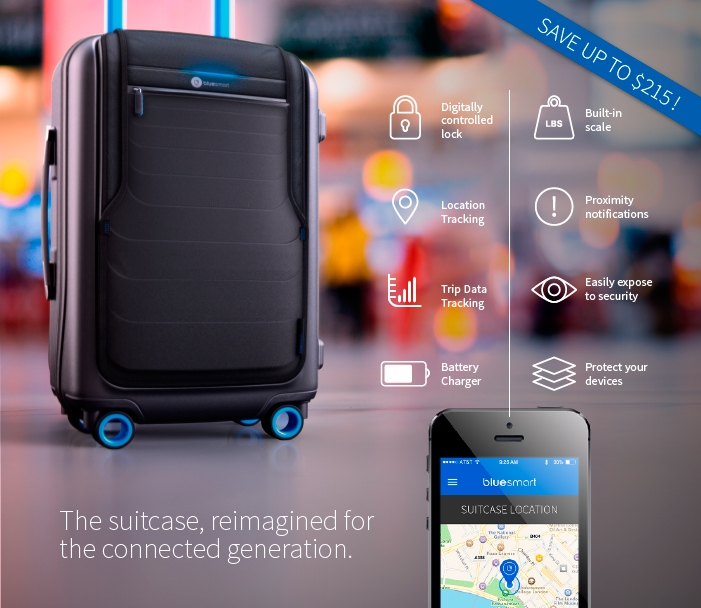 Bluesmart is a crowdfunding-backed appliance idea which packs the yet most complete set of technical benefits with a luggage. It has dedicated Android and iOS apps. Install the appropriate application on your device, connect with your smart suitcase and then play with it wirelessly.
The people behind Bluesmart have thought about every aspect on how a luggage can come user friendly and provide the most out of it. Its design is simple and beautiful. It was crafted with three layers of polycarbonate body and waterproof zippers. Its dimensions are 21.5" x 14" x 9" that complies with major airlines for carrying. The suitcase's weight is only 3.8 Kg and its creators believe the final product could be lighter.
Bluesmart has a built-in digital scale to show information on how much weight is it going to carry. If you have overstuffed the luggage, you can fix the issue with help of this feature. All of this information is shown on your smartphone screen.
The suitcase's lock is also digitally controllable. You can open or close it right from the app interface. There is also an alternative key that can be used to control the locker without any help of the smartphone app.
It's natural that you put your important stuffs inside the suitcase and you never want to lose it. There is a Bluetooth proximity sensor to alert you if the luggage gets separated by a certain distance from you. It has an on board GPS module to help you track its position.
Bluesmart places the laptop/gadget storage at the front side so that you can access those devices conveniently. The appliance shows a nice set of statistics on how much you have travelled, which airports/stations you have been at and so on.
While travelling outside, we face a common challenge of keeping our smartphones alive with enough battery backup. We love social networking and sharing moments being captured frequently. And you know, this drains our gadget's battery. To solve this problem, Bluesmart comes with a built-in battery that can recharge your tablets and phones. You can recharge your phone more than six times with this backup source.
Everything was fine so far, right? Now come to its pricing and availability. Bluesmart was launched on crowdfunding site Indiegogo with a goal of $50,000. The idea proved to be awesome and it has raised $1,364,990 so far. The campaign deadline is 31st January 2015. You can order a Bluesmart suitcase on Indiegogo at $280 while the estimated retail price can go $450 or higher. The shipping details can be found on the order page.