These days, many people carry their laptops or tablets to work or school. Having a nice laptop bag makes it easier for you to carry your laptop and other work stuff. When buying a laptop bag, there are some things you need to consider.
Other than design, durability and comfort are also critical. You want a custom laptop bag that feels nice on your back. You will also want a versatile laptop, especially if you run multiple errands during the day.
Below are some essential tips to consider when buying a RocketBags custom laptop bag.
Your Budget
How much are you planning to spend? The cost of laptop bags varies depending on various factors. Custom laptop bags are costlier than generic brands, but you don't have to blow your budget for one.
Also, don't get sucked into the façade that expensive is equal to high-quality. Do intensive market research from different stores and online shops. This will help you get a nice idea of bag prices depending on the size and brand.
Size Matters
Another significant factor you should consider is the size of the bag, especially the laptop compartment. Check the bag's specs to see what size of laptop fits into the compartment. Moreover, consider what else you will be carrying in your laptop bag.
You will need a bigger bag if you are a heavy packer. So, go for a bag with multiple compartments, which will make packing your stuff easy. However, you need to remember that a bigger bag may feel baggy, especially if it has extra padding on its sleeves and backside.
Style and Aesthetics
Bags are a fashion icon, and you will want something that complements your daily look. The good thing is that custom laptop bags come in various designs. Style and aesthetics are subjective, so it is up to you to look at what matches your style.
Nonetheless, don't compromise on quality or blow up your budget because of aesthetics. However, ensure that it is a color or design you like, especially if you will be using the bag daily. Casual laptop bags with a touch of a sporty look will match both casual and formal looks.
Durability and Quality
Both depend on the type of material used to make the bag. When it comes to durability, you want a bag that is easy to clean. Most custom laptop bags are made from canvas, leather, nylon, cotton, polyester, and TPE fabric laminate.
Canvas and leather bags are the crème if you are after high-quality with shades of class. However, leather and canvas bags are heavier than those made from synthetic materials. In addition, they are not perfect if you rely on public transport for your daily commute. The reason is that they are more susceptible to scratches and will pick up marks.
On the other hand, custom laptop bags made from TPE fabric laminate or high-quality nylon are highly water-resistant. They are also more lightweight and cheaper compared to leather and canvas.
Padding and Security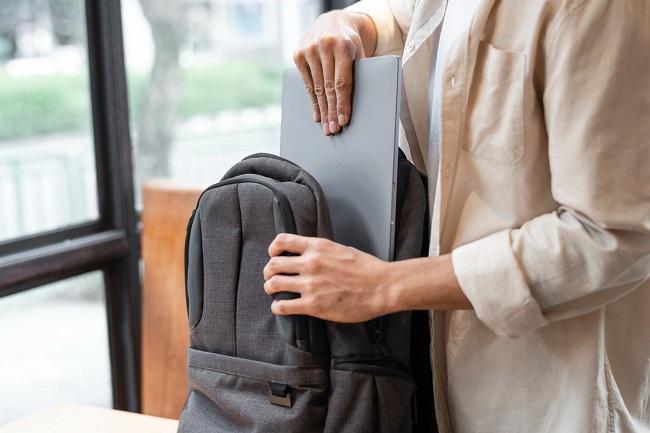 Padding is an important factor when purchasing a laptop bag. You want a bag with enough padding that will absorb any impact from a fall or if you bump into a hard surface. The padding is what will protect your laptop. Still on the same topic, extra padding on the backside and sleeves will also make the backpack feel more comfortable on your shoulders.
The only downside to extra padding is that the bag will feel baggy. But this shouldn't worry you since you are sure that your items will be safe.
Security features will also come in handy, especially if you use public transport. Some laptop bags come with combination locks that allow you to secure the zippers. Some also have a plastic casing embedded inside to prevent thieves from cutting through the material.
Warranty
It is right to look for a bag with a decent warranty if you are spending big money on a custom laptop bag. The good thing about a warranty is that you can return the bag for repairs or a replacement should it malfunction before the warranty expires.
This will help protect your investment and ensure that you get good value from it. The warranty periods may vary, but the longer, the better. This is also important, especially if you use your bag daily.
Comfort is Important
We have touched on comfort when talking about padding on the bag. Comfort is an important aspect, even if you are a light traveler. Most laptop bags are versatile, and you may not know when you will have yours fully packed with something heavy.
Go for a laptop that has a wide backside for even weight distribution. Chest and waist straps will also come in handy. The straps will help reduce the weight and pressure on your shoulders and lower back region.
We recommend you visit a physical store and try out the bags to test the comfort. Some bags are fitted with a mesh-like material at the back to help sweat dry off faster, especially during hot days.
On the other hand, if you have some issues related to shoulder or lower back pain, consider going for a bag that has wheels. This will give you an option when the bag feels too heavy or uncomfortable on your back.
Wrapping Up
There you have it, some of the most significant factors you should consider when buying a custom laptop bag. There are many options on the market, which can make it tough to choose the perfect fit.
However, don't compromise on quality, comfort, and security when shopping for a laptop bag. Also, read reviews from other buyers to see what they are saying about the bag. The info will be handy, especially regarding quality and durability.
Another thing worth noting, look for a laptop bag that is easy to clean. This is very important, especially if you will be using it regularly. Synthetic materials are easy to clean and dry faster, which improves the bag's durability in the long run.
A good backpack can give you a solid five to ten years before wear and tear sets in. However, they may be costly, but well worth it since you will not be going back to the shops any time soon.