Hello folks, the reason why you guys landed on this page today already indicates that you have forgotten the password of your Windows 7 computer. It is true that Microsoft's best Windows version to this date is still Window 7 but it does come with a demerit when it comes to resetting the password of your computer and without entering the right password, you won't be able to access any of your files or folders or software or documents or anything else. Microsoft has made absolutely no way to remove or reset the password of your computer if you forgot it.
But yet there are still some tricks and security breaches that can be applied in Windows 7 to bypass the login screen on Windows. In this guide, we are going to expose those tricks so that you can regain access to your computer just like before you got locked. So embrace yourself and get ready to access your computer again.
Method #1: Bypass Windows Password via  Super Administrator Account
There is a special account in every Windows 7 computer which is known as the Super Administrator Account that can be accessed in this kind of disastrous moment. It is only designed for changing the password of your administrator accounts if you ever forget it. It works as a normal admin account but with special privileges.
To activate this account, you will have to reboot your PC and press the Shift key continuously on your keyboard until the Super administrator account appears on the screen. Then simply log in using that account, go to your control panel and change the password.
Remember, this account can only be activated if you have setup the profile before getting locked out or else this method won't work.
Method #2: Bypass Windows 10 Password via Computer Management
If you have other administrator or guest accounts setup on your computer then you can easily manipulate those accounts to change the password of your main profile. Basically, you will have to enter into your PC using the other administrator account and then you can right-click on "My Computer" and click on "Manage". Then, go to "Local Users and Groups" from the sidebar and on the right side, you should be able to see your main administrator account name.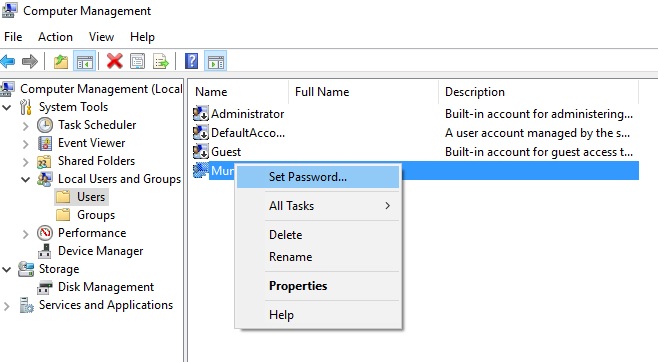 Simply right-click on it once and set up a new password for your account. Now, you should be able to use this password to login again.
Cons –
Guest account must have administrator privileges.
Other accounts must be created before you forgot the password.
Method #3: Bypass Windows Password with iSeePassword Windows Password Recovery Pro
Now, if you never activated a SAC account or other administrator account then the above methods are worthless. In that case, you will have no option but to use a reliable third party software such as iSeePassword  Windows Password Recovery Pro to bypass the password of your computer. This program is very fast and is capable of removing password from any Windows computer. It doesn't require any other account or internet connection to work since this software works independently without any help of other apps.
Features provided by iSeePassword – Windows Password Recovery Pro
Reset or bypass password in any Windows computer including Windows 7, Windows 10, Windows XP, Windows Vista and even the older version of Windows OS.
Easily add and remove accounts from your computer with this software.
Change the priorities of your user accounts from administrator to standard.
Works with every computer and laptop brand which includes Leveno, HP, Acer, Dell, etc.
Suitable with most of the hard disk types like IDE, SATA, and Seagate and so on.
Free support available for everyone.
How to use iSeePassword to unlock Windows 7 Password?
The intuitive design of this software made the usage of this program extremely easy. You can literally reset your computer password within few minutes by implementing the manual mentioned below.
Download and install the program on another working computer and start it to see its main interface. Now, insert the USB key or CD/DVD and click on "Burn USB" if you are using USB stick or "Burn CD/DVD" if you are using a compact disk.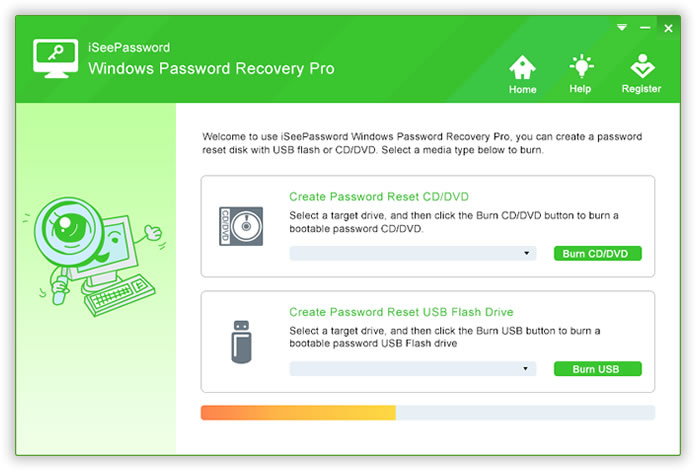 It will hardly take few moments to burn the files successfully and you should be able to see this message after it's done.
Now, insert this bootable disk on your locked out PC and turn on the computer to activate iSeePassword program automatically. Then, all you got to do is select OS as Windows 7 and choose the username of your choice.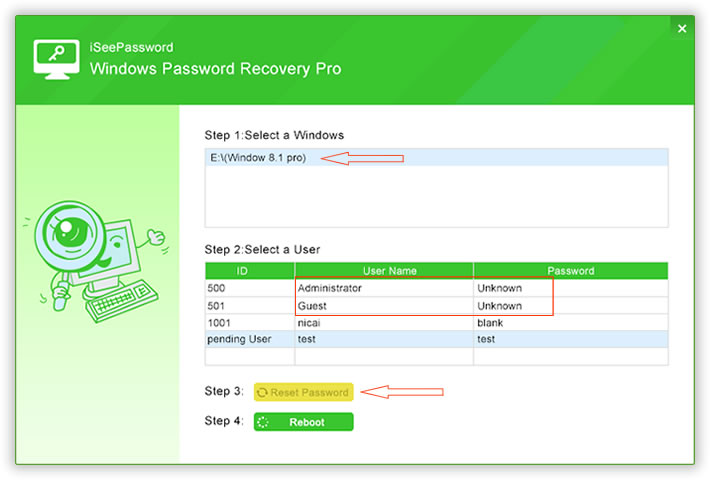 That's all. Now, click on "Reset Password" and restart the PC to access it normally.
Conclusion
iSeePassword – Windows Password Recovery Pro is an astonishing and reliable software that can easily remove passwords from any Windows computer. Moreover, it is supported in most computer and laptop brands like Acer, HP, Dell, Lenovo and other 5000+ models. In addition, if you have got any queries regarding this tool then don't forget to connect with the support to get immediate assistance. If you like this article then don't forget to mention your opinion in the comments section.