There are many note taking applications and services available on the market, and each has its own peculiarities for which users love them.
We have already published a review of CintaNotes app. However, in this article we would like to accentuate the advantages that are not always obvious. The app works only on Windows; it has no mobile version; its design is,  putting it mildly, not very modern and there is a little chance that it could be of any interest to the wider audience that needs a fancy interface and synchronization with anything and everything possible. However, the project has been there for a while, and, apparently, it is quite popular. The first thing I was able to single out from among the advantages is the app's simplicity and, subsequently, fast performance. The app is not overburdened with unnecessary functions. Its creators focused on other things instead.
Tags Tree
Second thing – tags. You can include one into another, which reminds me of book contents. It might be handy if you are working with large volumes of data. For example, heads of IT departments, who need to systematize information concerning the stock of workstations, periphery and other equipment. If there is no need for reporting, then I believe that CintaNotes can substantially expedite the work. Or personal assistants, who need to keep large amounts of various information and quickly find notes, for instance finding your boss's thought that struck him during the lunchtime, which he requested you to write down several years ago. We'll talk about it later though.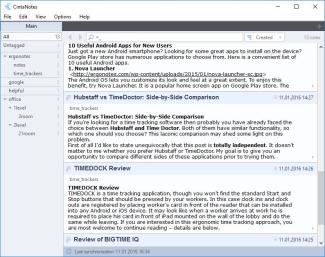 Designation of tags and the level of their inclusion is managed directly from note editing window. Inclusion is marked with '/' symbol. This is the way new tags are created and existing ones are selected. It takes time before you'll start assigning tags quickly without touching the mouse.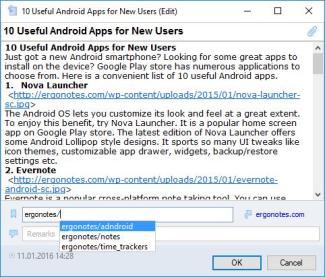 App creators have also thought of another important thing – bulk note editing, although they could have made it more convenient, like in Evernote. To delete tags you need to enter them on your keyboard, initially Delete tags field is empty.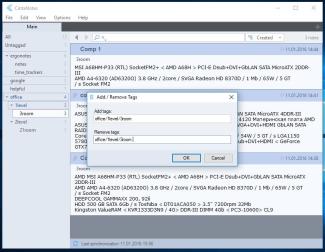 Search
Third thing – the search. CintaNotes promptly searches the notes while you are typing a word into the search field. It is quite possible that this was implemented using local storage for notes in SQLite Database. You can search through all data or by tags, headers, attached files, etc.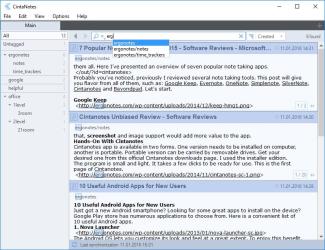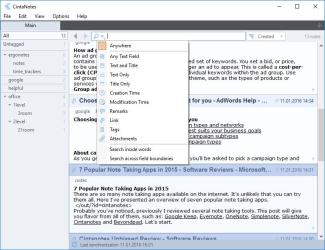 Search by date of creation or change looks really interesting. It works the same way the text search does, i.e. it doesn't look for date match, but text match in the field "data". For example, if you remember only month and year of note, you can enter the date in this format mm.yyyy, and the app will filter notes and highlight in them the info you are searching for. Evernote also has this kind of search, but it is not as convenient and works incorrectly, I searched for notes for the entire year and results failed to display some of my notes.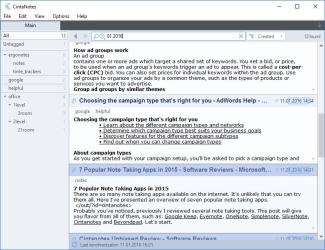 I guess the rest of functionality is of marginal importance to users. Or is it?