Are you curious to learn a new language? Not sure to learn it with or without charge? Worry that you'll not be able learn every day? Try Duolingo!
Duolingo is a service that provides language learning for several other language speakers. For instance, you are a Russian and you can learn English and German on Duolingo. It has a web version, therefore it technically is full platform supported. However, for your convenience, Duolingo has also developed clients for Android, iOS and Windows Phone 8.1. Therefore you can learn language when you're waiting for the bus, waiting in a queue, or even in a toilet, with whatever device at hand.
Duolingo also syncs your class data with its server, so if you've finished some part of a lesson on your phone, you can continue the learning on the web, or another phone, or a pad. As its slogan goes, Free language education for the world, its service is completely free. Even the items in the app are not purchased by real money, but the lingots earned with your efforts.
Duolingo also provides a certification, we'll talk about it later in this essay.
Android app
I only have an Android device, therefore my review is based on Android first.
As you can see on the right, a lot of languages are provided, in their respective native name of the users. (e.g., Английский as "English" in Russian) Every language is represented by the landmark of the objective language. Statue of Liberty represents English, not Big Ben, so that you know you're learning American English.
Duolingo has multiple types of questions for you during learning, some are with pictures for memory assistance. The picture on the left is the first question of English – Russian learning. You'll definitely know девочка means a girl as a native speaker, even you don't actually know the definition of "a girl". This is rather a neat way not to frustrate the learner when he knows almost nothing about the brand-new language.
The traditional translation test is reinvented, too. If you provide a translation that is literally right, you'll be graded right. According to a well-known website Pro-Papers, the matching pattern is so flexible that you can write in your own style. In the second pic above, I wrote Один мальчик, which is just one-to-one translation to "a boy". But Russian generally translates as мальчик, and that's what Duolingo showed as "another translation". But Duolingo won't tolerate a mistake. In the 3rd pic above, девочка must be translated as "a girl". Duolingo pointed out the mistake concretely: Here, an article is required.
You can also tap to combine the desired translation. In the list of choices, there's an option to confuse you, одному. The correct translation is shown on the pic.
Coming about the hearing test, an essential part of language learning, Duolingo provides two versions: Normal and slow speed. Normal speed speaks the sentence the way how native speakers do, while the slow one speaks out the words one by one clearly.
For the translations, you can always tap on the words that are dot underlined. The possible translations for this specific word will show, and you'll need to adjust due to grammar concerns.
Note that I lost a "heart" for the grammar mistake I've made. You can make 4 mistakes in a lesson, but a penalty will not be imposed to you if you submitted a typo. Just be careful anyway.
The typical check-box and radio-button questions are also there for you. In this way, you will not make it by totally guessing.
There're two buttons on the result ribbon: comment and report. Comment allows you to discuss the question with other users.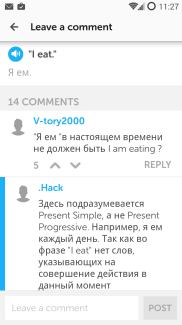 Have a look at the pic on the right, the provided translation for "I eat" is Я ем. Someone question "Я ем" to be I am eating. And another user explained the grammar (Present Simple tense). Sometimes app can't handle all situations of languages, and comments are there to help to improve the accuracy of the grading.
While reporting is the only way to complain when you-think-is-right answer is judged wrong. It happens in some languages that are too flexible and grammar is not the only limitation. A vivid example in Chinese, "能穿多少穿多少", one sentence can mean thoroughly different: a) Wear as (how) little as you can; b) Wear as much (thing) as you can. When this happens, you should report to Duolingo, but your heart won't be refunded.
Web version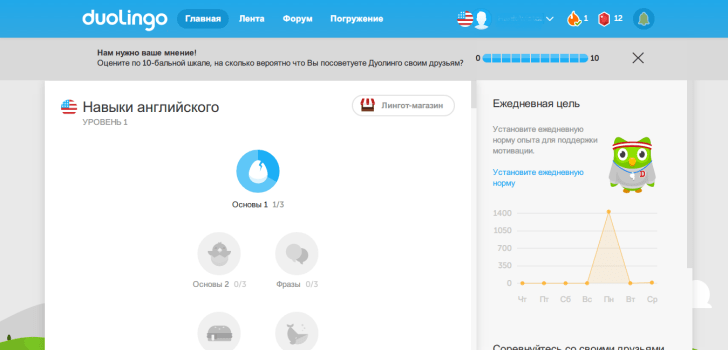 The main interface is consistent with the Android one. My finished lesson 1 is there, already synced to the server. There're also XP and streaks counting.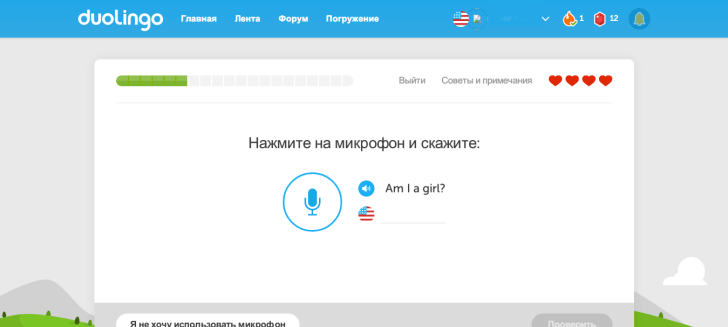 There's also a speaking test in Duolingo, on all platforms. Above it is an example, you need to read the sentence displayed on the screen, the voice recognition will determine if you're right. (Tips on the screen: Please click the microphone and say: )
There are other links, mainly for discussion use.
Certification
Duolingo provides a certification service, which plans to charge a small fee ($20, 10% equivalent to TOEFL), but currently is on beta and free. The app is released individually, and stricter than learning app. You have to stay in a quiet, well lit room alone, with stable network. You are also required to keep your eyes on the screen only, talk only when the app permits and stay exactly in the app (as long as the focus of the app loses, even the changing of IME will be regarded as cheating). During the test, a genuine person will be invigilating. The concept of remote testing is quite new, and worth a try during beta test. Even out of beta, its test fee is also very competitive, as long as it proves itself convincing.
Summary
Duolingo was chosen by Apple as the app of the year in 2013. It effectively supported the quality of this app. It has reading, writing, listening and speaking test integrated in all-in-one app, friendly hints and UI, seamless sync, all-platform support, discussion with other learners, motivating XP system, flexible time of learning, and finally it's free. It's hard to find another rival in this field, as it has everything a basic learner needs. However, I'd recommend a more professional course for deeper understanding of languages.
In the age of information, learning cost is considerably reduced. Why not make use of your spare time and learn?