Would you like the person helping you with your job application to truly understand and be able to relate to your professional journey? Are you trying to prevent the mistakes from the writer's lack of industry-specific knowledge? Then the best thing you can do is hire a Skillhub expert specializing in your industry.
What Makes Skillhub Special
Some people believe that professional resume services are a worthless waste of money, but recruiter survey data prove them wrong. Job seekers who hire a resume writer are about 30% more likely to land the job they're interested in. And without spending hours on each job application, they also have more time to prepare for equally impactful interviews.
Given how competitive the resume writing market is, it's no wonder that every service is trying its best to leave clients happy. But few can compare with Skillhub. Not only do we have an exceptional set of guarantees that'll make you feel secure (such as a 4-week interview guarantee), but we also have writers who specialize in 40+ industries. You get to choose.
We Use AI to Connect Job Seekers With the Most Suitable Writers
First, we make the process of selecting the best expert for your order quick and efficient. Skillhub uses AI-powered tools to connect clients with competent writers in the relevant industry and seniority level. You can hire someone with a similar professional background to ensure they understand the unique industry standards.
You Get to Communicate With Writers Before Hiring Them
Moreover, Skillhub's clients can talk to the candidates before choosing whom to hire for their resumes. Once you get a list of recommended writing experts (based on their bids and our AI-powered matching system), you can text them with questions and clarifications.
Getting in Touch With the Candidates Helps Build Trust
We encourage communication between our writing experts and clients because we know how crucial it is for job seekers to build trust with the person tasked with writing their resume. You're welcome to communicate with a different candidate if anything feels off. Take as much time and as many attempts as you need.
You Get To Double-Check if the Expert Understands Your Requirements Correctly
In addition to building trust, talking to a writer before hiring them is a great way to double-check if they've understood everything correctly. This is even more essential if your order instructions are pretty brief. By texting our experts directly, you can ensure that all of your requirements will be followed and the job application will turn out to be precisely how you hope it is.
We Have a Large Writing Team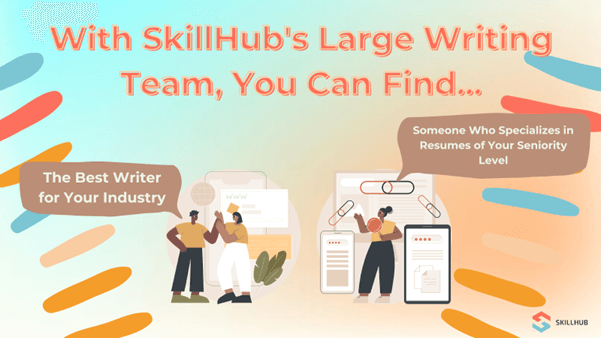 One of Skillhub's unique selling points is a large team of writers. We have experts across most industries and career lines. Some of them also specialize in peculiar resumes, such as federal ones. And with our direct communication option, it's also possible to find a writer you feel you connect with on a personal level (if that matters to you).
You Can Choose the Best Writer for Your Industry
One of the popular questions that first-time clients of resume writing services have is whether or not it makes sense to hire an industry-specific expert. The answer is yes. As Acceptable-Put4588 from Reddit puts it, someone unfamiliar with the client's industry might not be able to demonstrate the extent of the client's skills fully.
Moreover, an industry-specific resume expert is best positioned to know what keywords to include in the job application to ensure that it beats applicant tracking systems (ATS). Research shows that, on average, job seekers use only about 50% of essential keywords and skills on their resumes. A writer with industry expertise can double this number.
You Can Also Find Someone Who Specializes in Resumes of Your Seniority Level
Also, a job application can look very different depending on whether its owner is a recent graduate searching for their first job or a seasoned professional with decades of work experience. Skillhub has writers for both. So whether you're after an entry- or senior-level position, we'll be happy to help.
We Encourage You to Read the Reviews and Check the Samples First
Finally, no matter who you choose—an industry-specific expert or someone who writes all kinds of resumes—we encourage you to check other clients' reviews. It's the best reassurance you can get if it's your first time using Skillhub. Spend some time on our samples, too—and you'll know everything you need to feel confident that our experts will help your career.
An Afterword
Most professional resume experts can compose a proper job application. But industry-specific writers are in the best position to write an exceptional resume that can surpass ATS and impress even the most demanding hiring manager. Talk to our writers before hiring them, check our reviews, and take a look at the samples—and hiring a Skillhub expert will be an easy decision.
FAQ
1. Why do I need a resume-writing expert in the first place?
Over two-thirds (68%) of job seekers with a professionally written job application get a job they're happy with within three months. Seeing how difficult today's job market's difficulty, you might want to invest in any help you can get.
2. Are resumes really that different between industries?
Except for federal resumes and those for artistic careers, most have very similar formatting, structure, and content requirements. But an industry-specific writer can highlight the job seeker's skills in the best light and thoughtfully use all the important keywords.
3. What if I've done everything I could to connect with your writer yet am still unhappy with the result?
One of Skillhub's guarantees is unlimited revisions. It implies that the expert working on your job application will revise it as many times as needed before you're satisfied with what you see.
Works Cited
Acceptable-Put4588. "Who has used a resume writer that has knowledge of this particular field?" Reddit, 27 Oct. 2021.
Belcak, Austin. "Resume Statistics: We Analyzed 125,000+ Resumes, Here's What We Learned." Cultivated Culture

, 12 July 2021.

Gilbert, Nestor. "83 Must-Know Resume Statistics: 2023 Data on Length, Cover Letters & Valuable Skills." FinancesOnline.com

, 15 Mar. 2023.

Indeed Editorial Team. "How to Write a Federal Resume (Tips and Example) | Indeed.com." Indeed

, 27 Feb. 2023.

Seaman, Andrew. "What to Know Before Hiring a Resume Writer." LinkedIn

, 20 Sept. 2022.