BigTime IQ is an online time tracking app for professional services firms that is particularly handy if they are using QuickBooks for accounting purposes. You can work with BigTime anyway, even if you are not a QuickBooks user, but if you are and you lack time tracking functionality, then I urge you to check this app as it can make your life much easier. If that increased the level of you interest – continue reading, I will try to provide an overall impression about this app.
Integration with QuickBooks and other products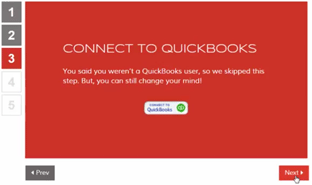 At the very beginning of your experience with BigTime, the app will suggest that you connect to your QuickBooks (either desktop or online version) to get from it all the information (including Customers, Jobs, Employees, Items, Classes, Pay items, etc.). Customers and Jobs automatically become Projects in BigTime.
If you are not using QuickBooks, then you have a chance to enter information concerning your employees, contractors, projects, types of activity and so on, by yourself.
Moreover, BigTime can be integrated with Lacerte, Google Calendar, Microsoft Outlook and Zapier. The latter allows integration with many other applications. But if you aim at having even deeper integration, then REST-based API is at your service.
Interface
Overall, BigTime's interface is nice and simple. Its peculiarity is that you can actually customize some pages so that they meet your requirements better (I've seen only a few time tracking systems that offer this feature). For example, this is how a standard weekly timesheet looks like in this app: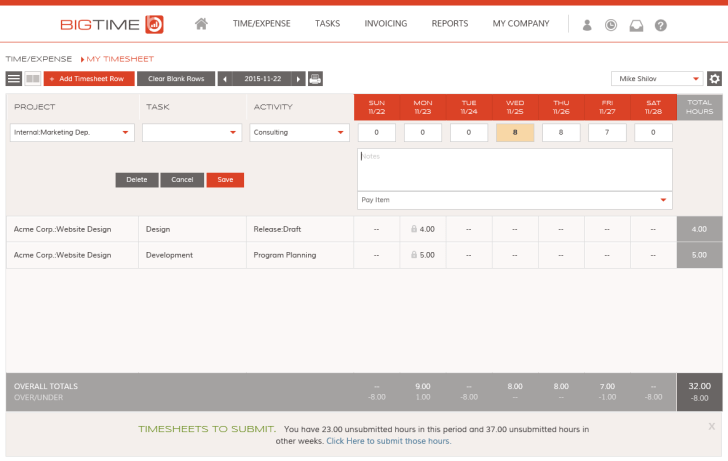 If you don't like the set of columns, you can adjust it by deleting, adding and moving the columns, as well as shuffle the detail fields for records editing: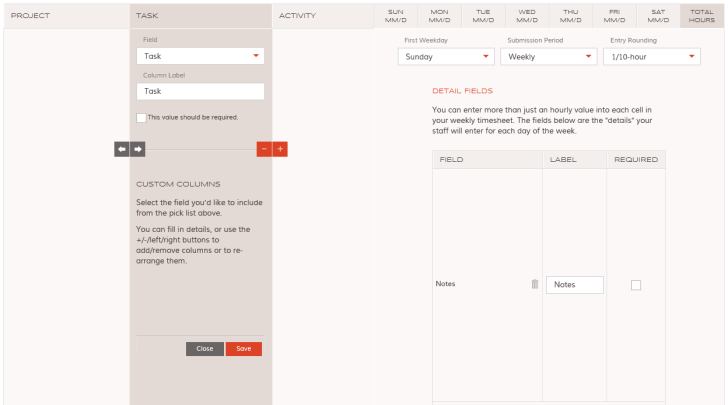 Dashboard
If you subscribe to PRO plan or higher, then you'll be able to enjoy the following dashboard layout: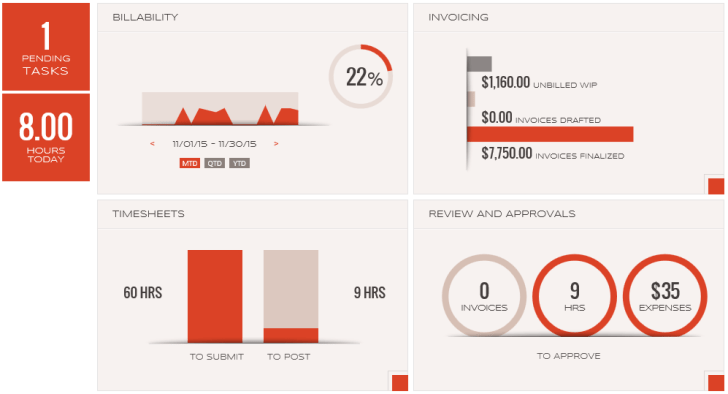 Basically, it speaks for itself. The dashboard reflects system's key indicators. Based on that graphics you will be able to conclude, which BigTime's functionality is utilized the most.
Timers
You can enter your time into a timesheet either manually (see screenshot above) or use mobile app or start the online timer (BigTime has no desktop apps). There can be several online timers, but only one can work at a specific point in time. You need to enter project details, activity, task and pay item for each timer. This is how timers look like on the website: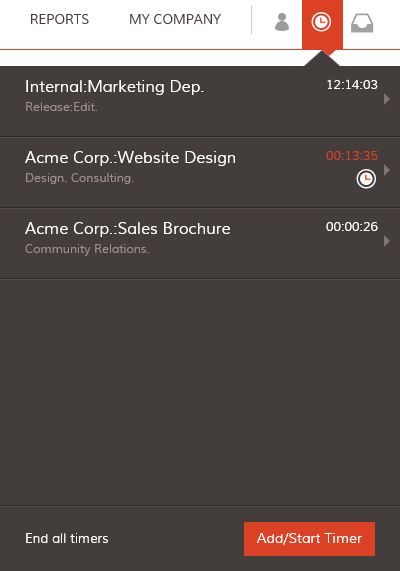 You need to submit your time for it to be eligible for payment. As soon as you do that, you won't be able to change the number of hours you actually worked. The same applies to expenses that you enter into the system.
Tasks
BigTime also features elements of a task management system. Tasks can be assigned to one or multiple employees; be part of specific projects, and have a certain current status (Not Started, In Progress, Under Review, Admin, Complete, and Archived). Obviously, each task is responsible for a certain number of hours worked and other expenses. Here's how the task manager looks: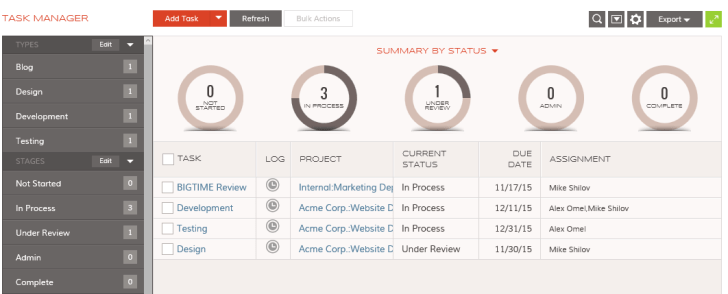 This manager is also customizable and allows adding or removing columns as needed.
Another nice thing is the option of creating recurring tasks. These tasks will be automatically set on a weekly, monthly, quarterly or annual basis.
Reports
I counted in total 16 reports in BigTime. They are primarily related to one of four sections: time tracking, invoicing, payroll and task lists. All reports are customizable (as we examined above). If you cannot find a report that fits your needs – you can build your own with the help of report wizard.
Below is an example of how BigTime reporting looks in terms of tasks by project and budget: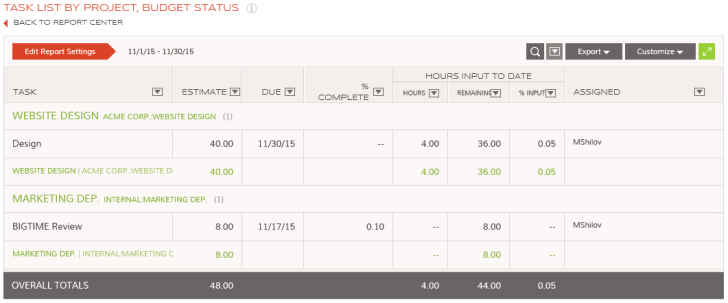 The fields from this report can be filtered based on min-max values of columns and columns can be edited and shuffled (as mentioned above). The report itself can be downloaded in .PDF, .XLS or .DOC formats:

Invoices
Most probably you use time tracking to pay for the time worked. Let's see how does invoicing work in BigTime. All expense-related items can be divided into three categories: unbilled time/expenses; drafted but still in progress invoices; invoices marked as 'sent':

Invoice formats are customizable to meet your needs. Then you can forward invoices into QuickBooks, pint them, email them to client, etc. Here is how a PDF invoice can look like: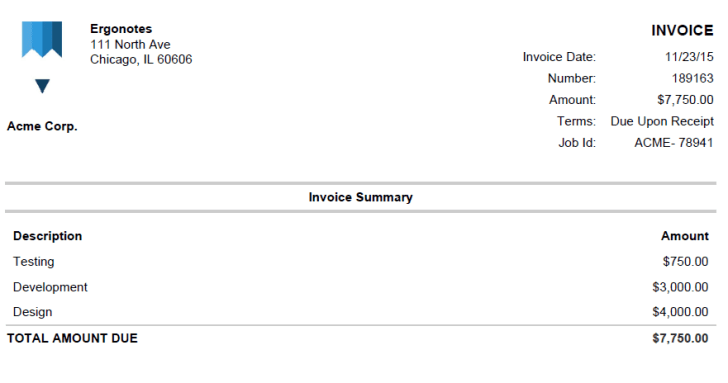 How much does it cost?
According to the tradition, at the end of a product review I mention its price. The cheapest version of BigTime will cost you $67/year per single user. With this money you will only get a basic functionality excluding accounting for expenses, task management, 'deep' integration with QuickBooks, Zapier and Lacerte, access to API, etc. However, you can get all that if you are willing to spend $192/year per user and higher.