How to use VoIP if computer or VoIP phone are not available? Your Android smartphone can help you in this endeavor.
Talking about Internet technologies that nowadays are simply irreplaceable in business, and often in everyday life, many would agree that email is number one in this list. Its significance in the modern world cannot be overestimated. Personally, I would give the second place to VoIP. Thanks to ample opportunities and relatively low cost, introduction of VoIP in business, and subsequently in everyday life, is happening very quickly. As of today, the majority of mobile operators provide VoIP service based on SIP technology that requires a subscriber to have a hardware or software IP phone (softphone). In this article I would like to tell you a little bit about the softphones (Android phones and tablets in this case).
We have selected three softphones for testing: Zoiper, CSIP Simple and inbuilt into Android SIP client, whose existence is still a mystery for many smartphone users. For telephony purposes we have selected the popular European service Betamax, and, more precisely, one of its resellers – Webcalldirect and telephony corporate server Asterisk. Here it comes…
1. Built-in SIP client
I like it primarily because it is already inbuilt in the phone, so it works "out of the box". It is really easy to set it up and use it. You can set it up through the following menu path: Settings – Phone – Accounts. All you need to do is enter your login, password and server address and it is ready for use. Everything is pretty simple, no extra hurdles. You can go to advanced settings and enter proxy address, port number and transport type, if necessary. To be able to receive calls, you need to check 'Receive incoming calls' parameter, otherwise you will be able to make outgoing calls only.
As soon as you save the settings, your phone will be registered on telephony provider's server and your VoIP is up and running. From now on you will be able to make calls via Internet alongside the standard calls via the SIM card. However, if during incoming calls you are not able to tell the difference between GSM and VoIP calls except for a tiny sign displayed in the upper right corner, then it means that calls are made in several ways:
always call via Internet. In this case your phone will always call only via Internet channel. Should you need to call via mobile network, go to settings and enable another type of outgoing calls.
Internet calls only. In this case a separate field indicating a phone number for Internet calls is required for each contact from your Contacts.
select the calling channel before every call: mobile connection or VoIP. The most inconvenient way in my opinion. However, it might be useful under particular circumstances.
Sometimes phones lose server registration and fail to notify their owners. In other words, you think that you are online but in reality your phone is offline and cannot receive incoming calls. Moreover, tests revealed a slight decrease in volume during the conversation  as compared to mobile connection, as I was asked several times to repeat what I just said. Due to absence of SIP fine settings, there is no chance to experiment. At the same time, the quality of Internet connection was more than decent. Overall, the process is very simple as it was designed for users with basic VoIP skills so that they can simply 'hop on' and use it.
One of the most widely used VoIP clients, primarily because it is available for all popular mobile and desktop OS. There is a free version, which we are exploring here, and Zoiper Gold, which, apart from basic functionality, features call forwarding, video calls, additional voice codecs and ZRTP encryption.
When you connect a new account the application suggests to choose the provider from the list or set it up manually. Telephony providers' list contains some popular services, although ultimately it's nothing more than a nice addition. You can connect any provider using 'Manual configuration', which is not too hard.
Manually adding account allows you to choose SIP or IAX protocol, though the majority uses SIP. IAX is rarely used to connect subscribers, though it is more useful from the technical point. Following that you need to enter username, password and server address, and press Save button and adjust advanced settings, if necessary. That is it. The app is tuned and read for use. After Zoiper has successfully connected to the server you will see an indicator at the top of your screen. With the help of this indicator you can monitor your network status, i.e. whether you are online or offline at the moment. It is important when you need to make sure that you are available for calls. There is also a possibility to switch accounts, if you have several accounts, and you can do it with one sweep. At the same time, switching between accounts impacts only incoming calls, whereas outgoing calls are not interrupted in all accounts.
The design is standard for VoIP applications and includes telephone dial, call log that is synced with system log (which is very convenient), access to account settings and the app itself, contacts and the chat.
The app can receive calls on the background, it can also integrate itself into Contacts, and thereafter it allows you to choose how to call, via mobile network or Zoiper. Moreover, it has many fine settings that shall be explored in a separate review. I would only mention that Zoiper functionality duplicates 95% of the functionality of a standard SIP phone and it can be used as an alternative, if necessary. But there is a single serious shortcoming – absence of Call Transfer function, which is available in app's paid version.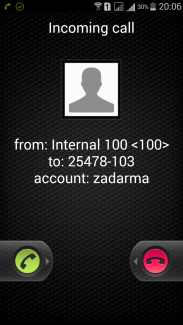 My general impression from working with Zoiper is quite positive. It runs smoothly, reconnecting from Wi-Fi to 3G is fast, within a minute-minute and a half. I was a bit upset with outdated design, for instance, the dial reminds the standard Android 1.6 dial. As far as design is concerned, this problem concerns almost all softphones and not only for Android, but for Windows, iOS and Mac as well.
3. CSIP Simple
During the initial start the app suggests to set up the integration and, what's interesting, the possibility to use application only for outgoing calls. While configuring the SIP account the app suggests to choose the provider from the list or choose 'Basic' option that is at the bottom of this list. After account configuration is completed, you will see the app's main window.
You can access existing account settings by pressing on the key icon in the bottom left corner of the telephone dial, which is not so intuitive in my opinion. Integration with phone in my case worked somewhat awkward, the Contacts was alright, but the list of calls could not sync for some reason.
The dial pretty much resembles the one that is inbuilt into Android, and during the call the app looks quite unusual. However, it has Call Transfer function and recording during the conversation.
Another important moment is that during the conversation you can enable or disable echo cancellation. It can be useful when make multiple calls to various numbers. Echo cancellation is often not required when calling SIP numbers, but when calling the land line it can be really useful.
Overall, when it comes to CSIP Simple functionality, its the best choice among its kind. It contains all the functions that may be useful when working with VoIP, a great many of fine settings for both interface and VoIP settings. And if you need a full-fledged office IP hard phone, then CSIP Simple is what you need.
Conclusion
In this article I have reviewed three options for using VoIP on a smartphone equipped with Android OS, and I can tell that each of them was designed for its particular target audience.
If you only use VoIP to check on your grandma who is abroad, then you should use either inbuilt client with all incoming calls disabled (enabling incoming calls can substantially drain your battery) or Zoiper.
If you are on a business trip or working from home and you constantly have to be available to your colleagues plus you need the functionality of an IP hard phone, then your choice should probably fall on CSIP Simple. As far as other things are concerned: "every man's taste is different".