The onset of the COVID-19 pandemic has seen a lot of uncertainty regarding the validity and extent of formal employee contracts.
The whole world shifting to the work from home culture has enlarged the talent pool for companies. Companies worldwide no longer have to restrict their hiring process to local limits, as the online mode of work has opened up vast opportunities for them to outsource employees from various parts of the world.
This has contributed significantly to the business of freelancers. In the second half of 2020, freelance job openings increased by 41%, a part of which is owed to the pandemic. In the United States, the increase in the number of freelancers from 2019 to 2020 was around 2 million. Freelance and consultant policies purchased in 2020 were 26% more than the previous year.
Although the task of being a freelancer sounds quite daunting, you will be surprised at the success rate of this profession. Freelancers providing skilled services earn an average hourly rate of $28, which is more than 70% of all workers in the U.S. economy. More than 31% of freelancers earn $75,000 and above in the United States. In the present scenario, opportunities for freelance work are in abundance, especially in content writing. Brands are looking for content specialists to help boost their uniqueness and informality to reach out to a larger audience. The national average income of a freelance copywriter in the United States is around $81,748.
Useful tips for freelancers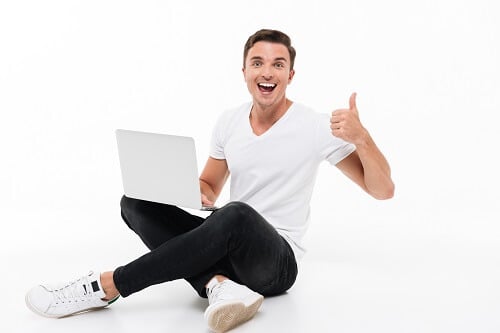 If you're a budding copywriter looking to kickstart your career in freelance copywriting or an experienced one, you have arrived at the right place in pursuit of some better tricks to the trade. Here are a few tips for a freelance copywriter to help turn your job into a success story.
1. Find your comfort zone or niche
If you've come across a specific subject you've written on and felt comfortable doing it, try making it your niche. Research about that topic and enhance your expertise in it to make yourself a lucrative hire.
Often, companies are looking for freelancers on a short-term contract basis to write on a specific topic. If you possess the know-how of writing well on one of these topics, you might even be offered a higher price than usual. So it is always a good idea in copywriting to find your comfort zone and master it.
If you have a stronghold over a specific subject, you can even sell yourself as a copywriting consultant by sharing your unique ideas. This will even fetch you a higher fee.
In case you are unable to pinpoint something specific or cannot develop a niche, at least try to be enthusiastic about the subject. Content employers are always looking for passionate writers with an attitude to adapt easily.
2. Create your own brand
In the field of copywriting, it is important that you create a "brand" or "image" for yourself in order to be established, even more so if you're a freelancer. Create an online presence by putting yourself out there. You can even write a book or a column to guide beginners or to give employers a taste of your work. Create connections on professional sites like Linkedln In.
Make sure you have ample visibility. Use all your personal connections to get the word out about how good you are at your work. Don't hesitate to ask for referrals from your trusted friends.
Creating personal connections with your contemporary freelancers or even those who have achieved great success in this field can be a great idea. They might pass across an opportunity to you or refer you to a reputable employer.
3. Be easy to work it
To have more clients running after you, you need to have a good name in the industry. Do this by being a real treat to work with. Be quick and receptive to your clients' needs. Keep your work process flexible and transparent. Make sure that you are handing over your work on time, as minor delays in deadlines can cost your client a lot in revenue.
Make sure that you understand your client's demands correctly before taking on the work. If the need is, make him re-check the instructions and requirements for each project. This may be arduous, but it's better to be clear at the start than hand in incompetent work.
Record your video calls with your client using a free webcam recorder by Screen Capture to make it easier for you to revisit the minor details while working on your project.
Overall, be friendly and kind while dealing with your client in order to build a good reputation for yourself in the industry. Freelance writers who are easy to work with are generally highly valued and paid more in the copywriting industry.
4. Build your value in the market
If you're a freelancer in pursuit of high-paying job openings, you need to focus on building your value in the market. The freelancing profession may be highly profitable when done right, but it is also equally competitive. For every project that you have written on and supposedly "mastered," there will be a ton of other writers working on the same. You have to constantly update your value to your hirer in the market context.
For this purpose, it is a good idea to maintain an extensive portfolio. Make a compilation of your best work for employers to go through. To take it up a notch, you can even create a website and update a database of all your past work and experiences. This makes you come off as a highly motivated and professional candidate. You can enhance your portfolio by adding brand logos and client reviews of your work. If you can get the numbers on your content's engagement success, you can add this to your website to charge a higher rate. Include at least a recognizable company on your portfolio for top companies to acknowledge you.
Get yourself a certificate or degree in technical expertise to increase your employability. Also, stay updated with the latest industry news and hot topics to charm that job out of your employer.
5. Keep your working style flexible
You may have mastered the art of content writing, but never forget that you can never stop learning from your job and experiences. Even if you have settled on a niche, or created a brand name for yourself in a specific market, be open to new ideas when it comes to copywriting.
Don't be afraid to take up challenges like working on an entirely new topic. Taking up different kinds of work may open up new unexplored avenues for you that might even lead you to better opportunities in the future. Experimenting with subject matters and clients is a risk worth taking in the copywriting field, as you never know what may click best for you.
Unlike traditional contractual jobs, freelancing lets you have a certain level of autonomy on the kind of content you create. Use your freelance job to add meaning to your life and the lives of others by creating an enriching and positive content for your audience.