Do you have a webcam? Even you do, does it have high-resolution? If either is "no", try this cutting-edge app: IP Webcam.
IP Webcam turns your phone into a high definition webcam. It transfers the video stream via WiFi and mobile data (3G/4G) with multiple filters. Is it good enough to substitute generic webcams? Read on.
Requirement
To make IP Webcam work best, you need a device with Android 4.1+ so it can record in MPEG4 and AAC encodings. However if your device doesn't meet the requirement, you just won't be able to take the advantages mentioned above, general functions are working. If you plan to record the video, you will also need to spare free space for storage.
Settings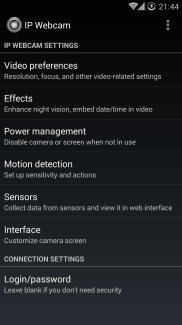 IP Webcam has a conservative and traditional design of Android, listing all the parameters you want to tune. The options provided are:
Video preferences
Effects
Power management
Motion detection
Sensors
Interface
Connection-related settings: authentication, address family and port
Miscs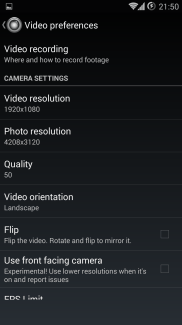 The first surprise for you is, IP Webcam supports HD video resolution up to 1080p, depending on your hardware. Since there's too much to transmit, 4K seems impossible as a video resolution for now. But it may be supported in the foreseeable future, when wireless tech is evolved enough advanced. The photo resolution is same with the one when you take normal photos. Portrait mode may work better under some situations, such as participating an interview. Moreover, sometimes your charging cable interferes with your mobile position. You can change the orientation to "upside down" to solve this issue in this innovative way.
When taking photos on some phones, app firstly takes a mirrored picture then transforms it into the perspective that how others look at you, not how you look at yourself. You can check "flip" with "use front facing camera" to feel more comfortable while video capturing.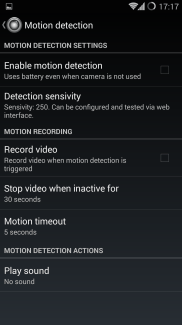 Motion detection is a major function for standalone security use. It doesn't require much web interface interactions. You can place your phone to where there will be no one entering (including your pets) when you're absent and once there is an invader, IP Webcam will record video on demand. In pro version you can even trigger more events by integration with Tasker.
To best utilize this function, you may want to enable night vision enhancement, or / and buy a light (buy an IR-light if you want the security cam to be totally invisible).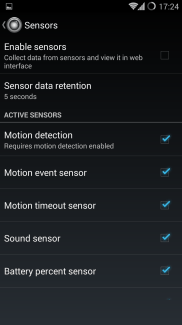 For geeks, sensor data acquisition may be exciting. What it gathers can be drawn into a graph for analysis. IP Webcam gathers all data from the sensors you have on the device. You can do researches right with the power of your phone, isn't that magnificent? Despite the fact that I think this feature should be developed into an individual app, too.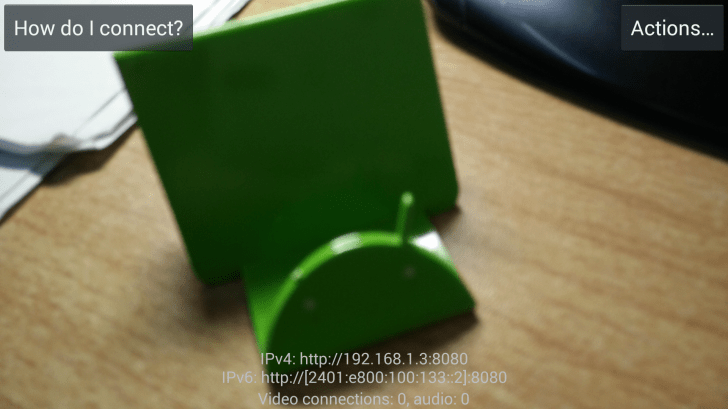 Once you start the server, the work is much easier. See the address on the bottom? You may only have one appeared here as your router or carrier may not have supported IPv6 yet, but don't panic. As long as you can enter the web interface, you're good to go.
Be assured that you can also access your IP Webcam over the Internet. If you're using 3G/4G mobile data, you have to be lucky enough that your data packets can get through. If you're using WiFi, you have to bind your phone's IP so it won't change in internal network, then expose your router to the Internet by port forwarding. It can bring potential risks so think twice or inquire a professional person for help.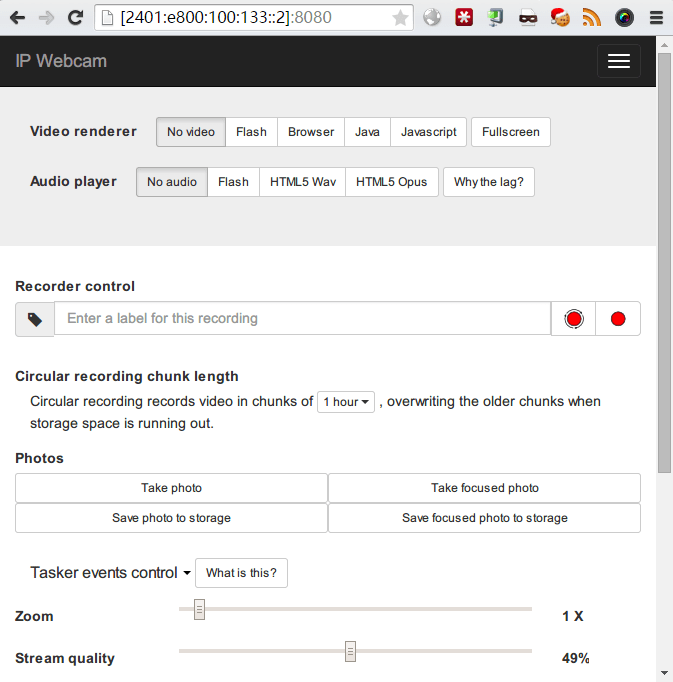 In the web interface, you can try the provided renderers and players. The thumb rule is to compare every renderer and find the least lag as well as best picture quality one. It varies from people to people so you have to get your hands dirty.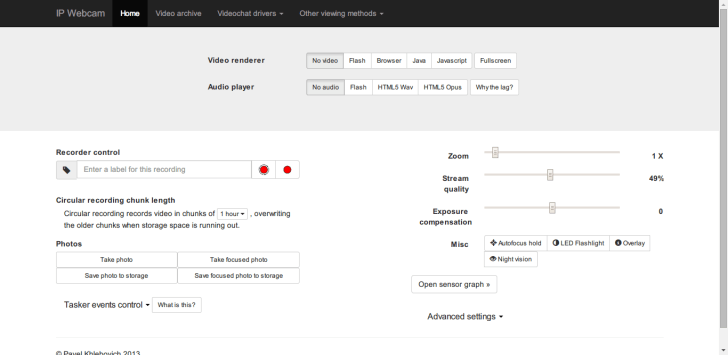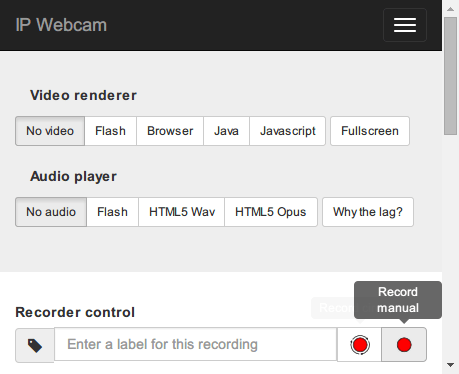 As seen from the picture, nearly all parameters are available to be finely adjusted on the web interface. It also has optimization for different-sized screens, hence by viewing on any modern browser will literally bring no problem to you.
Webcam Driver
So far, we've just explored a small part of IP Webcam. You may wonder, how to really use the phone as a webcam? Well, you have to install a driver on your computer. The developer offers two drivers, one is made by himself; the other is produced by webcamXP. For personal use, both are free. I am taking webcamxp as an example.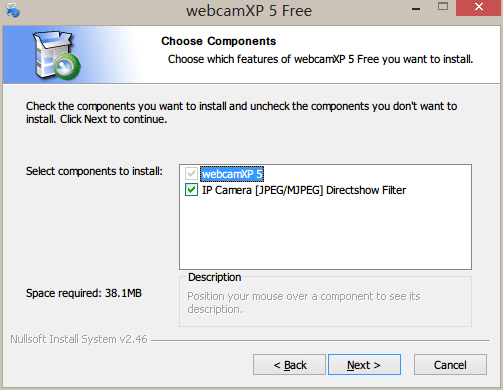 During the installation, be sure to check "IP Camera Diretshow filter", it's an essential component to IP Webcam.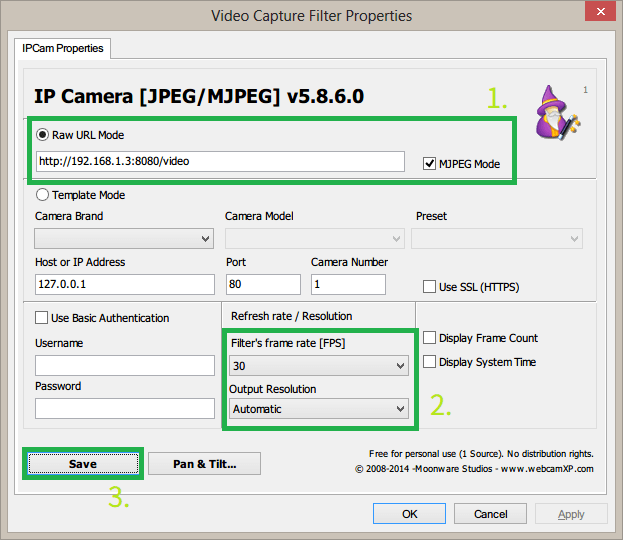 When the installation is done, go to the instant messaging software you prefer and set up your streaming webcam. The tutorial is included in web interface of IP Webcam. Basically, you need to:
Paste your network address in the textbox, check the MJPEG Mode.
Set up FPS. 30 is the maximum recommended FPS as a webcam. Keep the output resolution as automatic.
Don't forget to save your settings, otherwise it's same with simply closing the window.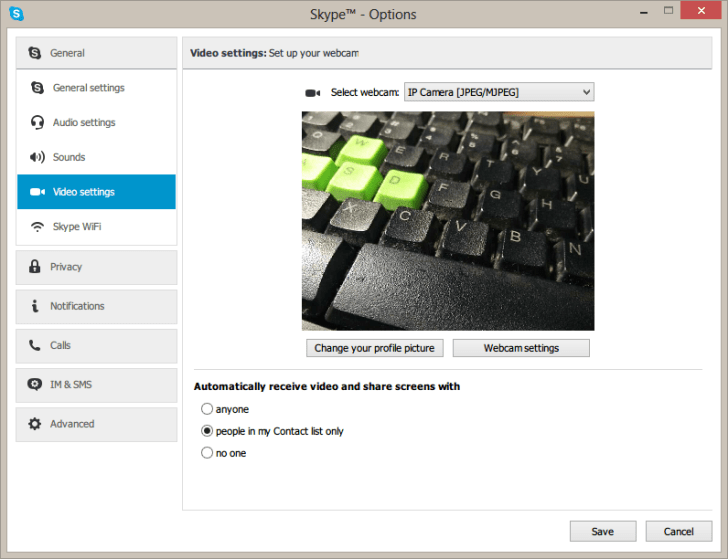 The picture above has a resolution of 720p (1280*720). Picture quality is outstanding thanks to the advanced hardware on the phone. However, you have to make sure your router is capable of high traffic transferring, not only internally, but also externally if you want to use it to chat with others, or as a security webcam.
Summary
No webcam can be better than the one on your phone. With the power of IP Webcam, you finally have the chance to enjoy a high-end webcam without purchasing one. The app is balanced and professional, but a bit hard for common users to adapt. Luckily, the cam is almost set once and for all. With the help of concrete documentation, users can handle it finally. If you care much about the latency of video and audio, you may either buy an efficient router or a wired webcam. Too large bitrate and resolution will cause lag, that's for sure. Overall, it deserves a try. With your imagination, it can work beyond expectation: why not place an old phone and play with your dog when you're not home? 🙂
[Total: 24 Average: 3.3/5]