Do you know how to improve your SEO campaign in a short time?
This SEO suite delivers the results you want with tried and tested methods. We are going to review this suite and explain what makes it an effective solution.
Overview
Agency Platform Dashboard is a one-stop solution for White Label SEO. It's a well-designed package that helps you rank better for your keywords and SEO efforts. This tool helps you get better results in return for your efforts. It saves the money you invest in an SEO campaign.
Features
We are now going to describe the features of this tool in detail.
SEO Audit Reports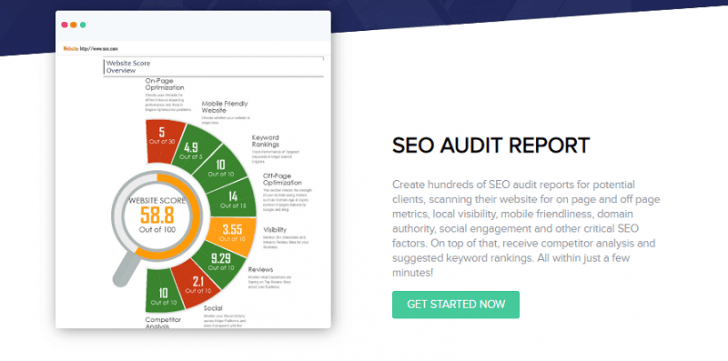 This tool generates free SEO reports for your clients. It provides everything they need to know!
Domain Strength
You can see the strength of a domain with Domain Age and expiry. This tool even lets you see the number of pages this website has indexed by search engines.
On and Off-Page Optimization
It checks several factors including Meta Tags, Word Count and Keyword Density for the home page. You can also analyse the backlinks of a website. You can use business intelligence tools including SEOmoz and Ahrefs metrics to audit the website's off-page optimisation.
Engagement and Conversion
Agency Platform Dashboard checks for the presence of engagement and conversations between businesses and clients. It helps you audit the readability of the content with proven formulas.
Social Engagement
Social signals are becoming a central part of the search engine ranking algorithm. Search engines will check social bookmarking, social sharing and social presence of the website. Twitter has now become as important as Facebook.
Competition Analysis
It enables you to analyse how a website compares with others. This dashboard lets you use top tools like MozRank, AC Rank, SEOmoz and Ahref metrics.
PPC Audit Reports
You can generate free PPC audit reports for your clients with this dashboard.
Low Visibility
It gives you a breakup of important keywords which you can't find on the first page. Tweak them to improve your bid strategy, click range and exposure.
Dead Keywords
It helps you find how many keywords in your account are underutilised, review them and get rid of them to improve your campaign.
Quality Score Check
The tool checks the quality score from Google AdWords to audit your quality score.
A/B Testing
This dashboard lets you see beforehand how you will be fairing the A/B Test for your ads.
Improved Engagement
The dashboard allows you to see how your ad is performing and which words you can use to drive traffic. This will help you improve the turnout of your efforts.
Reputation Monitoring
Keep live track of your social media management with the following features:
Deep Analysis
You can perform deep analysis to find out business sentiments, including your reach. This will help you improve your approach. You can check your business sentiment over different sources and find out how you are doing.
Manual Control
Identify and engage with top users and sources.  You will need to edit and manage the sentiment for every message manually.
Facebook Manager
This tool offers you easy and powerful Facebook Management without breaking your bank.
Automate Operations
It will schedule everything for you, including your posts. This way, you can focus on publishing great content and see how your audience interacts with it.
Real-Time Tracking
Once you post the content, you will be able to track the value generated by your Facebook campaign and see the ROI with advanced analytics.
Twitter Management
Twitter Management is made easy with Agency Platform Dashboard. Now you can work smart to achieve better results.
Management and Analytics Tool
Find the leading bodies to grow your active users within the Twitter marketspace. Doing so helps you grow your followers as well.
Manage Several Accounts at Once
You can manage more than one account with this analytics tool. It helps you streamline your efforts and improve the end-product.
Verdict
This is a premium SEO tool that is designed for everyone, from novice to advanced users. It helps you to take your SEO campaign to a whole new level, whether you are an SEO expert offering services, or you want to boost your blog. It's an affordable solution for your SEO needs, especially to take your campaign in the right direction.
[Total: 11 Average: 2.9/5]