You may not bring your cable with you every day, but you presumably have WiFi available all the time. Why not control your Android phone over the wireless network?
Increasing number of people are moving connection between phone and other devices, such as TV set, computer and automobile, with wireless ways: Bluetooth, WiFi direct or under the same WiFi network, and NFC (along with Bluetooth sometimes). Though the speed is not comparable with wired one, it's universal and always easy to set up. Here I am reviewing an app that allows you to make full control over your phone, Airdroid.
Highlights
Airdroid is made by two parts, one part you install on your phone, the other one could be a device with a browser. You can control your phone not only under the same WiFi network but also over different networks. That is, on mobile data or in different WiFi. Even without a WiFi network, it can instruct you to set up a portable hotspot – similar to WiFi direct.
When under same WiFi
This is the original use of Airdroid as designed which makes it a hit at the early time. Simply by one tap on the app, Airdroid recognizes if you're under a WiFi network and show you how to get to the web interface. Before Airdroid had the ability to be accessed from external network, you simply input the only address into the browser. Nowadays, it suggests you to use Internet to establish the connection, as it is enlarged and colored conspicuously. But remember, connect with internal address if possible for best performance and stability: the one looks like http:192.168.x.x:yyyy (yes you can omit the slashes, I tell you. Also it doesn't currently support IPv6 as I see it :P)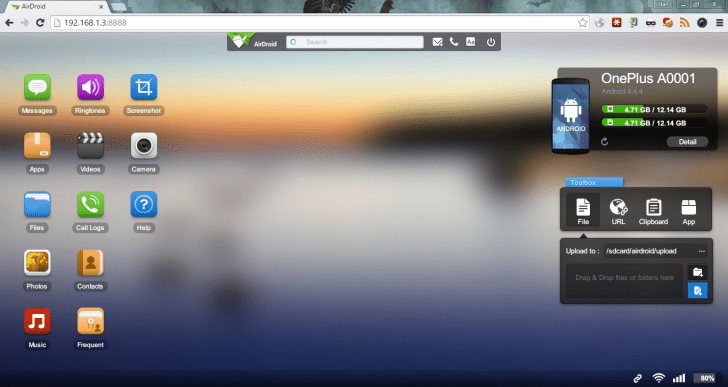 If you make it right, you should see the panel like above. It's like a desktop isn't it?
As you can see, all features are within your reach in one click:
Messages: View, manage and reply SMS. However, due to changes made in KitKat, an app must become the default SMS app before it can manage. Airdroid simply disabled the management for convenience.
Apps: View, manage and install apps. It's similar to pushing an APK pack to your phone and start installation. You have to click "Install" manually and Airdroid has no option to install silently for you (so it doesn't require root privilege).
Files: It's almost a remote file explorer: Select inconsecutive files by Ctrl + Click and consecutive ones Shift + Click. Of course you can select files by drawing a rectangle and cover the files you want.
Photos: A remote gallery. View photos in full screen mode and manage with ease.
Music: Not much to say. A player and library organizer. Designed as though a list of files and hard to efficiently find the song you want. No point for this segment.
Ringtones: Set ringtone, alarm and notification sound. If the ringtone doesn't come with stock, you may delete it. Pure Android doesn't provide handy way to add and delete a ringtone, though I can tell you that you may put your sound files respectively to preset folders, which are Ringtones, Alarms and Notifications (under /storage/sdcard/ or similar paths if you ask me). Google never mentioned it to users, at least I've no awareness of it for long. Ringtone-mania? This should delight you.
Videos: Ah, another video gallery, looking alike to photo gallery. Replaying and managing.
Call logs: A web-based variation of call logs on the phone. Sadly it seems to be wet painted – only providing basic inspection, sorting, searching and subsetting are even not implemented.
Contacts: This is what mobile phones are for. To find contacts efficiently is a major demand for users. Looks good generally, but the puzzle lies on the left – the navigation bar by first letter of the name. Why there's such a long bar for desktop users? "Perhaps for tablets" you may ask. No, it doesn't support swiping. A searching bar is elegant and smart enough for digging in the sea of contacts. Other information is shown normally and in good order.

Frequent: the same faces you see as you open dial pad on KitKat.

Screenshot: By gaining root access, Airdroid can deliver you the latest screen.
Camera: captures images from your cam. The refreshing rate of images are based on your network quality (if you're using the latest devices).
There's also a toolbox on the right for quick drag-n-drop uploading. Be sure to use modern browsers, Internet Explorer doesn't support drag-n-drop:
File: Upload any file to default external storage.
URL: Open a webpage with a chosen browser.
Clipboard: transfer clipboard contents between computer and device. It's a two-way transferring: pull and push.
App: Install an APK file. Similar to Apps icon on the desktop but much swifter.
On the top right there's summary for the device: Internal and external storage, model and system version.
During the test of file transfer, the speed is up to 4MB/s, for zipped and highly compressed files. It takes more time to handle multiple small files. However it's satisfactory compared to MTP which causes too many troubles than UMS. While mourning for UMS, wireless transferring can undoubtedly be a competent alternative.
I don't applause for other functions as I mentioned, some are designed with no proper consideration. I would prefer Google Contacts for management. And the only practical use, personal idea, is heavily depending on the transferring, even for app installation and clipboard sharing.
When under different network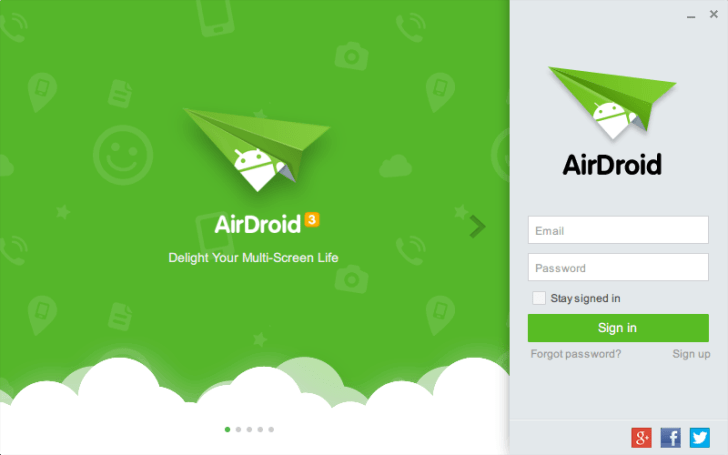 I don't remember when the devs appealed us to move to the Internet side. They may have their reasons but we have to confirm if it's worthwhile.
I got Airdroid for Windows on my computer. On the advertisement, it should able to prompt me if there's a new sms, or a new call, just like how Apple integrates iOS and OS X.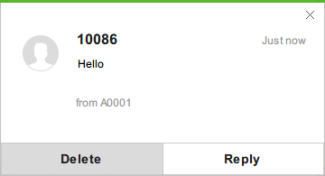 An sms went in, this little window pops out at the same time.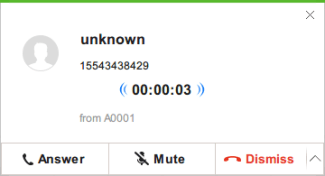 And the calling notification, works too. Sadly, I can't answer the phone like on OS X, probably it was intended as there's network lag. Anyway, with mute and dismiss, you can still have idea of what is going on if you left your phone unfortunately.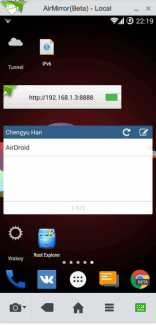 And this, is why I don't suggest you to transfer file under different network. Airdroid client doesn't detect if you're with your phone, or not. It doesn't attempt to throw your stuff over internal high-speed network (compared to external one) once you have logged by account and password over the Internet.
O

ne interesting part on the client is Airmirror, in beta for now. It is like screenshot, but refreshed rapidly so you feel like it's dynamic. What excites me is I can send gestures to my phone, and additionally back, home and menu buttons. Feel like an emulator.

Airdroid also allows you to use web browser to login over the Internet. It automatically transits to local connection mode. Though with some glitches, the battery indicator, for example.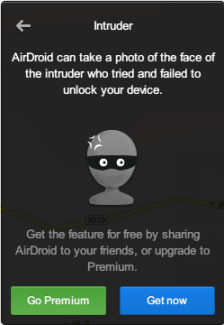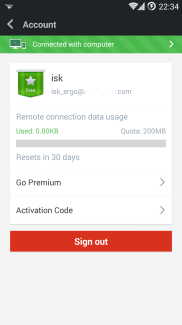 By activating device administrator, you grant Airdroid high level control, which can be destructive if exploited by malwares. As for legit use, it can help you track your lost phone, make it scream, take a photo of the thief and even wipe the phone completely in case of high risk of data leak.Oh, also there's a monthly quota, so abandon your wishful thinking to get big files in different networks.You can go premium, but I don't think it is worth buying, yet.
Conclusion
Airdroid is a powerful tool which can be convenient and easy to use as we don't carry cables but in networks. Its interface is user-friendly, customizable, compliant with user's habits (you can delete a file by selecting them then press delete key, just as in a file explorer). With versatile features, most actions can be done via browser. Its remote tracking feature can somewhat be of use if your ROM remains unchanged after loss.
The cons are mainly about premium. Provided by only 200MB quota, remote controlling can be limited to a large extent. However, companies which do well doesn't force their users to buy additional services. Customers will naturally purchase if the service deserves. The premium, for now, is nothing but extending the quota. You have to worry about your data usage if you are so unlucky that you left your phone without WiFi. And the final concern is, cloud services are improving our life, but also can be a start point of privacy breach. It's yet unknown if it's trustworthy to transmit your sensitive data to a small company. And again, that's the reason I suggested using the local connection mode. No offense, but be really cautious to handle your information.