Registry cleaner tools are widely used with a hope that it will make the computer faster. CCleaner, TuneUp Utilities, Wise Registry Cleaner and many other applications available for this purpose. But what's their function? Are registry cleaners useful? Or even, could it be dangerous?
To get deep inside this issue, we need to have idea on few topics. Firstly, what is registry itself?
Well, registry of an operating system is the database where the configuration of some apps and the OS kept saved (or registered). This information is used to run these programs accordingly.
So, what does the registry cleaner clean? Yes, that's the right question. A registry maintains a massive database containing information for the programs installed on the computer. But when a software is uninstalled, its specific registry information may not be fully cleared. Some registry information might be expired or no longer required. Registry cleaners are supposed to clean these supposedly unnecessary information.
How does this impact? To say the truth, registry cleaning tools are extensively debated by experts. In Microsoft and Apple forums, I found registry cleaners as 'not recommended' or at least 'not important'. Registry is a complex issue which may end up to an instable sate by a faulty modification. Registry cleaning doesn't appear to make a performance boost. Rather it could cause sever system error by cleaning the inappropriate registry item. It is risky.
Still you may like to use these tools to free disk space by removing temporary files, unnecessary shortcuts, cache items etc.
But before cleaning stuffs with tools (e.g. CCleaner), check and double check what are you deleting. It can empty your recycle bin, clear the internet browser's cache, saved thumbnails, search box entries and so on. Clearing such items will definitely increase your available drive space and you may notice some performance boost as well. Thus it can be used to perform routine maintenance.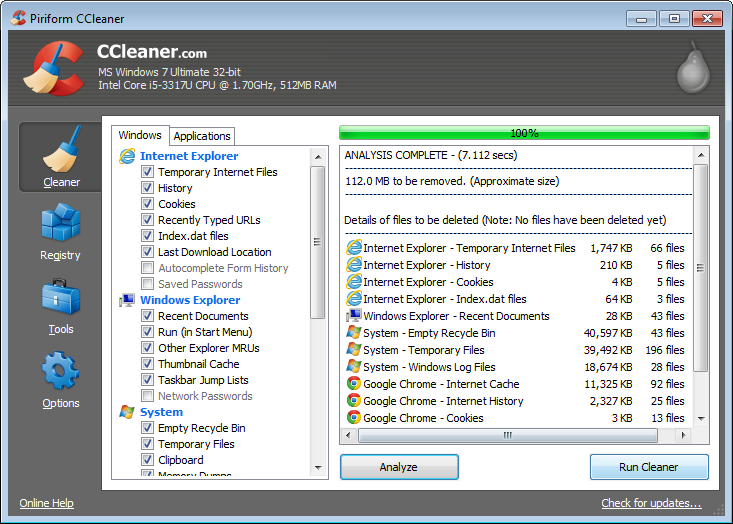 While using CCleaner, you will find the 'cleaner' option at the front page. In cleaner menu, there are two sub-menus. For Windows, they are 'Windows' and 'Applications'. In Mac, these options will be 'Mac OS X' and 'Applications'.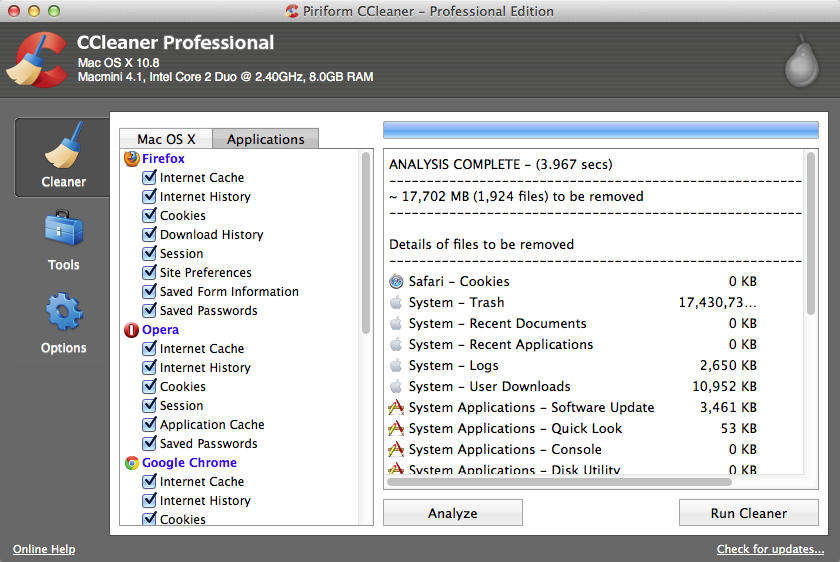 As the names suggest, here are two basic options. The first one will deal with the core operating system stuffs and the second one will deal with applications. Before running the 'cleaner' command, check the data types what will be removed by CCleaner. With the 'Analyze' option, you can preview the contents what it found to be removable. It will also show the estimated disk space can be freed by the cleaner. Once you are ready to go, click on the 'Run Cleaner' button and it will delete the items. However, you can run the clean command without analyzing or previewing the removable contents too.
Now that, CCleaner is not a dangerous tool unless you don't understand its options. In fact other apps of this type can be used for some good reasons such as deleting the search auto complete items & shortcuts, removing system restore points (Windows) or repair permissions (Mac) which was generated in a less important time, adjusting startup programs etc. Since the registry cleaner section is controversial, so, my recommendation, just avoid this option. Even if you use registry cleaner ever, be sure that you are keeping a backup of the current registry items. Registry backup option is given in the cleaner menu. If cleaning registry creates any problem afterwards, restore your backup to fix it.
I hope I was able to give you some useful information on a massively debated issue. I believe, now it's clear to you that whether a registry cleaner can be dangerous. I also tried to provide information about options that come with a performance enhancer tool like CCleaner. So, use these programs safely. Happy computing. Thanks a lot!