Gone are the days of wondering what your partners or kids are up to on their devices and trying to find out if they are speaking to only their friends or being victims of cyber bullying.
Spy apps enable you to see exactly what action your child or your partner is doing without you having to have the awkward conversations and try and extract information that the other party doesn't want to give. Spy apps can give you a variety of information straight to your phone, from texts, apps used, conversations and photos sent, you never need to be unsure again, but what are the best spy apps of 2020 that you should know about? Here are the three that you should seriously consider.
Xnspy
Xnspy is compatible with both IPhone and android devices but you do need to be aware of what phone you are thinking of using this software on. Both android and IPhone software is monitored through the same portal but there are some key differences between both products.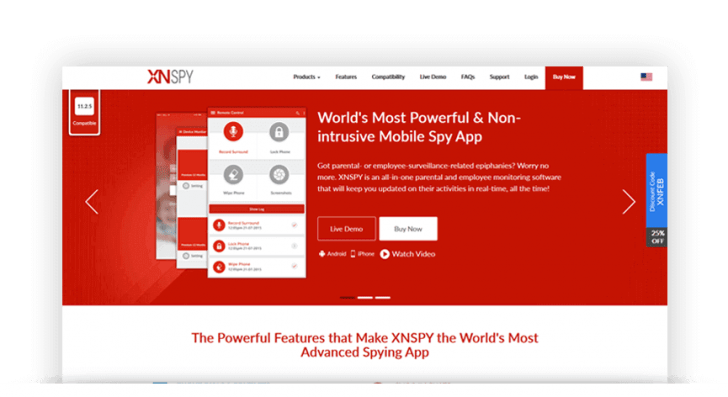 Xnspy for Android
If your child has an android phone, you need to find a way to install the app into their device. The app itself is relatively stealth and looks like a system task, it is hoping that it can hide in plain sight and not be picked up by the user, which in most cases is true, but it doesn't mean that it is 100% invisible like the claims that it makes.
Xnspy for iPhone
Unlike android, there is no app to install on iPhones. All you need is your child's iCloud details and you are away, but make sure that you pick the right device associated with the iCloud account otherwise it'll cost you to change it. This method of data harvesting is far easier and less suspect than that of the android based application.
The Platform and Features
The platform is relatively easy to use in both iPhone and Android cases, whilst they look different (the iPhone portal is a lot sleeker and looks more user friendly) they both have the same features and toggles. You can set up watch lists easily, along with location, key words amongst other tracking methods. The only real thing to be aware of when using Xnspy is that it cannot give you live control or viewing of what is happening on the device you are looking into, unless the device is jail broken, which is something we don't recommend doing.
Pricing
Given the range of basic and advanced monitoring features, the pricing for Xnspy is very flexible; it offers you monthly, quarterly and annual choices depending on your budget.  Our choice would always be to go for the premium edition at $35.99 a month to make sure you can track all the important apps and actions. If you purchase premium on an annual basis, it will vastly reduce the cost down to $7.49 per month but billed annually.
Rating
Xnspy is easy to use, easy to install on android and easy for the iPhone to access. It is a programme better suited to the IOS platform as Xnspy have made the portal for iPhone far easier to navigate, you also don't need to plant an app on the device you want to monitor. The price is very reasonable, especially if you are billing annually.
Xnspy 4 of out 5
Spyzie
Spyzie is coming up in the ranks in spy tech for phones. The software is far smoother and less jerky than that of Xnspy, so instantly I prefer using their platform. It is a lot quicker and easier to navigate than Xnspy, especially for android users.
The big difference between the two services is that you have to implant t spyzie onto the iPhone, which is something you didn't have to do with Xnspy. If you have easy access to the phone, this isn't too problematic, but if you think it may be difficult to do this, then maybe spyzie isn't for you. If your target phone is an android, you may have to root the system which is the android equivalent of jail breaking, again this is something we would not recommend doing.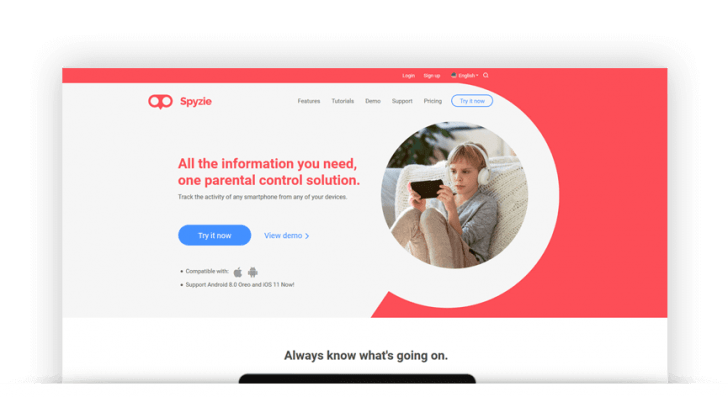 Features
Spyzie gives you access to basically the entire phone, you can view call history, messages and all the data behind the messages such as who sent them, when and how, it even has a chat history feature. On android you are able to get real time updates on the location of the phone or device in real time, making sure you always know where your child or partner is. An amazing feature, especially for people who are concerned that their partner is cheating is that you are able to see what installed apps there are, such as tinder. Spyzie gives you a holistic picture of the device you are monitoring but this is offset by the fact that you have to go about attempting to install it on your child's or partners device without being found out.
Price
There is an array of prices for android phones, of which we recommend the $12.50 a month plan that gives you live viewing, tinder, hangouts and variety of other apps. For iPhone, there is only one price plan option but that comes in far cheaper than Xnspy at $7.50 per month but be warned, this will only effectively work if you know how to bypass the two factor authentication that your partner or child may have on their device.
Spyzie 3 out of 5
MobiStealth
Finally, we have MobiStealth. It offers a slight variation on both Xnspy and Spyzie, but makes bold claims regarding how it can help users see real time information in terms of the devices location, messages and video chats. Whilst this can be done, this is for jail broken and rooted devices only and can't be done otherwise, so this is worth noting.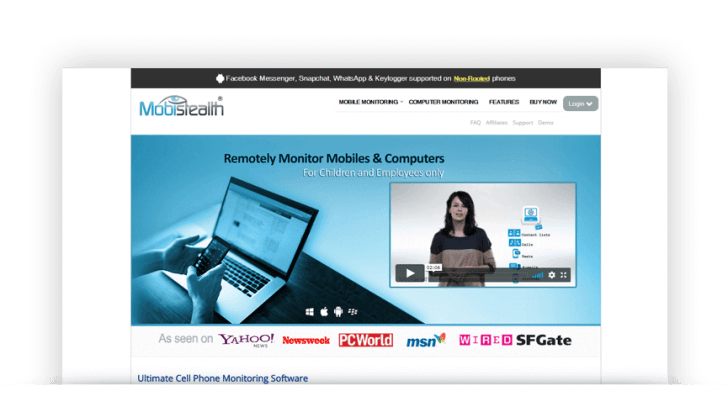 Features and Platform
Like Spyzie, the platform is really user friendly and easy to navigate, there also isn't that much difference between the android and iPhone versions of the software which makes mobistealth stand out. It offers the same level of snooping as other products we have reviewed. Unfortunately, their base package is just that, basic. It will monitor basic conversations over text and give you GPS location, but you won't gain any access to messaging platforms like snapchat and Facebook, and really, these are the apps that you want to access.
Unlike Xnspy, you have to put this app onto your child's phone in the hope that they won't recognise a different system input or operation. This can be risky, especially when other providers like Xnspy can give you access to your child's iPhone without you having to attempt to put an app on it. This is the same for android products too; you will need to preinstall the application on the device. However, one of the redeeming features of MobiStealth is the volume of data it can give you access to (if you have access to the phone) it can give you far more data than that of Spyzie, and a little less than with Xnspy.
Pricing
In comparison to Xnspy and Spyzie, Mobistealth is exceptionally expensive, with a quarterly iPhone package being $99 every three months. Annually, it does work out cheaper but it is still $149.99 and that isn't even for the premium rate package. It does work out cheaper for Android at $49.99 every three months, so is half the price of the iPhone package, but again, this is expensive in comparison to other products we have reviewed, especially when it doesn't operate as well as they do.
MobiStealth 2.6 out of 5
Final Thoughts
Spy apps can be a great way to keep your kids safe in a world where you are never sure who they are taking to, but make sure that you purchase a software that fulfils your needs and is compatible with the device. If you have access to the device, you will be able to get far more data from it than if you don't but there is a risk that your child will find the application or programme that you are trying to hide. For live use, often jailbroken and rooted phones are needed, but if you do this, you may well void your warranty, so take extra care when considering these options.