Checking and applying software updates regularly can be an annoying task. Patch My PC is a free and simple tool that can help you to keep your PC updated and patched to stay secure.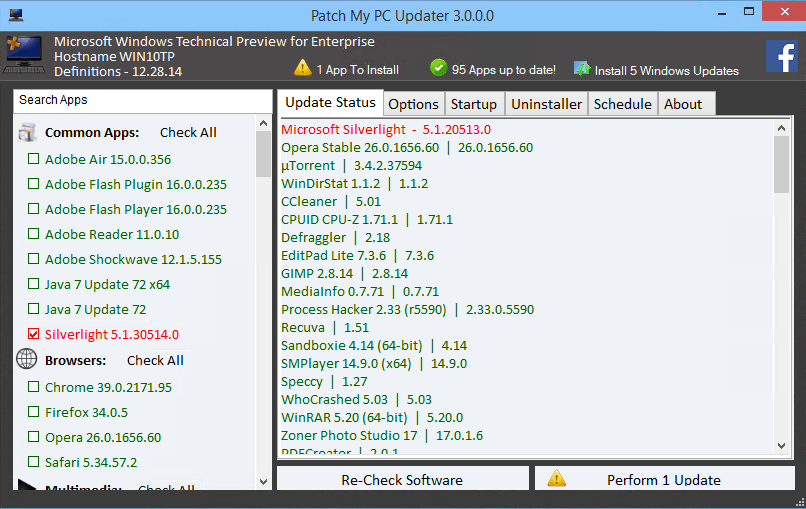 Pros
Small in size, portable and easy to use
It's free
Cons
Summary
Patch My PC is a simple app given that there is only a Windows desktop version right now. I hope its development team will bring the software on more platforms in future.
Deeper inside Patch My PC
It is very important to ensure that both Windows and the apps installed on the computer are updated to the latest version. If any threat found in software coding, that is usually fixed via a patch. But checking for such updates takes time. Patch My PC can do it for you.
This portable, free and small utility monitors hundreds of commonly used applications for latest updates. When an update is found, it can silently install that.
Patch My PC categorizes apps in more than 10 sections that including browsers, multimedia, utilities, media tools, developer, graphics etc. The up-to-date app names are shown in Green fonts. Installed but outdated titles are red. In case of commonly used apps that are not-installed on your PC get Black font color in Patch My PC program list.
With this tool you can also check and update your Windows OS itself. Patch My PC supports scheduled updates so that the machine can get latest improvements regularly, without manual actions. Other things you will like include its built-in uninstaller and startup program manager.
Right now the app is available for Windows computers only. So, if you are a Mac or Linux user, then you may like to look for an alternative.