"Twinkle twinkle little star, how I wonder what you are" Human beings are searching for lives outside of earth, but we don't even know what stars are above me, do you?
During the evolution, we human had disused and deteriorated many skills which were vital to the life of our ancestors, such as recognizing the stars. Technology sounds like it is without emotion, while Star chart argue in favor of it.
This is the first review of Augmented Reality Apps review series.
Star chart is an app which helps you identify the so-called "stars", including planets, stars, constellations and messier objects. It also navigates you to a queried object. A 3D view from another planet is included so you can inspect stars from a planet you have and will never have been to.
First thing first, get the app from Google Play. Once you've installed, the app will present a star tour like a game demo. You may skip by tapping the screen. The app requires your location to work properly, but what bizarre fact is that user has only two choices, and one was capturing data from solely GPS, instead of cellular and WiFi, though the latter two means are precise enough. I entered my city and was brought into the main page.
The silent sky is right in front of you. Swiping around you find so many stars you don't know, right? This is basic viewing. When you swipe out the menu, you may activate the AR mode. Upon activation, you can move your mobile towards the unknown star. Chances are you know moon the best, so just try it out. As you turn the phone around, constellations in/out of range will fade in/out. Other apps may just outline the exact star positions but Star chart also images intuitive and vivid pictures. Tap any star you are interested, a mini menu pops out. From the top to bottom, the first two are zoom in and 3D explore mode.
The 3D explore mode allows you to view like in a third-person (perhaps planet?) view. You may zoom in and out by two fingers, just like in star view. The sunlight cast on the earth is calculated to reflect the real situation. The east of the world is in the evening. However don't be too harsh about the clouds on the earth, presumably these are static images rather than everyday real weather statistics.
To find a planet, tap on the magnifier on the top. The example is our best hoped colony, Mars. If you're on AR mode, a pulsing arrow will lead you. For best result, you should also find a place where is of little interference of other lights, such as suburban.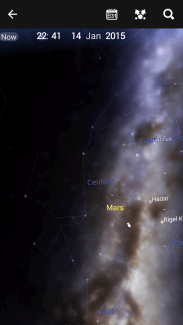 Not only the current view of stars is provided, you can also preview or review star positions on other dates. Tap on the calendar icon, then tap on the interval you would like. Swipe the slider on the right, by "inertia" it'll change in the unit you designated. In a regular pace, the view presents you theoretical conditions of cosmos. But keep in mind this is only plausible when no massive collision event occurs. You won't want to rely on the result of the year 9081.
There's also a mode called Night Mode, when it's set auto, if your light is dim, all image will be repainted red. I'm personally very interested why this app can perform well if the sun hasn't set yet. 🙂
At first I planned to review Star map by Google, but it has been long since it's last maintained, even the user interface is still based on Android 2.x style. Also Star chart should have make use of gyroscope. Image move smoothly responding to your ever subtle tilts. The down side is its size, 53.98 MB with data included. You may feel the glitch when switching between apps, almost ~5 seconds of lag. But all in all it's acceptable and competitive star finder. Astronomy enthusiasts may even purchase to upgrade and see more contents, yet free version is enough for ordinary users.