Recently we've gotten a chance to review Watermark Software (great SEO title, isn't it?) designed to watermark photos. If this is of any interest to you, then our brief and concise review is definitely worth your while.
This app works only on Windows and keeps system requirements low (CPU 800Mhz, 256MB RAM and 20 MB HDD should suffice). Moreover, it is a small app, its size is slightly over 8 Mb, and installation doesn't take a lot of time.
This is an easy-to-use software. All you need is to add a picture you want to work with. App's interface is not overloaded with unnecessary buttons and options, it contains only the necessary stuff.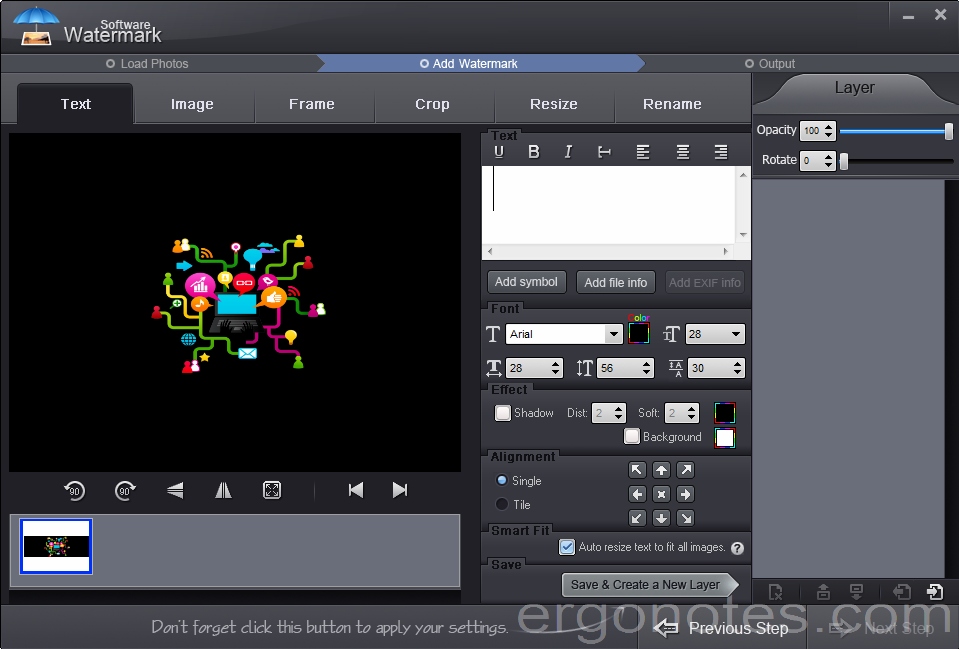 In general, Watermark Software does a good job with pictures of various sizes – from several dozens of kilobits to several megabits. However, it has some difficulties processing pictures over 15 Mb. It seems like the app cannot properly process all requests and that is why it slightly lags while viewing pictures in full screen mode and while working with them.
This app allows users adding text, graphics and logos to pictures as watermarks. Apart from watermarking this software also allows adding frames to photos, crop photos, rename images, change image size and many other useful things.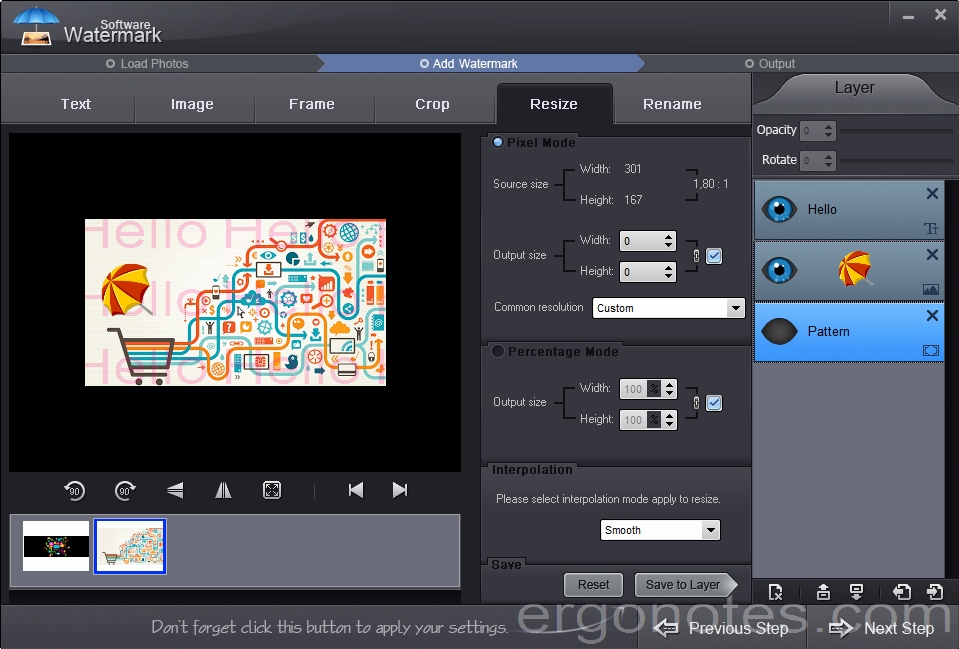 As far as the text adding is concerned, it can be placed anywhere, in different sizes and in any direction. There is also a set of preloaded images that may be applied in many different ways. The same applies to frames, which you can add from the preloaded set.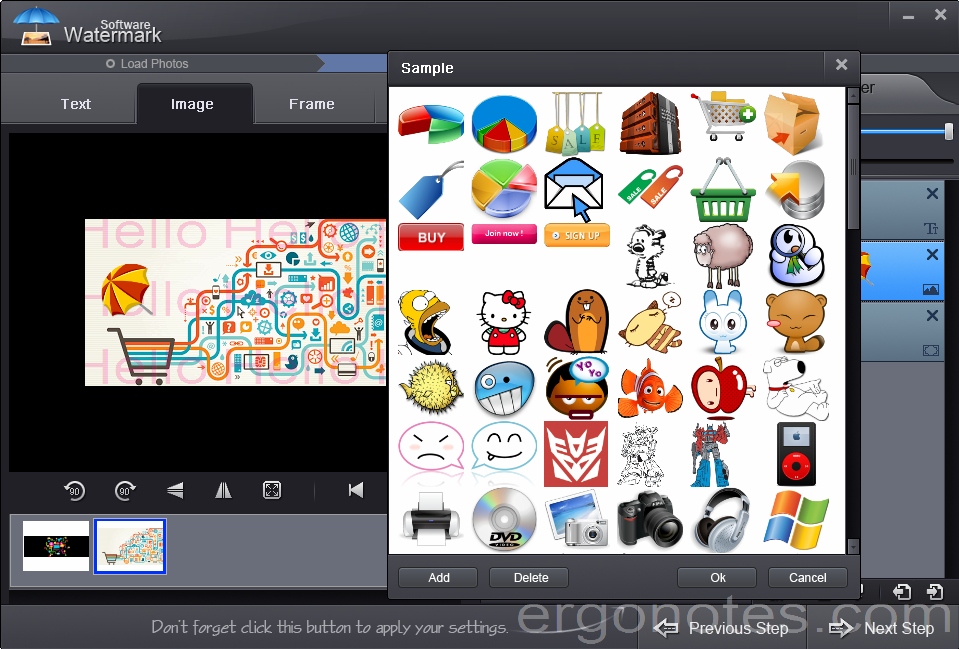 It is really convenient that in this app you can add and remove various properties as layers. So you can enable or disable any layer separately at anytime. In addition to that, you can work with several images simultaneously.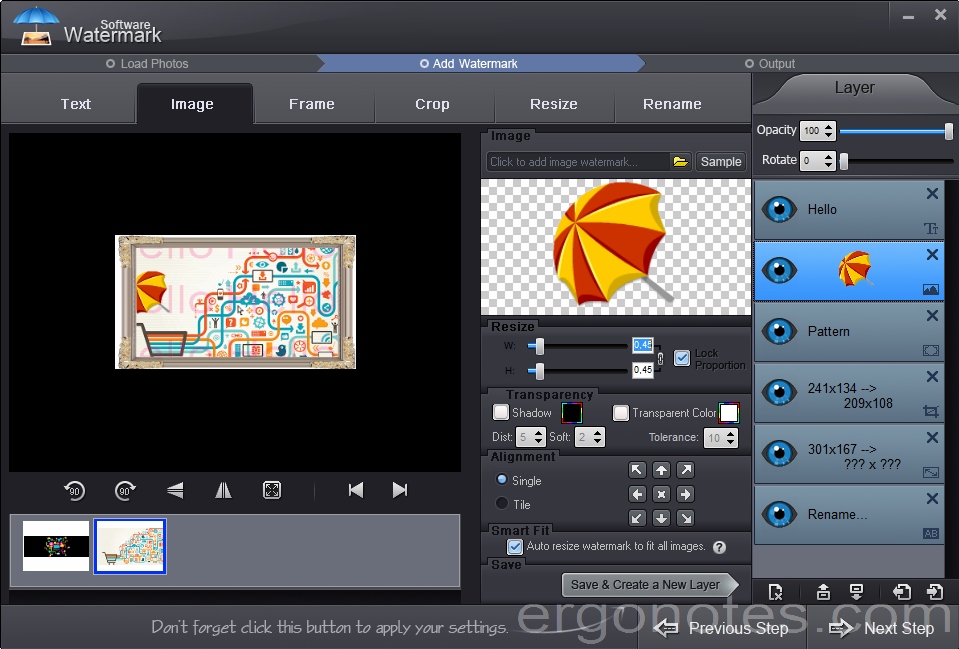 The app has an option to work with EXIF. Therefore you can add the necessary comments to the file, if necessary, and that may be quite useful while working with digital photos, particularly for leaving invisible marks.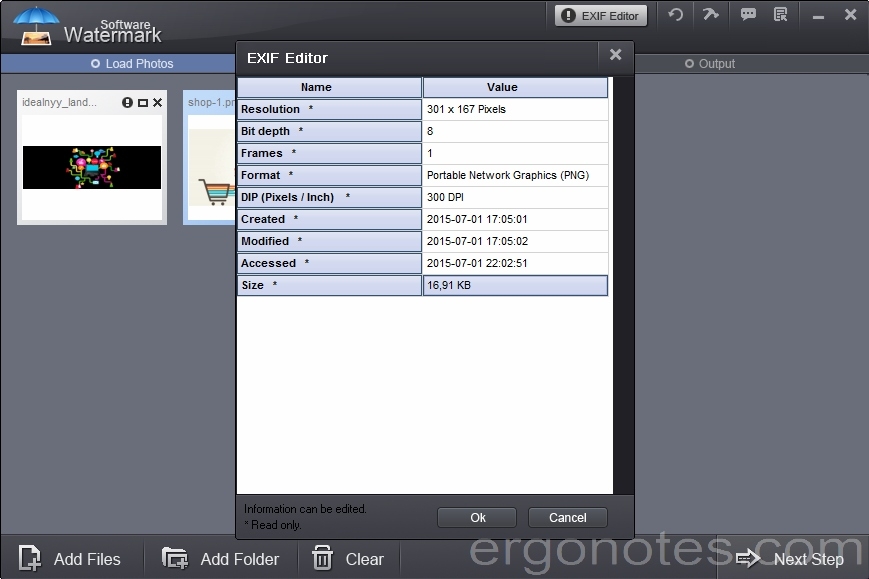 Although Watermark Software is easy-to-use, should you experience any troubles, you can always visit app's website and check additional info. This is a built-in option.
After having finished working on your photos the app will ask you to save them. It should be noted that if you were working with two or more images, but in the end you would like to save only one, you will have to save both anyway. It may sound unimportant and minor issue, but if you are working with ten images and need to save only one, the app won't let you do so.
A really good thing about the app is the possibility to upload images via ftp directly to the server.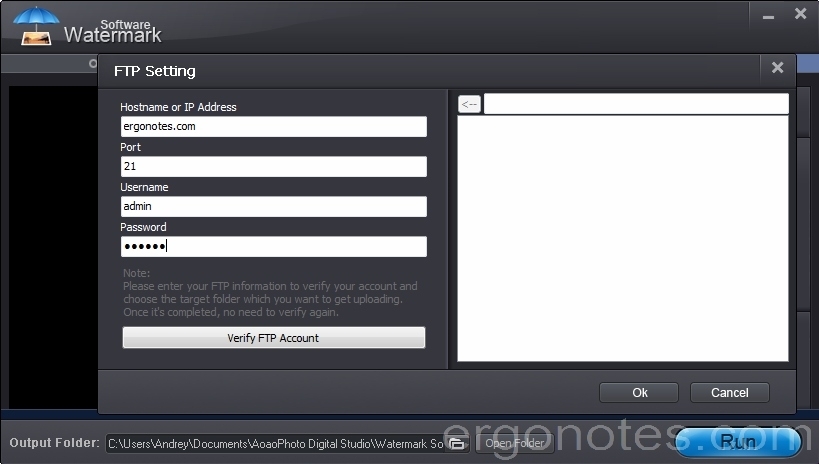 Summary
So lets sum up. Watermark Software makes positive impression. In general, it fulfills its functions well. Its pros include fast operation and rich functionality (that allows working with many image formats), such as adding text, images, frames, size change and renaming files.
We have not revealed any substantial shortcomings while testing the app, although those who use Windows won't be able to use this software. Yet, another aforementioned remark is – lagging while working with large size images.
P.S. Please note that all of the above screenshots have been watermarked with Watermark Software.