Myfastfile.com is another (similar to Bitport.io) online service that allows you to add torrent links into your personal cloud space.
[sc:bitport]
What do you need MyFastFiles for?
Today cloud torrenting services become more and more popular. They're definitely one of the best options for those who want to download torrents in the fastest way possible and and for those who worries about exposing in the torrent network.
For example, with Myfastfile you can download torrent in very short time as compared to using your own torrent client at home as it will run the torrent client for you on one of their servers which have very high bandwidth (as they claim). So you do not have to worry about clogging your internet connection at home and about scary letters from your isp anymore. Myfastfile will grab the file for you and you will never connect to the torrent network.
How MyFastFiles works
First of all, you need to download your torrent, it's simple as 1-2-3: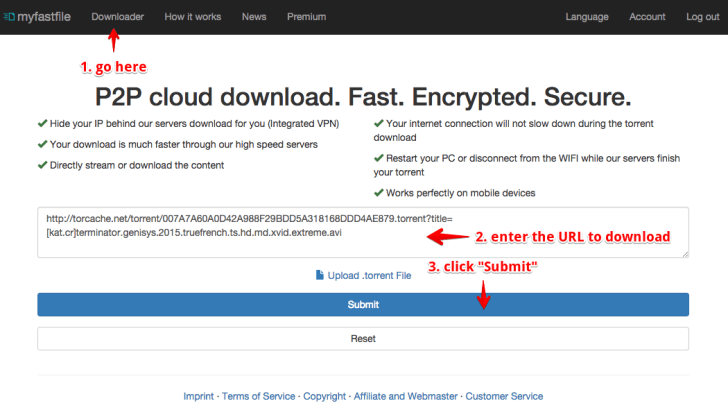 Once the torrent is completely transferred to your online folder it will be added into your list and you can easily download it to your PC by a regular, ssl encrypted, download:

If you do not want to do that, you can start streaming media content right way – which reduces the wait time if you just want to grab a movie and relax.
The best part is that the service caches many torrents on their servers, so if you are lucky and add a popular torrent file that somebody has already added before you it will be available isntantly. From our expierience, the "kickass" toplist for example is completly available right away.
So, What do You Get?
Simple Interface
Basically, Myfastfile contains only one page (https://www.myfastfile.com/download) where you start downloading and have the list of previously downloaded torrents.
No Storage Limit
Right now, Myfastfiles lets you fetch as many torrents as you want no matter how big their size are.
1 TB Transfer Limit a Month
Probably you think that 1 TB transfer limit a month is ridiculous, but actually it is up to 10x more than what other similar services offer for the same price.
Big Cache
You know that a cache always boosts downloading performance. With the big cache, you will notice that many torrents will be there instantly. You can then download the files with a regular HTTP download without slowing down shared network. We are not sure how big the cache is but it has to be in the hundreds of Terabyte.
Any Time and Place
As with any other cloud storage you can access your files anywhere, anytime. You can view or use them anytime and anywhere you want. You can access your files from any device with decent Internet connection, whether it is from your PC, tablet, or smartphone. You do not need to download any software or app to use the service. All you need is a browser.
Pricing
The first file each day is for free. If you need more you can buy a premium subscribtion for 5.74 – 9.99 EUR/month.
Conclusion
Latley cloud torentting services keep popping up and it is hard to find the best one – both in value and technical criteria. Ultimately it really depends what you are looking for but Myfastfile is fairly priced, has almost no size and download restrictions and does what it promises very fast. We were also told that there are more features to come, but it seems it's already a viable solution if you want to do your torrenting faster and without showing your own IP.
[sc:bitport]