Is it advisable to buy used RAM? Does it work at all? Is it safe? Is it worth it to buy a used one when the brand-new price has plummeted in the past years?
When you think of buying second-hand, there are plenty of questions in mind. Of course, there is a history behind it that you may not know. While it will cost you less than buying a new one, there are risks behind it. There is more to the price, you know. Nonetheless, the chances of buying a used RAM are high, and it totally works for me.
As someone who is fond of building PCs from scraps using used and old components, this is not new to me. I have completed building a lot of them before using old RAM. If you are also planning to do so, here are some things you need to know before finalizing your decision.
What is RAM?
Random Access Memory or RAM is a PC component that stores short-term data to make the CPU process faster. It is different from hard and external hard drives since it cannot store data after shutting down the PC. Hence, it is a temporary storage that works faster than other storage devices.
RAM is integral, so ensuring that it works well is essential. Especially if you are a gamer, this is a priority, which is why you look for better RAM to have a better gaming experience.
Should You Really Buy Used RAM?
Let us get straight to the point. Should you really buy used RAM? Personally, as a PC enthusiast, you should go for it. The reasons for favouring this choice are as follows:
It is Cheaper
Buying used RAM allows you to buy more RAM because of its price. The more RAM capacity you acquire, the faster your PC works. You can use more programs, access multiple files, and run various tasks simultaneously without lagging.
Instead of spending all your cash on buying a brand-new RAM, you can spend them on other plans for PC improvement. You can use it to purchase a better motherboard, graphics card, or maybe a new gaming chair for comfort and a better gaming experience.
Currently, a brand new 32GB DDR4 3200 on eBay costs about $79.99 to a hundred dollars, while pre-owned ones cost at least $49.99, plus a shipping fee of about $30.48. You can save at least $30 in your account–totally a big save! You can buy a lot more with $30 to improve your setup.
It is Environmentally Friendly
This might not be the least priority, but it still works out as an advantage. By buying used RAM, you are contributing to proper waste management. In fact, you will save up to 4 sticks of RAM that are supposed to be thrown at landfills, float in seas, or burn in incinerators.
Whether you are an advocate for the environment or not, this little contribution counts. If you think about it, there are as many gamers or whatever you do on your PC as you who are seeking PC improvements. Altogether mass production and waste increase, thus, causing great distress to the environment. It really has a drastic effect on the environment the more you think of the number of consumers.
In fact, every component, like the RAM stick burned, releases harmful chemicals such as carcinogenic plastic. It is harmful once these particles mix with the air. In a way, it also affects you since you are breathing the same oxygen.
It is Safe
To answer the question earlier, is it safe to buy used RAM? Yes. Honestly, they can be indestructible. It is an assumption that there are more risks when buying a used one, but I beg to differ. Buying, in general, is a risk since you are yet to use it. By purchasing a used RAM, you get to know its history with evidence attached. Just make sure you buy from a credible seller! Ask them questions before placing your order, so you will know what to expect or what needs to be done if there is any.
Why You Should Not Buy Used RAM
Since we are done with the advantages, let us know the disadvantages of buying a used RAM. It would be best if you weigh things out before your final decision. Here are some reasons why you should not buy used RAM:
No Return, No Exchange
You should be aware that there is no warranty if you buy from a seller online without accreditation. If it is indeed faulty, you can no longer return it and ask for a replacement or refund.
History is Unknown
As I mentioned earlier, you cannot completely know the history of the RAM because you are not the original owner. Even if the seller tells you some details, it still needs to be guaranteed to work for a long time. There are scams online that leech for money.
Quality Compromise
While used RAM works well, brand-new RAM is still safer. It has a warranty and proof that it is functioning.
Everything You Need to Know in Buying Used RAM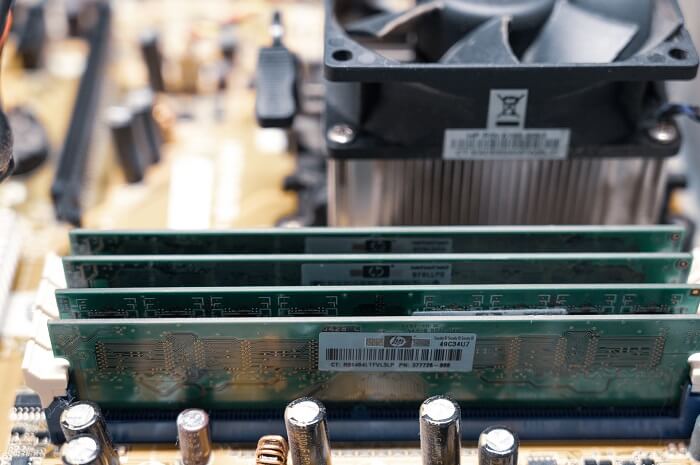 If you are still reading this, I assume you are not bugged with the disadvantages of buying used RAM. It is an unpopular opinion, but RAM is at the top of the list in buying used PC components. It is more reliable than other second-hand parts like storage devices, GPUs, and CPUs.
Here are some tips to guide you in your decision:
1.   Ensure Compatibility
Buy RAM that is compatible with your motherboard. If you are not familiar with it, there are options to know about this, such as:
You may check your manual.
You may visit a tech store and ask them about your motherboard and what RAMs it supports.
You may use third-party software available on the internet for downloading.
You may also search on the internet for answers.
Generally, DDR4 RAM works for every modern motherboard. With that said, you might just want to look at the specifications, like speed, to keep up with it.
2.   Avoid Mix and Match
It is understandable that some newbies mix brands and frequencies, hoping for better results. As much as possible, it is not advisable to do this. Take note that doing so is inefficient.
When canvassing, search for something with the same brand and/or manufacturer as your old RAM and motherboard.
3.   Stick to Updated and Advanced RAM
Make sure to buy RAM that is not outdated. While RAM generations last for a long time, it is advisable to stick to the current one.
4.   Test the RAM First
This only works if you are buying in person. Ask the seller if they are okay with testing it first before purchasing it. Aside from ensuring its functionality, you will also determine that it is not a scam.
5.   Get Money By Selling Your Old Ram
Whether used or brand new, it is undeniably costly. To save for your purchase, you can sell your old RAM if it is still working. By not choosing to throw it out, you will also be saving the environment.
Who knows, there is someone looking for your RAM. It is a cycle between buyers and sellers, after all.
6.   Choose Safe Payment Methods
Avoid scams as much as possible by selecting a payment method that is advantageous to you. Do not ever let them trick you! I suggest you use PayPal because it has buyer protection.
7.   Weigh Things Out
After you finish canvassing for used RAMs, conduct an assessment to arrive at the best option. Please remember that you should ensure it is working before giving the money.
Risks in Buying a Used RAM
As mentioned earlier, there are risks in buying a used RAM. You may avoid it if you are keen on details or if the seller is really honest with its history. To prepare, here are some problems you might experience and what you can do:
Viruses
It rarely happens, but there are instances that viruses can attack the RAM, especially if it is already used. Unfortunately, it is difficult to repair, so it is best to replace it.
Heatsink from RAM chips
This occurrence rarely happens as well, but it can be easily fixed. Just reattach with thermal compound, and voila!
RGB Lighting
This defect is minimal but also requires attention. Make sure to check if it is still working if there is no light.
Where Can I Buy Used RAM?
Given the advancement of technology, you can search for many shops online if you do not know anyone selling second-hand. They are also unavailable in malls since they are only selling brand-news.
Check out Amazon, eBay, Craigslist, and many more on the internet.
Conclusion
My personal take on buying used RAM is simple: take chances. As long as you are critical of the credibility and functionality of the component, you win.
You get to spend less, help save the environment, and buy more. The advantages truly outweigh the disadvantages, so go ahead and look for the best-used RAM out there! May the odds be in your favour!