Remote work is not an innovation. Millions of people all over the world are employed by companies that don't require office attendance and which allow them to work from home. However, remote working also has its downsides.
In most cases, the employer is unable to closely monitor the daily activities of their remote workers. Hopefully, they are actually performing their duties, but they could be procrastinating, watching movies, skiing on social media etc. If employees receive an hourly rate rather than being paid per project, their company risks losing substantial finances due to possible lack of diligence of its remote employees. This is exactly where Time Doctor comes in – the ultimate remote employee monitoring software.
Time Doctor was developed with an aim of providing employers with an effective time management software, which allows to closely monitor computer or mobile activity of their staff, as well as the current project statuses. During the years Time Doctor creators have been constantly adding new improvements and features to ensure the smooth coordination between employers and employees, such as – Reporting, Ineffective time use report, Integrated payroll, etc.
Let's dive deeper into the capabilities of Time Doctor.
General info
This employee time tracking application was built in two parts:
The server is where employee activity data is logged; it's also where productivity statistics based on tracked time are collected (completed tasks, applications used, time worked, the amount paid, etc.).
The user interface (Web app, desktop Pro & Lite versions and mobile) is where tracking actually takes place and it's the source for all user activity data. The desktop apps have been adapted to almost every operating system: Windows, OSx, Linux and Chromebook. Time Doctor mobile apps for phones and tablets are available on iOS and Android. A Chrome web-browser extension is also available.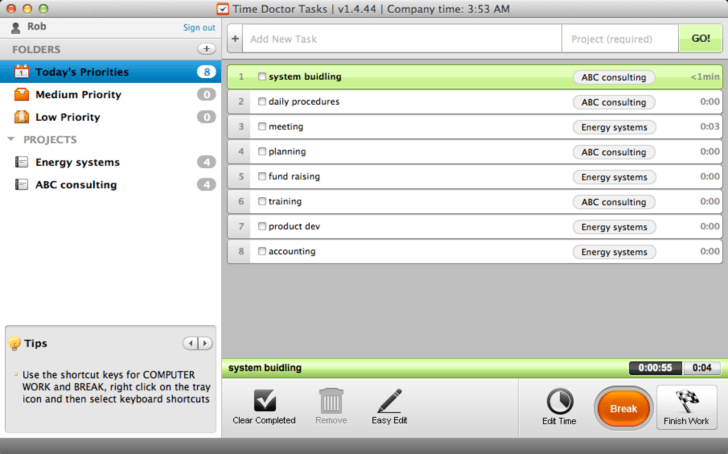 Access to server data is not only granted to the company manager but also to the employees themselves, so they could analyze their own effectiveness and areas of improvement. There are subtle differences in dashboards and settings menus for managers and employees.
Another important feature is Client access – subscribers can provide access to their clients, who then can track the progress of their projects within your company's dashboard. This develops transparency and trust.
Task tracking feature
This is the main function of the application, which allows employers and their staff to track time worked on a particular project or task. Let's imagine an employee spent 2 hours on a particular task, but to reap higher rewards he has claimed 5 hours. Or a task that would take a maximum 2 hours has taken the employee 5 hours to complete. In both scenarios, the company suffers a loss. But it's time to eliminate those risks.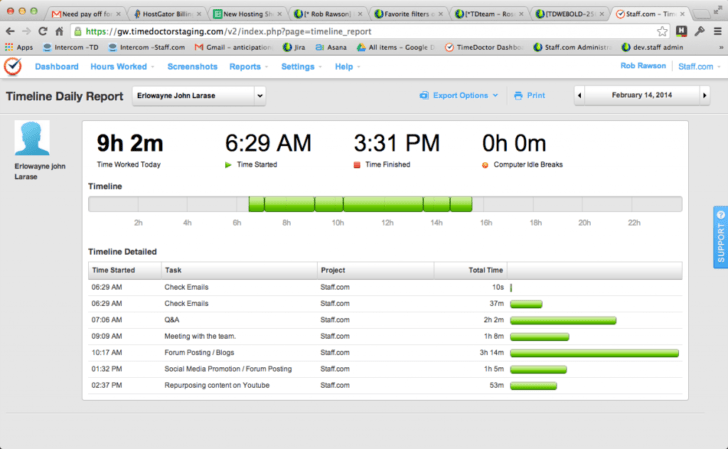 In essence, Time Doctor is a time monitoring software, that helps employers quickly verify the validity of employee reporting – are they delivering what they say they are, or are they hiding something. For this reason, the Time Doctor application offers the following functions:
Screenshot monitoring. The employer can choose desired intervals between the worker's computer screen captures and the system will silently record those screenshots. Based on this, the manager, as well as the worker himself, can check the exact task activity at any point in time – are they actually working or they pretending they are? Each screenshot also provides keyboard and mouse activity for that time interval. Has the Time Doctor been left running while no actual work took place?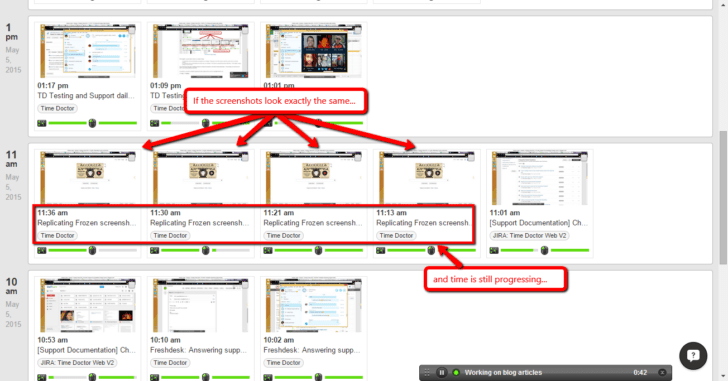 Real-time website and application usage – internet monitoring & software reports about which specific websites and applications the user was mostly active on during their shift. The manager is kept informed whether the user is playing games, watching movies or browsing a social media website.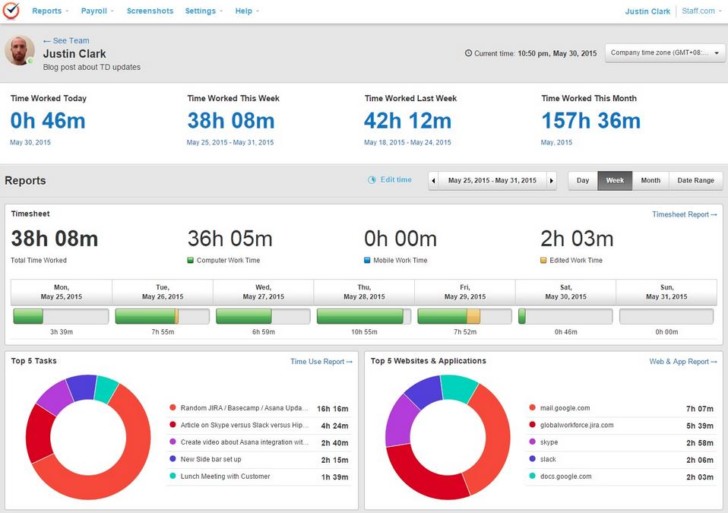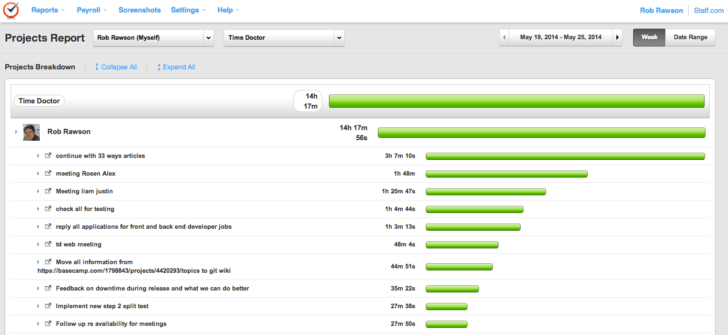 Notifications. Time Doctor will activate a pop-up window as soon as the employee visits a suspicious website. Websites can be blocked or white-labeled, depending on the nature of the job. For example, marketing people require the use of social media, hence this kind of activity will not be deemed ineffective. The pop-up window will give a reminder: «Are you still working on the task [name]? The user can click «Yes» to continue tracking, or «NO» to pause tracking.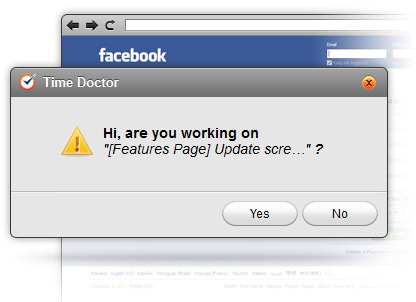 Time tracking and activity monitoring features are not only beneficial to the employer, but also to the employee. The employee can see for themselves whether they are being efficient by looking at the total time spent on a particular task or total time spent on breaks during the week. It is believed, that when an employee knows they are being tracked, naturally their work becomes more productive.
 Flexible configuration
Time Doctor developers have given special attention to the particular preferences of various companies. Therefore, various configuration settings are available to tune the system the way a manager wants:
5 languages: the interface is available in English, Russian, Spanish, Portuguese and Arabic
User and team settings. Assigning tasks to particular users and together with duration/deadlines, specific shift hours and time zones, setting user access levels, activating the screenshot capturing feature, notification settings and personal profile editing.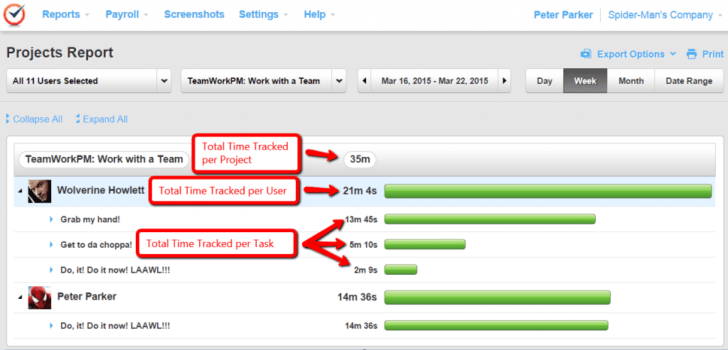 Company account settings: name of the organization, timezone, screenshot feature activation, an ability for users to delete unwanted screenshots, webcam activation, payroll and other preferences.
Email reporting: daily reports directly sent by email present the task activity of all users, including whether they were late for their shift or absent on a particular day.
 Possibility to integrate with other services
To extend the usability of Time Doctor, the software includes the ability to connect with more than 30 most popular project management software. So tasks carried forward from other programs can be tracked within Time Doctor. For example, Asana, Basecamp, GitHub, Teamwork, Google Apps, Slack, Citrix, LiquidPlanner, Yammer, etc.
API support
API settings are present on the server side of the software to allow users to connect their apps and monitor Time Doctor activity within their app. Supported formats are JSON and XML. The API interface supports time tracking commands as well as receiving the filtered information from the server. It's possible to filter data by various parameters including time worked, screenshots, task lists, etc.
Mobile GPS Tracking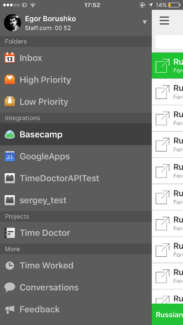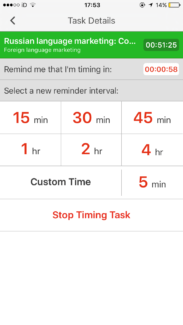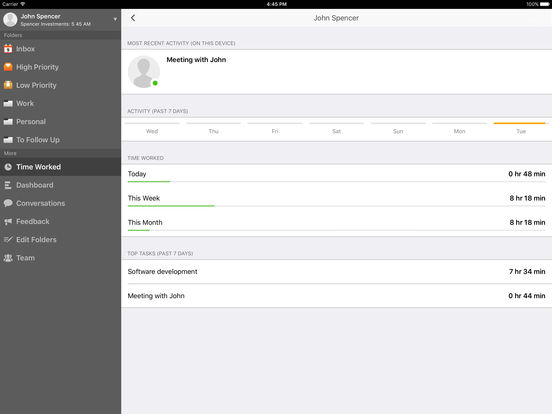 To improve the already existing mobile app, Time Doctor has recently added the GPS Tracking feature. This is a new feature for Time Doctor users on mobile devices – mobile phones or tablets. It's mostly used by outbound/field staff on the move – couriers, sales managers, etc. Providing the employer has activated this feature, the app records GPS coordinates of the employee at any given time during the task. The mobile app gives the possibility to continue working on the move and to track time for various tasks directly from the palm.