If you're looking for a customer relationship management (CRM) software then you certainly have to look at Bpm'online. Read this review to get a general idea of what is it and how it may help you to run your business.
What is bpm'online?
Bpm'online is a customer relationship management (CRM) software running on top of a business process management (BPM) platform.
The core value of bpm'online products, as stated by the vendor, is the agility to change processes and align marketing, sales and service on a single platform. The solution allows companies to manage the complete customer lifecycle – from lead to sales and to ongoing customer service. Bpm'online can be deployed on-demand (SaaS) or on-site, where data is hosted in-house on the company's servers. In both cases, users can access bpm'online from anywhere with a web browser or the mobile app. The system is both Windows and iOS-compatible.
In this review, I am going to share my experience using the free demo as well as describe the products and their main features.
Products
Bpm'online offers three products on one platform to connect the dots between marketing, sales and service and manage the complete customer journey – from lead to order and to continued customer service excellence.
You can select CRM bundle as an interconnected solution or any standalone product (bpm'online sales, bpm'online marketing, and bpm'online service). I have ordered CRM bundle free trial version on the bpm'online site to test all three products.
Bpm'online sales
Bpm'online sales is an SFA tool for managing the entire sales cycle – from lead generation to managing repeat customers. The core features of this product include Opportunity management, Orders and Invoices, Sales forecasting, Contract management, Field sales. In bpm'online sales, you can find a handy sales pipeline dashboard component. Using it, you can analyze sales dynamics by stage.
Bpm'online sales also includes the unique set of referenced processes that serve as best practices for lead and opportunity management, orders and invoice management etc.
The system also offers Dynamic Case Management (DCM) with adaptable patters to easily add and manage process stages and have it run in just a few minutes. This is how it looks: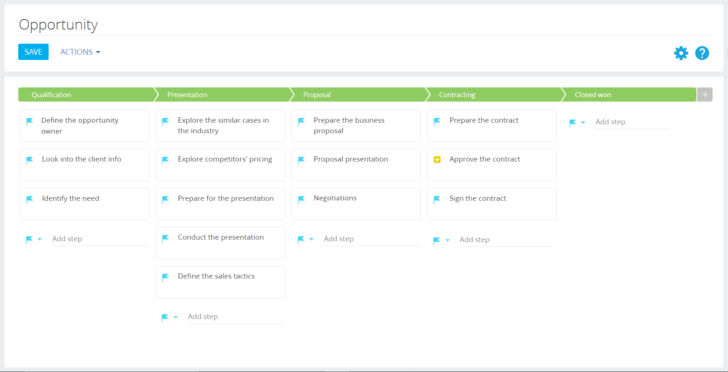 Bpm'online marketing
Bpm'online marketing can be used to handle a wide range of tasks. It enables to create lead generation activities and track the effectiveness. The core features to use are lead management, lead scoring, campaign management, loyalty management and email marketing. Leads can be displayed in the form of records or you can enjoy a nice looking chart: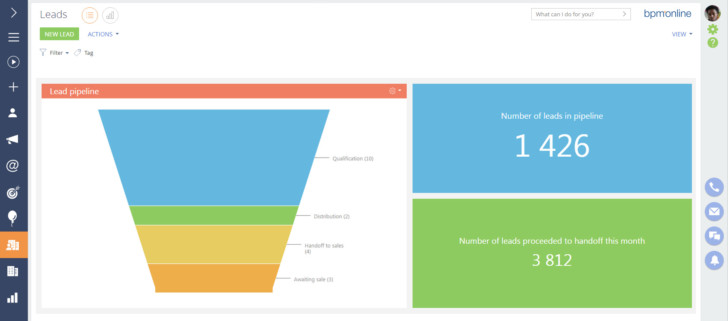 One can easily create a new html letter in the system or use an existing template. Bpm'online marketing allows you to include bulk emails into the campaigns and events and define transition conditions from one step to another.
Bpm'online service
Bpm'online service provides customer service tools to help with customer engagement. In this product, you will find such service specific sections as Case management, Field service, Customer portal, ITIL processes. Self-service portal is one of the most useful features of the system. It is designed for self-registration of cases without contacting a service team, as well as receiving prompt answers to the most frequently asked questions. Bpm'online service offers out-of-the-box processes based on industry best practices. So you can manage customer requests and automate service operations by following pre-defined processes for customer care excellence.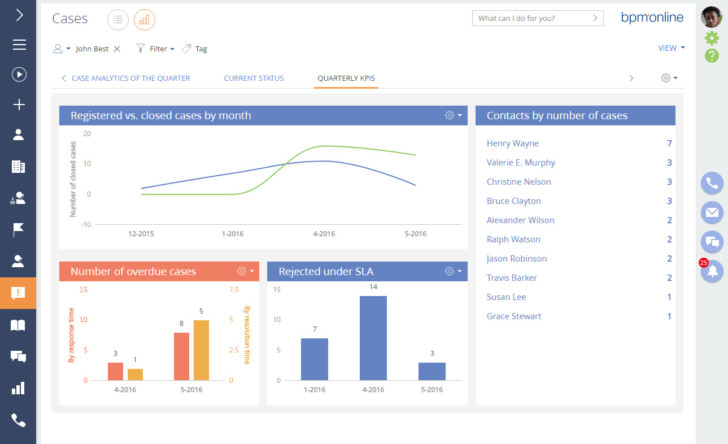 User experience
With a process-driven platform, you can leverage out-of-the-box processes for marketing, sales and customer service. In fact, users can quickly design and automate business-specific processes – you don't need to be a technology specialist and there are no interruptions of the user work when a process needs to be updated. This helps with the process modification and testing in response to the immediate needs.
The software design is very clean and user friendly. Bpm'online interface consists of the side panel, the communication panel, the command line and the content of the page that is displayed at the moment. You can easily set your workplace and do all the settings with an intuitive system designer.
Bpm'online is powered by strong analytics in each product. There are several ways to visualize statistics in the system, such as charts, calculated metrics, and special lists. For example, you can track the current status of the employees' tasks, display various ratings or any other important summary information as a number. Analytics tool is simple to use and powerful, but it still requires some additional features, like calculated variables and export.
Pricing
Pricing is formed differently for all the products. For instance, the Marketing product plan is priced depending on the number of contacts, users and email traffic per contact/month. There is an online calculator on the site that might help you to get an idea of the cost for your company.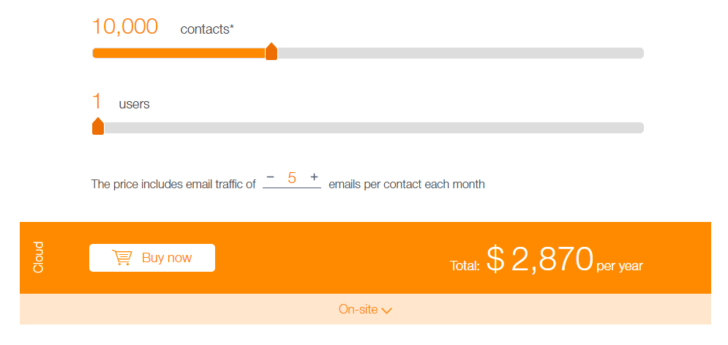 Bpm'online sales is available in 3 editions with different features and is priced per user per month. The Enterprise edition also has an on-site deployment aside from the cloud deployment.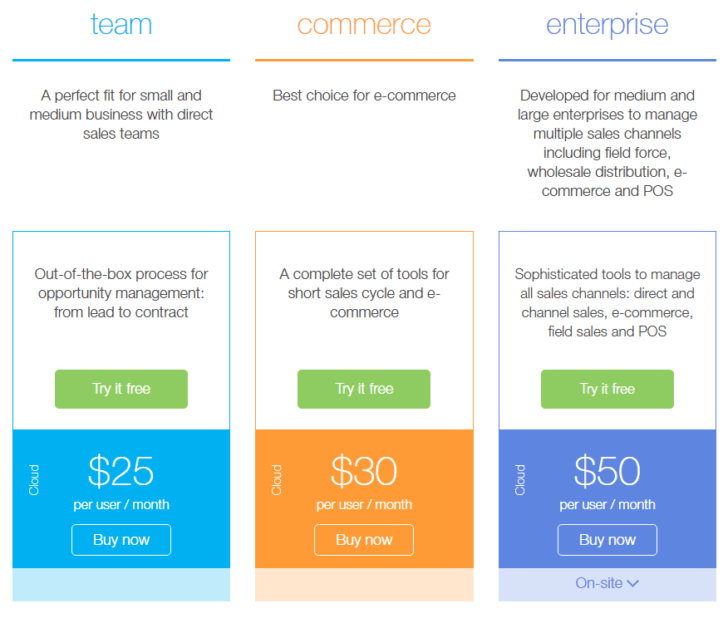 Bpm'online service has 2 editions with both cloud and on-site deployments.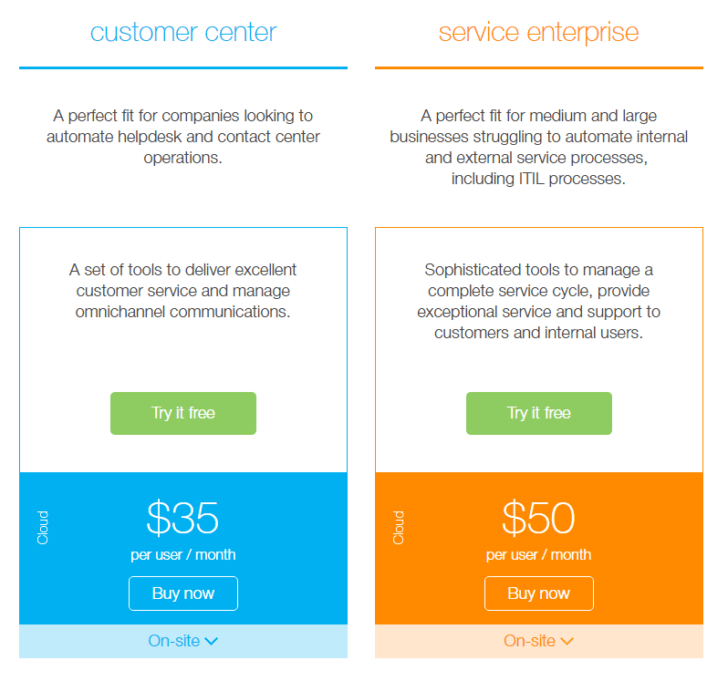 A CRM bundle is available with pricing that is indicated according to the specific customer configuration. Users can try all products and editions free for 14 days.
Target Market
With all its features and possibilities bpm'online is ideal for middle-sized companies and enterprises, but is also suitable for startups and small businesses. Furthermore, it is applicable across industries with its wide list of industry specific products (you can find all of them on bpm'online site).
Conclusion
There is a list of obvious benefits of bpm'online products for mid-sized and larger companies. The system provides effortless access to features and information regardless the device that is being used: phone, tablet or laptop. A merger of CRM with BPM helps businesses of any size design and automate processes to deliver outstanding customer experience. Thanks to the contextual display of information, you'll see only the data needed for the current task, concentrating your attention on what's relative at the moment. Besides, the system design makes it easy to use that one can start working with it in no time. You can try the free demo yourself to decide if it works for you.