Zadarma is a SIP telephony provider with phone numbers in well over 70 countries worldwide. The company has been on the market since 2006 and currently owns four data centers in different locations which ensure reliability and quality of connection. Having said that, Zadarma services are quite cheap as compared to other similar services. In this review I would like to delve into the features of this service.
My Take on Zadarma
If the world was perfect, all telephone operators would work through VoIP and allow to make free calls between operators, because VoIP does not need a separate cable infrastructure or powerful servers. In my opinion Zadarma is one of a few examples of what VoIP telephony should really be. Why do I think so? Here's a short list of Zadarma's pros:
huge list of countries with provision of phone numbers (including code 800);
free numbers with extension dialing if you don't want to connect you phone number to get incoming calls;
free calls between all Zadarma subscribers through 6-digit numbers;
free full-fledged virtual cloud PBX for 50 subscribers;
free widgets for website for browser calls or callback.
And it has more. Yes, perhaps this service is not the best fit for large companies as there are special and really expensive solutions available for them. And as far as smaller companies are concerned, Zadarma is an excellent solution for establishing telephony. Now lets check its features one by one.
Virtual SIP numbers and calls
One of the main products of Zadarma is virtual numbers. You can choose one or several numbers from over 70 countries worldwide. Following the activation client gets login and password to connect via SIP and use it through any device or SIP telephony software, including virtual or hardware IP PBX. On top of that you can forward all incoming calls to another number or IP address of your PBX. For most countries numbers are provided without connection fee but with subscription fee.
Also, you can buy a number with code 800 for practically all countries where you can buy an ordinary number.
In addition, any client Zadarma can be reached by using general number + internal 6-digit telephone number linked to SIP account. This service is available in 25 countries.
Now lets proceed to call charges. For comparison I took one of the European VoIP operators Freecall, although it's better to compare identical products whereas Freecall even doesn't have landline numbers let alone virtual PBX. Despite that Zadarma is better when it comes to call charges.
[table "" not found /]
$0 – free minutes package in specific subscription plan. 
Cloud PBX
Virtual cloud PBX by Zadarma is completely free with a tiny balance restriction and quantity of internal numbers. All calls between virtual PBX are free and are not limited by number or duration.
Firstly you have to link your SIP account to PBX. Your account can have multiple phone numbers. Moreover, virtual PBX has a very peculiar feature – linking external line via SIP, which is called "Additional external line". In this case your PBX can be a SIP-server or SIP-client. This feature comes free with limited use. You can expand its capabilities for additional fee.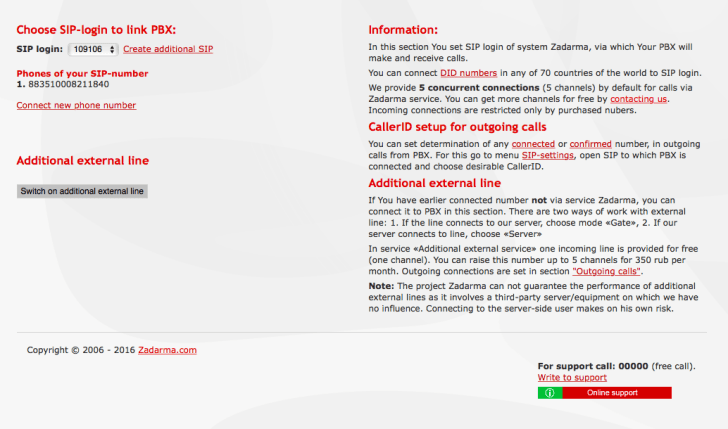 In your virtual PBX you can create up to 50 internal numbers. You can change Caller ID of each internal number, set Caller ID for external calls, set conversation recording, call forwarding and codecs to be used.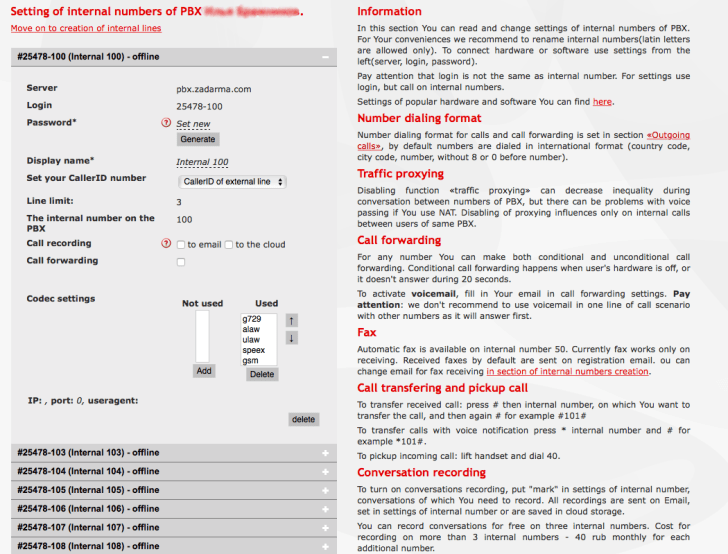 Settings of incoming calls allow you to enable voice greeting, tunes, working hours and PBX actions during non-working hours, and scenario of incoming calls. In other words – typical functionality of virtual PBX. Also, here you can setup a small call-center by adding into "Start" scenario internal numbers of call-center representatives.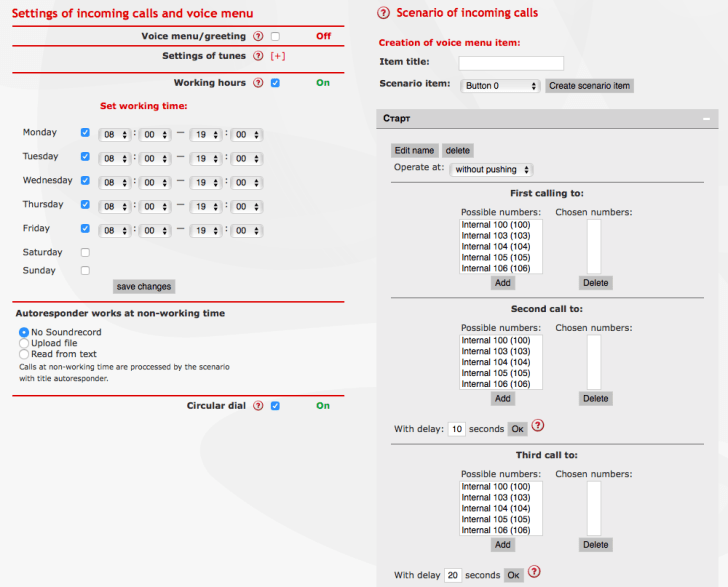 In outgoing calls settings you can permit or forbid internal numbers from external calls, set codes for access to international or long-distance calls, and determine Caller ID by called destination.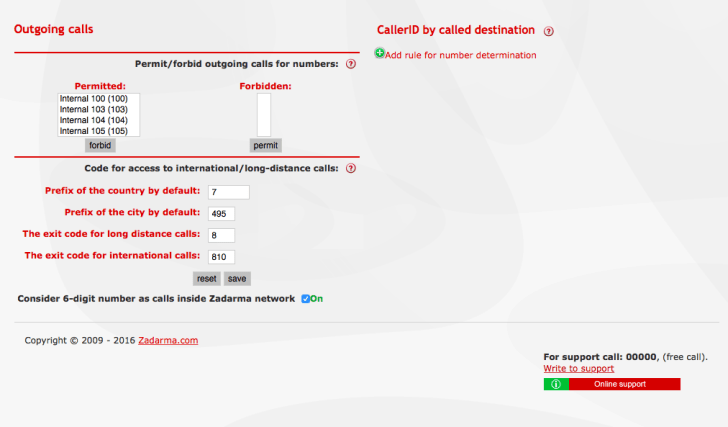 And, finally, the conference. Subscription plan allows to create one conference for free.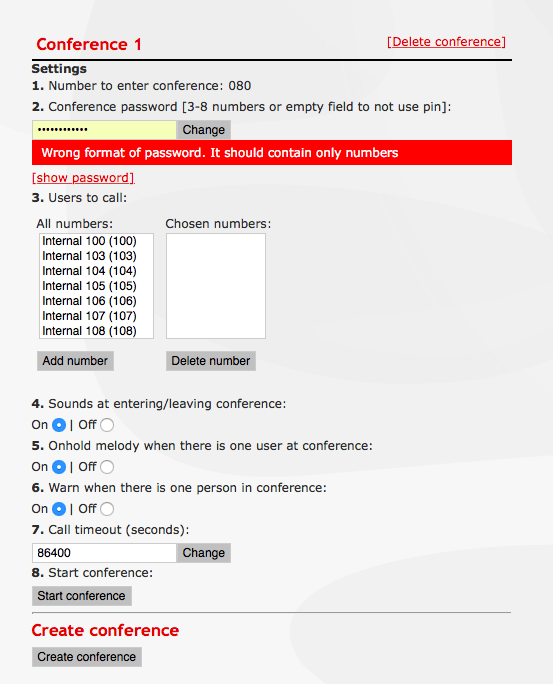 You can check statistics of all your calls in Zadarma virtual PBX as well as export it into CSV file or resort to API to get this file.

Widgets for Calls from Website
Zadarma offers its clients two website widgets for free: callback widget and "Call me" widget to make a free call right from browser. It can be appealing to online-stores, customer support, etc.
Callback widget is a round button with a picture of a phone receiver. Pressing it prompts client to enter their phone number.
Zadarma provides quite a few settings for this widget. From "Main" tab you can set widget working hours, and if website user presses it during off hours it will notify them to call during working hours. Moreover, you can create an event for Google Analytics to monitor widget statistics.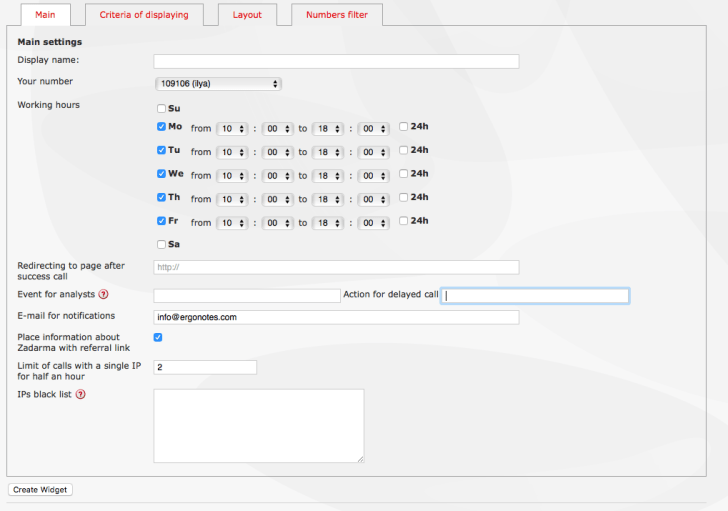 In "Criteria of displaying" settings you can specify user actions that prompt widget.

You can customize button color, location, and text and header of widget.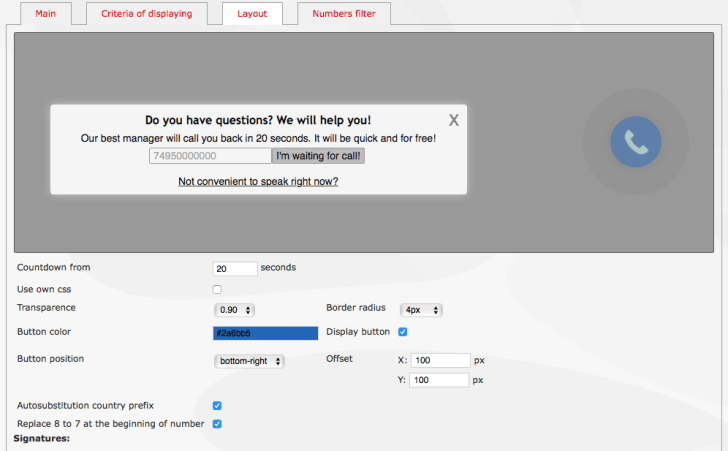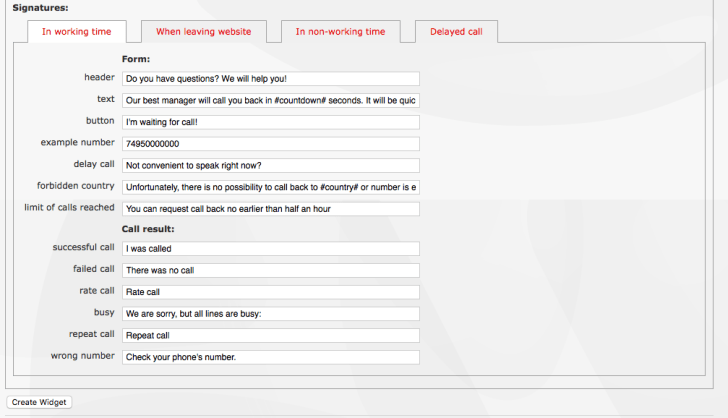 "Call us" widget allows you to customize only the color and shape, following which you can paste widget's code into your website and use it.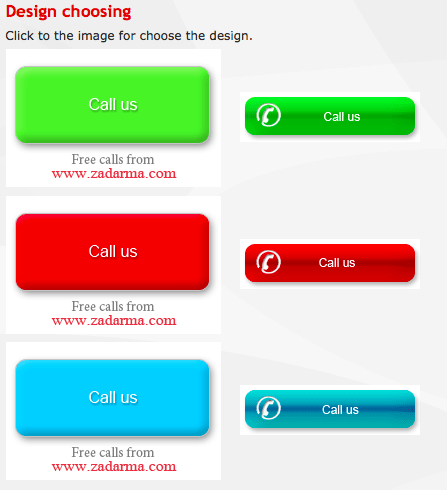 After user presses the "Call us" button widget changes its appearance and inscription.


Additional Functionality
For integration with other services and applications Zadarma offers its clients an API. With API you can manage virtual PBX settings, download call statistics, make Callback calls, notify external server about call, etc. More details on API are available on official website in API section. Maybe in the nearest future I will write an article in which would demonstrate how integration works on some HelpDesk system.
You can use Zadarma telephony on your smartphone by downloading its dedicated apps for Android and iOS. In addition to calls you will be able to send SMS.
While traveling abroad roaming SIM-cards will allow you to substantially save on calls. More details on this service are available on Zadarma website. Maybe I will prepare a separate review of this feature in the future.
[Total: 10 Average: 2.9/5]