Today many users are aware of cloud-based storages such as Dropbox, One Drive, Google Drive, etc. and are using them to share their files quickly. What if your file is really large? Transfer time doubles because of using the cloud. With BitTorrent Sync you can avoid this.
BitTorrent Sync is a simple, light and cross-platform tool for sharing files between computers using peer-to-peer technology. Using it you can send files to smartphone, computer located in the next room or on another continent, as well as set up automatic data backup.
Sending and Getting Files on Computer
To start sharing files you need to install the app and specify your name in BitTorrent Sync.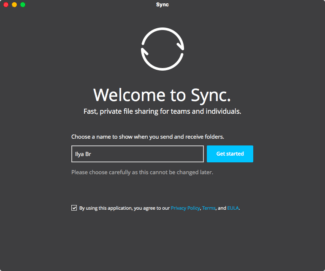 Once you've done that you can share your files or folders without any extra moves. When adding file or folder you need to set access rights: read only or read-write. If you wish you can set link expiration, requirement to approve download by other users and number of attempts to download. To make your files available to other users they need to have the link and access key. You can send the link immediately by email or through other channels via clipboard.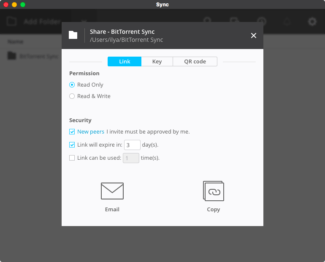 Moreover, you can get access key from shared access settings. At the same time, there are two types of keys available to you: granting full access or read only.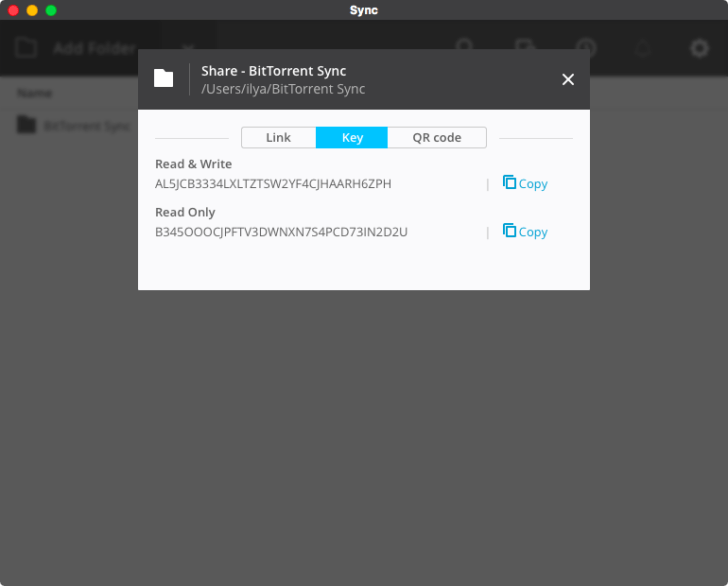 If you want to share files with a smartphone, here you can also find a two-dimensional QR code for scanning with mobile version of BitTorrent Sync.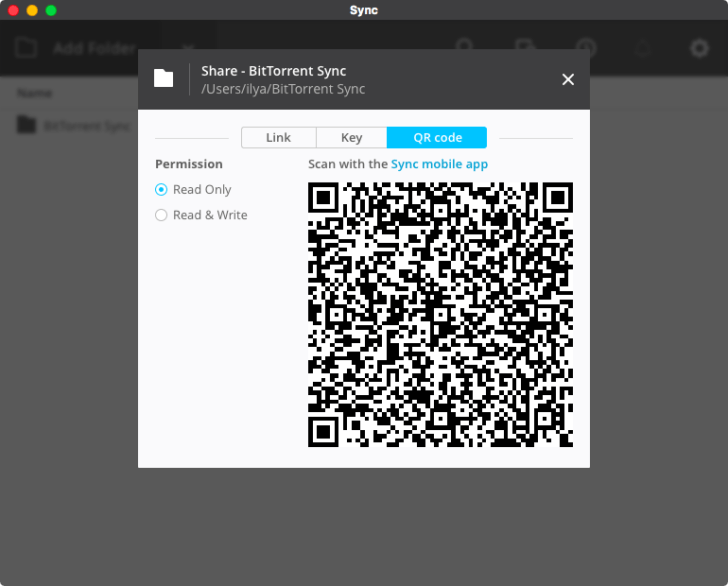 As soon as the other person gets your link and starts download you will be able to see this in the main window of BitTorrent Sync. If approval was included in access settings, BitTorrent Sync will notify when new user is added.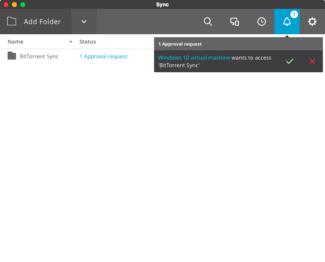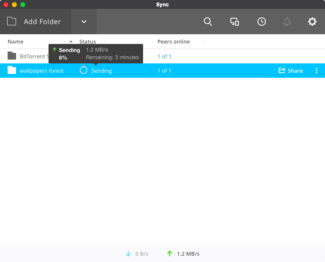 To download a file from remote computer you just need to press "Add link or key" and specify destination for shared files.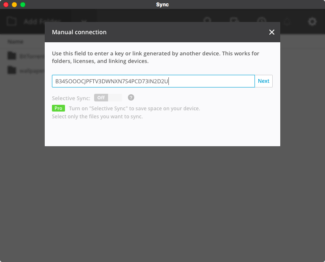 You can monitor file download and sharing status with an icon in system menu of OS X or in system tray of Windows.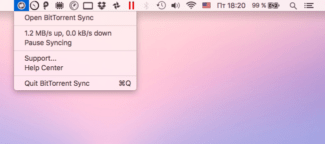 You can also share files from context menu of Finder or Explorer. Although it will open the app's main window anyway.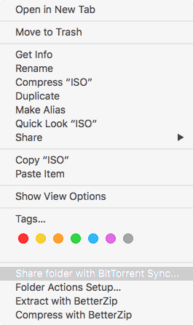 BitTorrent Sync for Mobile Platforms
Presently there are app versions for Android and iOS. In mobile version you will also have to specify your name after which you will be able to fully utilize app's feature. To get files from computer you will need to scan the QR code and file download will begin. Mobile version of BitTorrent Sync also supports file transfer. With BitTorrent Sync you can also make quick backups of photos, videos, music and downloads by pressing a single button. This can be convenient if you part with your phone and you don't have time to check available backups in iCloud or Google.
Price
Personal version of BitTorrent Sync comes in Free and PRO licenses. Pro version is different because of its feature of selective download, ability to change catalog access rights at any time and use it for commercial purposes.
Apart from personal, there are also versions for business Resilio Connect, one of the benefits of which is ability to install it in network storages NAS, and Sync for Workgroups.