In spite of the all those reliable storage devices, the problem of lost data is still present. There can be many reasons that will cause your system to shut down unexpectedly with data loss. This means you cannot access your important documents and files again. Many companies and people face these problems since they ignore system warnings related to disk failures or any other system malformation.
This problem can be resolved with data recovery software.


WHAT IS DATA RECOVERY?
Data recovery implies the process of accessing broken or corrupted files from secondary storage. In simple terms, it means opening your files in the system and saving it on another system.
WHAT ARE THE CAUSES OF DATA LOSS?
There can be many reasons that can lead to data loss. Some of them are discussed here:
DELETION OF FILES
Many times it happens that a file is deleted by a mistake. In normal cases, you can recover it from your recycle bin. But, what if it is no longer available there, as well. Then it becomes a problem to find the deleted the file.
HARD DISK FAILURE
Hard disk failure can occur due to many reasons and mostly it is because of corrupted files. An improper shutdown can result in corrupt files that can make your hard disk unresponsive.
SYSTEM FORMATTING
There are many reasons why formatting the system becomes necessary but sometimes you can format the wrong disk.
HOW DATA RECOVERY SOFTWARES WORK
Your system contains all your important data and files. Any fault in the system happened and your files are gone. Since you cannot completely depend upon storage devices data recovery software are very helpful these days and can give you access to all your files once again. Data recovery usually depends on how fast you act, if you have got a corrupted system but you quickly connected to recovery software, then there are good chances that your files will be recovered.
One of popular solutions to recover your lost data is EaseUS data recovery software. As the name indicates, it is easy to use and helps you to retrieve your data quickly. Some consider it to be one of the best data recovery software because of its user's friendly interface.
EASEUS DATA RECOVERY SOFTWARE
In addition to easy data recovery, it also provides some other features:
You can recover data from all types of data loss.
You can recover all file formats.
It can recover lost data from PCs, laptops, MacBook etc.
It allows you to do a deep search for your data and recover all the data from the drive.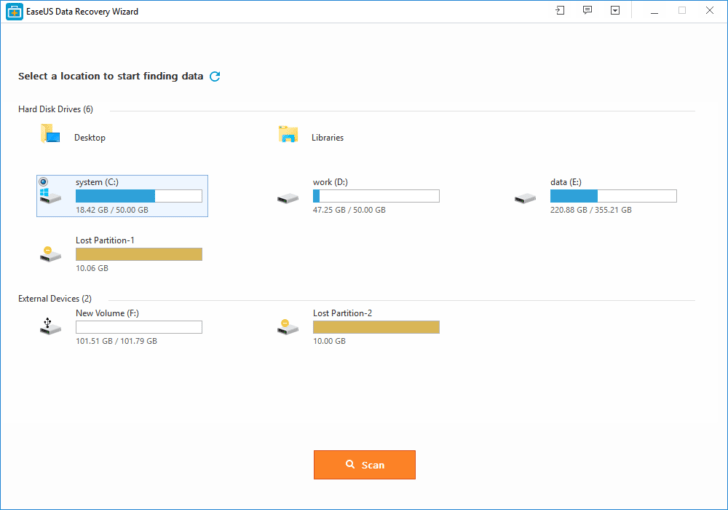 EaseUS is one of the best solutions if you want to recover your data immediately. It is also one of the best mac data recovery software.
There are many storage devices that enable you to backup your data but still, there are many situations which can lead to data loss. In that case, you need to go for data recovery. Data recovery depends upon how fast you acted. Try EaseUS and probably it will save your day in the future. It has an easy to use interface that can help you recover your data quickly.