In continuation of the series of HelpDesk systems reviews, today my choice fell on Desk by SaleForces.
Previously I prepared Zendesk review that was the first article of the series. The product of Desk.com can be called one of its direct competitors, at least in terms of functionality, so I think that it's going to be interesting to know how it works from inside.
My feedback about Desk.com
Beautiful interface – is the first impression you get. In reality though, it hides some unfortunate surprises. The first and the foremost shortcoming is its price. If you are going to pay on a monthly basis then its price will be — $35 per month, which is why I doubt that Desk would be the best choice for small teams of 2-3 experts. On the other hand, there are some shortcomings in interface and personally I didn't like that. In my opinion, if at all you are willing to pay a considerable amount, then it should be for an outstanding service, while due to some shortcomings Desk does not qualify as such service. Otherwise, it is a great product, which in my view is primarily focused on larger companies.
User interface
Following the log in, users get a list of cases by default. And its view is quite outdated, but if you really want to, you can switch to the so-called Next Gen interface, which looks more up-to-date. And, what's especially important, is that thanks to AJAX technology you don't need to refresh the page to see new cases. It is not clear though, why developers have not set it by default. So, I immediately switched to Next Gen and barely used the old interface, although you have to do this every time you log in to the system.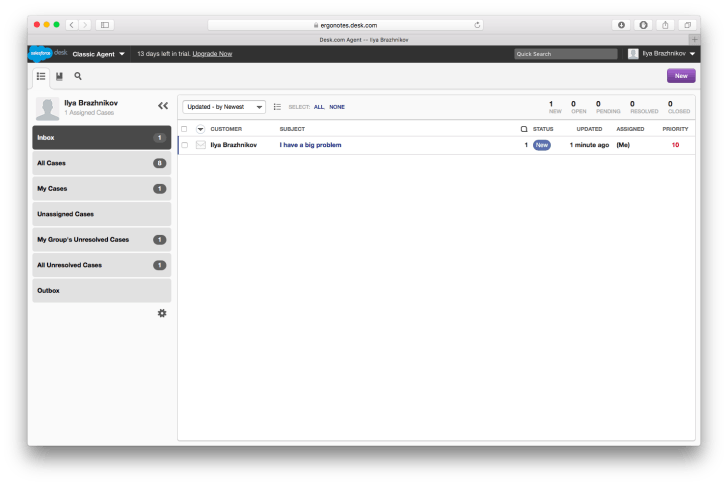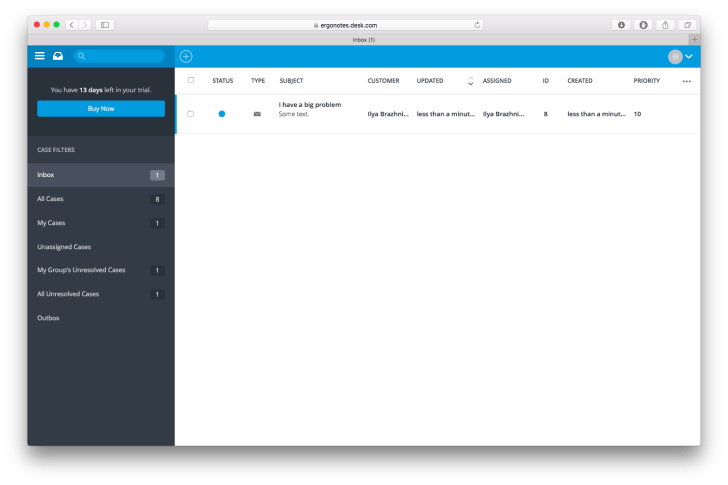 System admin also has access to Dashboard that is called Business Insights and has plenty of pre-installed reporting tools. There is even a reporting by tags, which are called labels in Desk.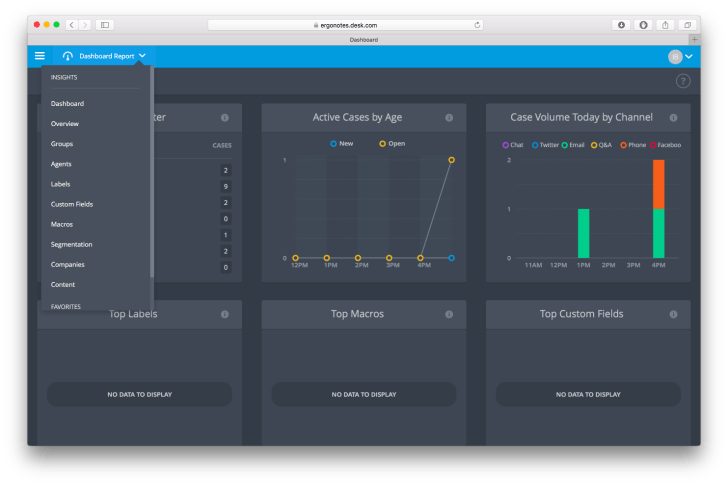 Cases
There are five ways to add cases in Desk: via email, by phone, via chat that can be implemented on the site, and via Twitter and Facebook. Via email cases are added very easily, all you need is to send an email to the address that would be similar to support@your_company.desk-mail.com. Also, there is a possibility of adding your own email. Additionally, developers offer a widget to create case form on your website. Adding cases by phone is even easier. Operator receives a call from the client, then presses "New case" button, selects the client and manually enters all the information received from them.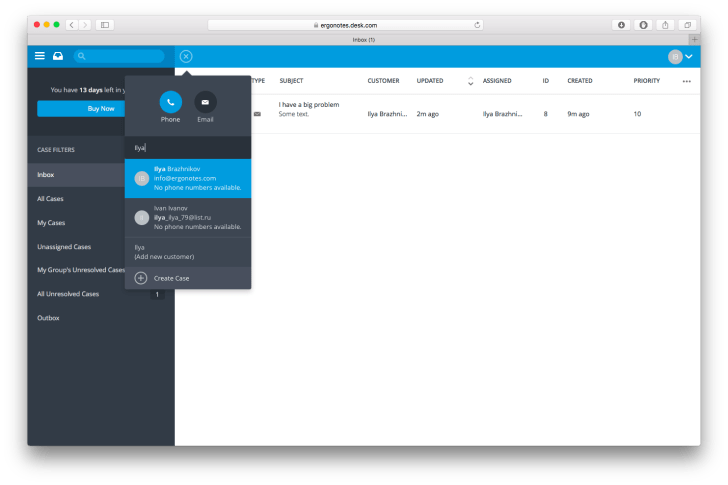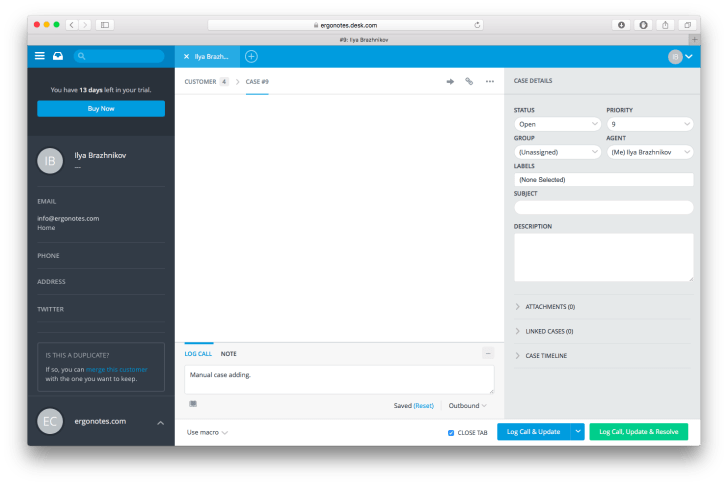 Developers also provide a widget for receiving cases via chat from your website. Twitter channel becomes available after you set up your account. You can also allow the system to search for your Twitter username mentions and create cases based on that. Another way to open a new case through this channel is to manually add a case and choose Twitter as a channel type, which not convenient.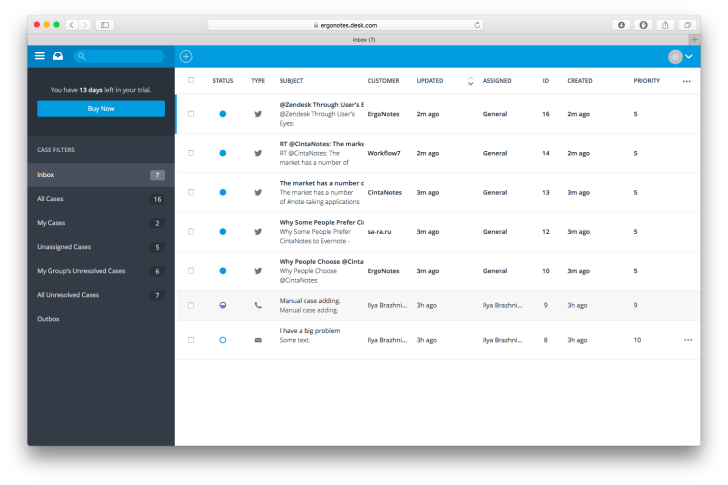 Cases editing in Desk looks much better than in any other system I have seen. Selecting several cases automatically brings about an editing panel where you can change the status or tags. But you cannot leave a reply in this field if you selected several cases at once. On the one hand, it seems reasonable as each case should have its own reply. On the other hand, there are systems that have this option and someone may actually need it.
I really enjoyed fast editing. For instance, you can close a case without opening it from the list, just point the cursor on case topic and you'll get a pop-up field with case description and editing buttons. Clicking Resolve will mark the case as resolved.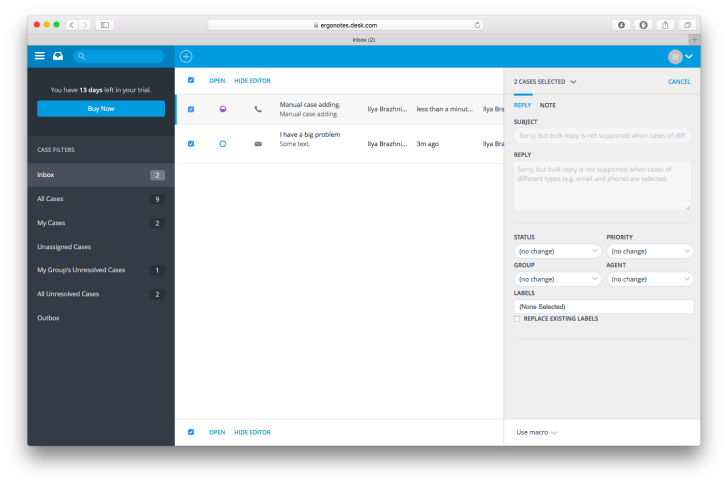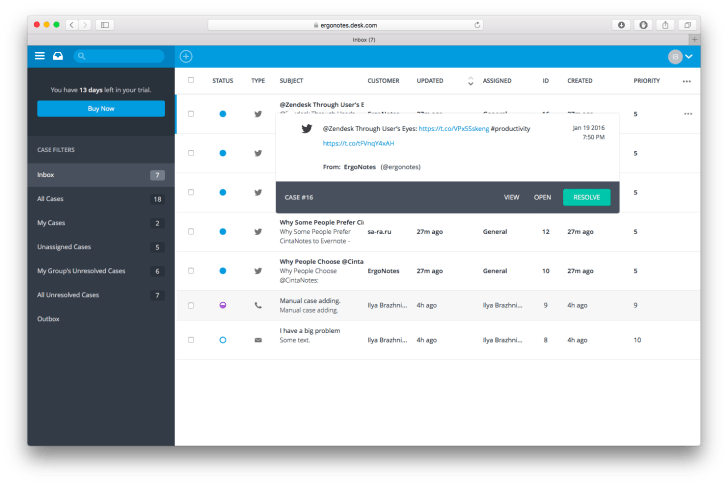 Next Gen interface allows adding custom fields into a case form, but in order to use them you need to create custom case template and then add new fields into it. They can be set in rules of automatic processing or just for information. Fields can be any of the following 5 types: text, number, switch, date and list. You can even generate a report for custom fields, such as the number of cases with VIP status. By the way, you can also add custom fields to customer information template same way.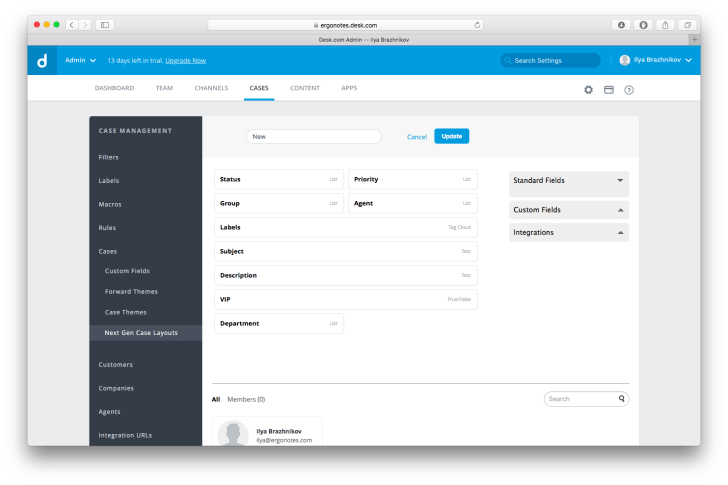 Process automation
Process automation in Desk is represented by rules and macros. Macros is launched manually by users and contains only case actions. Rules contain both conditions and actions. That apart, rules are divided into categories: upon case creation, change, update, launched at specific time, etc. Rules and macros allow changing any case fields except a reply to client. No matter how hard I tried, I couldn't notify a user via email with preset text in automatic mode. Sure, that can be done using templates, but then you need to follow three steps to automate a single action – create rule, macros and letter template. That means that no system admin would be able to reply to several applications with a single letter "Boss gave me more important things to do. Your applications will be processed tomorrow." As for the rest – typical process automation functionality.
Knowledge base
Knowledge base in Desk was created to enable users to solve typical problems themselves. Articles are created by admin. They can be posted on company's portal and/or attached to case reply. However, there is an unobvious trick: articles are not available in Next Gen interface! It took me a while to understand why I was not able to attach an article to the case, then I decided to try it with an old interface and, voila, it worked. We can only hope that this is a temporary problem, which will be eliminated in future.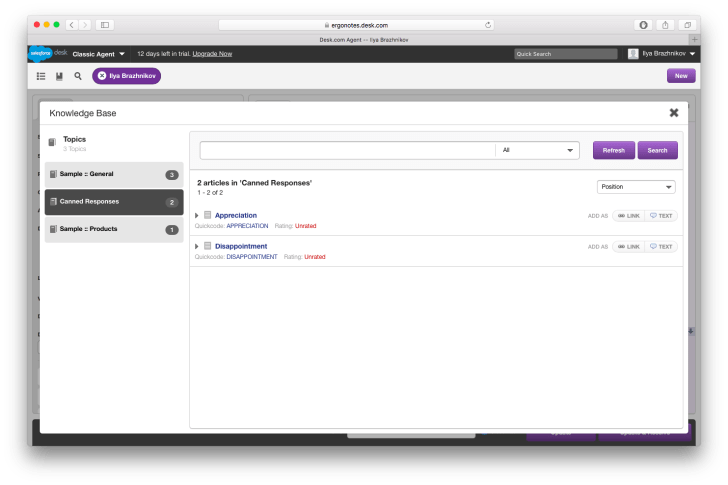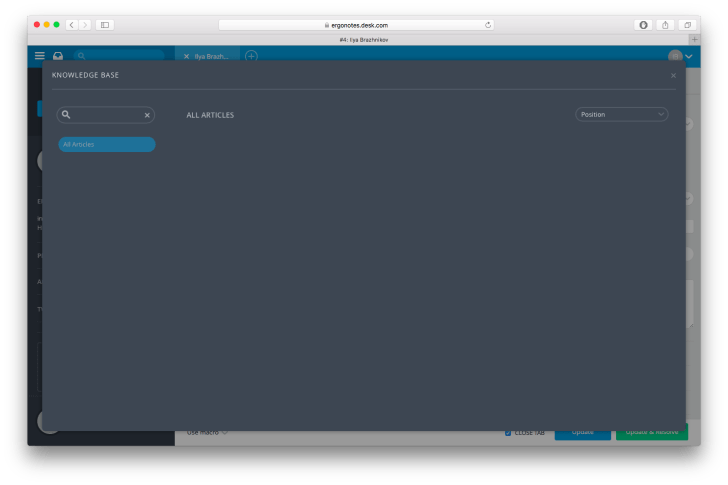 Service Level Agreements
There is no SLA as such in Desk. Support page has an article, explaining how to implement SLA policy with the help of rules. It would be interesting to find out how convenient or inconvenient it is from comments.
Prices
Prices for using the service start at $25 per user per month if paid for entire year.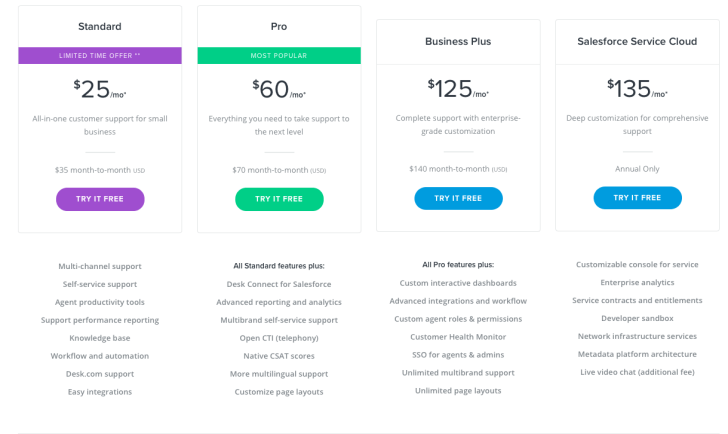 Integration in Desk can be tuned in Apps section. Integrable services include Google Apps, SaleForces CRM, HipChat and other. Of course there are mobile apps for iOs and Android and tons of additional functions. The purpose of this article was to take a look at this product through the eyes of a future user and there is a possibility that I missed something from documentation and unfairly criticized the developers, and I apologize for that. In my opinion, Desk is the ointment that contains a few flies, and you will have to bear with it if you choose it as your customer service tool. In the next article I would like to try and prepare a side-by-side comparison of Desk and one of its competitors.