HelpDesk, developed by Freshdesk, a company from India, is one of the top-rated services according to multiple ratings. Read this review to find out how they have become so popular and what's so special about Freshdesk.
You can also read this review in German and Russian.
My Freshdesk review
When I started working on this review I couldn't imagine that HelpDesk can be so convenient. While I was exploring the product I kept on thinking that before creating Freshdesk its developers had spent a decent amount of time studying their competitors and eventually took into account many of their weaknesses. Naturally, this product is not an exception and has some downsides too.
Pros
Free for up to three users
Convenient ticket list filters
Factors in agent performance
Interface available in over 30 languages
Hotkey support
Cons
its Android app made me enter the full name ergonotes.freshdesk.com instead of ergonotes to log in;
built-in SLA policies cannot be disabled, you can only create your own;
agents' time tracking is not fully automated;
it would be great to see the number of new forum messages in the top menu, although you can set up email notifications, but my suggestion seems more convenient;
Now let's proceed to the review.
Working with Tickets
Practically all ticket fields are covered by filters that are available on the left side of ticket list. Filters allows to arrange the displayed tickets without wasting time on adjusting the list. The list is updated instantaneously and there is no "Apply" button. Field on the top is a preset filter. Custom filter parameters can also be saved for yourself and for all agents separately.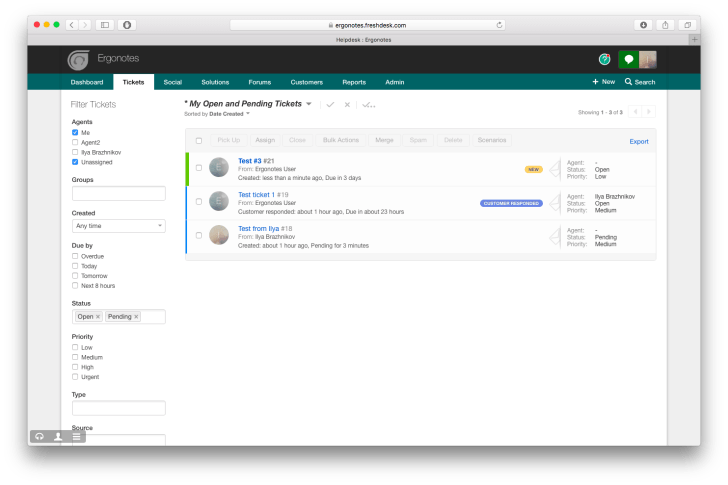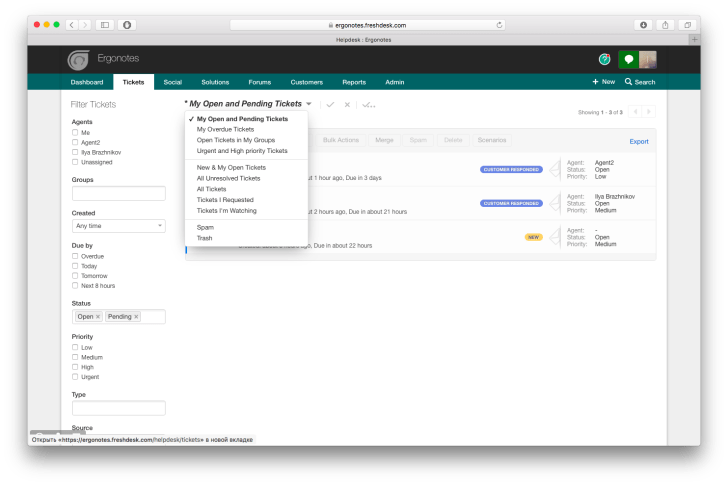 Actually, list fields are also quite nice. Firstly, the developers made editing of agent, status and priority of tickets available with no need to open the ticket itself. Some time ago I used PhpMyAdmin, which also used this way of fast field editing and while reviewing Zendesk and Desk I wondered, why their developers did not think of implementing this fast editing feature.
Secondly, system labels reflect tickets containing customer response, overdue agent reaction, etc. But tags are not displayed in the list, unlike in Desk.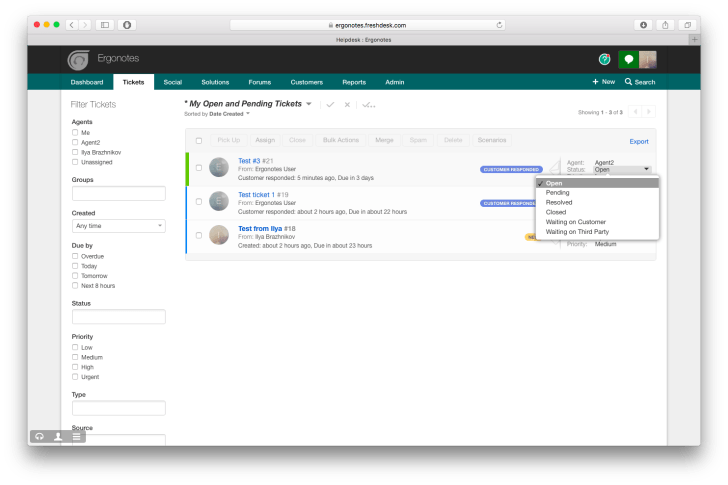 Bulk ticket editing. You can 'take on' one or several tickets, assign them to another user, mark as spam or open "Bulk actions" where you can edit any field including reply to customer. For some reason agents can delete tickets by default, which is no good. By the way, the system does not allow to edit preset user rights, you can only create your own. That seems to me pointless and inconvenient.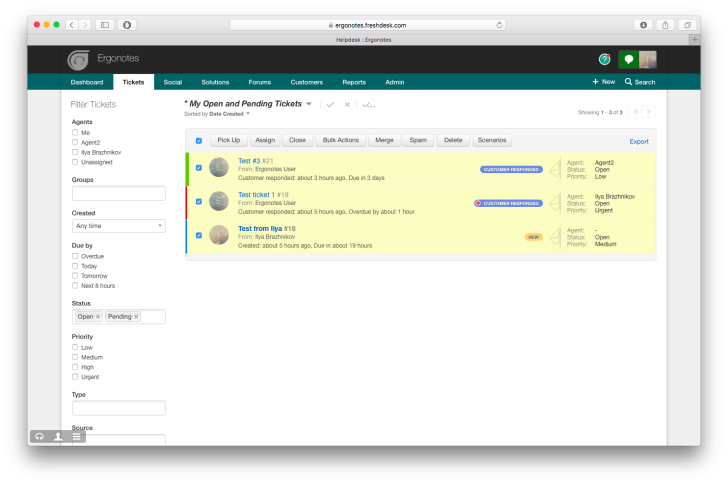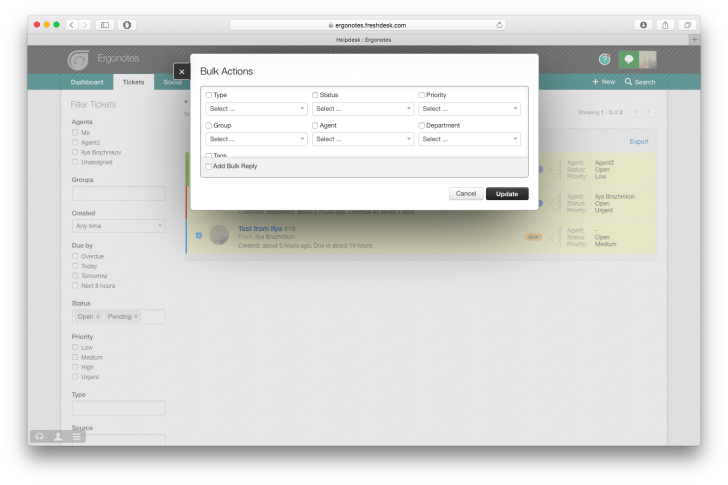 Ticket editing. Reply form allows to format text, attach articles from knowledge base and CC other people. Files attached by users are available only in replies, unlike in Desk there is no separate side panel for them. However, there are ToDo and agent time tracking fields.
To track time in ticket agent has to manually press Start button or manually enter the amount of time he/she has spent on the ticket. Based on time tracked you can generate a group report by agents, clients, tickets, etc. Unfortunately time tracking is not fully automated, i.e. mistakes are possible.
Tasks from tickets are displayed in Dashboard to make sure the agent remembers them, which is a cool thing.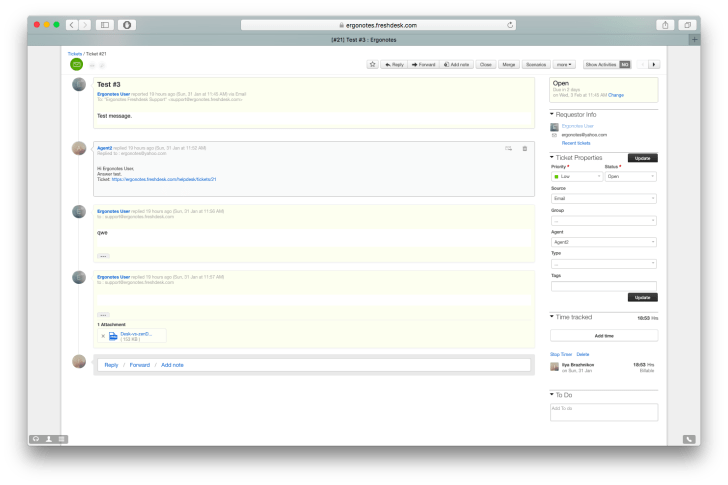 Apart form such standard channels as Email and Facebook/Twitter, it has quite interesting way of receiving tickets by phone. Freshdesk has a built-in IP-PBX with IVR, voice mail and call recording. Agents can receive calls right from their browser, mobile app or set up call forwarding in their user profile. The service is available in the U.S., Canada and Great Britain, although this limitation can be easily bypassed with the help of call forwarding, if you'd like to know how exactly, write us in comments.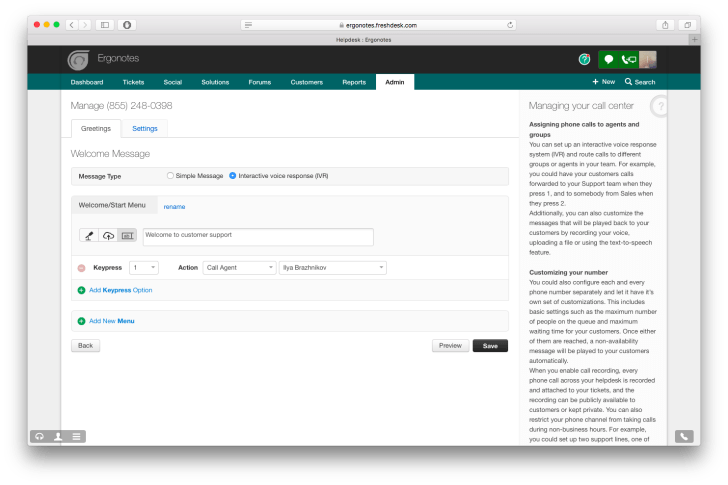 Another channel for tickets is chat. It turns on in user portal and allows to get tickets in real time. After agent closes the conversation with user system suggests to open a new ticket based on this request or add conversation to an existing ticket.
Ticket export in Freshdesk is definitely better than in Zendesk. It has export in XLS and virtually all ticket fields are available, including agent's time. Personally, I'd like to have only an automated scheduled export feature.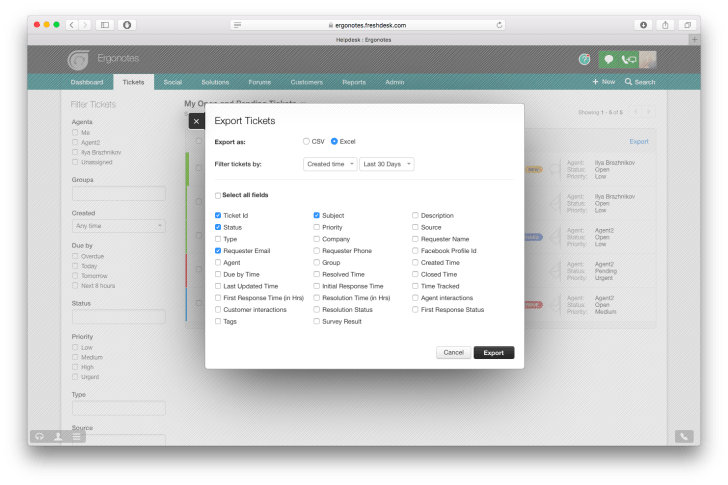 Automation and SLA
Ticket autoprocessing rules are divided into three types:
Dispatch'r, – processes incoming tickets;
Supervisor – processes tickets by time, for example, 2 days after status was changed to Resolved;
Observer – processes tickets by events, for example, assigns ticket to agent who was the first to leave a reply in it.
In addition, it has macros that in Freshdesk are called Scenario. They are simply a set of actions agent can do with one or more tickets.
SLA policies are included by default and cannot be disabled, but they are editable. Apart from ticket execution rules there are rules that come into force when ticket response time is about to expire and has already expired. Custom SLA policies are available in some subscription plans.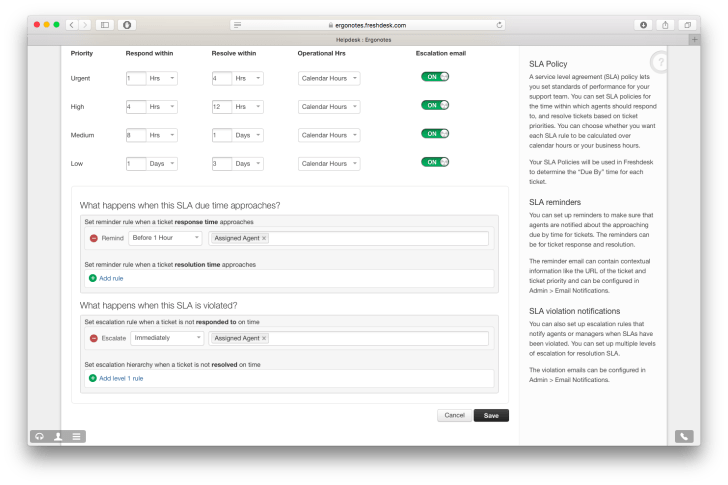 Managing via email. Agents can manage tickets via email using special commands that need to start and end with statement, such as @keyword, for example @Simonsays "status":"pending", "priority":"medium", "agent":"John Robert" @Simonsays. Fields that are available for such editing are: Status, Priority, Agent, Group, Source, Type, Product. As a matter of fact, an agent who knows the syntax of these commands can work with tickets exclusively via email with no need to enter the system via browser.
Integration, email notification management, etc.
List of services with which Freshdesk can integrate is not as large as Zendesk has, and contains around 40 services. Among other services it includes Harvest using which you can expand agents' time tracking features. It also includes MailChimp, Microsoft Dynamics CRM, SalesForce CRM, etc.
Managing notifications via email is especially noteworthy. Unlike in Zendesk, where it can be set up along with other ticket processing rules, in Freshdesk notifications are located in a separate section and divided into notifications to agent, client, etc. You can enter variables into email templates and the program has an assistant that will help you use them in text.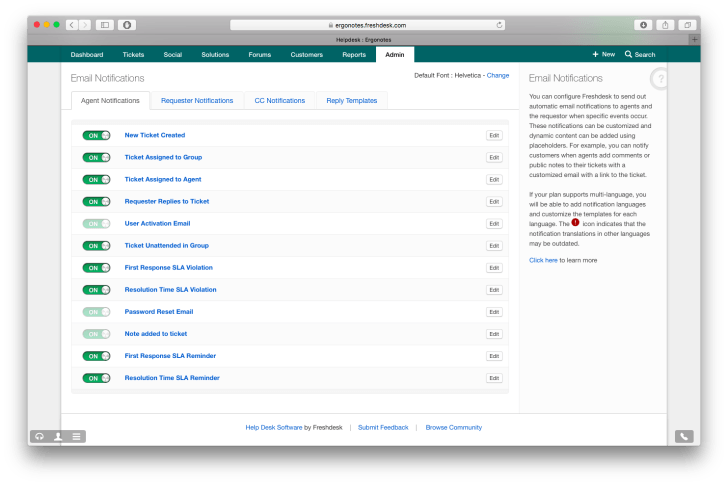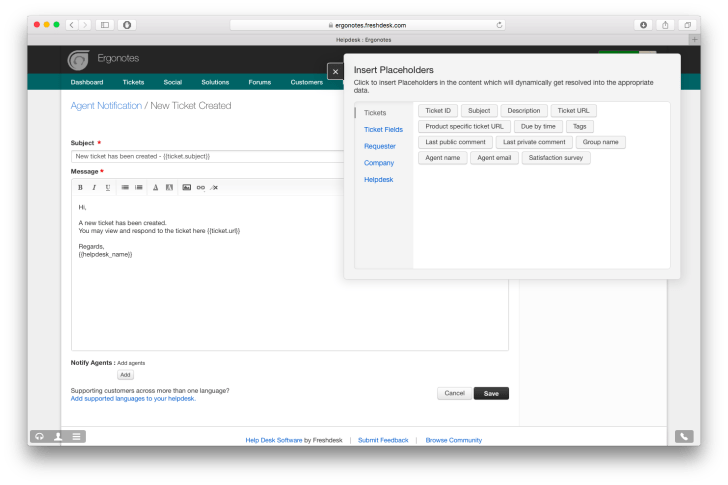 The Game
Creators of Freshdesk thought of a very interesting motivation method for agents. Each agent in the system has a level that corresponds to a certain number of points. Points are earned depending on ticket execution time and customer satisfaction. Points are deducted if SLA time is violated or customer leaves a negative feedback. Based on this system of achievements the company can adjust remuneration or simply reward agents when they reach the next level.
Moreover, it has some quests. You can create your own or use a preset one. For example, the winner is required to close 10 tickets with the highest customer score. Participation in quests is mandatory for all agents.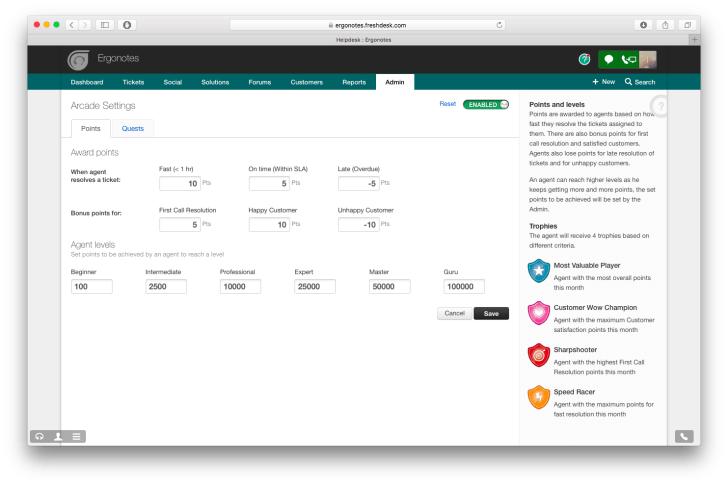 Price
The price for using this service starts from $15 per month per agent. There's also a free subscription for small teams of up to 3 agents that includes basic functionality. On top of that the creators of the service offer daily passes starting from $1 to $3 per day depending on your subscription. They allow you to access system for one or several days.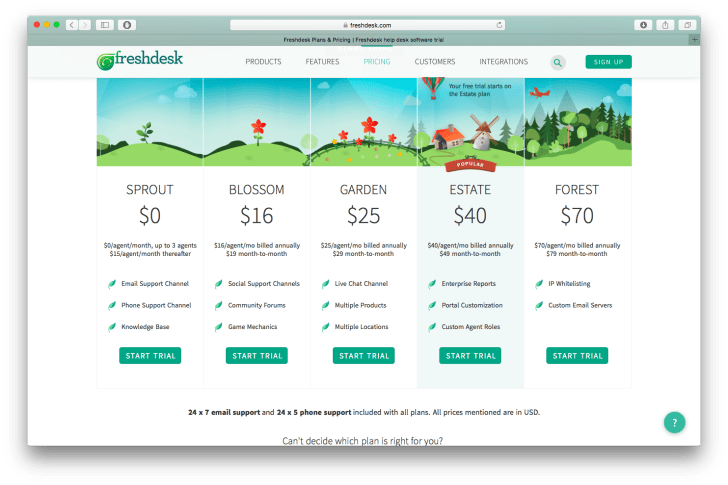 Apart from the classic HelpDesk system Freshdesk company offers a specialized FreshService for IT departments, which is beyond the scope of this review.