With over 500 million daily users, 4 out of 5 millennials turning to it to discover new trends,
and 80% of the top brands using it to promote their products, Instagram has become a marketing powerhouse that anyone who wants to grow a business should have at the top of their social media list.
Girls Building Empires is a promising course that wants to take you by hand and teach you everything that you need to know to be successful on Instagram.
Let's check it out.
Girls Building Empires: The Founder.
Ginte was born in Lithuania, but moved to the Netherlands for university, where she started her first business.
She's a woman who nursed ideas, particularly in her last year in college. At that time, she and her programmer friend experimented with lots of things (some mobile applications and websites) and then Instagram.
The idea of ​​creating a platform that helps women develop their own online Instagram businesses came soon after she finished her degree; and that's how she ended up developing the Girls Building Empires training program.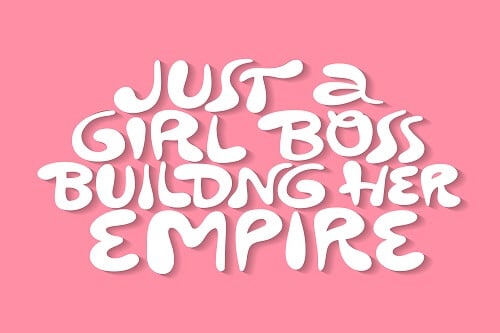 There are some people saying that Ginte's Girls Building Empires is a scam, but I don't think that 2.2 million people are wrong, so let's dig deeper.
What exactly does this program teach?
Inside the Girls Building Empires Course
The Girls Building Empires course is designed to take your Instagram game to the next level.
The course is made up of nine sections that will guide you in building your followers, promoting brands and creating your own business on social media. It will ensure that you have a handle on the basics while giving you some principles to be aware of when building your account.
To sum up, inside Girls Building Empires you'll find new ways to grow your Instagram following by inspiring you to grow fast and helping you to convert followers into potential customers.
Ginte and her team will walk you through what it takes to be successful with this platform and show you post templates, strategies on how to grow your account, monetization tips, and much more.
GBE Section 1: Foundation
Week 1: In the first week, they will focus on helping you choose a niche. They will give you tips and templates with different niches that have already been tested.
Week 2: Week 2 will challenge you to start creating a business plan for your Instagram project. Come up with a description of your product or service, your goals, any barriers to entry, and so on.
Week 3: This week we'll cover the first step in marketing your business: understanding your target audience. By considering your target market, it will be easier to find the right partners for your business.
GBE Section 2: Take off
Week 4: This week you'll learn how to set up a unique and eye-catching Instagram profile. The best way to make sure people don't miss your Instagram page is to ensure that they find it interesting, so it is important that it stands out.
Week 5: This week, they will explain to you how to boost the participation of your audience to build a cohesive community around your brand. As an aspiring content creator, you will learn to build long-term relationships with your followers by providing them with quality content. The more value you offer, the more likely your audience will become loyal followers
Week 6: In the last week they will explain the best way to create and publish quality content easily and quickly. You'll also get the Girls Building Empires' framework with different content ideas that can help you grow faster.
GBE Section 3: Optimize
Week 7: This week, the Ginte's course offers practical lessons on how to optimize your caption text for high-performing posts. Instagram captions are crucial when it comes to driving traffic to your page and encouraging people to buy.
Week 8: During this week, the Girls Building Empires team gives you tools and tips to publish constantly, saying the ideal is to publish between two and three times a week.
GBE Section 3: Growth and Monetization
Week 9: Week 9 offers a ton of practical strategies to improve your social media presence and go viral -always without risking your reputation.
Week 10: You don't need fancy equipment to create high-quality Instagram Stories. This week, Ginte will teach you how to create and use IG stories to increase your audience and grow your business.
Week 11: This week focuses on the company of Girls Building Empires itself. Ginte will show you how she took the brand where it is today.
Week 12: This week is focused on increasing your revenue through Instagram. Either through affiliate marketing, your own products, or advertisements.
Is Girls Building Empires affordable?
For $149, this course is a relatively low cost social media marketing program, and is worth every dollar. That's the one-time payment, though.
You can also get the Girls Building Empires program for 3-monthly payments of $65.
Is Girls Building Empires a Legit Course?
The course offers a legit and easy to understand program for women who want to build their Instagram business. It contains a lot of useful information about creating an online business, and if you follow the steps of Girls Building Empires, you'll be able to make money online with your Instagram business as soon as you finish the training.