If you use multiple cloud storage services, Jolidrive will help to combine and manage several cloud drives' contents from a single dashboard. Jolidrive is more than just a cloud drive mixer.
Getting Introduced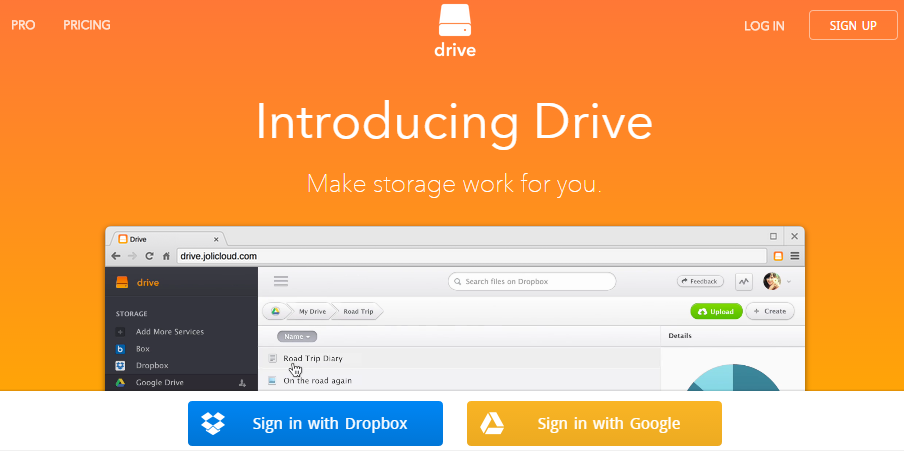 Jolidrive is the successor of Jolicloud which was founded in 2009. In the beginning, its developers offered Joli OS, a free operating system focused on the cloud. Later, Joli OS was discontinued and Jolidrive took off.
The cloud mixer service has both free and paid packages. The free plan offers limited cloud linking and file transaction abilities. If you want to evade these limitations, you can go for a Pro plan costing €5 per month or €50 per year.
Sign-Up to Jolidrive
To use Jolidrive's cloud accumulator service, you need to sign up with them. Visit https://drive.jolicloud.com/signup to start the registration process.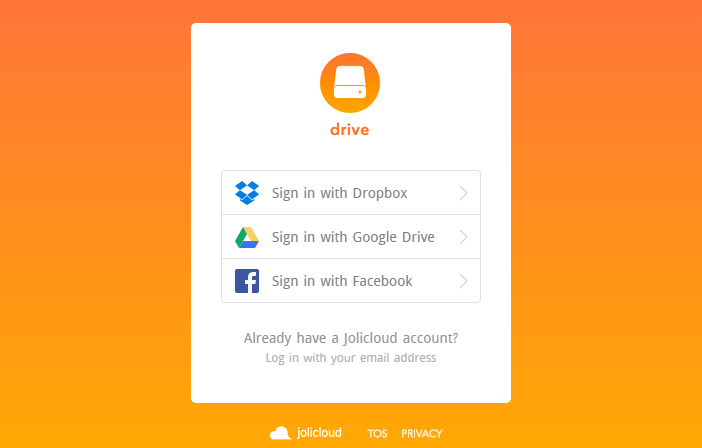 There is no direct sign-up method. That means, you cannot simply create a Jolidrive account with an email address-password and your name. Rather you will be required to register using your Dropbox, Google Drive, or Facebook account. You will find these options on the sign-up page. Click on any of them and allow access to Jolidrive app in the other service. I selected Dropbox first to sign-up with Jolidrive.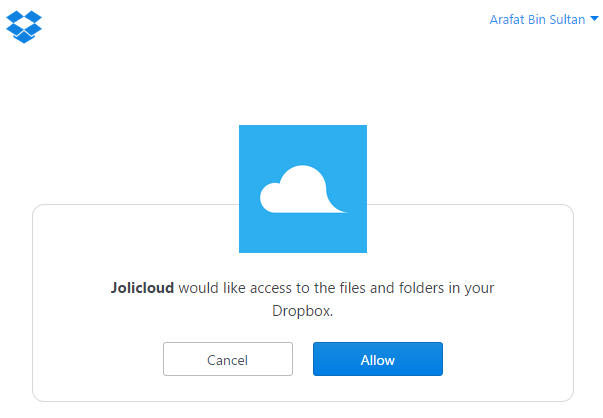 It opened a Dropbox API pop-up window and asked permission to get access for Jolidrive. I confirmed permission. The pop-up window closed itself.
The Jolidrive Dashboard
Upon allowing Jolidrive web app access Dropbox, the Jolidrive signup page redirected to my newly created Jolidrive dashboard. It shows some introductory tips.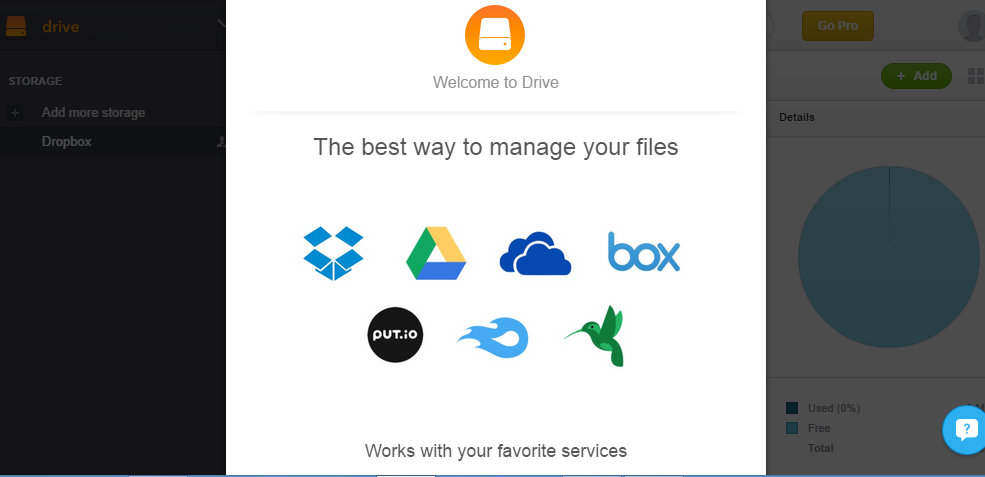 Clicking on the 'Next' button will bring newer tips and options. On the bottom right corner, there is a feedback button to start a conversation with Jolicloud team.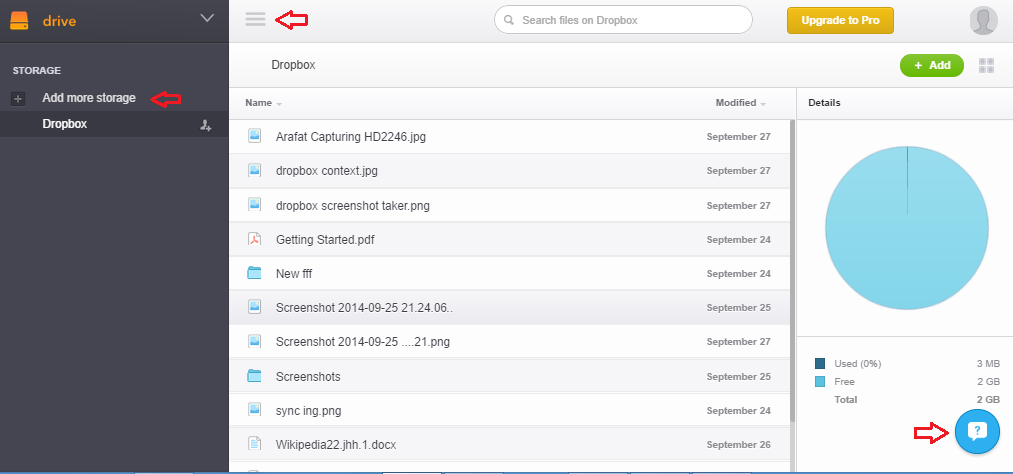 The left side of the dashboard has options for adding cloud drives to Jolidrive. Click on 'Add more storage' to connect another cloud account.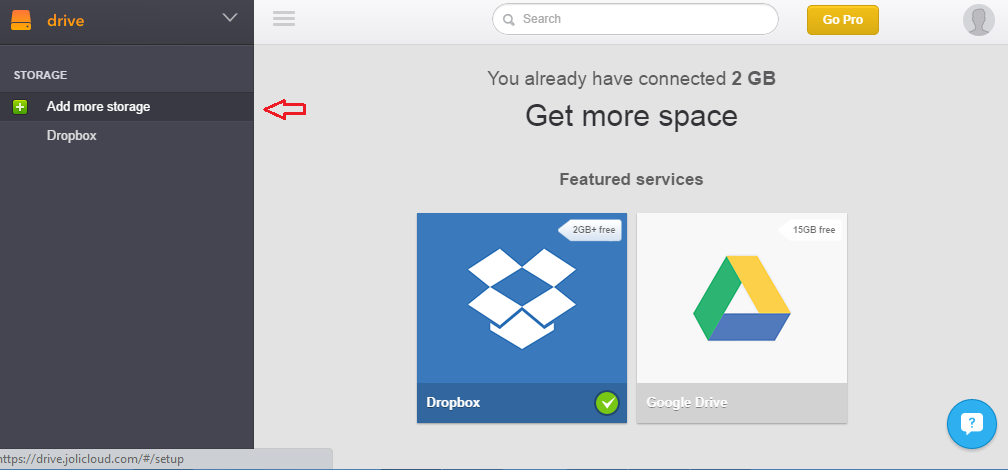 There were 7 cloud services available to connect with Jolicloud as far as I prepared this post. These are, Dropbox, Google Drive, Box, MediaFire, OneDrive, Put.io and SugarSync. The first two services mentioned here were featured and could be added anytime.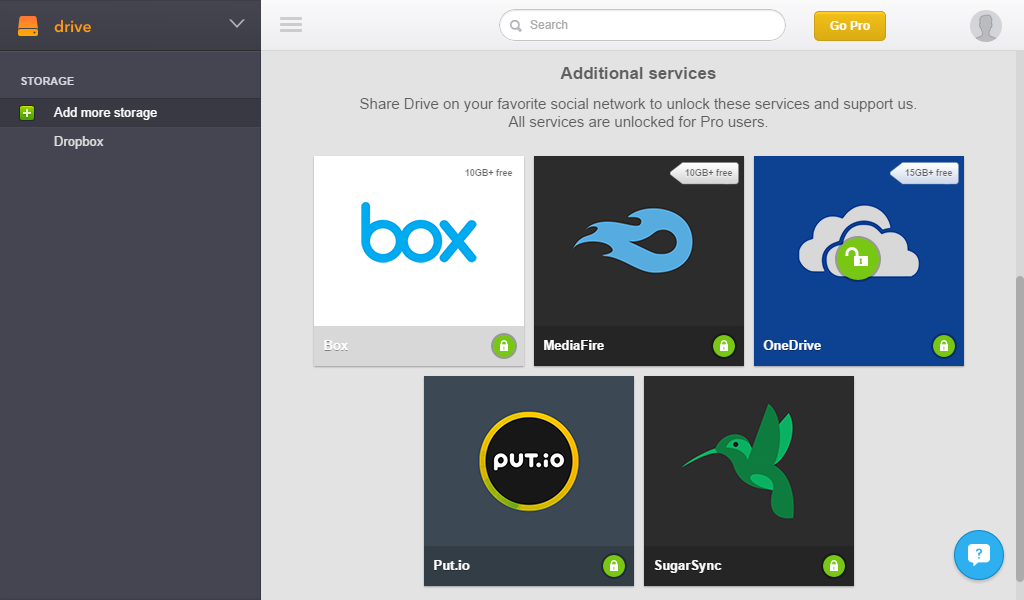 But in free account, if you want to add any one of the other 5 brands, you need to do something in favor of Jolidrive.
I selected OneDrive as my second cloud account linked with Jolidrive. Since it is not in the featured list, and I am a free plan user, Jolicloud required me to do the favor.
Unlocking Cloud Providers
Normally, hovering mouse on the desired cloud brand brings an action icon on it.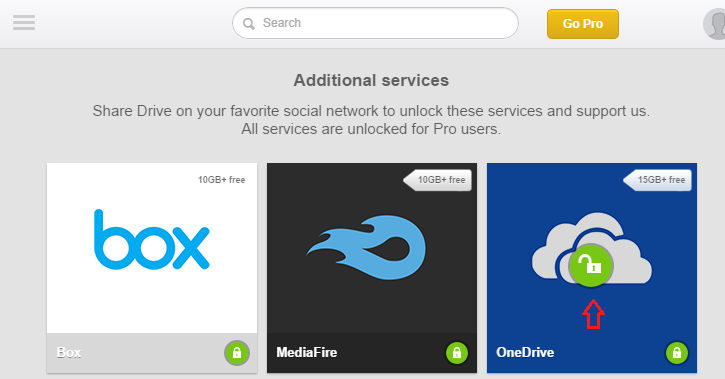 Non-featured OneDrive tile got an unlock icon because I can't add a cloud service while that is locked. To give OneDrive an 'unlocked' status, I clicked on the green unlock icon. It brought options to promote Jolicloud on social media. This is what I said about the 'favor'.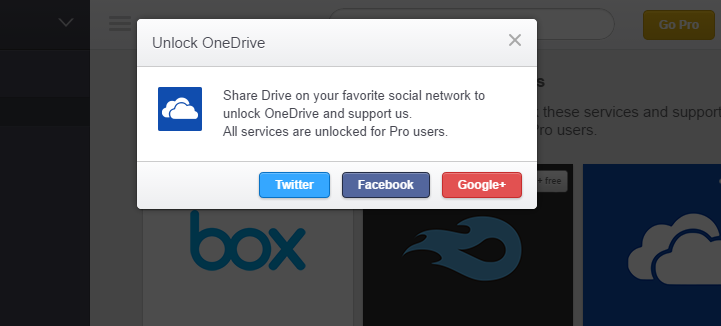 I selected 'Twitter' button to post a tweet about Jolicloud.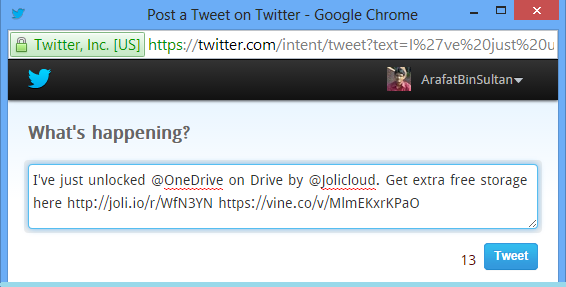 When the tweet got posted, the locked services were unlocked. Right then, I got option for adding a OneDrive account to Jolidrive. The single tweet unlocked the all 5 'Additional services' for me.

Clicking on 'Add a new account' button opens a pop-up window to authorize Jolidrive on OneDrive. I confirmed access with 'Yes' button.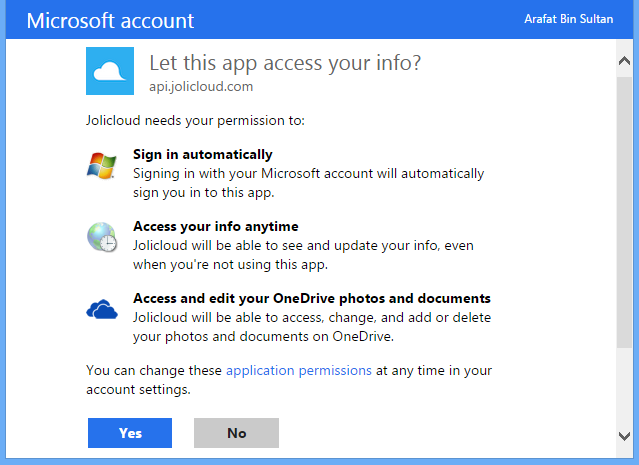 The popup window will load Jolidrive dashboard. You can close the pop-up and visit the dashboard from the browser's tab.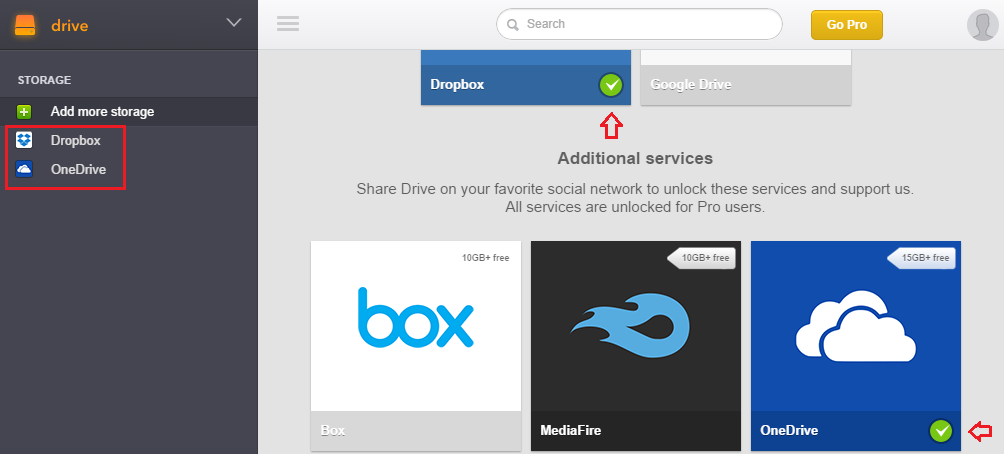 All of the connected cloud drives will be found on the left sidebar list. The first column can be collapsed by pressing the button appeared left side of the search box (see the red arrow on top of the upper image). In the 'Add more storage' section, naturally there are the tiles of supported cloud brands. When you have connected at least one account from any of these service, the cloud icon gets a Green check mark. Hovering mouse on the icon will bring 'Add new account' option. But you need a Pro account to connect more than one account of a particular cloud service.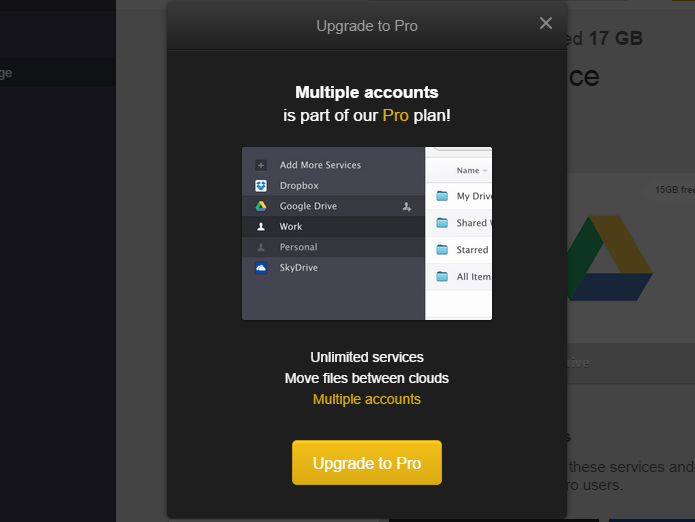 For example, I have already connected a Dropbox account on my Jolidrive. So, when I tried to add another Dropbox account here, Jolidrive said that I have to upgrade to Pro to this.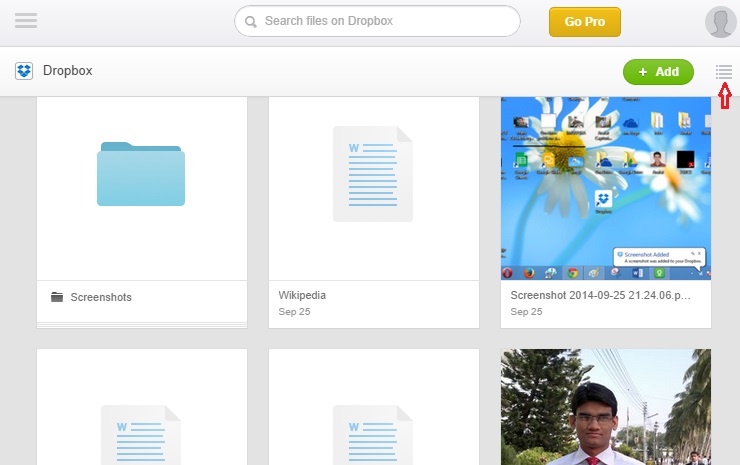 Your files and documents shown in the middle column of the dashboard. By default, these appear in a list view. You can also change it to grid view with the switch given on the top right corner.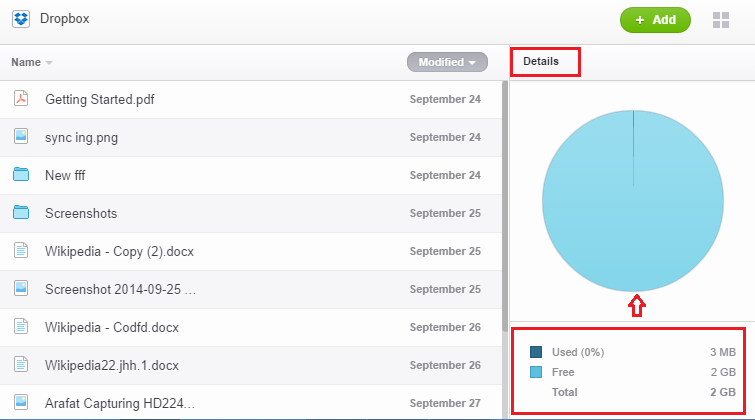 The third column (at the right hand side), provides your cloud drive statistics. It displays the opened cloud service's total space, used volume and available storage with pie chart and text description. This same position is used to show file properties upon marking.
However, in grid view, there are only first two columns. So, you cannot find the easy properties stat while you are not in list view.
Managing Cloud Files
Jolidrive offers some great tools to manage your online files and documents. A single click on a file will open it.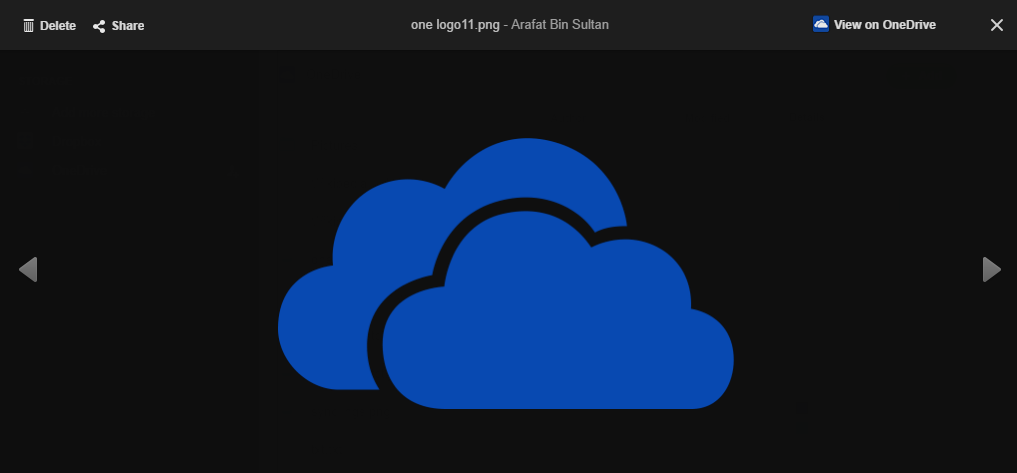 Jolidrive can open images, stream videos and view documents. If your original cloud provider supports native Office documents editing, Jolidrive will show an 'Edit' button on the viewing window.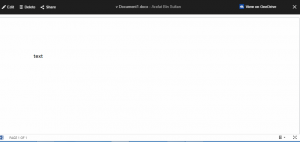 You will also get an option to go to the file location on the respective cloud's web page.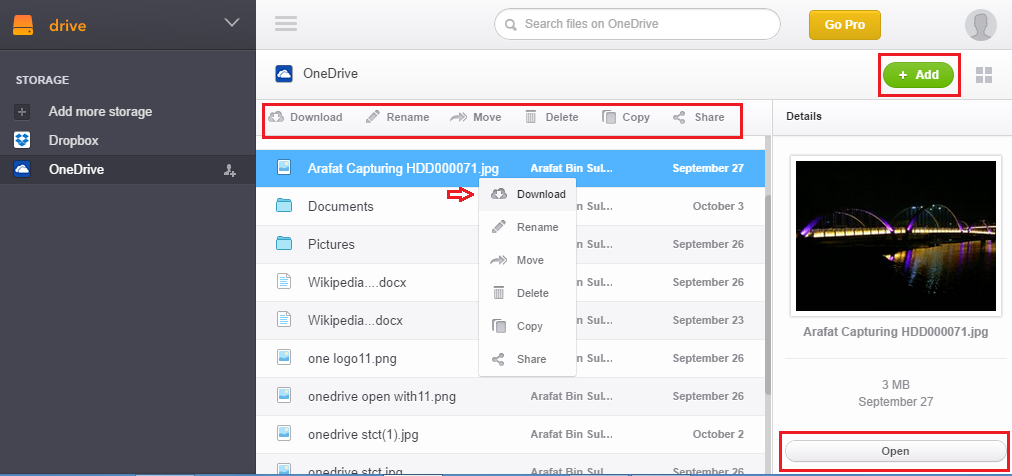 Right clicking on a file will open a context menu containing options to download, move, copy, delete, rename and share the content. The preview column (only in list view) will also show an 'Open' button.
To copy or move files between cloud drives, just select multiple files and press your desired option on context menu/toolbar and follow instructions.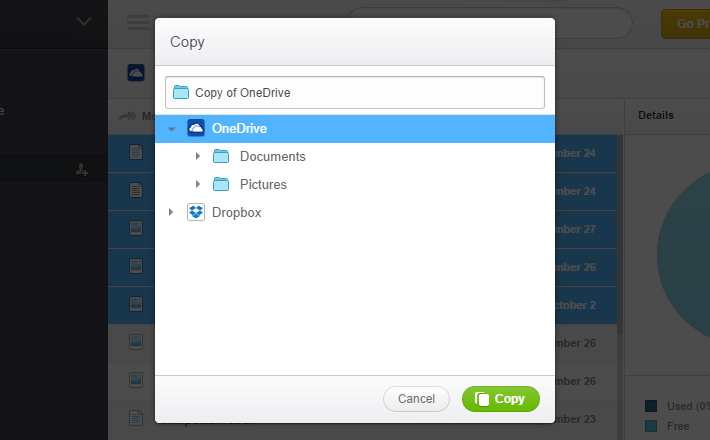 But remember, using a free account does not allow transferring contents between different cloud services.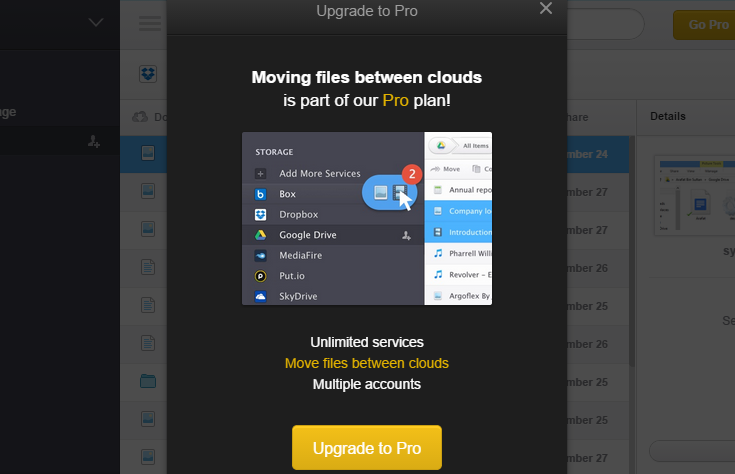 So, you need a Pro plan to do it with Jolidrive. Similar rival brands like Multcloud and Otixo offer this features for free (see our Multcloud alternative article). Multcloud lets you copy/move multiple files at zero cost. Otixo permits only single file transfer in its free package. Multiple file copy/move (between different clouds) will require a paid plan in Otixo.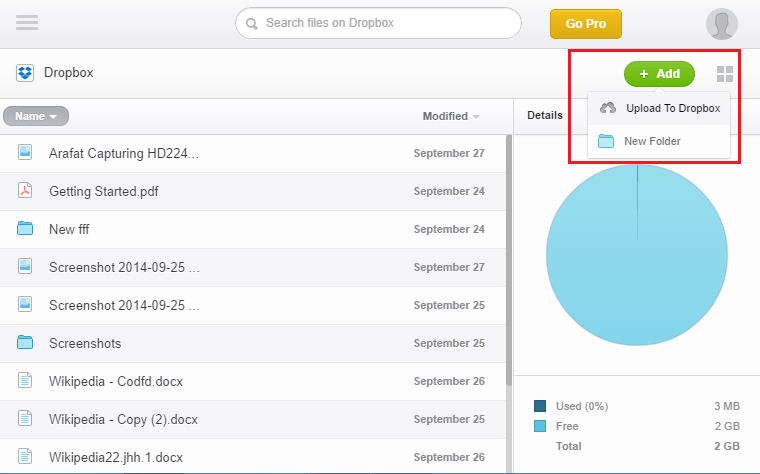 An 'Add' button is located on the top right corner. Click on this button to upload a file/create a folder in your cloud drive.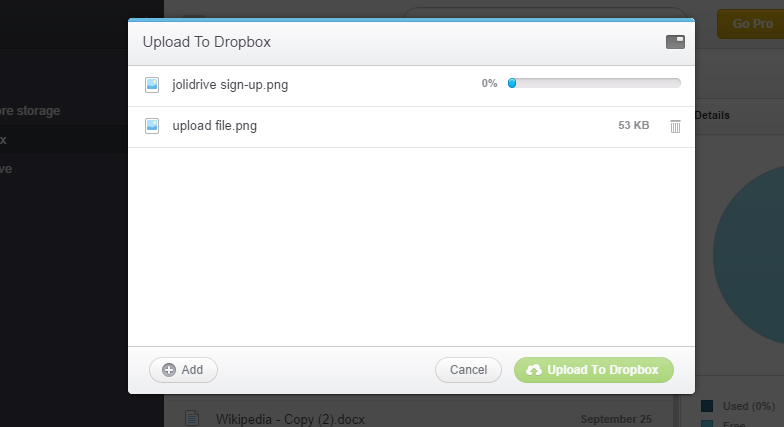 Jolidrive lets you search files in the cloud. While typing a search keyword, it will show you options to search in specific service.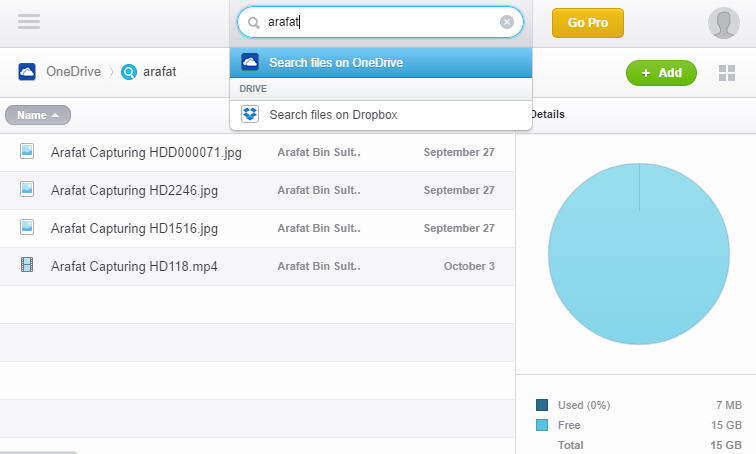 However, Jolidrive doesn't offer combined search across all of your connected drives. You have to search each cloud service separately.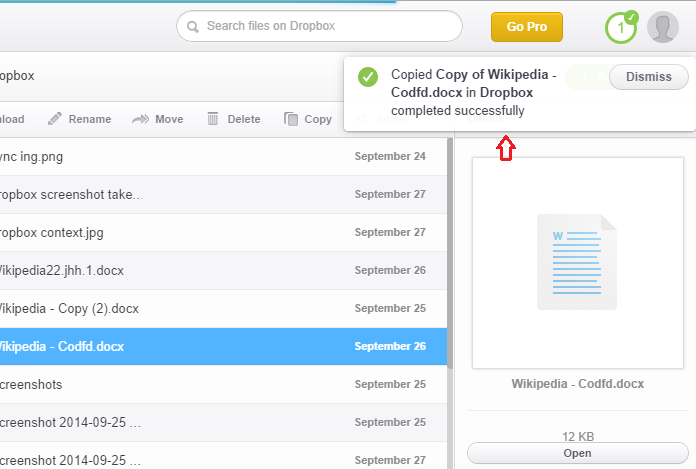 Jolidrive also shows notification after each operation. Its notification system is pretty cool.
Sharing Contents

Jolidrive lets you share contents via a short link. You can also share files via social media and Evernote note taking service.
Settings
On the top right corner, you'll see a profile picture. Clicking there will bring settings options.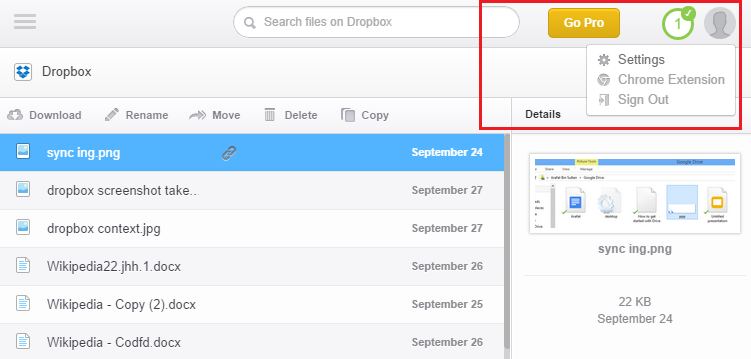 Use them to set your profile picture, upgrade the package, change profile information etc. From here, you can set preferences for your notifications (frequency, alert etc.) as well.
In the sidebar tab, you can opt-in/opt-out Joli OS apps. When this option is enabled, you will get an extra button called 'App Launcher' on your dashboard's first column (sidebar). 'App Launcher' brings a number of web apps.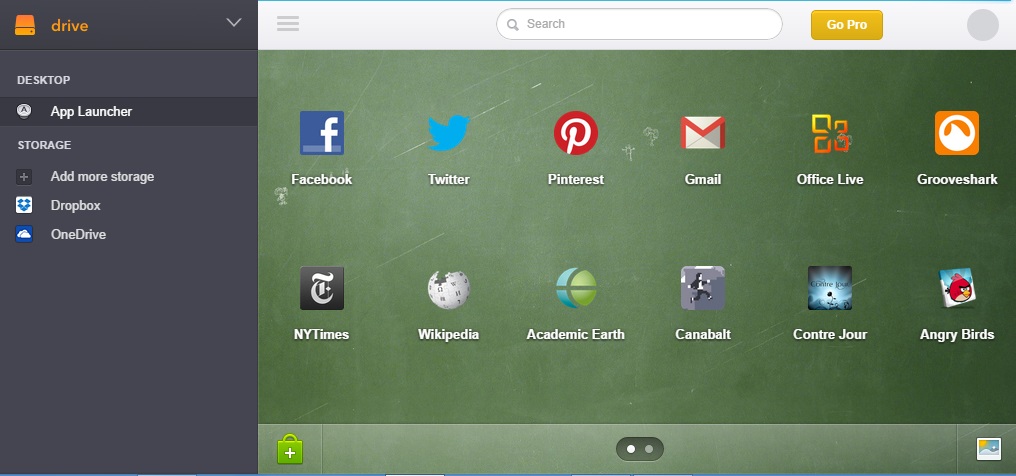 You can add or remove items showing here. Basically, these icons are just shortcuts of the representing services. Clicking on them will open the target sites in new tabs.
As I said earlier, users can send feedback about Jolidrive from the blue button appears on the bottom right corner. The button has a question mark at the center.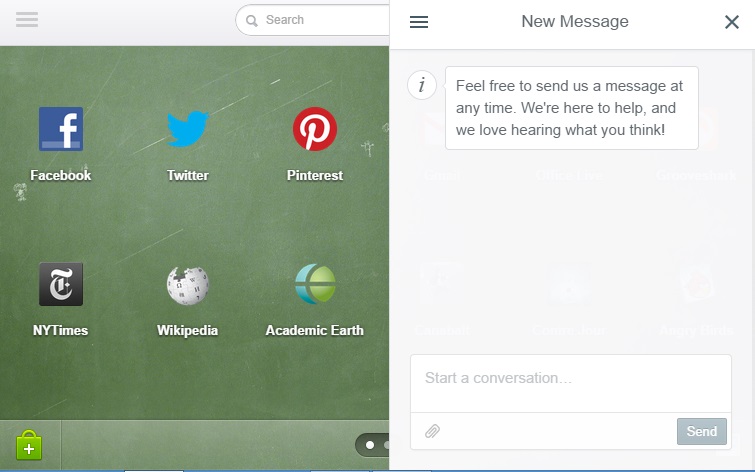 Feedback option also can be found in the preferences menu where settings button resides.
Jolidrive Library
Jolidrive has a beta feature called 'Library'. Here you can enjoy lots of popular services from a single window.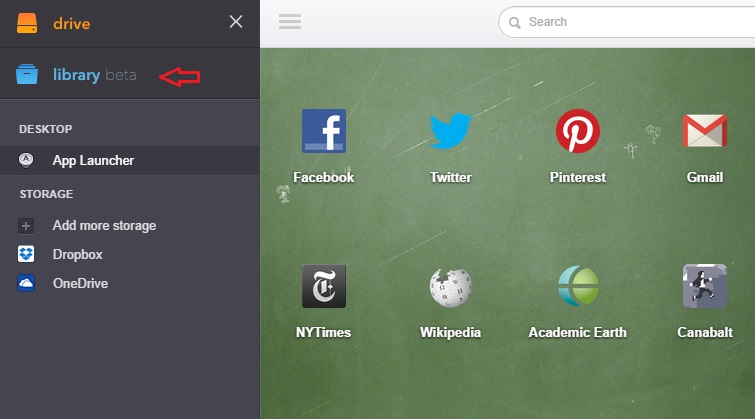 It provides updates from Feedly, Tumbler, Vimeo, YouTube and many more. To get the library option, click on the lower pointing arrow beside 'Drive'.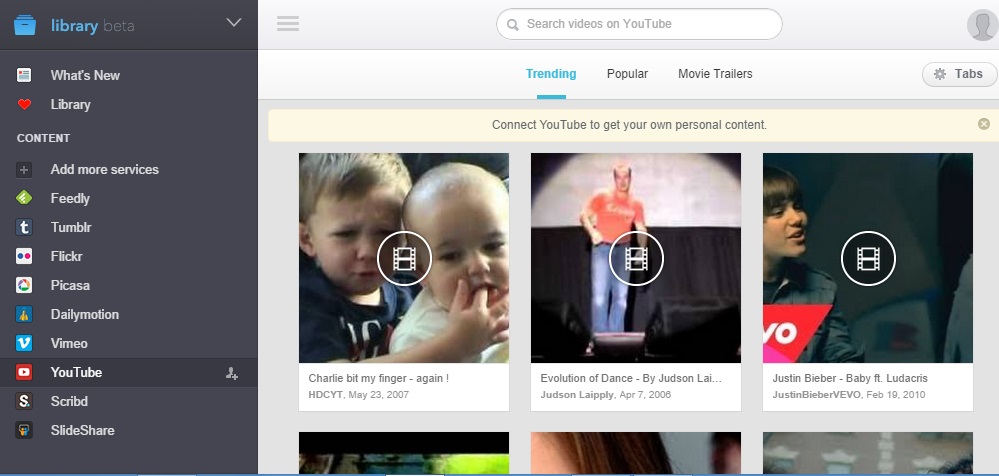 You can manage the library items as your own choice…. And this was my experience with Jolidrive. Now let's take a look on its Pros and Cons.
Pros
Jolidrive offers well responsive and fast service.
The user interface is fantastic.
It can open almost all commonly used files like MS Office documents, photos, videos etc.
Cons
The service does not allow users sign-up directly with their email and password. It requires an existing cloud drive account's credentials to register for the service.
Jolidrive free version does not offer file transaction between cloud services. It's a significant issue that can frustrate users.
It offers very basic sharing features.
The Bottom Line
Jolidrive sports a bunch of great features. But without the essential file transferring ability, Jolidrive free plan users may find it less effective.
I hope you've enjoyed the journey to Jolidrive through this post. Please stay with us for more useful info. Thanks.