Otixo lets you combine and manage files on several cloud storages using a single dashboard. This post will tell you details about Otixo and we'll compare it with another similar service Multcloud. 

If you are looking for Multcloud alternative then this article may help you in making your choice. Before going details, I would like to offer my findings on a comparison table prepared on Otixo and Multcloud.
Comparing Otixo and Multcloud
[table "" not found /]
Now let's see what's inside Otixo.
Getting Introduced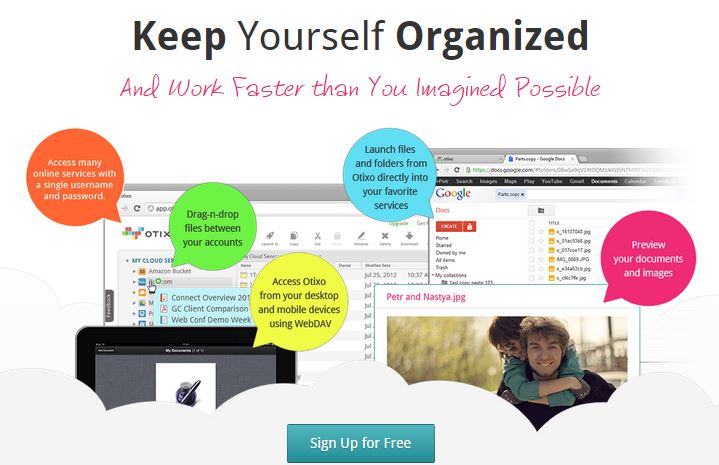 Unlike Multcloud, Otixo offers both free and premium features. The Otixo free version offers single file transfer each time, only one quota for cross account collaboration (aka 'Spece') and basic customer supports via forums. On the other hand, premium plan comes with unlimited file-folder transfer, more than 5 'Saces', personalized email support and more. Users can download Otixo mobile apps at zero cost. The least possible paid plan costs $4.99/month or $47.90/year.
Sign-Up and Login
To use the all of these service from Otixo, you have to register at first. Visit this official link to sign up there.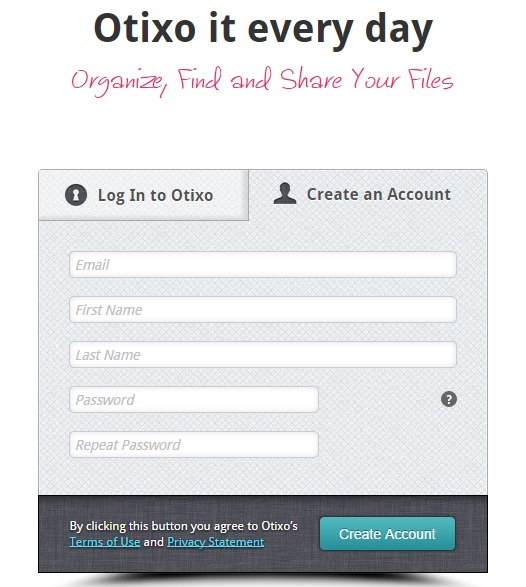 After the registration, Otixo sends an email to your submitted address. Open the confirmation mail and verify your account to start using the service.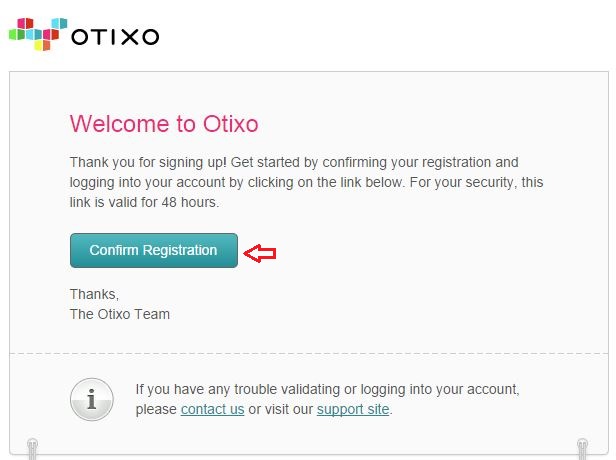 After confirming the email, you will be redirected to Otixo sign-in page.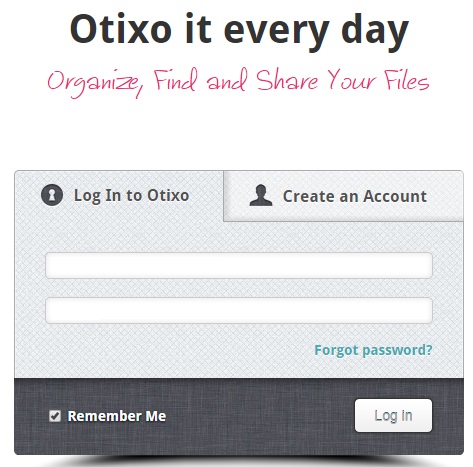 The Otixo Dashboard
Once you've signed in, this welcome page appears.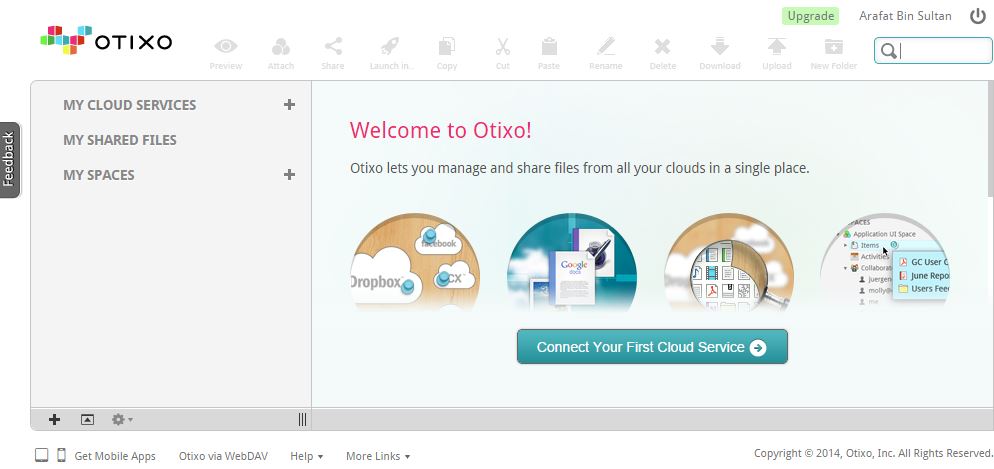 There are lots of options on the upper toolbar of the dashboard. In left, you can see some options to add and manage cloud drives & spaces, sharing etc.
Adding Cloud Drives
In the middle of the dashboard, there is also a button to connect a cloud service for the first time. I clicked on that, and it brought a number of cloud services to add.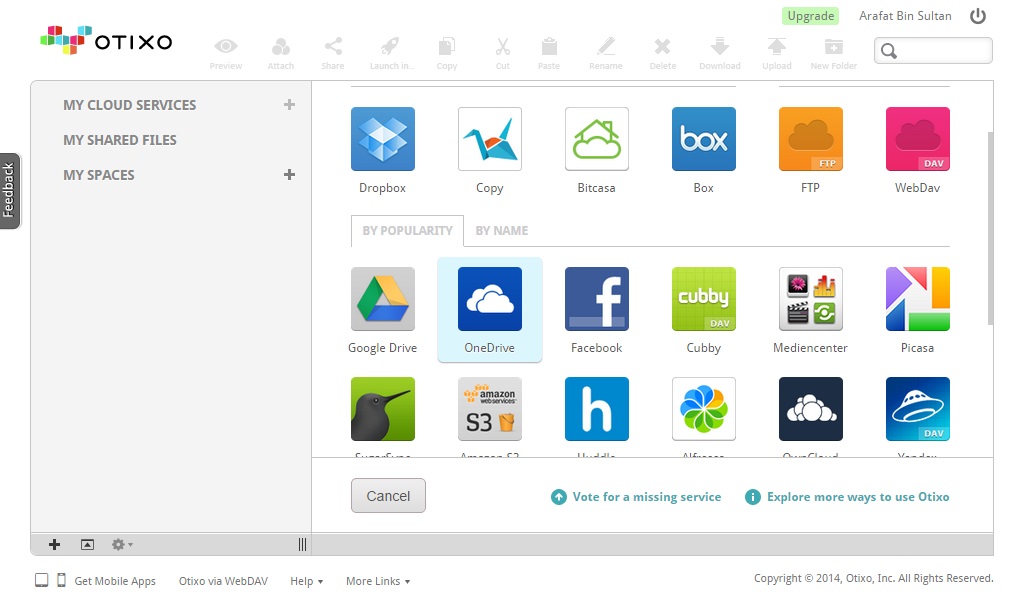 I clicked on 'OneDrive' to add this on my Otixo account. While adding, Otixo allows users to set custom names for cloud drives. Multcloud also does the same.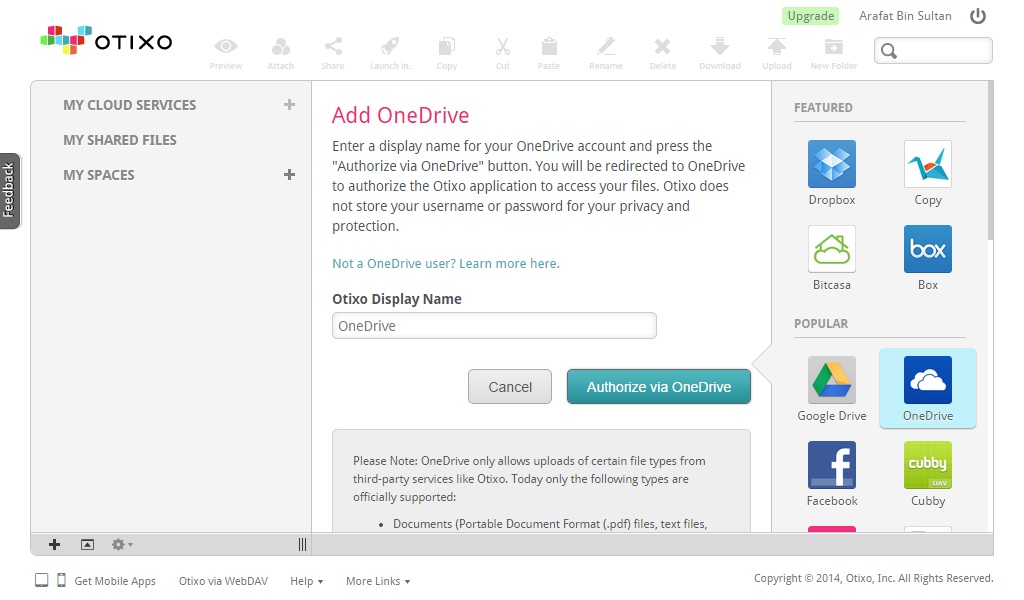 However, as expected, Otixo required me permitting their web app to access OneDrive.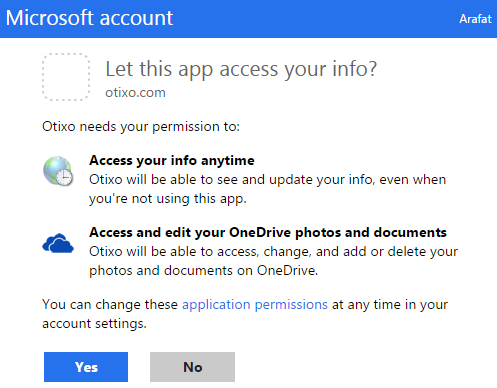 After allowing Otixo web app to access OneDrive, the cloud drive got enlisted to my Otixo hompage. It appears on the left side drive list.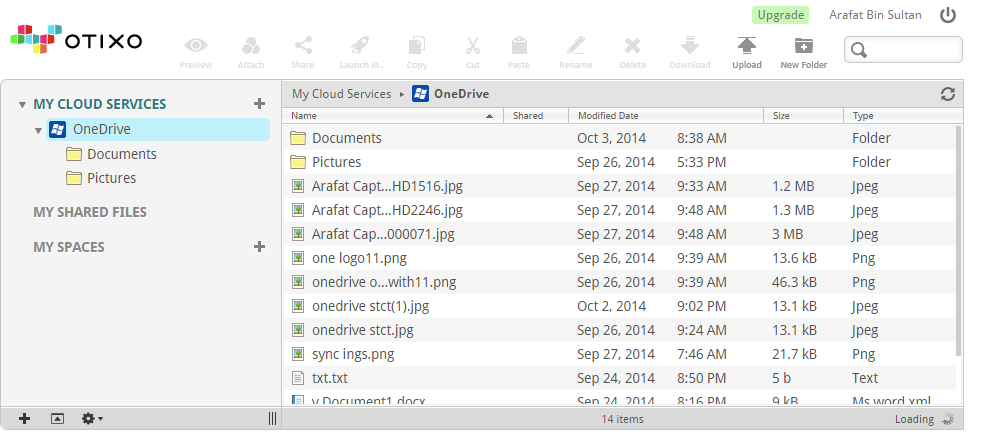 Managing Files & Documents
When you click on a file, the toolbar provides different options to deal with it. It actually serves the alternative purpose of context menu. However, you also could access the context menu by right clicking on a file. Both of these actions let the user to preview files, download, upload, copy, cut, rename, share, add new folder, delete and many more functions. The service also allows you to open any file on its original cloud service's site. But you cannot edit them right there.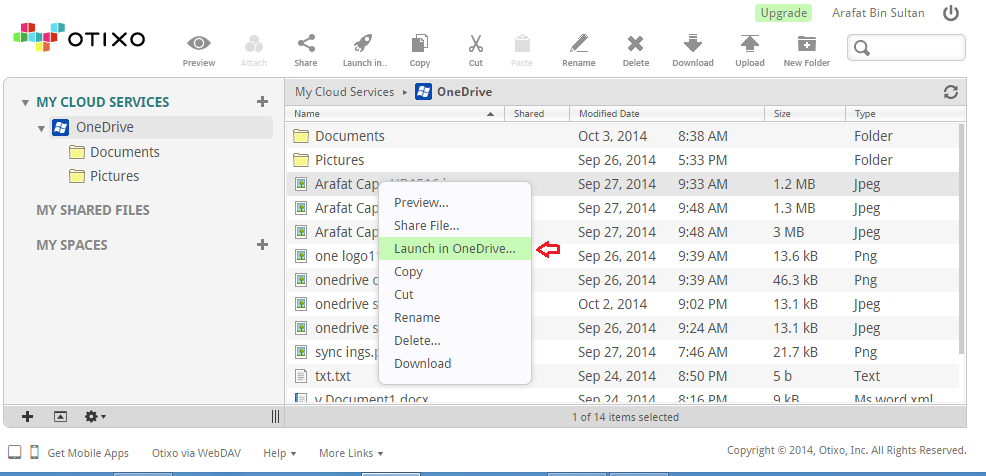 If you want to edit your document, you can do it by launching the file from original cloud provider's site or by downloading it. You should upload the edited file after you download and make changes to it.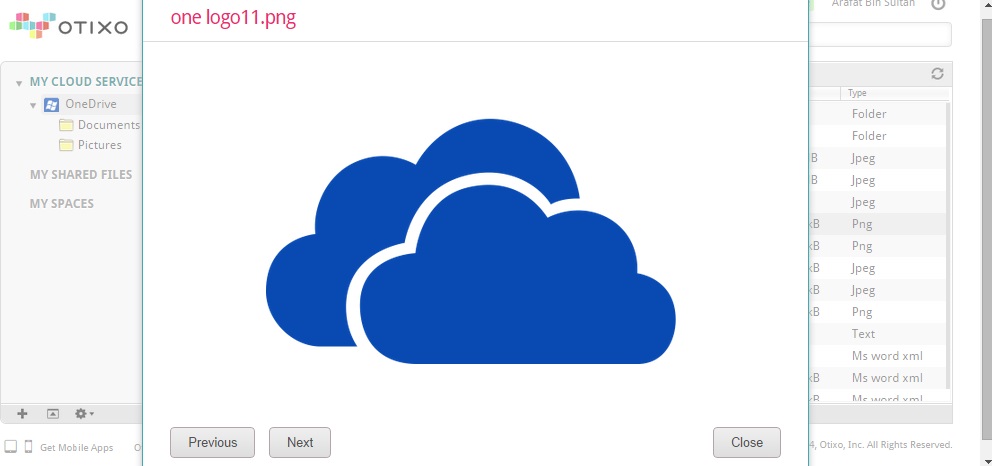 Double clicking on any file will open a preview. If the preview is not supported by Otixo, then it will show you the file properties. I was able to see preview of images. Like Multcloud, Otixo also uses Google Document viewer to show MS Office documents.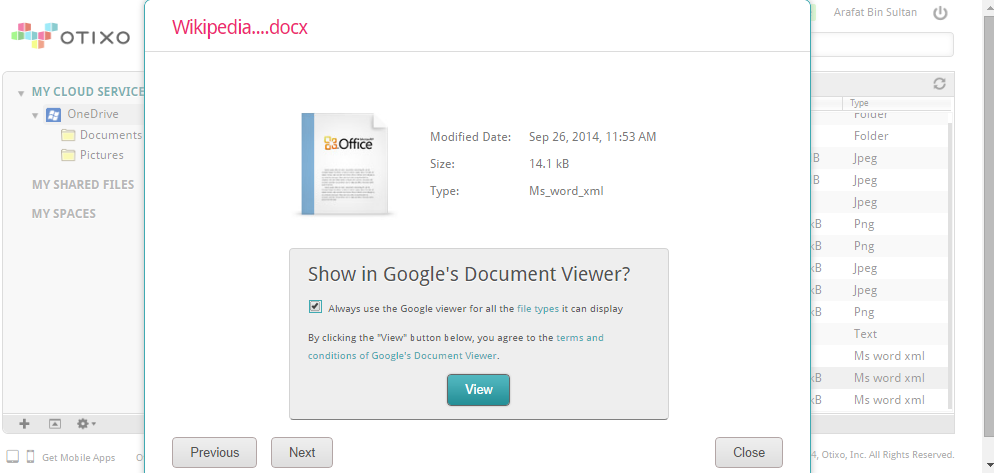 Otixo also allowed to open audio and video clips on its site. But the total preview process takes a bit more time than I expected.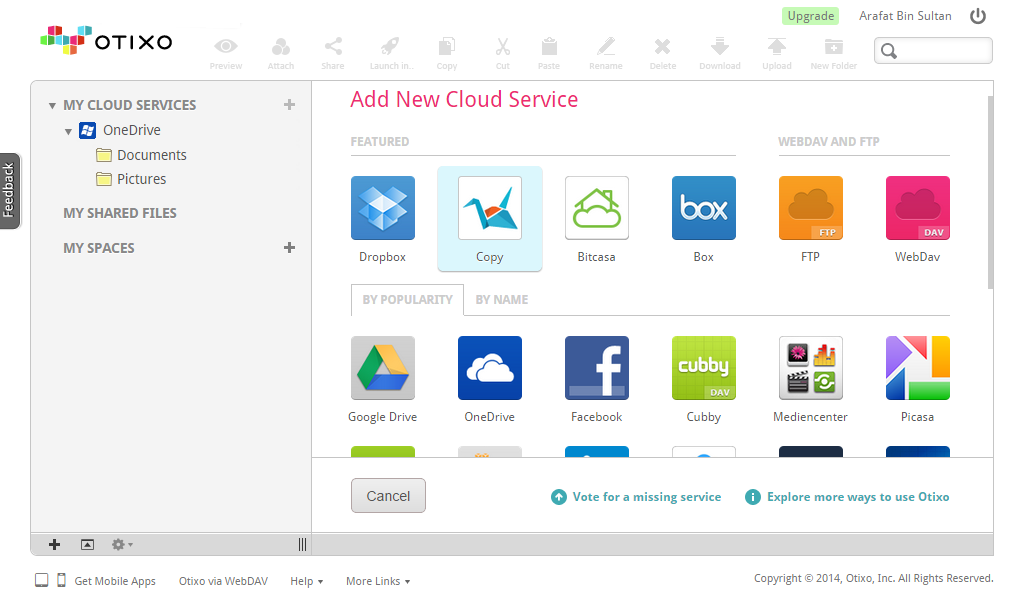 I added 'Copy' as my second cloud drive on Otixo. It required the same procedure I followed while adding OneDrive at the first place.

On Otixo, there is no check box to mark multiple files by single click. If you want to mark multiple items on the service, you need to press & hold 'Ctrl' key and then click on the target files.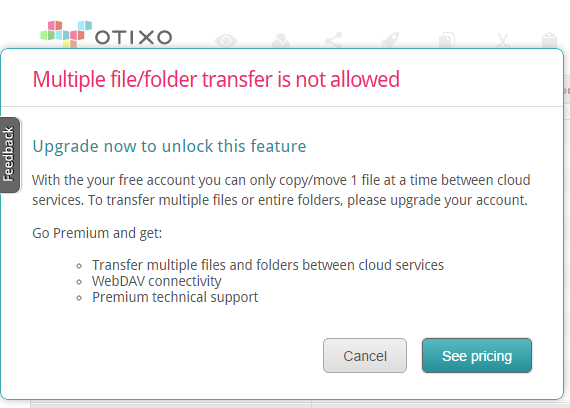 But remember, you cannot transfer multiple files at once with a free Otixo account. To enable this feature, you need a premium plan.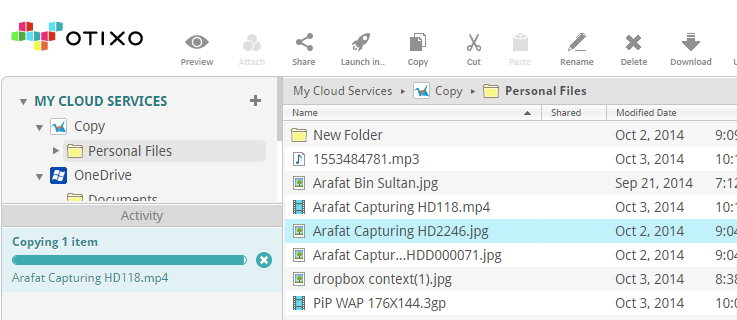 Otixo shows file transfer progress bar at the left side (below the cloud drive list).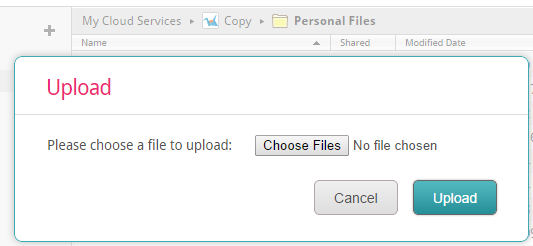 Uploading via Otixo is very easy. Just click on the 'Upload' button on upper ribbon (toolbar) or select upload option from context menu. You will get an upload box to work with.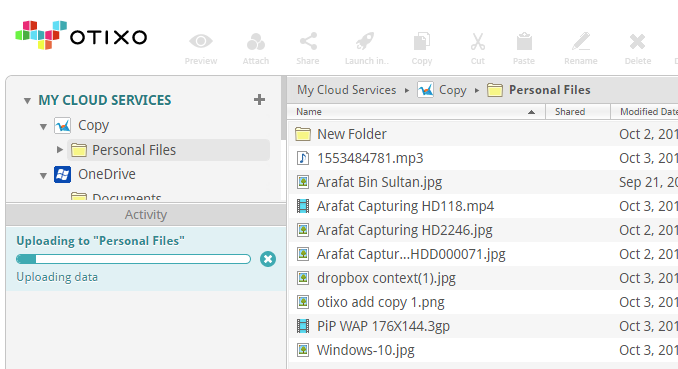 There will also a progress bar for the uploading file under the drive list.
Sharing and Collaboration
Otixo offers a richer sharing experience. Multcloud lets share via link, social media and email. But Otixo indeed allows you to share the link wherever, along with advanced options. You can set an expiration date for the link or protect the file with password.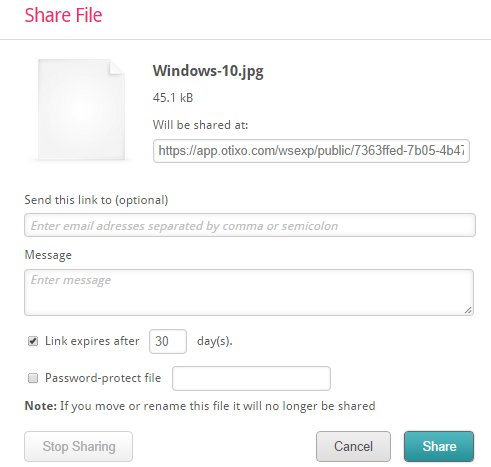 On the left hand side of Otixo explorer window, you will get three sections. The first one holds your cloud connections, second one shows the shared items and the third one manages 'Spaces' that means dealing with your team members. If you click on the 'MY SHARED FILES' option, Otixo will show you the files you've shared with others.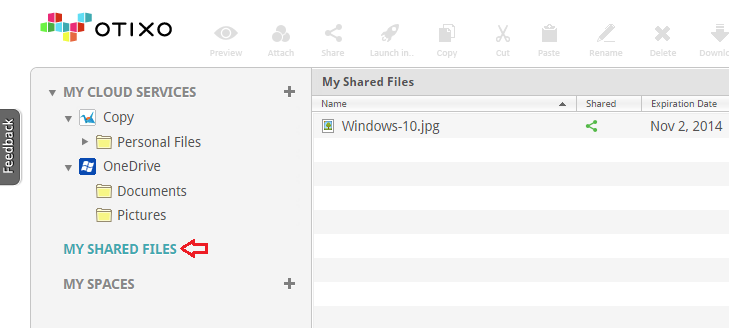 Space helps you and your friends/colleagues collaborate somewhat like Google Docs, where you can add a person who can view/edit documents. To add a Space, click on the '+' icon appears beside 'MY SPACES' section on the left side of Otixo window.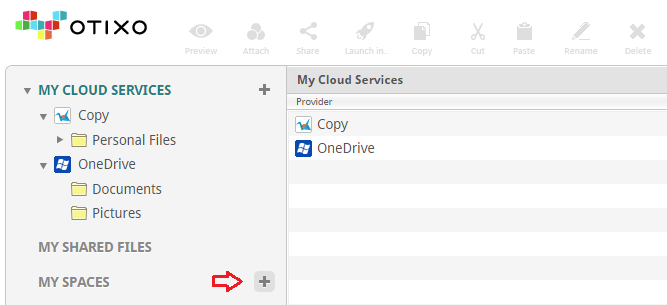 You need to send an invitation to the desired person.
Once he/she accepts your invitation, then you can start the team work. You can manage your team members from the space menu.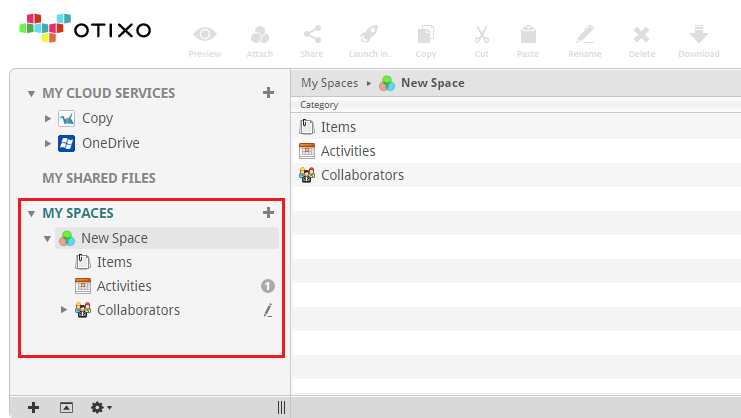 To add a file to Space collaboration, click on the target file and then click the 'Attach' button located on upper toolbar.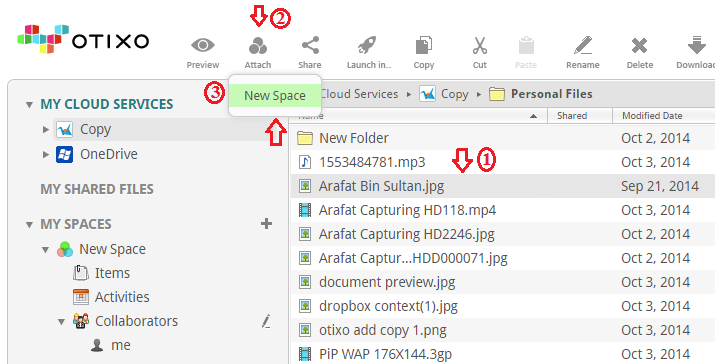 Now your space list will be appeared. Select the appropriate Space from there.
Otixo Settings
You will notice three icons on the very bottom left corner of Otixo dashboard. The first one lets you add new cloud service/space, the second one just expands/collapses the upper list and the third one provides preferences for cloud drives.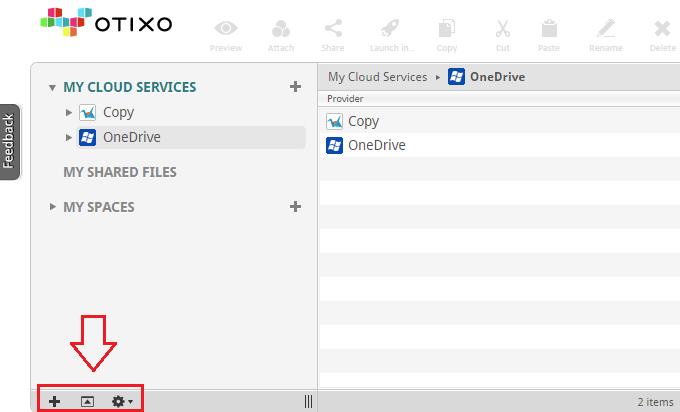 If you want to upgrade your plan, go to the 'Upgrade' option located on upper right corner.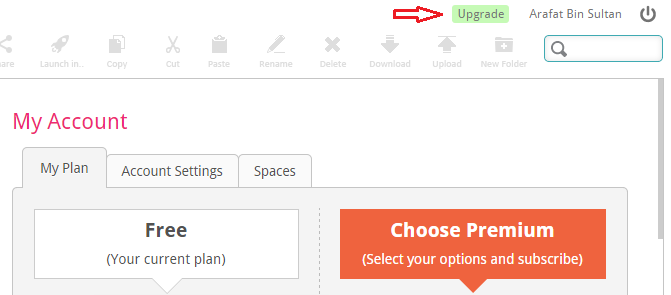 To enter into account settings, click on your name showing on the very top right corner. There you can see/update the package info, change account details (except email address), modify notification settings etc.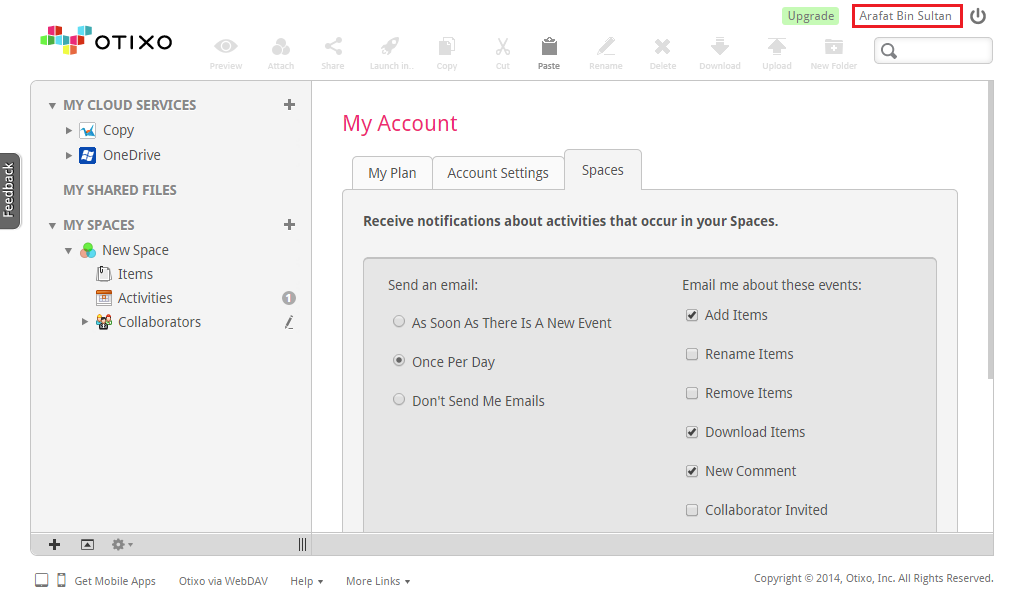 And… this was my experience with Otixo. Now let's point out its pros and cons.
Pros
Otixo offers an amazing and feature rich user interface
The multimedia streaming ability sets Otixo apart from competitors like Multcloud.
Otixo offers collaboration ability which is really a great offering from such a service.
Cons
Otixo seems to be a bit slower and less responsive than rival Multcloud.
There is no advanced account security tool like 2-Step Verification in Otixo
It does not offer basic services like transferring multiple files between cloud drives at once for free.
The Bottom Line
Otixo sports a beautiful user interface and some useful tools. If you are ready to spend at least $4.99/month, then Otixo could be a great choice. Given that, there is room for its improvement in security and responsiveness.
Which is better?
In my experience, Multcloud offers light and faster operation. But overall, Otixo is more functioning and feature rich. If you are willing to spend money for cloud combining service, then will be better than Multcloud. Otherwise, you may like the free and sufficiently featured Multcloud. Happy cloud computing. Thank you.