If you own a business or run a blog you may want to build a mobile app for that, but it requires specific technical skills and resources such as a tools – both general and specific such as one for Java Code coverage with Cobertura and Jenkins with log analysis and log monitoring by Loggly. Otherwise, still you could create a mobile app thanks to the online tools those are providing this service.
Here I will tell you about six websites those offer cloud based software development tools so that you can create apps online.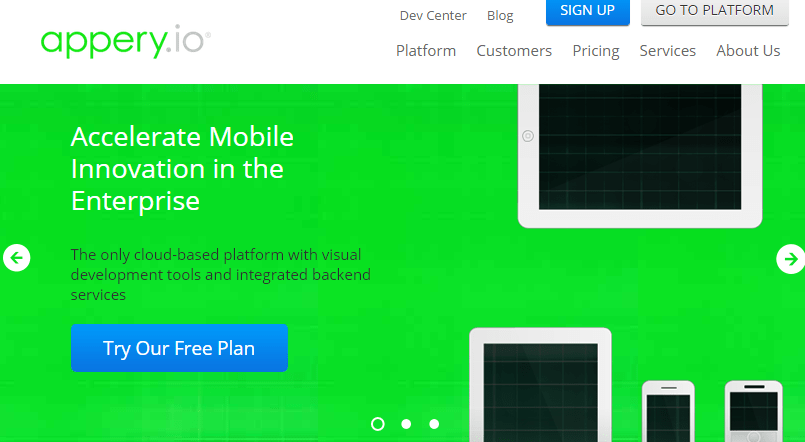 Appery is an online mobile application development tool that can be used to build apps for iOS, Android and Windows Phone OS including Apache Cordova. You don't need to download or install anything to work with Appery.
The service offers a visual editor where you can drag and drop app components. It lets you connect with REST APIs to use in apps. Its data storage facility enables you to add cloud database along with backend. There is an Appery plugin catalog from where you can add more powerful functionalities or create own private plugins.
To get started with Appery, you need an account there. There are free and paid plans. No wonder that free users can develop apps limited with build number and features. Paid packages allows collaboration and many more stuffs.
Price: Pricing starts from free and the maximum cost of a paid plan is $180 per month.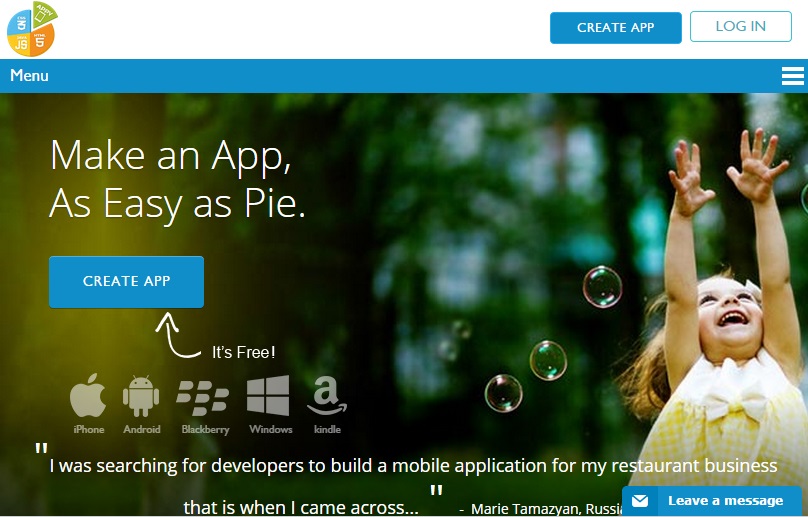 Appy Pie offers online DIY (Do it yourself) mobile app development tool which makes you capable of creating apps without knowing how to code. You can build Android, iOS and Windows Phone OS apps with this site and also publish them to stores.
Creating apps using Appy Pie does not need to download or install any software development kit. Just use its online app maker platform which supports drag and drop method to add/customize components in your app. The output, a hybrid HTML5 based app works almost all platforms including Blackberry.
Appy Pie shows real time revisions and enables sending push notifications, see live analytics, GPS tracking etc. It also lets you integrate blogs, social media feeds, radio, audio and more with apps.
Price: There is an add-supported free plan that offers only HTML5 and Android app development service. If you want other platforms too, upgrade to a paid plan. The highest plan costs $33 per month.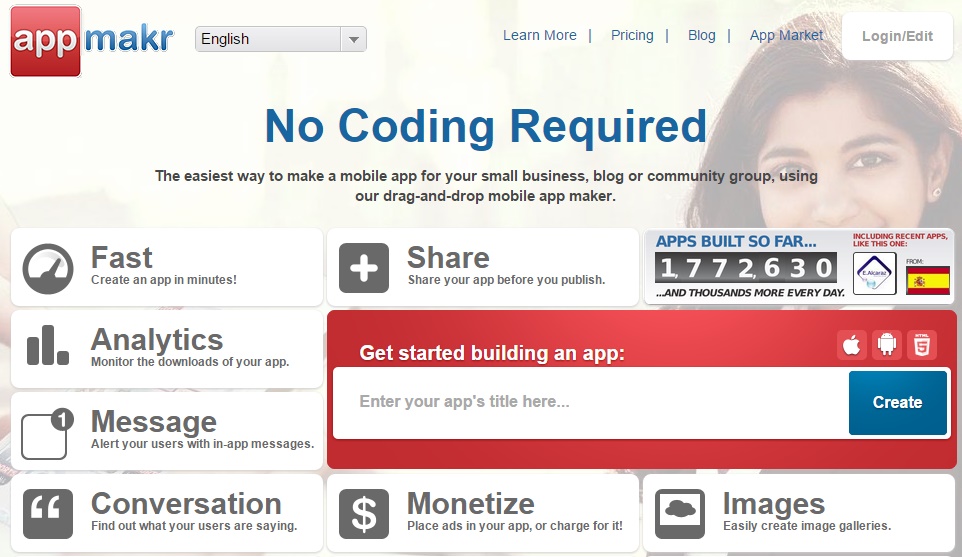 AppMakr is another DIY online application builder tool that lets you craft Android, iOS and HTML5 apps. If you don't possess any coding knowledge you still can proceed with AppMakr and create mobile apps. The service offers tons of features for your apps at zero cost.
You can add click-to-call function, live chat rooms, community walls, video streaming, maps integration, photo galleries, messaging & feedback and many more options to your app.
AppMakr promises to assist you building your app. So you can ask them if any help needed. After making an app, the title will be published on Monkey Market (the holding company of AppMakr) within one hour. The site's dashboard enables you to keep an eye on your apps and easily customize their look, contents while previewing in real time. And Publishing is just a matter of a single click.
Price: AppMakr offers diverse pricing model which starts from free, but apps will show ads served by the company. If you want to go ad-free, you have to purchase a paid plan which will cost you minimum $1 (annual deal) or $2 per month (month-to-month). The highest paid package costs $9 per month (annual deal) or $12 per month (month-to-month).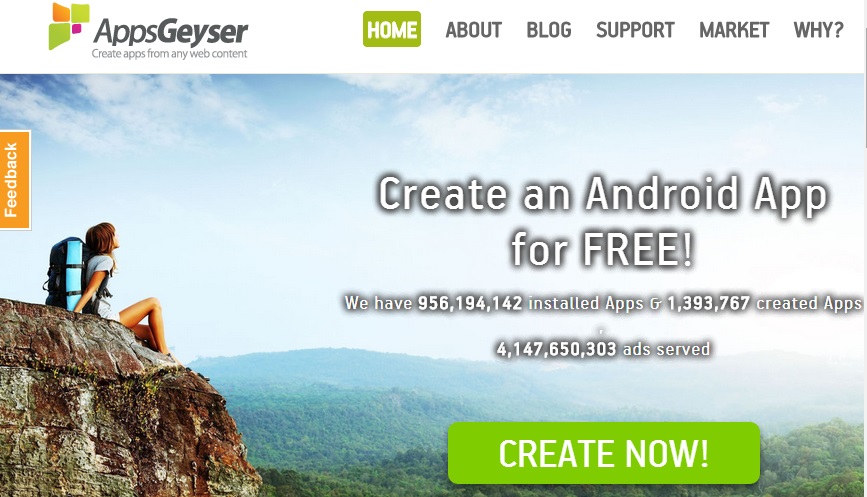 With AppsGeyser, you can build a mobile app easily and quickly. Just visit its home page and go to 'Create App' section. You will find a number of built-in templates to choose from. You can also make your own template. Once the desired template is set, now you are ready to craft your apps internal contents. When it's completed, publish your app with providing necessary profile related information.
At this moment, the site offers Android app development for free. You can distribute your apps made with AppsGeyser free using their own network. Submitting to Google Play and other third party app stores is also possible.
Developers can send pop-up notifications to their apps and earn money by showing ads. The AppsGeyser dashboard provides statistics and other important information about published app(s).
Price: AppsGeyser offers only Android app development tools for free. If the DIY apps can't meet your requirements, visit their Custom Development page and request a quote. In this way, you will get assistance from AppsGeyser experts to make your app for Android, iOS or Windows Phone OS apps.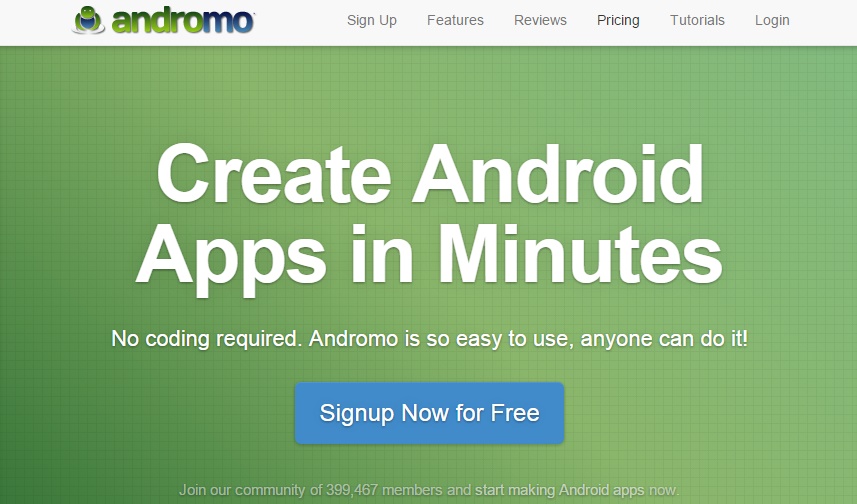 Andromo claims themselves as the number #1 DIY Android app maker in the market. It offers Android app creation tools online. The site describes three steps to build an Android app. At first create an Andromo project. Secondly fill its forms to add stuffs like media contents and texts including other features provided by the service. Finally finish the development by clicking a button. Then Andromo system will generate the app and send to you via email.
Andromo has three options to start with. Its free plan is actually a trial package which lets you make only one app and that will feature standard activities. It will also show ads on behalf of Andromo which cannot be turned off by you.
On the other hand, the paid (Starter and Professional) plans will enable you to turn off the Andromo ads and apply your own monetization strategy.
Price: As I've mentioned above, Andromo pricing starts from free and the maximum package cost is $21 per month (billed annually) which you could cancel anytime.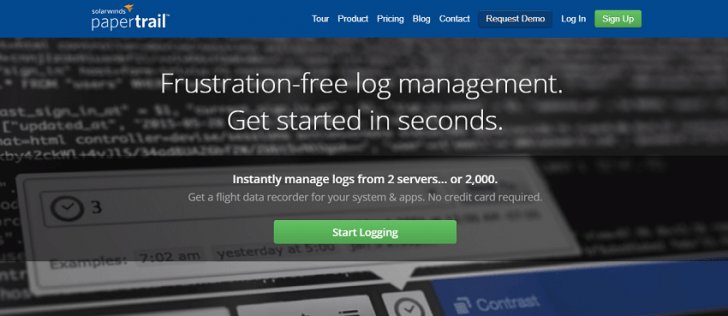 Papertrail is a frustration-free log management tool that allows you to instantly manage logs from different servers. With Papertrail, you can consolidate your logs in one place with a cloud-hosted log management service that takes typically only minutes to set up. Powerful. Quickly diagnose and fix customer problems, error messages, app server errors, and slow DB queries with full visibility across all logs.
So, which one do you prefer? Why? Please share with us via comment. Thanks for reading.