Do you know what the name is of the playing song? Which app should you use to identify its name? Which should you use for humming and which for direct playing?
Talking about music identification, I'm reminded the web-based service, midomi. As a forerunner of music identification, I am very grateful that I had knew it before I missed those songs you love at first listening (Midomi is known as SoundHound now).
With the rapid development of mobile phones, the regret of missing a song decreased dramatically. There are several apps that can tell you the name of a song being played, we will have a comparison among the 3 mostly known apps: Shazam, SoundHound and Google Search (for music identification only).[sc:cb]
UI
SoundHound, obviously takes the lead thanks to the recently polished UI, with a scrollable list of Song Stream, Featured Video, Featured Album, Popular, Hottest Charts, etc. ; Shazam has a main screen of simplicity, with just a big button for music identification; Google Search is not a dedicated app for music identification, therefore the element of music determination is greatly weakened.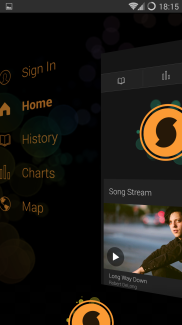 One thing to note, SoundHound has 3D transition effect. As mentioned before in Inbox by Gmail: an Early Test Drive,
"while the swift animation of loading and transition reminds you, the age of 
technical art
 has come."
This is a good example that programmers are willing to learn some art and make their app much friendlier on the exterior. An essential key to success of an app is, you make it function well, you make it look good.
Comparison of identification
We're not downloading these apps for no reason! Regardless of the UI, we care much about the overall performance of their capability in music detection. First thing first, there're some technical details which power the apps. All of these three apps uses Acoustic Fingerprint to confirm a song, that's very similar to how we find a person by physical fingerprint. But there's also some optimization for respective apps.
Let's find the pros and cons by testing them with real songs. Here I have songs from three countries: the largest country in population (China), the largest country in geographic sense (Russia) and the strongest country in general national power (USA). Various genres of songs are provided, and the time of identification is recorded.
Warm up
For the first test, I choose the Anthems of these three countries. If any app fails to tell the name, then it's a tremendous joke.
Test is done three times, and if any attempt succeeds, then the result will be a "Success". Average time will be the final score. Time of all failed attempts are colored red.
Anthem of China (Instrumental)
Performed by Military Band
[table "" not found /]
Anthem of Russia
Sung by Larisa Dolina (Лариса Долина)
[table "" not found /]
Anthem of USA
Sung by Jennifer Hudson
[table "" not found /]
Comments
I have no comment on the result.
Hits
Next we test hits in local area.
Hits in China
Songs for evaluation:
Chopstick brothers – Little Apple (筷子兄弟 – 小苹果)
Pushu –Ordinary Way (朴树 – 平凡之路)
Soda Green–Tiny love song (苏打绿 – 小情歌)
[table "" not found /]
Hits in Russia
Songs:
Mumiy Troll – Vladivostok 2000 (Мумий Тролль – Владивосток 2000)
Lyapis Trubeckoy – Warriors of the Light (Ляпис Трубецкой – Воины света)
Dance Minus – The half (Танцы Минус – Половинка)
[table "" not found /]
Hits in USA
The recent hits:
Lady Antebellum – Bartender
Alexi Murdoch – All My Days
Blake Shelton – My eyes
[table "" not found /]
Comments
For hits in the USA, all apps performed well. Shazam is the best one who recognized all hits in all 3 countries, congrats! Google Search performed worst, having the longest time and also lowest recognition rate.
Folk songs
This section contains folk, classic and country songs, not strictly limited to "folk"
Chinese folk
Tracy Huang – Jasmine (黄莺莺 – 茉莉花)
Tong Li – Lullaby in North-eastern China (童丽 – 东北摇篮曲)
Song Zuying – Dragon Boat Melody (宋祖英 – 龙船调)
[table "" not found /]
Russian folk
Chizh and So – Forever Young (Чиж & Co – Вечная молодость)
Mill – The dream road (Мельница – Дорога Сна)
Alice – Route E-95 (Алиса – Трасса Е-95)
[table "" not found /]
American folk
Ugly Kid Joe – Cats in the Cradle
Justin Timberlake. Carey Mulligan & Stark Sands – Five Hundred Miles
Jack Johnson – Talk of the town
[table "" not found /]
Comment
The three Chinese folk songs are not all recognized by a single app, which was a bit disappointing, SoundHound especially failed me for letting me had 5+ attempts. The timeout result is rather reasonable and I would say SoundHound deserves more penalty. In Russian folk song test, Shazam is again the winner. In American folk test, all finished well, Shazam finished in amazing 3.978 secs in average. That was truly impressive.
Humming and singing
In this section, I sing songs from these three countries. For now only SoundHound supports finding a song by humming or singing, so I am just testing this app only.
Result
Chinese: Eason Chen – Long time no see (陈奕迅 – 好久不见), Success
Russian: Basta – Mama (Баста – Мама), Success
American: Fools Garden – Lemon Tree, Success
Summary
As we can see from the sheet, Shazam overpowered the other two apps in direct listening tests. It has advantage not only in the USA, but it's also quite a multinational app for music identification. It, though, has simple UI, but responds to user's query fast, sometimes in an amazing degree.
SoundHound earned my favorable impression by its humming/singing detection. If unfortunately you didn't catch the song in time with your phone, but you still remember the melody, SoundHound is the last hope for you. However, during the test, SoundHound has the least stable connection to the server. Many times had it notified "Unable to connect to server". It also has limited number of signature of songs, therefore you possibly can't find the song you want. Also, the new version looks fancy, but slows down as we test it.
The performance of Google Search is the poorest among 3 apps I've tested. However, it can be the quickest one to launch. By activating "From any screen" and "From lock screen" function, you can open Google Search in a flash. Just say "Ok, Google" followed by "What's this song?" and you're detecting the song name.
I've made a table so you can decide which app you want for song exploration under certain circumstances.
[table "" not found /]
Music has no language barriers. You can be alone sometimes, but music is always there for you. Missing a music is like missing a partner. Grab your phone, keep the music playing, and get one or more apps above.
Without music, life is a journey through a desert. – Pat Conroy