Spiceworks is a free HelpDesk and inventory management system designed for IT support services and working locally on Windows server with authorization at community.spiceworks.com.
Because system's interface contains some ads in the corner I will be making screenshots not of the entire window, like in previous reviews, but of selected area.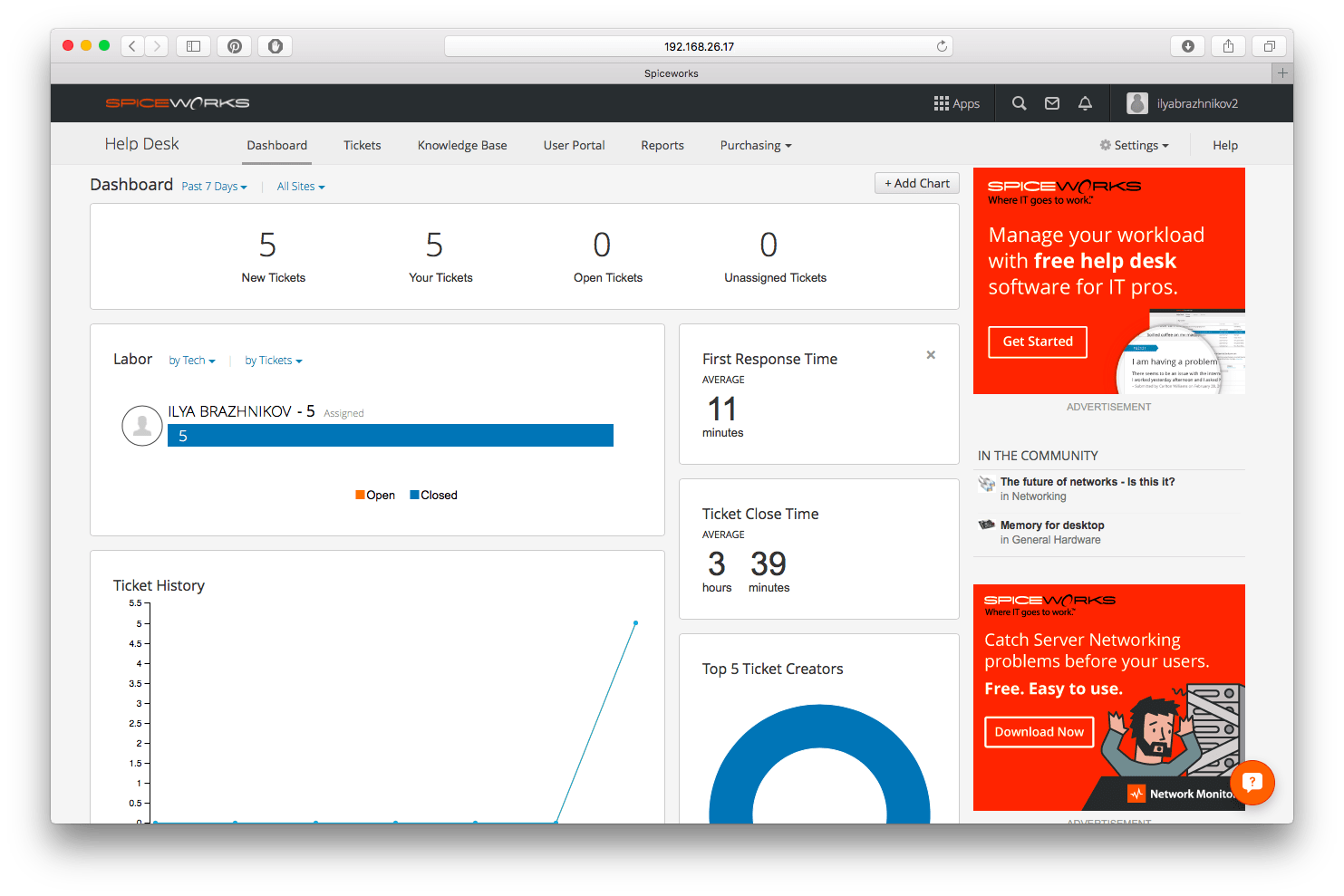 My opinion about Spiceworks
Spiceworks is a unique product of its kind. On the one hand it is completely free and on the other hand it's made for people who do not want to waste time on learning and installation, which is completely opposite of Request Tracker. If you are looking for a HelpDesk for your IT support and you don't want to waste too much time on its implementation, then Spiceworks is the best fit for you, as it's installation and setup takes only 10 minutes. At the same time you will have to give up on some things that are available in similar systems. Below I have listed main pros and cons of Spiceworks:
Pros
Quick installation;
Completely free;
Powerful report builder with a possibility to export in XLS;
Ticket import from CSV file;
IT infrastructure and mobile devices management with Inventory app;
"Native" integration with Active Directory (only for portal authorization);
Cons
Supports only Windows;
Accounts are linked to Spiceworks server;
No ticket automation rules;
No SLA policies, reaction times are set manually;
Ads of other Spiceworks products;
Installation and setup
Spiceworks installation is very simple: you need to download installer from their website, run it on your Windows computer and you are ready to start working. Important note – at the moment of writing this review Spiceworks did not support Windows 10, perhaps, it will be corrected in future versions. You can additionally configure startup mode of server side and HTTP and HTTPS ports.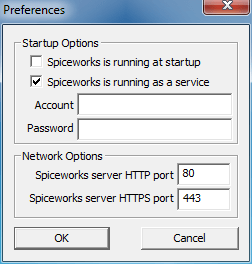 The task manager shows three processes that run automatically when Windows starts.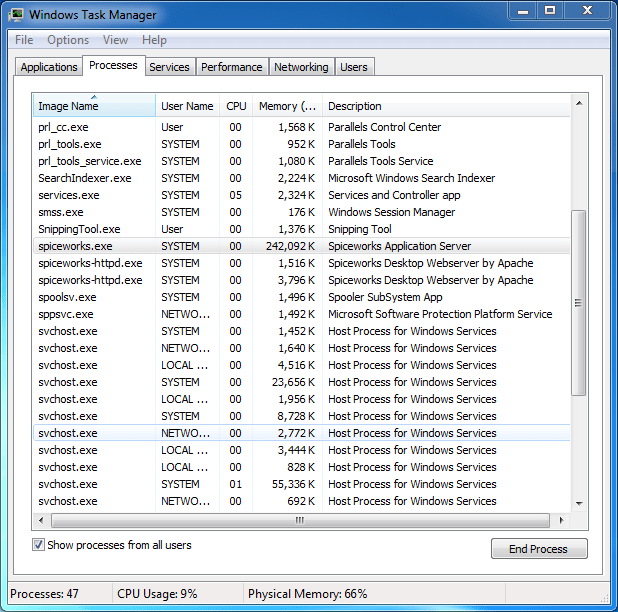 Then open computer IP address with installed Spiceworks in browser, enter username and password of your account at community.spiceworks.com. The system requires connection to Internet upon first log in to check username and password and then in my case there was an authorization without Internet access, and to check that I unplugged network cable from my router.
Setting feature a possibility to link the system with Active Directory controller and I decided to check it out. But in the process of configuring it it turned out that authorization via AD is available only to end users, while agents and administrators must have account at community.spiceworks.com. Once you have successfully connected to AD server users are available in the section Inventory – My Network – People. You can also change user type from End User to HelpDesk Tech, but then user will get an email offering to register at community.spiceworks.com.
To receive tickets via email you need to set up incoming and outgoing email. Besides POP and IMAP, Spiceworks can work with Microsoft Exchange via Active Sync protocol.
This kind of data organization scheme requires proper backup arrangements. Developers have envisaged manual or scheduled database backup. Recovery scheme is also pretty simple: data are extracted into catalog with installed server and the system "catches" the data.
Tickets
On the one side, ticket list in Spiceworks is simplified and on the other side, it is convenient because you don't have to open the ticket, you just need to select it and all actions become available. When new ticket is received it shows up in the list and there is no need to refresh the page. Unassigned ticket can be "taken" by pressing Accept right in the tabular part of the interface.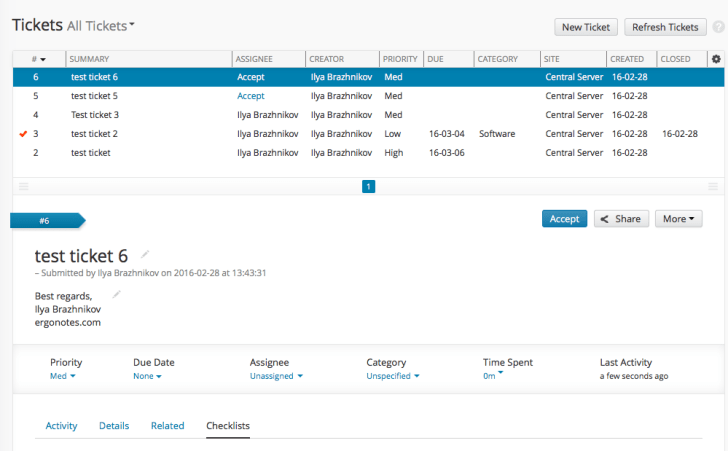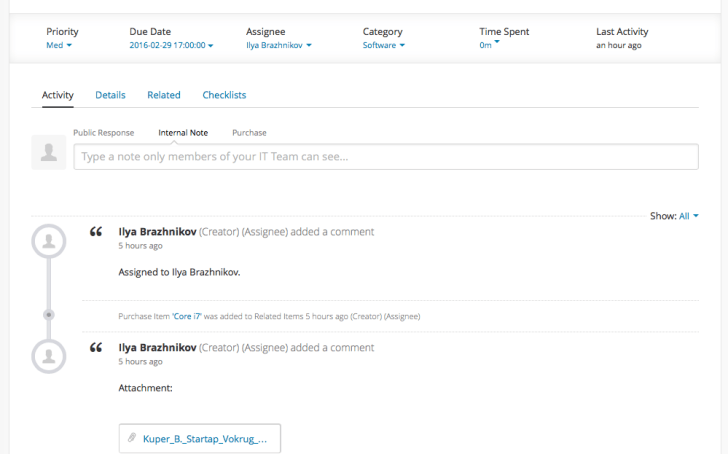 Bottom interface of ticket editing contains several tabs:
Activity contains ticket log as well as reply to client and note adding form;
Details tab reflects information about client and executor as well as user fields;
Related contains information about inventory items related to ticket and list of inventory items to order (for instance, replacement);
Checklists tab is a task list that agent can assign for selected ticket.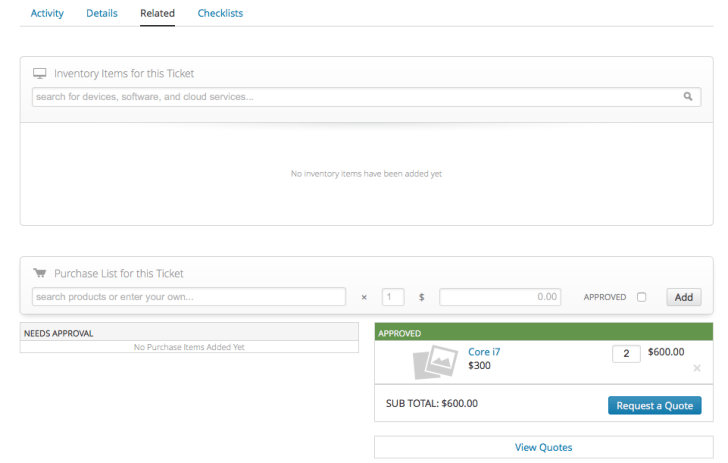 Ticket time tracking is manual. You can add 15, 30, 45 or 60 minutes or add any number of hours. Each agent has price per hour option in settings. Also, you can set up this parameter for everyone. In ticket reports agent time is reflected with letters, as shown in screenshot.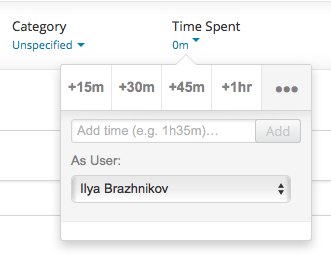 The list contains pre-configured filters that you cannot change.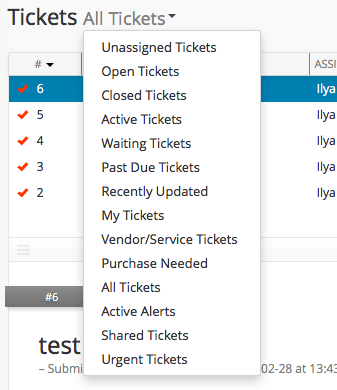 Short video about tickets:
Reports
Spiceworks offers over 50 out-of-the-box reports and you can customize any of them. Report can be created with visual tools as well as with SQL query. Reports can be exported in XLS, CSV and PDF formats as well as emailed on schedule.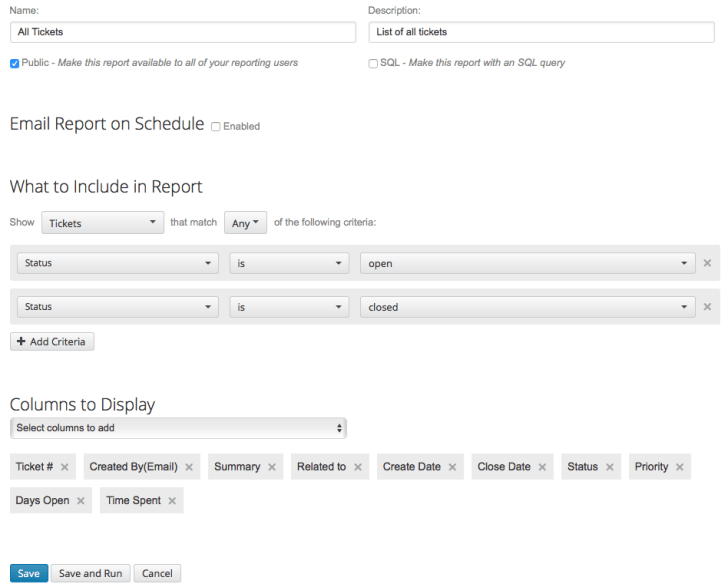 Inventory management
Another component of SpiceWorks – Inventory, which is an inventory management system. Moreover, this system is not an addition to HelpDesk, but a fully-featured management system. Inventory can scan the network, collect information form computers about installed software or free space on hard drives (through daemons), monitor server condition, like Microsoft SQL (with plugin), etc.
Inventory features multiple reports that are available from the same list with ticket reports.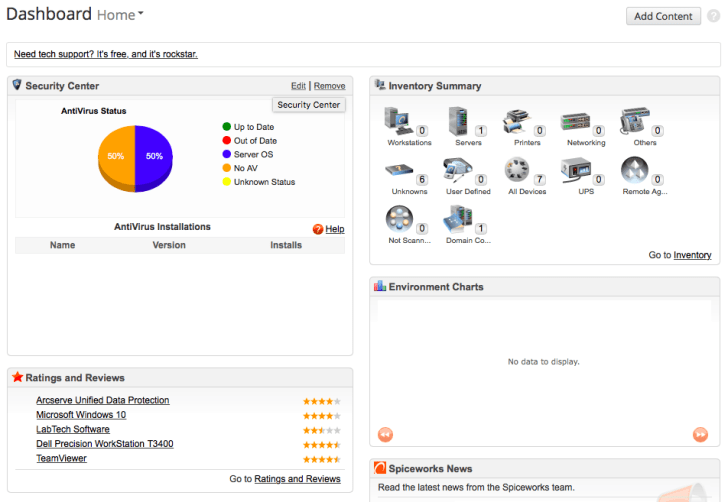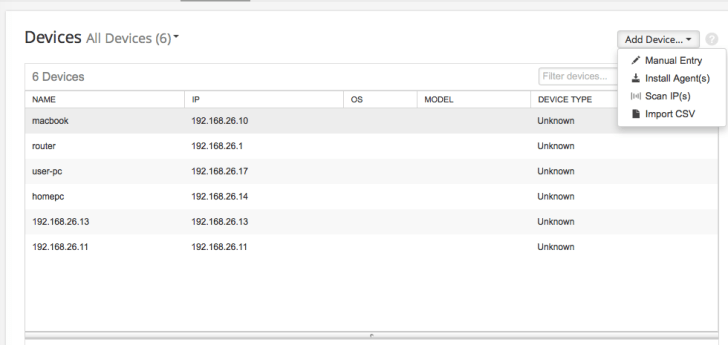 Mobile applications
Applications for iOs (iPhone and iPad) and Android allow you to connect to both cloud service and local Windows server. Moreover, they can notify you about new tickets or changes in existing ones.