Live Agent is a HelpDesk system that is primarily focused on chat and phone support. The details are below.
My feedback about Live Agent
The first thing you notice is the interface. Developers did a good job there, sounds and visual alerts, counter of assigned tickets available in agent's tabs, and so on. Using Live Agent is convenient. Agent control tools as well as "Pause" button speak of the fact that the system is a good fit for companies that are getting a lot of tickets and the response time is crucial to them. The first thing that came into my mind was customer support services for online games. And the absence of time tracking feature most probably means that Live Agent is not designed for IT support, although it may not be always required. Anyway, this product has a friendly interface and convenient automation tools. Now briefly about pros and cons of Live Agent:
Pros
bulk editing of multiple fields in ticket;
list contains multiple filters;
possibility to assign Pause status;
display of number of assigned tickets in tabs;
establishing Call-center based on Twilio;
Cons
display of columns in list cannot be customized;
no export of ticket list.
Tickets
Ticket list in Live Agent has two views: standard with a list of filters, and alternative with faster ticket editing. This reminded me of Apple Mail.app as it displays letters in a similar fashion. I couldn't configure columns to be displayed in the list and it looks like there's just no way of doing that.
Nonetheless, it has one unique peculiarity: in case if agent is assigned tickets, list of filters and list of system sections display their number.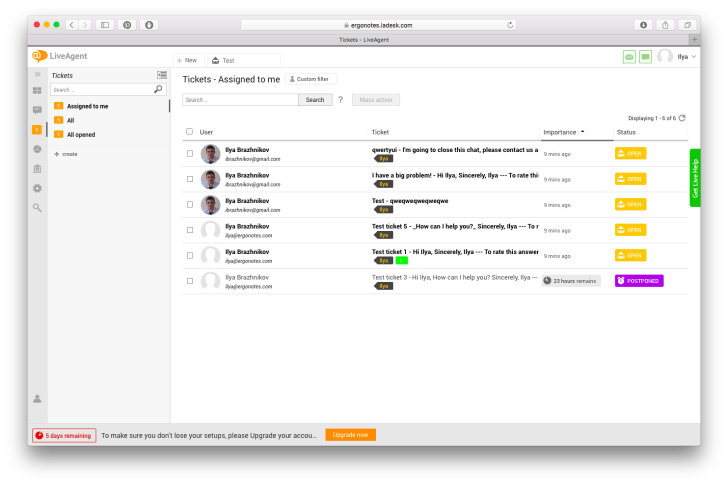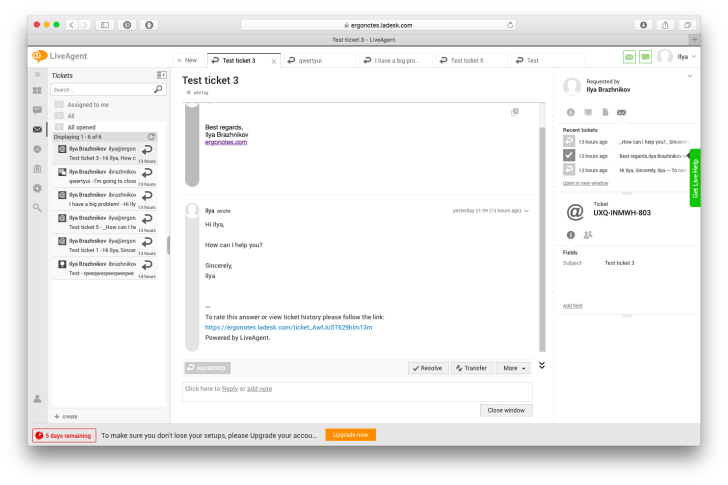 Display of tickets in list can be changed by applying quick filter. Moreover, users can add several conditions, like department, time of creation and the level of SLA policy. So far I've seen this type of multiple filter system in SAAS systems only in Freshdesk.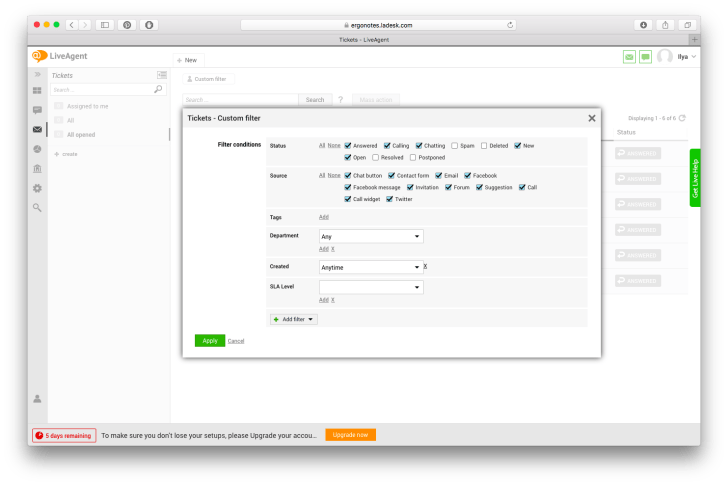 Editing multiple tickets in Live Agent is called Mass action and same as in case of quick filters it allows applying several actions simultaneously. Screenshot example shows adding tags, notes and group change. The list contains all actions that are available for editing a single ticket. It also has delete ticket option, and you can delete tickets only this way. Ticket actions can be applied in the background mode – it can be useful when processing multiple tickets.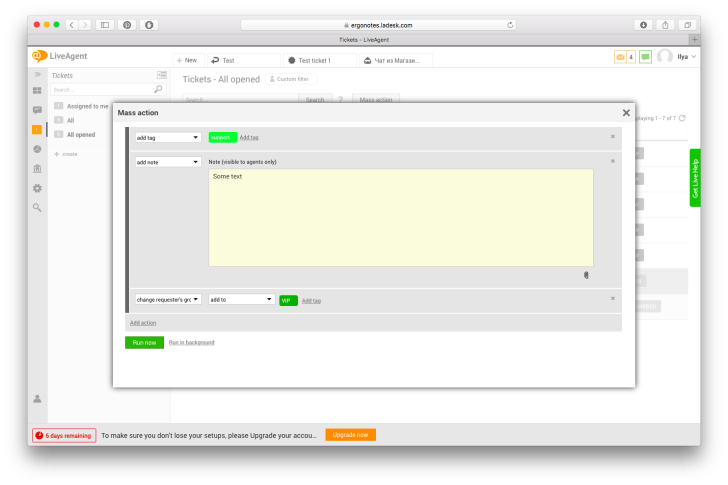 Personally I liked ticket editing form because it is user-friendly. For example, adding a tag in ticket is much easier than in other systems, all you need is to press a button and you get the list of available tags.
Ticket replies can be sent both as a standard text and formatted text. Ticket editing form displays the number of new tickets for a particular client.
Agent can delay ticket for 1 or 4 hours, 1 or 2 days, for a week or a month. By the way, you can simply pause it and tickets will stop being assigned to agent.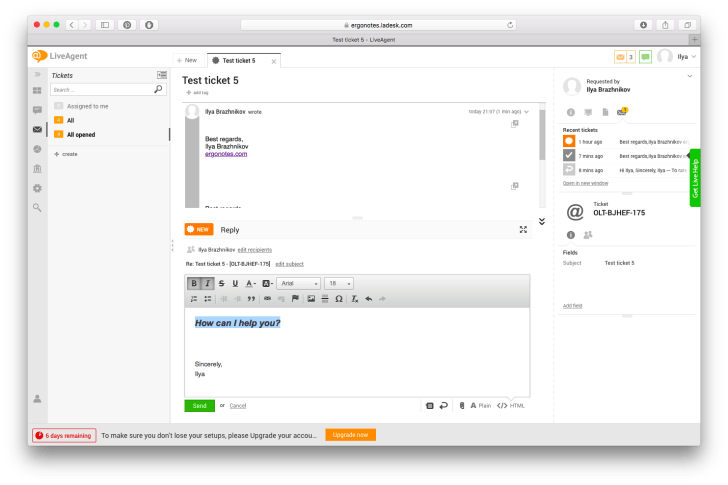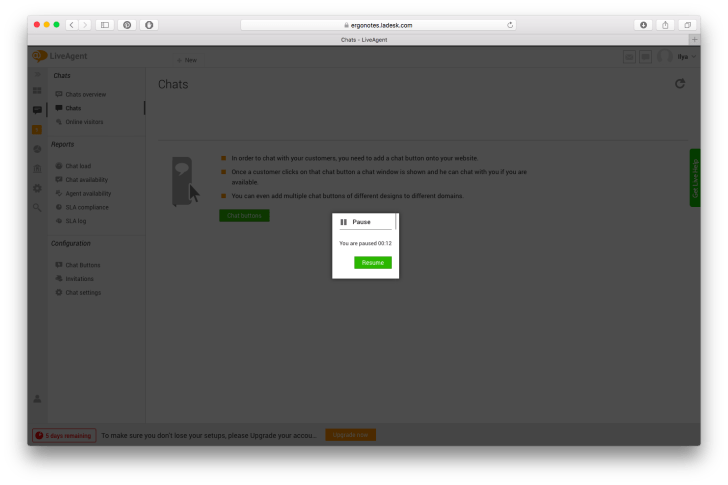 Automation and SLA
By default Live Agent does not have pre-configured SLA policies and rules of their application. There is no possibility to specify the time of solution when adding SLA policy, only first and next replies. This is quite consistent, because one cannot guarantee the closure of ticket within a specific time period. On the other hand, I know instances when contract took into account the time it took to solve a problem, not the reaction time.
You can select working hours and days of week in settings form. No separate calendar though.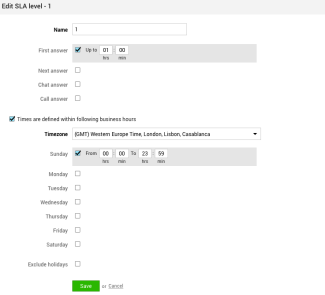 SLA policies application rules are available in the same settings section. I would like to mention that overall the interface of settings in Live Agent is really ergonomic, everything is where it is supposed to be and you don't have to wonder from section to section to configure something.
Once SLA rule has been applied and ticket has been assigned with a policy, system sends to agent a sound alert and visual notification in the right upper corner. At the same time tickets are marked with a special sign.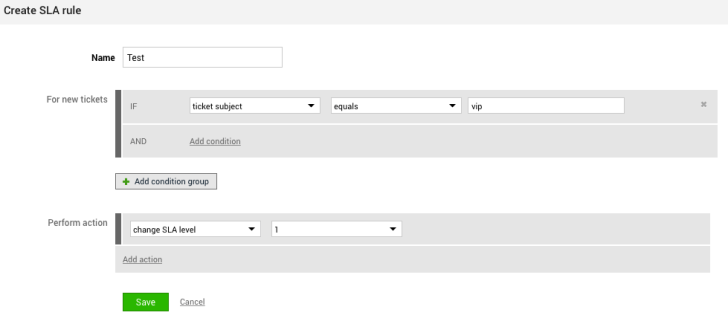 Automation rules are divided into two types: activated by event (Rules) and by time (Time Rules).
Both types have the same initial and mandatory condition and can have multiple optional conditions. Set of initial conditions for Time rule is limited to four: ticket age, time since status change, ticket reaction time and time after reaction expired. There are much more secondary conditions.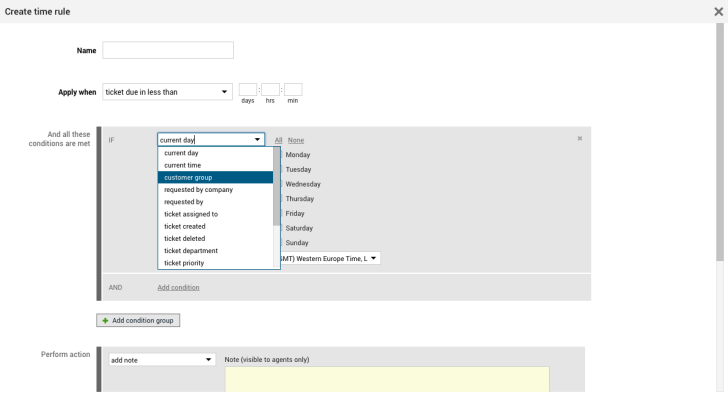 Automation rules by events are different only in terms of initial conditions. And there are also only several of them: ticket created, ticket created via email as well as change in ticket status, tags and responsible agents.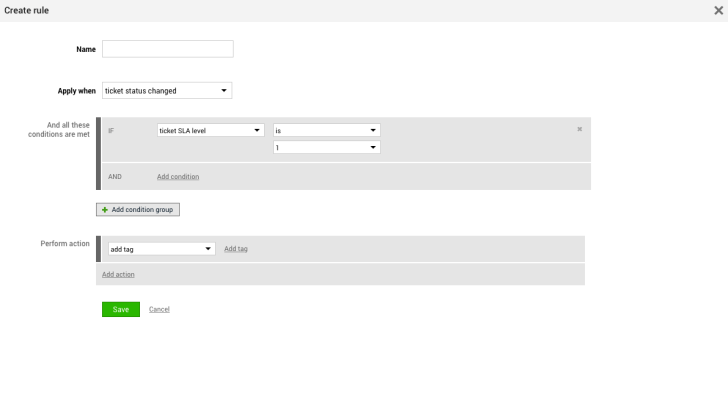 Live Agent does not track agents' time. If you are particularly interested in this function, I recommend you to check out the article about time tracking in HelpDesk systems.
Gamification
Creators of Live Agent thought of a very interesting approach to motivation. Agents get badges and levels based on their performance.
Badges are simply hilarious. Like, Siesta badge is given to an agent whose pause time is the longest of all, Speedy Gonzales badge is awarded to an agent whose reaction to the ringing chats is the fastest, and Coffee badge is awarded to an agent who makes the most pauses of all.
Levels are assigned to agents depending on the number of replies in tickets and replied chats, although all that can be customized. The levels are Novice, Professional, Master, Regent, King, etc.
With the help of levels executive managers can adjust employees' remuneration or rewards. I've seen the similar thing only in Freshdesk.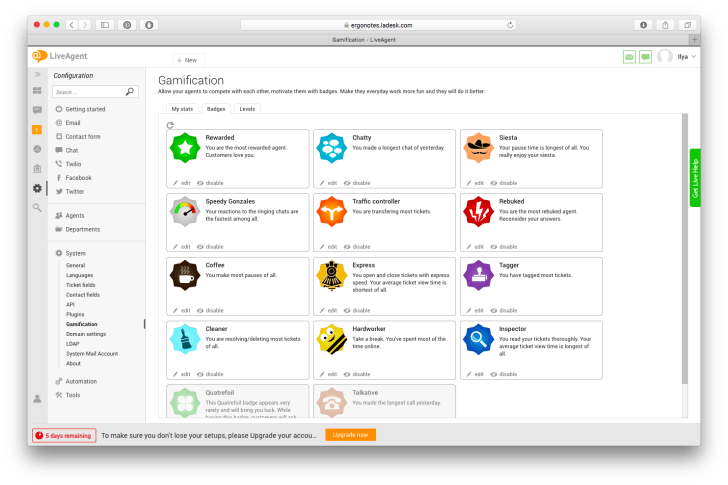 Reports and export
Live Agent does not have a report builder. Reports look beautiful. You can export reports in CSV format. SLA sections are available for ticket, chat and call reports, so you can monitor the execution of contract terms.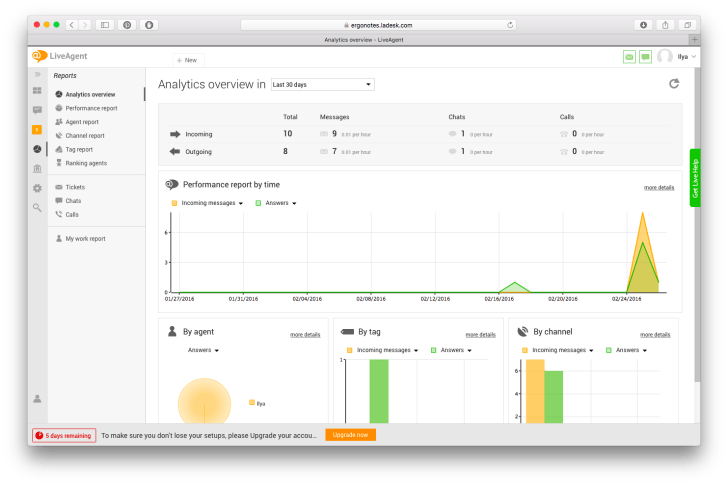 Filters are available for all sections except Overview.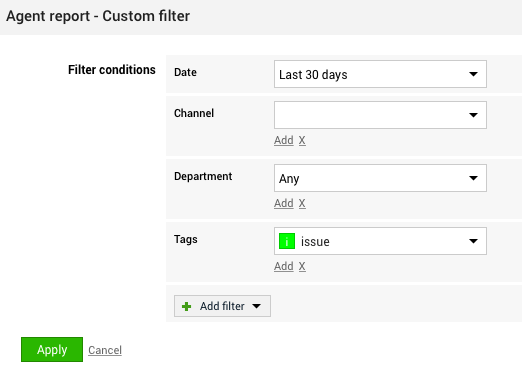 Agents can check their badges in Dashboard.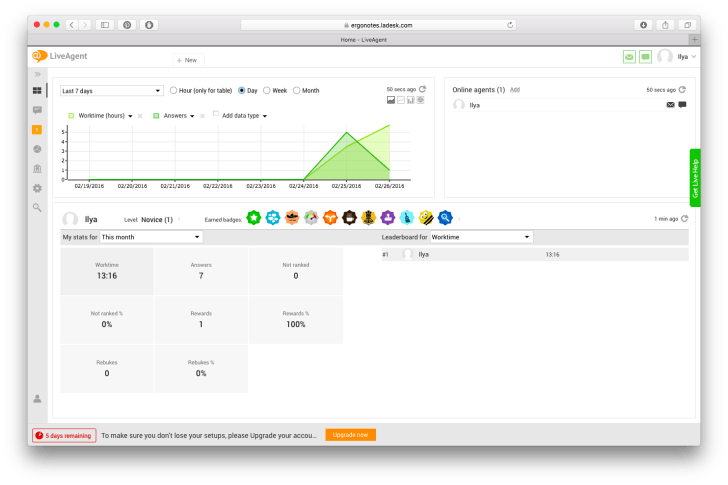 Price
Live Agent is available in SAAS and On-Premise versions. The price of SAAS version is as follows:
$9 per agent or $19 per three agents in Ticket subscription plan that supports tickets only via email;
$14 and $29 respectively in Ticket + Chat subscription plan that includes everything from Ticket + tickets from chat;
$19 and $39 for All-inclusive subscription plan that includes everything from Ticket + call-center and tickets from social networks.
The price of On-Premise version is $899.