If you have an iPhone and can't imagine your day without spending some time reading the latest news, then we have several mobile applications to help you to improve the experience.
Flipboard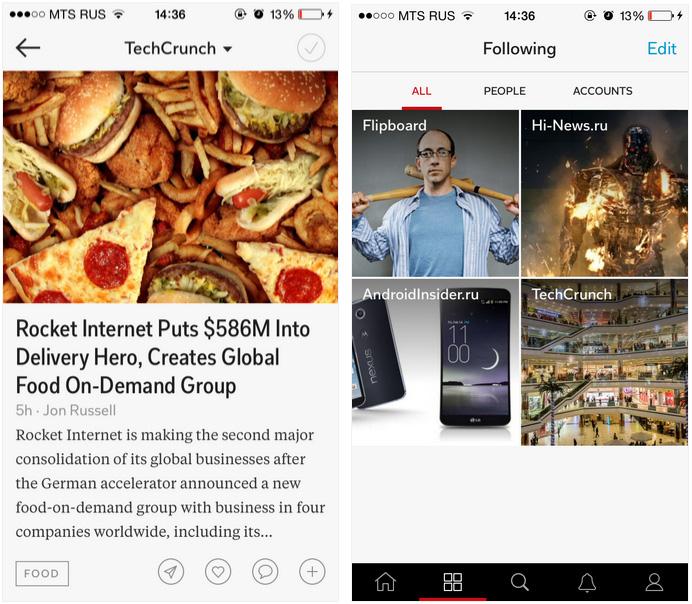 It's one of the first apps I tried when I began to read news on my iPhone — and it still looks fresh and innovative. Vertically flipping pages may become the main reason you would prefer Flipboard to other reading apps. It also has elements of a social network there: you can like or comment an article, or send it to your friend right in the app. Flipboard uses RSS data and has no readability support, so you will need to use the in-app browser in case you want to read the full article.
+ Free
+ Original design and reading experience
+ Suggestions, comments and other social stuff
− No readability support
− Poor customization
Download Flipboard (Free): http://itunes.apple.com/ru/app/id358801284
Feedly
I liked Feedly for it's simple design. They bring the information forward and don't disturb you with too much interface — definitely the reason to at least give the app a try. Download it if you don't need the readability support and want a nice-looking icon on your home screen. You can also read Elizabeth Adams' article about Feedly.
+ Free
+ Nice clear design
+ Font and theme customization
+ Usability is pretty good
− No readability support
− Uncomfortable access to the list of subscriptions
Download Feedly (Free): https://itunes.apple.com/ru/app/id396069556
Inoreader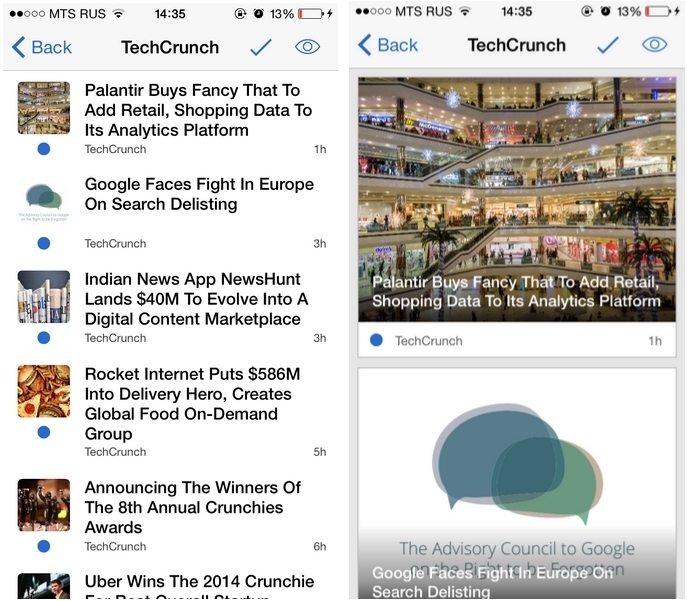 Inoreader brings you nice reading experience, and it really got me on swiping the article down to call readability. I also liked separate article customisation: I can set the layout for every feed individually. You can choose text size for articles, but you can't change font type, so you'll have to deal with a pretty thin font which I personally don't like very much. The app has its own feed service, so if you already have a Feedly account, you won't be able to bring all your feeds here.
+ Free
+ Great gestures for one hand usage
+ Article list layout settings
+ Easy to add a subscription
− Text is not customizable enough
− Doesn't support Feedly or other reading services
Download Inoreader (Free): https://itunes.apple.com/us/app/id892355414
Ziner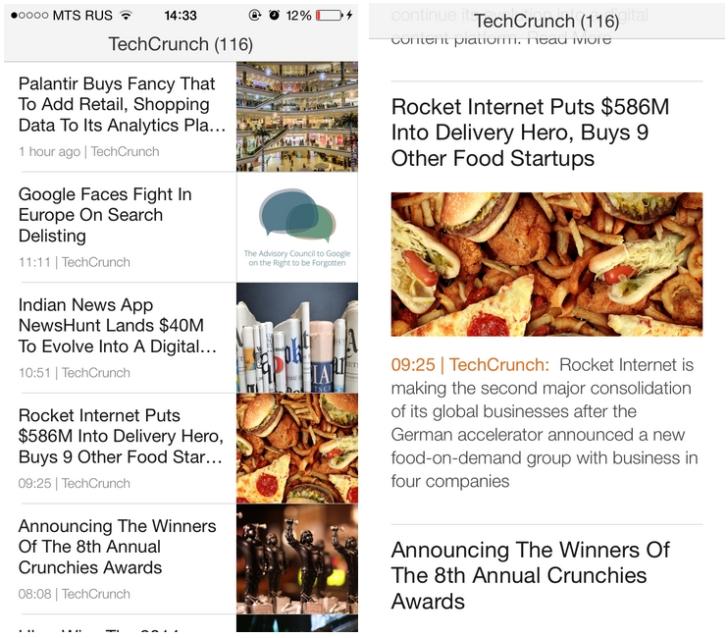 This app is the only app that supports real full screen article reading experience. After you set font type, size and color settings, you probably will never need another app for your news feed. The app gives you 5 days of full version ad-free trial. Grab Ziner if you need a fast, comfortable, nice looking free app and are not afraid of ads.
+ Nice article usability
+ Full screen support
+ Text and color customization
+ Article list layout settings
+ Nice in-app browser
+ Easy readability access
− Uncomfortable access to the list of subscriptions
− Paid full version with no ads (in-app purchase)
Download Ziner (Free): https://itunes.apple.com/ru/app/id565892456
Reeder 2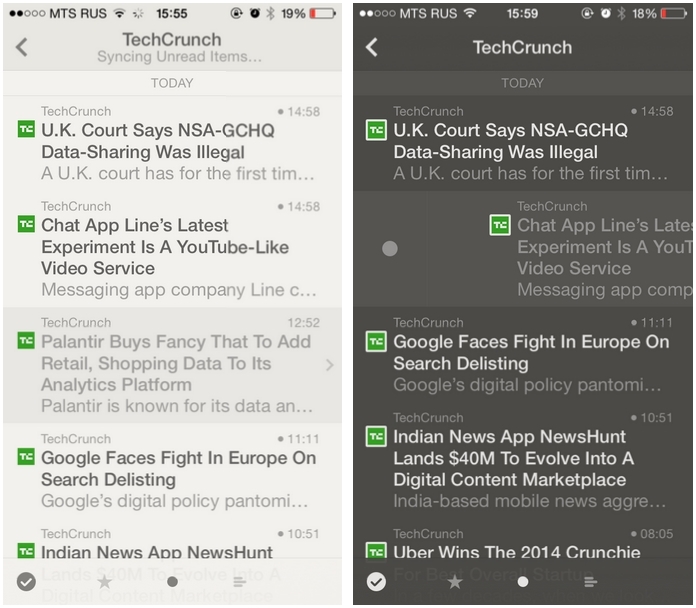 This is the app of my personal choice and the only paid app in our short-list. It has all the things one might need from a news reading app: easy feed settings, text customization, day and night mode, cool gestures, readability support. It is very fast and can be used with one hand. The only minor thing I didn't like about it is the readability access — you either press the button on the top of the screen or pinch it anywhere with two fingers. Both these gestures need my fingers to do unnecessary work. But for the rest of good things in it, it's worth tolerating.
+ Minimalistic pleasant design
+ Fast
+ Comfortable for one hand usage
+ Easy navigation
+ Readability support
+ Customizable fonts and colors
− Article list customisation not supported
− Not very comfortable readability access
− Paid
Download Reeder ($3.99): https://itunes.apple.com/ru/app/id697846300