Cloud storage has gained huge popularity for better security, larger space and mobility. You can collaborate documents and store files from anywhere anytime. Access to these stuffs are just one click away. This is cloud, and thus it becomes trustworthy. You will find numerous cloud service providers on the internet. Many of them offer a certain volume of storage for free while some are paid only. In this post I'll introduce some online storage services that give free space on the cloud. Finally, they'll be ranked.
Google Drive
Web giant Google gives 15GB online storage free that is shared by its Gmail, Google Drive and G+ photos. You can increase your free space by purchasing (and using) Chromebook laptops and with few other smart devices manufactured by HTC, Motorola etc. However, these promotional free Google Drive storage space may require fees after a certain period of time.
Box
Box provides number of features fits business and enterprise customers. Still you can create a free account for personal use. The company gives 10 GB free cloud space to each new user. While there is no referral bonus stated on its site at this moment, but you can get more free Box storage by using the service with LG, Sony, Dell, HP and Samsung devices. Some of them are limited time offers.
Copy
Copy is being more and more popular now-a-days. Its user interface and packages are really great. You will receive 15 GB free Copy cloud storage upon sign up. There is also referral bonus in Copy. Invite your friends to register with Copy and both of you will get 5 GB bonus for each successful signup!
Dropbox
Dropbox gives 2 GB free storage to every new user. You can get more Dropbox cloud space without any cost by several ways such as inviting others, completing the starter guide, connecting with their social media profiles, uploading your photograph, sending feedback, linking your account with iOS mailbox etc.
OneDrive
Microsoft OneDrive is an easy, popular and secured cloud storage service. User gets 15 GB free space after sign up. More free storage can be earned by inviting friends and activating the photo backup feature. For each successful referral sign up, the both users receive 0.5 GB bonus (maximum 5 GB). The photo backup activation adds an additional 3 GB OneDrive storage to your account.
ADrive
The ADrive personal plan offers a decent 50 GB free online storage. There is no bonus storage offered by ADrive at this moment. But the primary 50 GB is not small 😉
Bitcasa
Every new Bitcasa user gets 5 GB free cloud space. The company offers up to 20 GB free space where the additional 15 GB can be earned by referrals.
SpiderOak
SpiderOak offers 2 GB free online storage upon sign up. But you can earn up to 10 GB additional storage by referring friends. Each successful. Invitation will add 1 GB free space to your SpiderOak account.
Yunio
The Chinese firm Yunio offers 100 GB free storage upon registration. This is really a big deal. But it's not the total! With daily usage, the free storage amount gets even larger. You could add more 100MB space daily by using this service.
Mega
Kim Dotcom's cloud storage service Mega promises security, privacy and great functionality. Mega gives 50 GB free storage to its every new user. There is no bonus storage program at this moment in Mega, so you will need to pay them for more space.
Firedrive
Firedrive gives 20 GB of free online storage to every new user. If you want more storage, you need to upgrade to a paid plan, because Firedrive doesn't offer bonus space at present.
SurDoc
SurDoc gives 100 GB free storage for 1 year upon signup. You can increase this quota up to 1TB by various ways like referring friends, posting about the company on social media, participating survey, linking devices etc.
Shared.com
Shared provides 100 GB free cloud space to every new Basic user. They don't offer any bonus plan however. You must get a pro account to get more space.
MediaFire
Popular file sharing site MediaFire gives 10 GB free online storage to each new user. You can earn more free storage by referring friends, linking social media accounts, installing MediaFire apps to your devices etc.
Amazon Cloud Drive
Retailing giant Amazon also provides cloud storage service. Amazon Cloud Drive offers 5 GB for every new user. There is no referral bonus stated in its pricing section, but Amazon mentions that, its Fire phone users will get unlimited free cloud space to save their photos taken with the Fire phone.
Apple iCloud Drive
Apple has opened its iCloud online storage for all. Now anyone can use iCloud Drive. Apple gives 5 GB of cloud storage for free. There is no bonus storage stated in the website.
Yandex
Russian internet giant Yandex provides 10 GB online storage for free to its users. The company did not mention any bonus offers however.
Cubby
Cubby offers 5 GB cloud storage for free upon signup. You can increase this amount to 25 GB by referral user registration program.
4Shared
File sharing website 4Shared gives 15 GB cloud space for free. There is no referral program. But you can upgrade to get more disk space.
Mozy
Online backup and file sync service provider Mozy gives 2 GB free cloud storage to its every new user. There is a referral program through which consumers can earn even more space.
Let's Compare!
I've prepared a table that will help to compare the free offerings of above 20 cloud service providers. This list is arranged from lower to higher.
[table]Brands,Free Cloud Storage (GB),Bonus Applicable?
Dropbox,2,Yes
SpiderOak,2,Yes
Mozy,2,Yes
Bitcasa,5,Yes
Amazon Cloud Drive,5,No
Apple iCloud Drive,5,No
Cubby,5,Yes
Box,10,Yes
MediaFire,10,Yes
Yandex,10,No
Google Drive,15,Yes
Copy,15,Yes
OneDrive,15,Yes
4Shared,15,No
Firedrive,20,No
ADrive,50,No
Mega,50,No
Yunio,100,Yes
SurDoc,100,Yes
Shared.com,100,No[/table]
And here's a chart for you!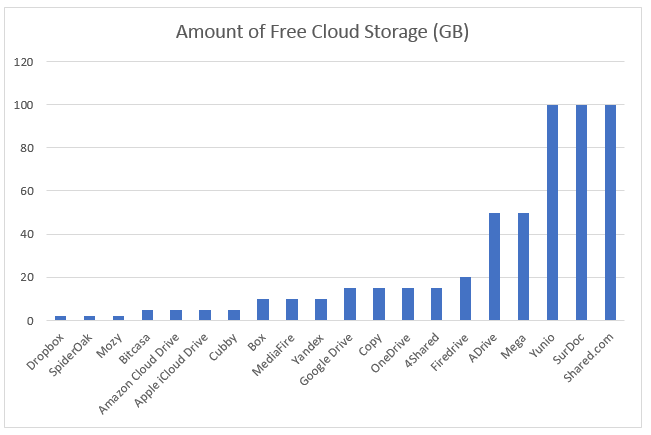 So, we find Yunio, SurDoc and Shared.com providing the maximum (100 GB) free cloud storage at present. Remember, SurDoc will provide 100 GB for the first year only. Yunio and Shared.com have no such condition. Mega and ADrive come to second position with 50 GB free online storage. Firedrive will provide 20 GB for free. Many others offer from 15 to lower volumes. Select the right provider for your cloud needs. Cheers!