One of the popular and successful application of Augmented Reality is barcode/QR-code scanning. A lot of apps can read and generate codes. But few can read the real stuff. That's what Google Goggles is for.
Google Goggles is an all-in-one scanner, supporting plentiful types of items. According to its official introduction, it can:
Scan barcodes using Goggles to get product information
Scan QR codes using Goggles to extract information
Recognize famous landmarks
Translate by taking a picture of foreign language text
Add Contacts by scanning business cards or QR codes
Scan text using Optical Character Recognition (OCR)
Recognize paintings, books, DVDs, CDs, and just about any 2D image
Solve Sudoku puzzles
Find similar products
It was invented early enough, on 5 October 2010, the iOS version was announced. It was removed in May 2014, as Google found out it to be "of no clear use to too many people". The development of Android version also ceased since then. But in year 2010, when Android was even not known and spread, the concept of AR was utterly eye-catching. Even for now, you can utilize it for daily use. This is the third article of Augmented Reality Apps review (the previous were this and this).
Codes scanning
Goggles support QR and barcode scanning. It mainly reads the information stored in QR code and search for relevant product info in Google Search and Google shopping. Code scanning is the only function which doesn't require user to tap "capture" button. As long as the code is detected, your device vibrates shortly and the processing automatically starts. Seconds later, all recognized objects will be shown on the bottom of the app. Since we only have one target, the only QR Code is shown. Keep the result tapped, the object will be highlighted, in case there's difficulty in finding your stuff.
Single tapping will open a new page, allowing you to do more actions to the code. For text QR code, your search result is automatically listed below. The text can also be copied for later use. You may also add to contacts if the QR code is encoded in business card format.
Coming to barcode, Google Shopping only provides very limited number of products, neither does Google itself sell goods. A more localized app for your living country is suggested over Google Goggles.
Landmarks and paintings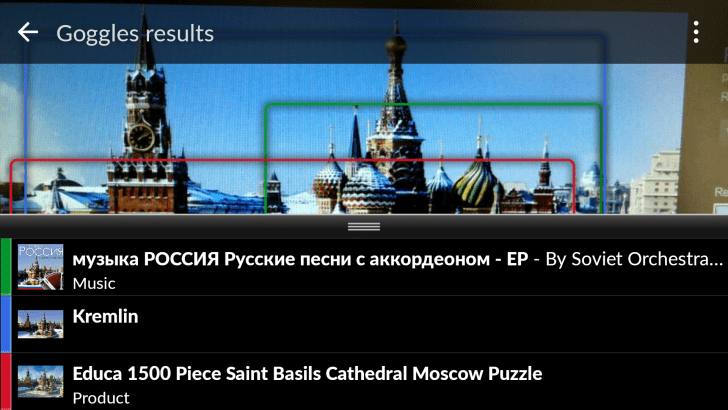 The Red Square seems to have been used in other means, such as music album art, and made into a puzzle. It also shows correctly Kremlin fortress. Note that different results are labeled in different colored squares.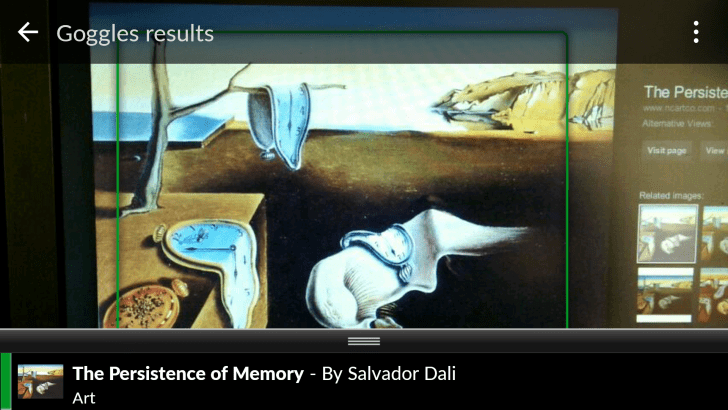 The art recognition is also finished with no problem, though its practical value is yet unknown.
Business card
Earlier we mentioned Evernote just added business function in the latest version. Goggle was a rival against Evernote. Even the quality of target business card isn't satisfactory, Goggles managed to read all of useful information, by a single tap you may add to contacts right away. All scanned results can be accessed individually by a single tap, too. For example, tapping the phone number will make a phone call, tapping the address will bring out maps (or a web browser, depending on which would you like for locating a place).
OCR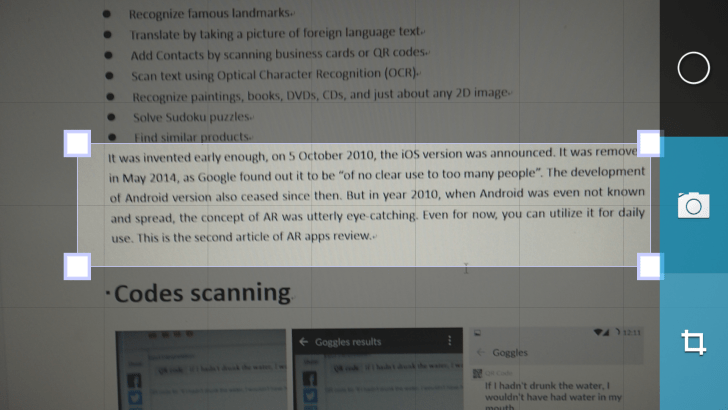 OCR is a handy way to extract characters printed on paper or other media. Note that a rectangle appears on the picture above. In case of too many unrelated objects around target, Goggles supports area capturing. If the standard font is applied, OCR should be able to read out all characters.
OCR also supports translating texts of unfamiliar language into English, or other ones.
The very final function is to solve the Sudoku. It literally solves a standard Sudoku by the power of cloud computing and OCR.
Summary
Google Goggles is another app which Google doesn't favor on. The beloved Google products got latest Material Design update, meanwhile Goggles is out of update, perhaps once and for all. The functionalities as an OCR app is competent for daily use, yet you may want a more carefully maintained app for deeper exploration or dedicated purpose.