Mobile phones can replace almost all modern devices in daily life, such as remote control, camera, radio, video player etc. Now thanks to Augmented Reality apps like iOnRoad, you may turn your phone into a tachograph.
In developed countries, cars are a major commuting tool. In some countries which laws haven't concretely regulated about road, intended scammers may bump into your car and blackmail a sum of money. Some busy roads also demand the ability to precisely maneuver the vehicle. That's why a tachograph may mean a lot to drivers. But will you buy a device which may will have been out of support before guarantee period? Do you expect to drive with a device which never updates its firmware? Obviously, an app on the mobile phone is the best substitute.
This is the second review of Augmented Reality apps (read the previous here) , you'll just need a phone, new or old, to run this app.
Quick look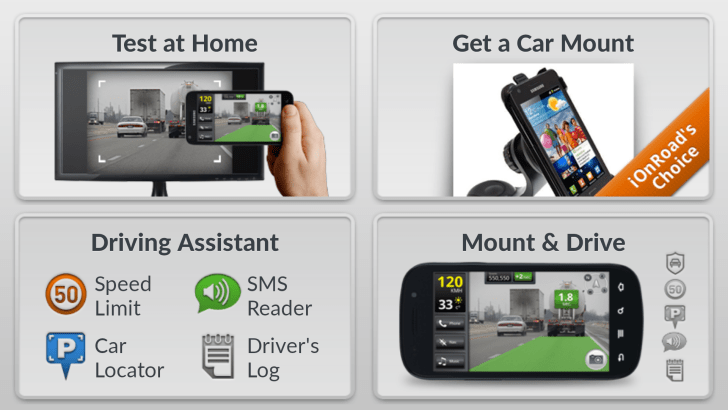 On the first run, there's a collage of brief introduction. "Get a Car Mount" is almost just a placeholder, you won't buy a mount on an app, will you? Just refer Amazon for these gears. What'll be mainly be of use are Driving Assistant and Mount & Drive. The interface is based on Android 2.x so even your oldest device can run it. Make sure to extend your storage space if your old device supports it and you want to keep the video recording on.
Driving assistant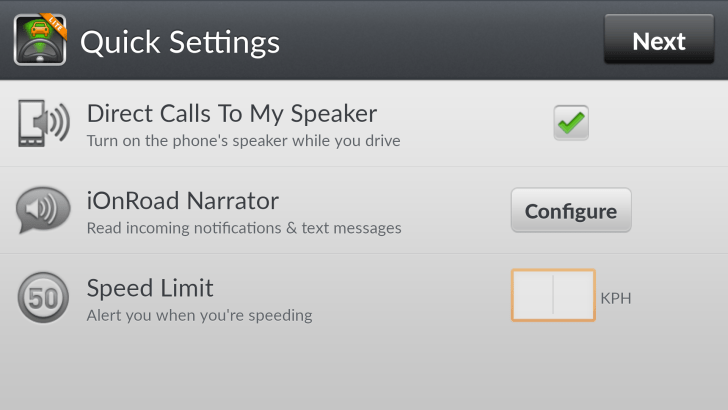 Driving assistant is basically a mini version of Mount & Drive, omitting some guides and options. You may direct the calls to phone's speaker so you can focus on driving. The narrator can read out aloud your text message and notifications. Together these two functions finished most of distractions. Finally, speed limit alert assures you drive under a fixed speed. Be sure not to be too slow on an express way. iOnRoad doesn't go off an alert in this case.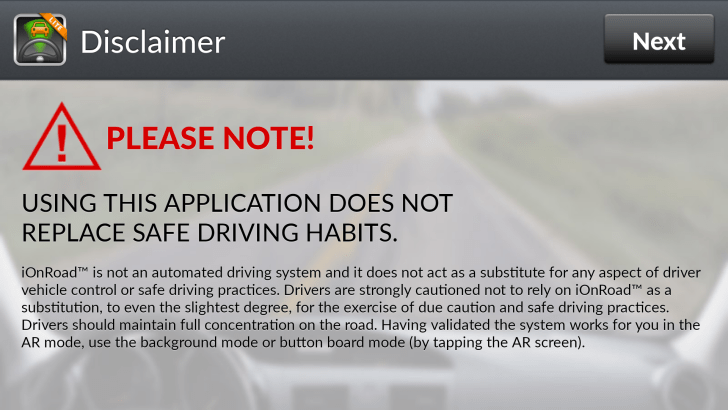 As every monitoring system disclaims first, iOnRoad isn't not an exception. It does warn drivers not to depend too much on any device, or app. This is especially significant to beginner drivers that only safe driving habits are what matter the most. However it doesn't harm to reduce the risk for a beginner during the process of becoming experienced.
Mount & Drive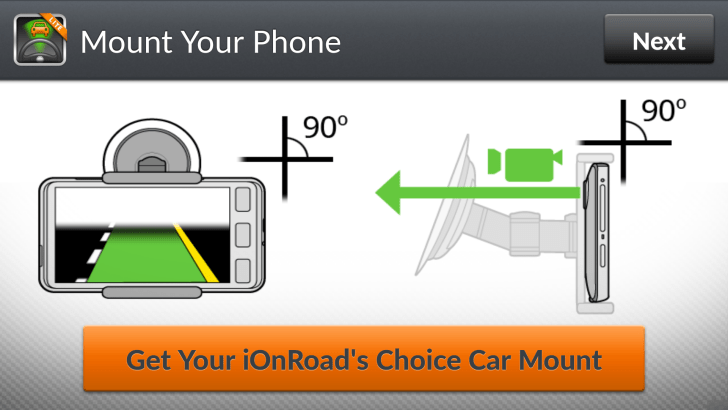 Mount & Drive is stressing itself on working as a tachograph. Different from Driving Assistant, you have to mount your device as high as possible to obtain clear view of the road. Though the app can adapt to non-standard mounting, its performance may be impacted. According to official Q&A, the correct and incorrect examples are as follows.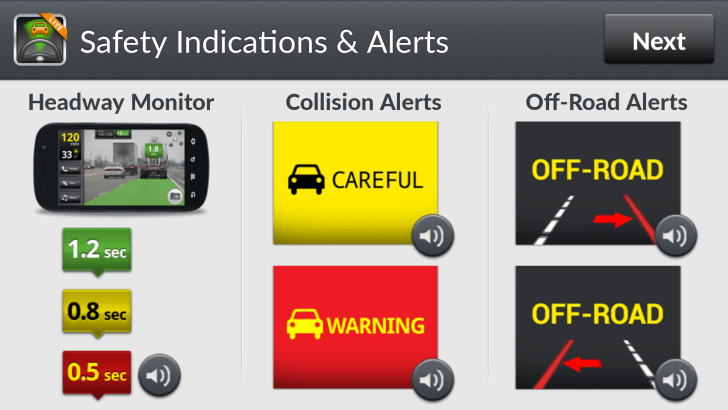 On the next screen, you may preview some sirens. From left to right:
Headway Monitor. To monitor the distance between you and the front vehicle. 1.2 sec is a safe threshold, you're not supposed to get closer than 0.5s equivalent response time.
Collision Alerts. Be very careful when warning is played, it generally means you must speed down immediately to avoid accidents.
Off-road Alerts. From time to time, if your steering wheel is tilted, the car will unconsciously goes off the road. It can also happen if the driver is too tired or sleepy to keep the car moving in a straight route.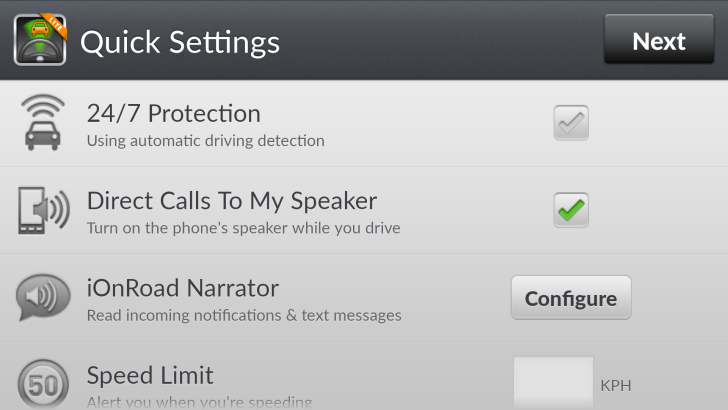 Similarly, quick settings are also available for you before you start driving.
Dashboard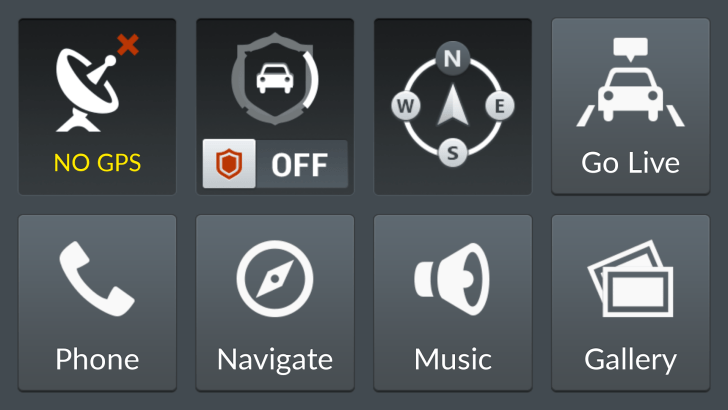 The dashboard is like the one of in-built GPS navigator. Both Driving Assistant and Mount & Drive will share the same Dashboard and live driving interface. 8 buttons are enormous so even the thickest finger will not mistakenly touch a wrong function. The first row is basically for driving itself, while the second is for car entertainment.
iOnRoad doesn't require a module to be installed on your car to work. But GPS is a must in order to keep track of speed and heading. A shield with annular flashing is Crash Guard. Combined with speed calculation and AR distance estimation, it provides precaution if you're too close to the car ahead of you. If you're driving off the road, you will also be warned.
The second row is technically a set of shortcuts, not much to talk about.
Test driving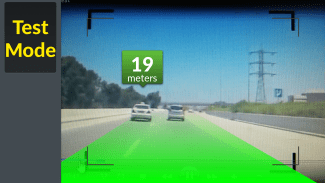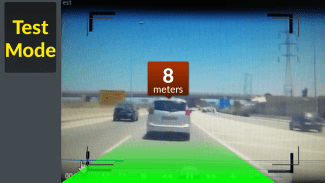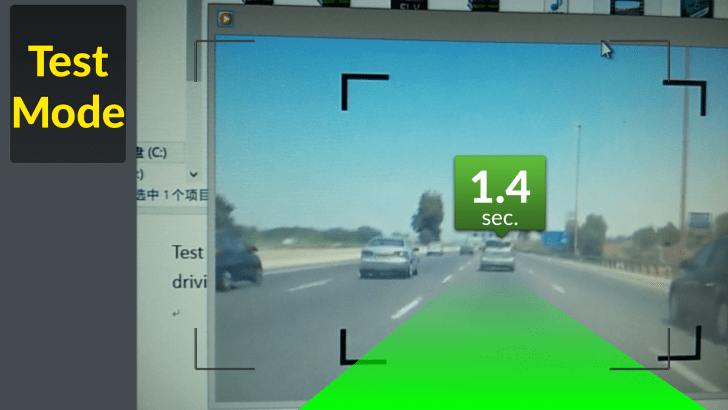 Test Mode is for who doesn't have a car or can't drive for a moment. It simulates real road and driving conditions. The simulation is recorded into a video which can be watched here.
As the driver in the video altered route, the app automatically detected the change of front car. Note the rectangle position between the smaller pictures and the larger one, iOnRoad adapts to real situation if attached properly. During the test, the app performed well and correctly.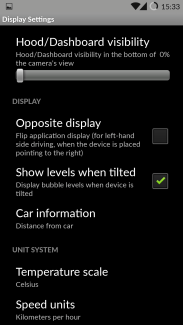 We all know driving rules aren't the same all over the world. In a few of countries, driver sits on the right. Different units apply, too. Hence, you may mirror the display in the settings and also change temperature & speed units.
However, the test video was recorded during morning, one vital prerequisite to make iOnRoad run normally is to keep the road visible. For this reason, in winter, some places can't make use of it since snow covers the signs on the road. The availability in the evening remains to be seen but, foreseeable, the performance will decrease a lot.
Finding the parking spot
There's an additional function, shown as another app in Android drawer, the Car Locator. Needless to say, it happens that you forget where you've parked the car after dealing other events for a long time. With the help of positioning and photo, you're unlikely to waste hours of time finding your car again.
Summary
There're powerful competitors against iOnRoad. Some take advantage of sensitive data from the car system directly, which costs almost $100, but implements more services. However, the fee of iOnRoad is much lower, but they share same core functionalities. It supports almost all phones, from Android 2.x to Android L, any phone with a cam and GPS feature on SoC. The disadvantage, of course, is due to the limitation of mobile sensors and AR itself. As mentioned, the road has to be clear, the weather probably must be good enough for GPS (or other services, such as GLONASS, Beidou and Galileo, if your chip supports them), and the error of speed measurement is low but not negotiable (also due to positioning services). For a freeware, though, it can help a new driver get along the real traffic variations quickly, which more importantly, the formation of a good driving habit.
Furthermore, for dedicated tachograph use, you may want to purchase for Pro version; for accurate data capturing and analyzing, you may want to try other newer apps; for saving battery life, you have to buy a real tachograph: recording takes a lot of space and battery, while charging, itself, is a process that shorten the whole life of the battery. If your battery is not replaceable, think it over before long time use.
[Total: 5 Average: 3.2/5]