Jitbit is used by such companies as VMware, Xerox, HP, Philips, Siemens, etc. Read this review to find out what could possibly interest such clients.
My feedback about Jitbit
First of all Jitbit has a beautiful and convenient interface. Working with tickets is a real pleasure. As far as pricing policy in concerned, its basic plans cannot compete with other HelpDesk systems. However, even the cheapest On-Premise version comes with unlimited number of agents and at reasonable price. In my opinion, Jitbit is a good fit for companies with 10+ customer support staff members, while for smaller companies there is always Spiceworks which also supports assets management or Freshdesk if you don't need assets management. Jitbit does not support linking client to organization, thus it is more suitable for internal company support.
Pros of Jitbit
Beautiful and convenient interface;
Access to email via POP and IMAP;
Integration with Active Directory;
Pricing plan Enterprise comes with unlimited number of agents;
Ticket export and import in/from CSV.
Cons of Jitbit
Supports incoming tickets from email only;
No free plan.
Tickets
Ticket list in Jitbit looks very smart. Tickets are marked in different colors indicating the last action, like "Updated by client" or "New".  Date and time of tickets with expiring SLA are marked red. Expired tickets are become pink. Unlike many other systems, Jitbit features fully clickable line, not only text of a ticket header.
New tickets promptly show up in the list, so there's no need to refresh the page.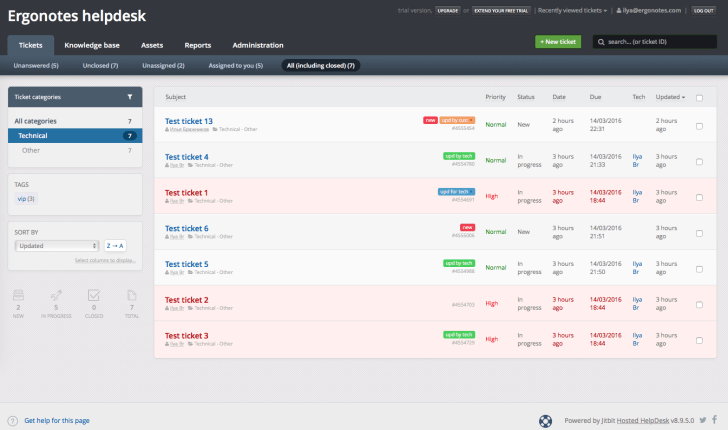 Quick filters are located at the top and cannot be set up in Jitbit. But dynamic filters allow to set up list view quickly. Similar pattern is also used in Freshdesk. Also, on the left you can find icons with number of new, closed, in progress and total tickets. Nearly invisible thing but still unique and very useful for customer support managers.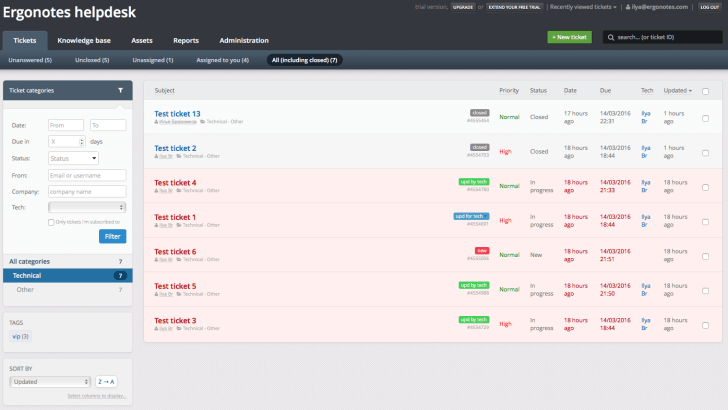 Bulk ticket editing is available for list.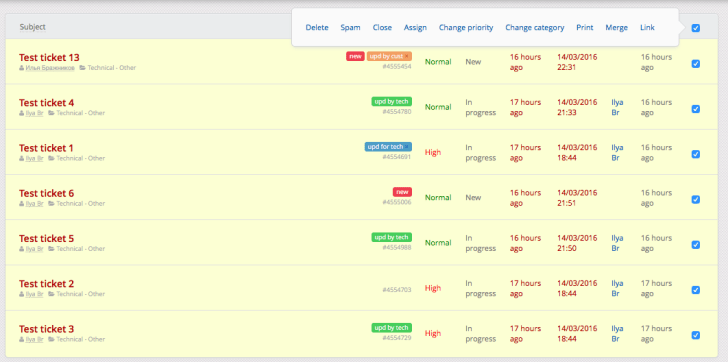 Tickets can be imported from CSV as well as exported in CSV.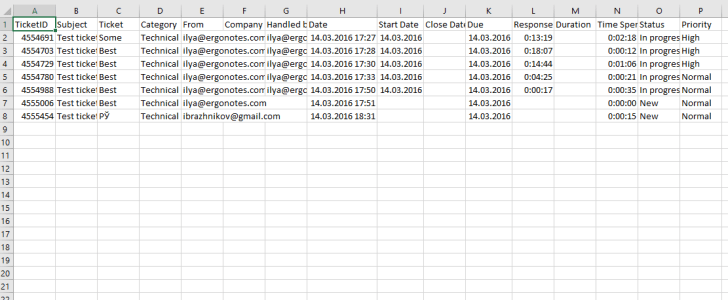 Inside ticket consists of correspondence, including history of actions, and editable ticket information. Agent time tracking starts automatically when ticket is open. Timer time is also editable.
Ticket can be closed by clicking "Close ticket" button. If a ticket was not assigned you can click on "Takeover" button next to it. "More" button offers additional ticket actions, such as delete, edit topic, clone, merge, etc.
Jitbit supports canned replies and use of articles from knowledge base.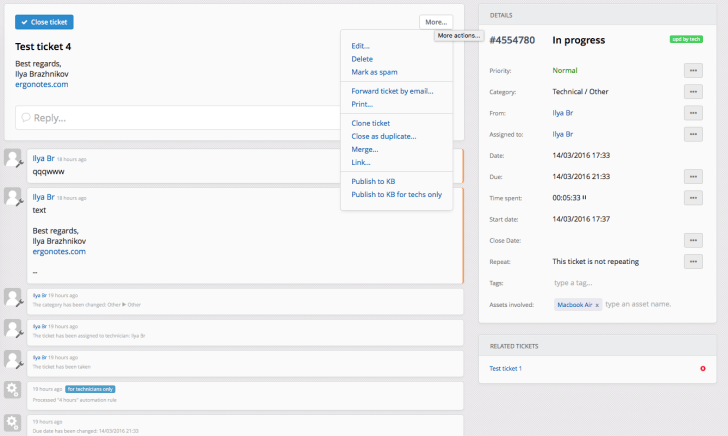 If another agent is working with ticket, system will notify about it.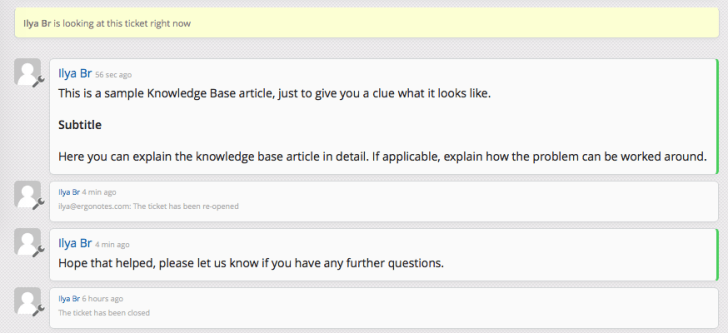 Assets management
Jitbit Helpdesk also comes with assets management feature which is focused on computers, peripheral equipment and software only. There is no provision to add a different type of equipment.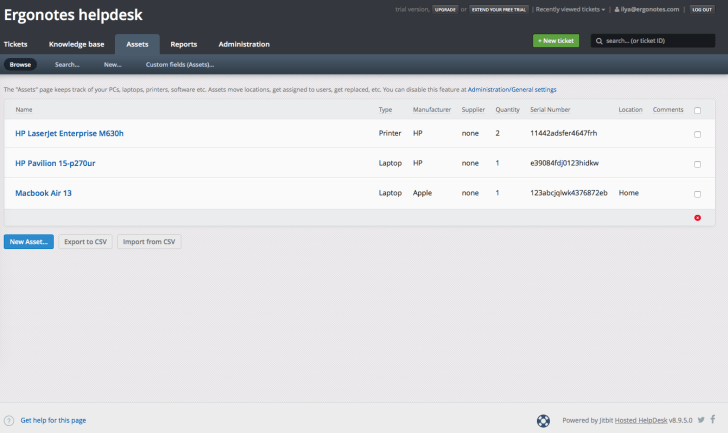 You can assign a piece of equipment to a certain user, but it will still be available for use in tickets of other users.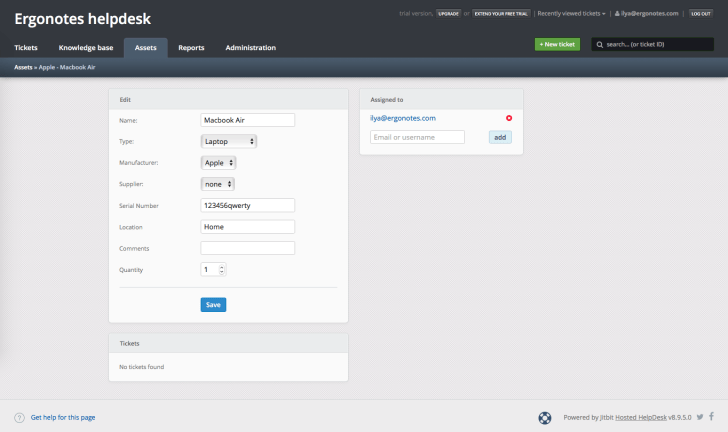 Automation and SLA
All automation activities in Jitbit are set up in Automation Rules section. SLA is implemented as a single action in rules of processing – assigning resolution time to a ticket. Reaction time is not included. Reports contain calendar in which all tickets are located according to their resolution time.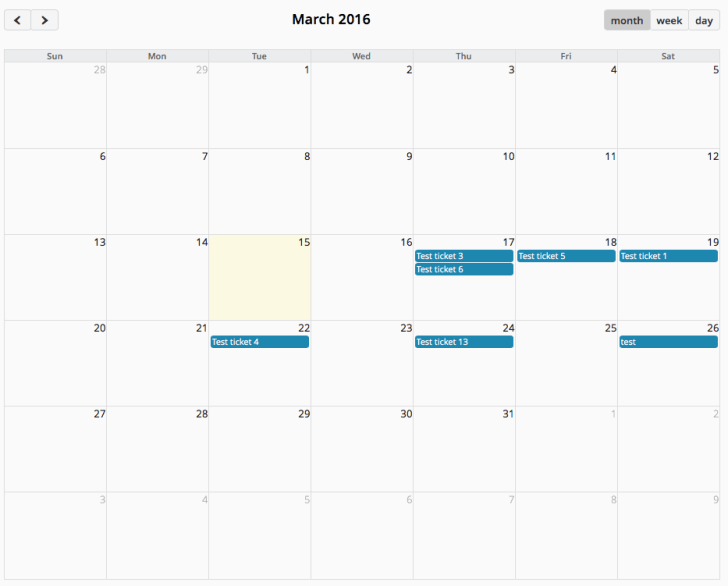 Pricing
The price of Hosted version starts from $24.92 per agent if paid for a year. There's also a plan with unlimited number of agents.
Plans featuring On-premise version (works on Windows server only) start from $899 with unlimited number of agents. For more details about On-premise plans, please go here.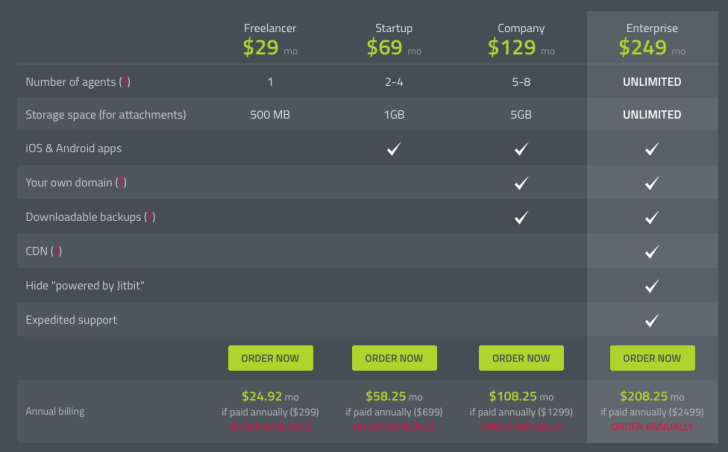 [Total: 2 Average: 4.5/5]