Kayako is one of the most popular HelpDesk systems in the world and is widely recognized by large companies. In this review we will explore what makes Kayako so different from its competitors.
My review about Kayako
My first encounter with Kayako left, so to say, not the best impression about the system. However, later, when I read several implementation stories and took a closer look at the product, I understood that my first impression was wrong. If we compare Kayako with other systems, then we should place such easy to use Zendesk, Desk or Freshdesk systems on the one side, and some powerful modular systems on the other side, whereas Kayako will be somewhere in-between. That is why my review will be more introductory than comprehensive.
In general, Kayako looks like a raw product, despite the fact that it has been developed since 2001. Inconsistent interface, absence of preferred features, etc., all that speaks against it. On the other side, Kayako has been chosen by such companies as Peugeot, NASA and FedEx, meaning that it must be having some unobvious benefits, like the possibility of connecting personal phone numbers via SIP. But to study them properly, I think one has to install the On-Premise version, which, unfortunately, I cannot do. Anyway, if we are talking about SAAS version, which is Kayako Case, then compared to other similar systems I would like to highlight the following pros and cons:
Pros
powerful report builder;
wide agent time tracking possibilities;
rules of processing of incoming mail;
integration with any VoIP server via SIP;
free for non-profit organizations and Open Source projects;
Cons
inconvenient filters in ticket list;
no integration with other services;
overloaded ticket editing interface;
difficult to set up SLA rules;
high price per agent.
Tickets
At first sight ticket list in Kayako looks very ordinary. But that is only at first sight. When I wanted to change ticket list view I stumbled upon an unfortunate surprise, filters and field settings in Kayako are just horrible. Its developers thought of the so-called Views that include visibility of separate fields in the table part of the list, some filters, system actions after reply in ticket and saving its attributes (open next ticket or go to list). Filters exist the same way, as well as a tree of quick filters in the left side of the list. Both list views and filters are preset. All that is illogical and I couldn't make anything out of it for a long time.
When one or more tickets are selected you get a quick edit field, but again, some actions are for some reason available by pressing a button in the upper part of the list and the rest are at the bottom.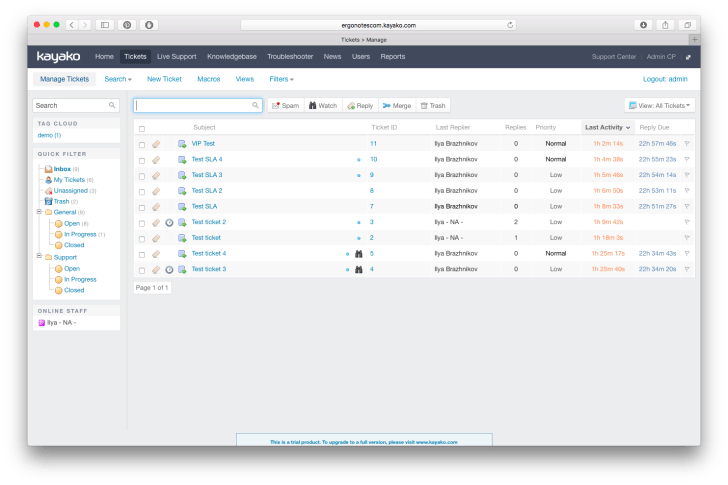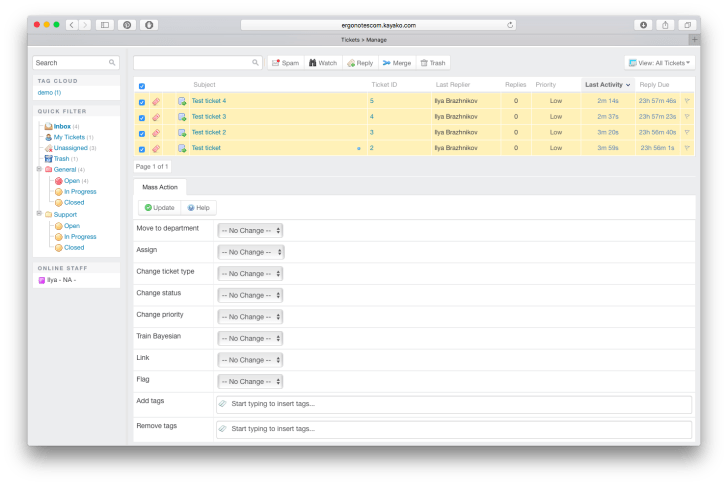 In my opinion ticket editing is overloaded with tabs. And again, it took me some time to understand how it works. In order to reply in ticket you need to open it first and then go to Reply tab. Time tracking is also in a separate tab, but at the same time you have to add time in other places as well, such as in the reply to client field.
Kayako allows to plan some ticket actions, such as change the status, assign it to a particular agent or reply to client. For that there is a Follow-Up tab.
Calls tab contains call logs via Click-To-Call web-form.
Some tabs, like Billing, show activity counters. It would be interesting to see that in all tabs.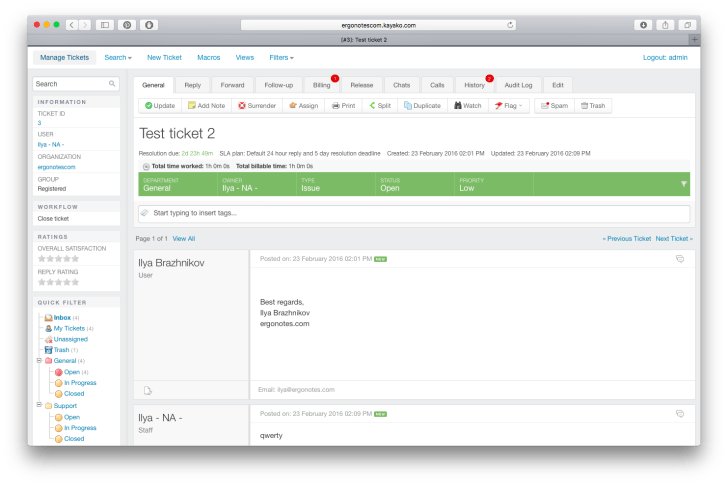 Unlike Zendesk or Freshdesk, Kayako does not support ticket export from list.
Kayako Desktop
So, here's that distinctive peculiarity of Kayako! Windows application that is designed to provide support to clients by phone or via chat. You can also add your own SIP account and get incoming calls from clients. After such calls Kayako generates ticket that includes call details. During the conversation the app opens client card, if the number is available in the client database.
I think that this possibility to use your own phone numbers actually prompted many large companies to make their choice in favor of Kayako as virtually none of its competitors has this feature.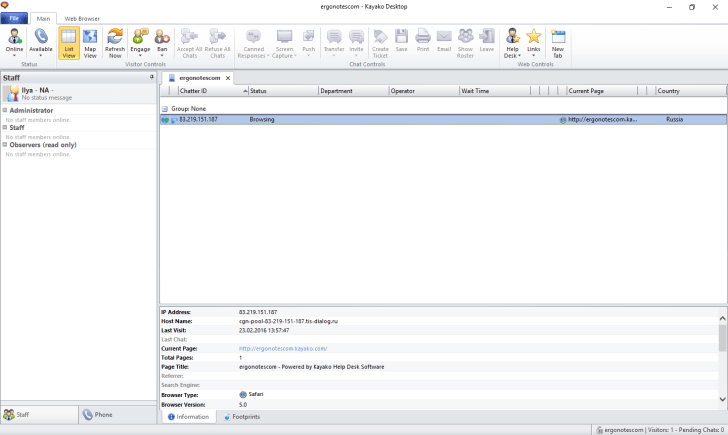 Automation and SLA
SLA rules in Kayako include a set of conditions by which they are assigned in ticket. I tried to set up using VIP policy for tickets from specific email addresses and by keywords in email subjects, but it didn't work. Moreover, I created a separate automation rule for assigning SLA policy to ticket, but also in vain. I guess I should try reading the manual more carefully. SLA settings contains a section with holidays and weekends.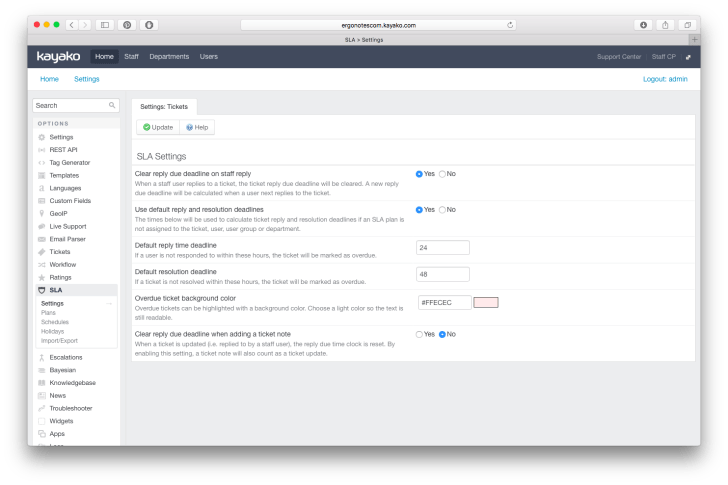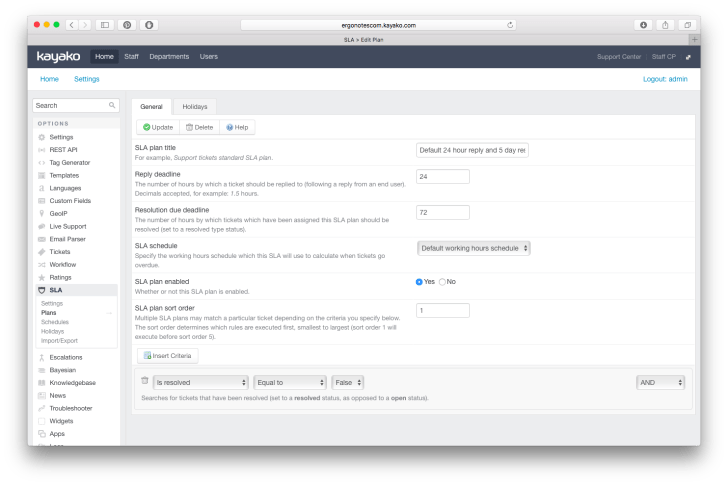 Main rules of automatic ticket processing are in Workflows section. Kayako does not have division by rule type, so the same rule can be triggered both over some time and by event, such as agent change.
Apart from Workflows Kayako keeps separately escalation rules and Email Parser that processes all incoming mails before creating a ticket.
Reports
Working with reports in Kayako is completely different from many other proprietary SAAS systems. Firstly, user can prepare any report if they know the query language, which is called Kayako Query Language, and somehow resembles SQL query language.
Secondly, a possibility to schedule sending of any report to email in XLS, CSV or HTML format.
Preset reports look really ugly, but if adjusted properly you can get really nice tables.
Prices
There are two ways of using Kayako: SAAS and OnPremise. SAAS option has three versions: Case – receiving requests only via email, Engage – allowing to provide support to clients via chat and calls, and Fusion, which is a combination of both Case and Engage. The cost of services is available on the screenshot below.
Kayako is completely free for non-profit organizations and Open Source projects.